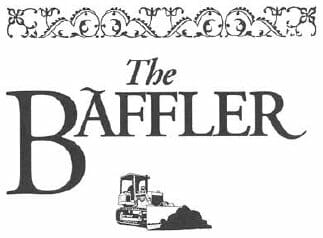 We sent this issue to press in June 2006 from Ana Cruz's apartment high above the treetops in The Flamingo Hotel. As we watched cool wisps of mist drift inland from the lake, we wondered whether Ana's national team, Brazil, really was going to win the World Cup. Then we heard a voice, silky and reassuring, which seemed to come from the radio. "Paraguay," it said. The voice was familiar. We'd have sworn it was our old pal Matt Weiland. "It's all in my book," the voice continued. "Paraguay."
Well, we'll come right out and admit it. It's been some time since you've heard from us. The world has become a good deal more squalid and brutish in the couple of years since we fired off BAFFLER No. 16. Sorry—we had no idea that would happen. But insofar as we have slacked in literary creation, we have made up for it in procreation. We've added three more mouths to the grasping welter of humanity, because that's what we're about at Team Baffler—the Culture of Life.
Meanwhile, work continues apace at the Experimental Station, our home on the South Side of Chicago. Some surly gentlemen from Indiana came to reclaim our trailer, forcing us to disperse our office appurtenances into numerous hidey-holes. Sometime this summer we'll move into our permanent home.
We would like to thank Gabriel Madeira for his hospitality. We would also like to thank Messrs. Tad Kepley, Jim Grauerholz, and Wayne Propst, all men of letters in the environs of Lawrence, Kansas, for sharing their historical recollections.