Sunday, May 31, 2015
5:00 p.m.
Man Is Not a Rock, by Joseph Brodsky
Secret Speakeasy / The Lofts at Prince Street
177 Prince Street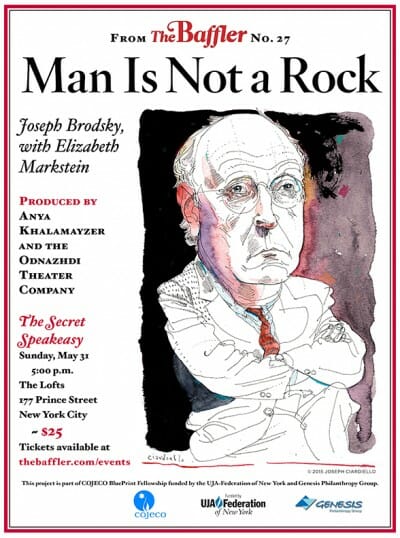 "The question is, what should we remain alive for? Man is not a rock, he can't exist just for his own sake. There's always the 'what for.'" —Joseph Brodsky
"Man is Not a Rock" is a conversation between Joseph Brodsky, the Russian poet, U.S. Poet Laureate, and winner of the 1987 Nobel Prize in Literature, and the Austrian writer and translator Elizabeth Markstein in Vienna during the summer of 1972—Brodsky's first recorded interview after being expelled from the Soviet Union.
Privately held until Markstein's death in Vienna on October 15, 2013, the recording, along with a transcript, was published two weeks later in Russia. The first English translation, from which this theatrical production is adapted, appears in the current issue of The Baffler.
"What should we remain alive for"? Thank The Museum of Interesting Things, an independent monthly museum of rare historical artifacts and oddities, for hosting this event, and come to this Secret Speakeasy. Maybe you'll find out.
This project is part of COJECO BluePrint Fellowship funded by the UJA-Federation of New York and Genesis Philanthropy Group.