Big Mood Machine
Spotify pursues emotional surveillance for global profit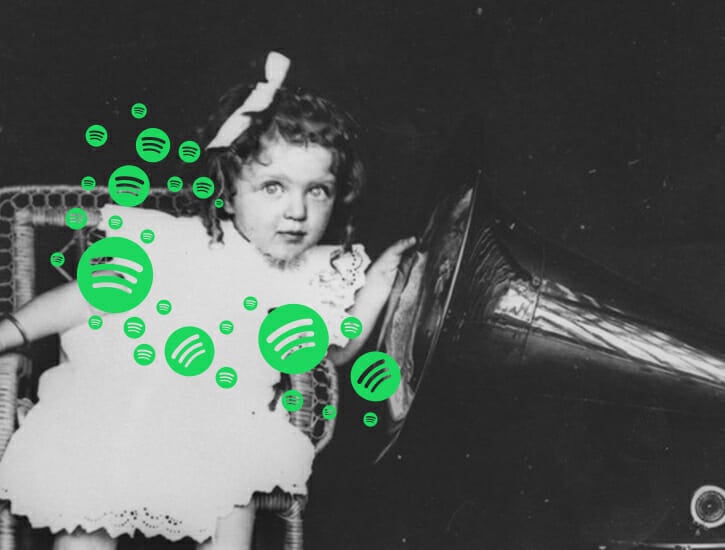 Music is emotional, and so our listening often signals something deeply personal and private. Today, this means music streaming platforms are in a unique position within the greater platform economy: they have troves of data related to our emotional states, moods, and feelings. It's a matter of unprecedented access to our interior lives, which is buffered by the flimsy illusion of privacy. When a user chooses, for example, a "private listening" session on Spotify, the effect is to make them feel that it's a one-way relation between person and machine. Of course, that personalization process is Spotify's way of selling users on its product. But, as it turns out, in a move that should not surprise anyone at this point, Spotify has been selling access to that listening data to multinational corporations.
Where other platforms might need to invest more to piece together emotional user profiles, Spotify streamlines the process by providing boxes that users click on to indicate their moods: Happy Hits, Mood Booster, Rage Beats, Life Sucks. All of these are examples of what can now be found on Spotify's Browse page under the "mood" category, which currently contains eighty-five playlists. If you need a lift in the morning, there's Wake Up Happy, A Perfect Day, or Ready for the Day. If you're feeling down, there's Feeling Down, Sad Vibe, Down in the Dumps, Drifting Apart, Sad Beats, Sad Indie, and Devastating. If you're grieving, there's even Coping with Loss, with the tagline: "When someone you love becomes a memory, find solace in these songs."
Over the years, streaming services have pushed a narrative about these mood playlists, suggesting, through aggressive marketing, that the rise of listening by way of moods and activities was a service to listeners and artists alike—a way to help users navigate infinite choice, to find their way through a vast library of forty million songs. It's a powerful arm of the industry-crafted mythology of the so-called streaming revolution: platforms celebrating this grand recontextualization of music into mood playlists as an engine of discovery. Spotify is currently running a campaign centered on moods—the company's Twitter tagline is currently "Music for every mood"—complete with its own influencer campaign. 
But a more careful look into Spotify's history shows that the decision to define audiences by their moods was part of a strategic push to grow Spotify's advertising business in the years leading up to its IPO—and today, Spotify's enormous access to mood-based data is a pillar of its value to brands and advertisers, allowing them to target ads on Spotify by moods and emotions. Further, since 2016, Spotify has shared this mood data directly with the world's biggest marketing and advertising firms.
Streaming
Intelligence

Surveillance

In 2015, Spotify began selling advertisers on the idea of marketing to moods, moments, and activities instead of genres. This was one year after Spotify acquired the "music intelligence" firm Echo Nest. Together they began looking at the 1.5 billion user-generated playlists at Spotify's disposal. Studying these playlists allowed Spotify to more deeply analyze the contexts in which listening was happening on its platform. And so, right around the time that Spotify realized it had 400,000 user-generated barbecue playlists, Brian Benedik, then Spotify's North American Vice President of Advertising and Partnerships, noted in an Ad Age interview that the company would focus on moods as a way to grow its advertising mechanism: "This is not something that's just randomly thrown out there," Benedik said. "It's a strategic evolution of the Spotify ads business." As of May 1, 2015, advertisers would be able to target ads to users of the free ad-supported service based on activities and moods: "Mood categories like happy, chill, and sad will let a brand like Coca-Cola play on its 'Open Happiness' campaign when people are listening to mood-boosting music," the Ad Age article explained.
Spotify's enormous access to mood-based data is a pillar of its value to brands and advertisers.
Four years later, Spotify is the world's biggest streaming subscription service, with 207 million users in seventy-nine different countries. And as Spotify has grown, its advertising machine has exploded. Of those 207 million users, it claims 96 million are subscribers, meaning that 111 million users rely on the ad-supported version. Spotify top marketing execs have expressed that the company's ambition is "absolutely" to be the third-largest player in the digital ad market behind Google and Facebook. In turn, since 2015, Spotify's strategic use of mood and emotion-based targeting has only become even more entrenched in its business model.
"At Spotify we have a personal relationship with over 191 million people who show us their true colors with zero filter," reads a current advertising deck. "That's a lot of authentic engagement with our audience: billions of data points every day across devices! This data fuels Spotify's streaming intelligence—our secret weapon that gives brands the edge to be relevant in real-time moments." Another brand-facing pitch proclaims: "The most exciting part? This new research is starting to reveal the streaming generation's offline behaviors through their streaming habits."
Today, Spotify Ad Studio, a self-service portal automating the ad-purchase process, promises access to "rich and textured datasets," allowing brands to instantly target their ads by mood and activity categories like "Chill," "Commute," "Dinner," "Focus/Study," "Girls Night Out," and more. And across the Spotify for Brands website are a number of "studies" and "insights reports" regarding research that Spotify has undertaken about streaming habits: "You are what you stream," they reiterate over and over.
In a 2017 package titled Understanding People Through Music—Millennial Edition, Spotify (with help from "youth marketing and millennial research firm" Ypulse) set out to help advertisers better target millennial users by mood, emotion, and activity specifically. Spotify explains that "unlike generations past, millennials aren't loyal to any specific music genre." They conflate this with a greater reluctance toward labels and binaries, pointing out the rising number of individuals who identify as gender fluid and the growing demographic of millennials who do not have traditional jobs—and chalk these up to consumer preferences. "This throws a wrench is marketers' neat audience segmentations," Spotify commiserates.
For the study, they also gathered six hundred in-depth "day in a life" interviews recorded as "behavioral diaries." All participants were surveilled by demographics, platform usage, playlist behavior, feature usage, and music tastes—and in the United States (where privacy is taken less seriously), Spotify and Ypulse were able to pair Spotify's own streaming data with additional third-party information on "broader interests, lifestyle, and shopping behaviors."
The result is an interactive hub on the Spotify for Brands website detailing seven distinct "key audio streaming moments for marketers to tap into," including Working, Chilling, Cooking, Chores, Gaming, Workout, Partying, and Driving. Spotify also dutifully outlines recommendations for how to use this information to sell shit, alongside success stories from Dunkin' Donuts, Snickers, Gatorade, Wild Turkey, and BMW.
More startlingly, for each of these "moments" there is an animated trajectory of a typical "emotional journey" claiming to predict the various emotional states users will experience while listening to particular playlists. Listeners who are "working," for instance, are likely to start out feeling pressured and stressed, before they become more energized and focused and end up feeling fine and accomplished at the end of the playlist queue. If they listen while doing chores, the study claims to know that they start out feeling stressed and lazy, then grow motivated and entertained, and end by feeling similarly good and accomplished.
In Spotify's world, listening data has become the oil that fuels a monetizable metrics machine, pumping the numbers that lure advertisers to the platform. In a data-driven listening environment, the commodity is no longer music. The commodity is listening. The commodity is users and their moods. The commodity is listening habits as behavioral data. Indeed, what Spotify calls "streaming intelligence" should be understood as surveillance of its users to fuel its own growth and ability to sell mood-and-moment data to brands.
A Leviathan of Ads
The potential of music to provide mood-related data useful to marketers has long been studied. In 1990, the Journal of Marketing published an article dubbed "Music, Mood and Marketing" that surveyed some of this history while bemoaning how "despite being a prominent promotional tool, music is not well understood or controlled by marketers." The text outlines how "marketers are precariously dependent on musicians for their insight into the selection or composition of the 'right' music for particular situations." This view of music as a burdensome means to a marketer's end is absurd, but it's also the logic that rules the current era of algorithmic music platforms. Unsurprisingly, this 1990 article aimed to overcome challenges for marketers by figuring out new ways to extract value from music that would be beyond the control of musicians themselves: studying the "behavioral effects" of music with a "special emphasis on music's emotional expressionism and role as mood influencer" in order to create new forms of power and control. 
Today, marketers want mood-related data more than ever, at least in part to fuel automated, personalized ad targeting. In 2016, the world's largest holding company for advertising and PR agencies, WPP, announced that it had struck a multi-year partnership with Spotify, giving the conglomerate unprecedented access to Spotify's mood data specifically. The partnership with the WPP, it turns out, was part of Spotify's plan to ramp up its advertising business in advance of its IPO.
In a data-driven listening environment, the commodity is no longer music. The commodity is listening. The commodity is users and their moods.
WPP is the parent company to several of the world's largest and oldest advertising, PR, and brand consulting firms, including Ogilvy, Grey Global Group, and at least eighteen others. Across their portfolio, WPP owns companies that work with numerous mega-corporations and household brands, helping shill everything from cars, Coca-Cola, and KFC to booze, banks, and Burger King. Over the decades, these companies have worked on campaigns spanning from Merrill Lynch and Lay's potato chips to Colgate-Palmolive and Ford. Additionally, WPP properties also include tech-focused companies that claim proficiency in automation- and personalization-driven ad sales, all of which would now benefit from Spotify's mood data.
The 2016 announcement of WPP and Spotify's global partnership in "data, insights, creative, technology, innovation, programmatic solution, and new growth markets" speaks for itself:
WPP now has unique listening preferences and behaviors of Spotify's 100 million users in 60 countries. The multi-year deal provides differentiating value to WPP and its clients by harnessing insights from the connection between music and audiences' moods and activities. Music attributes such as tempo and energy are proven to be highly relevant in predicting mood, which enables advertisers to understand their audiences in a new emotional dimension.
What's more, WPP-owned advertising agencies could now access the "Wunderman Zipline™ Data Management Platform" to gain direct access to Spotify users' "mood, listening and playlist behavior, activity and location." They'd also potentially make use of "Spotify's data on connected device usage" while the WPP-owned company GroupM specifically would retain access to "an exclusive infusion of Spotify data" into its own platform made for corporate ad targeting. Per the announcement, WPP companies would also serve as launch partners for new types of advertising and new markets unveiled by Spotify, while procuring "visibility into Spotify's product roadmap and access to beta testing."
At the time the partnership was announced, Anas Ghazi, then Managing Director of Global Partnerships at WPP's Data Alliance, noted that all WPP agencies would be able to "grab these insights. . . . If you think about how music shapes your activity and thoughts, this is a new, unique play for us to find audiences. Mood and moments are the next pieces of understanding audiences." And Harvey Goldhersz, then CEO of GroupM Data & Analytics, salivated: "The insights we'll develop from Spotify's behavioral data will help our clients realize a material marketplace advantage, aiding delivery of ads that are appropriate to the consumer's mood and the device used."
Ongoing Synergies
While this deal was announced via the WPP Data Alliance, visiting that particular organization's website now auto-directs back to the main WPP website, likely a result of corporate restructuring that WPP underwent over the past year. Currently, the only public-facing evidence of the relationship between WPP and Spotify is listed online under the WPP-owned data and insights company Kantar, which WPP describes as "the world's leading marketing data, insight and consultancy company."
What might Kantar be doing with this user data? The current splash video deck on its website is useful: it claims to be the first agency to use "facial recognition in advertising testing," and it professes to be exploring new technologies "from biodata and biometrics and healthcare, to capturing human sentiment and even voting intentions by analyzing social media." And, finally, it admits to "exploiting big data, artificial intelligence and analytics . . . to predict attitudes and behavior."
When we reached out to see if the relationship between Kantar and Spotify had changed since the initial 2016 announcement, Kantar sent The Baffler this statement:
The 2016 Spotify collaboration was the first chapter of many-a collaboration and has continued to evolve to meet the dynamic needs of our clients and marketplace. Spotify continues to be a valued partner of larger enterprise and Kantar with on-going synergies.
One year after the announcement of the partnership, in 2017, Spotify further confirmed its desire to establish direct relationships with the world's biggest advertising agencies when it hired two executives from WPP: Angela Solk, now Global Head of Agency Partnerships, whose job at Spotify includes teaching WPP and other ad agencies how to best make use of Spotify's first-party data. (In Solk's first year at Spotify, she helped create the Smirnoff Equalizer; in a 2018 interview, she reflected on the "beauty" of that branded content campaign and Spotify's ability to extract listener insight and make it "part of Smirnoff's DNA.") Spotify also hired Craig Weingarten as its Head of Industry, Automotive, which now leads Spotify's Detroit-based auto ad sales team.
According to its own media narrative, Spotify offers data access to brands that competitor platforms do not, and it has gained a reputation for its eagerness to share its first-party data. At advertising conferences and in the ad press, Spotify top ad exec Marco Bertozzi has emphasized how Spotify hopes to widely share first-party data, going so far as to confess, "When other walled gardens say no to data questions . . . we say yes." (Bertozzi was also the mind behind an internal Spotify campaign adorably branded "#LoveAds" to combat growing societal disgust with digital advertising. #LoveAds started as a mantra of the advertising team, but as Bertozzi proudly explained in late 2018, "#LoveAds became a movement within the company.")
Spotify has spent tremendous energy on its ad team's proficiency with cross-device advertising options (likely due to the imminent ubiquity of Spotify in the car and the so-called "smart home"), as well as "programmatic advertising," otherwise understood as the targeted advertising sold through an automated process, often in milliseconds—Spotify seeks to be the most dominant seller of such advertising in the audio space. And there's also the self-serve platform, direct inventory sales, Spotify's private marketplace (an invite-only inventory for select advertisers), programmatic guaranteed deals (a guaranteed volume of impressions at a fixed price)—the jargon ad-speak lists could go on and on.
According to its own media narrative, Spotify offers data access to brands that competitor platforms do not.
Trying to keep tabs on Spotify's advertising products and partnerships is dizzying. But what is clear is that the hype surrounding these partnerships has often focused on "moods and moments"-related data Spotify offers brands—not to mention the company's penchant for allowing brands to combine their own data with Spotify's. In 2017, Spotify's Brian Benedik   told The Drum that Spotify's access to listening habits and first-party data is "one of the reasons that some of these big multi-national brands like the Samsungs and the Heinekens and the Microsofts and Procter and Gambles of the world are working with us a lot closer than they ever have . . . they don't see that or get that from any other platform out there." And it appears that things will only get darker. Julie Clark, Spotify's Global Head of Automation Sales, said earlier this year in an interview that its targeting capabilities are growing: "There's deeper first party-data that's going to become available as well."
Mood-Boosterism
Recently, I tried out a mood-related experiment on Spotify. I created a new account and only listened to the "Coping with Loss" playlist on loop for a few days. I paid particular attention to the advertisements that I was served by Spotify. And while I do not know for sure whether listening to the "Coping with Loss" playlist caused me to receive an unusually nostalgic Home Depot ad about how your carpets contain memories, or an ad for a particularly angsty new album called Amidst the Chaos, the extent to which Spotify is matching moods and emotions with advertisements certainly makes it seem possible. What was clearer: during my time spent listening exclusively to songs about grieving, Spotify was quick to recommend that I brighten my mood. Under the heading "More like Coping With Loss . . ." it recommended playlists themed for Father's Day and Mother's Day, and playlists called "Warm Fuzzy Feelings," "Soundtrack Love Songs," "90s Love Songs," "Love Ballads," and "Acoustic Hits." Spotify evidently did not want me to sit with my sorrow; it wanted my mood to improve. It wanted me to be happy.
This is because Spotify specifically wants to be seen as a mood-boosting platform. In Spotify for Brands blog posts, the company routinely emphasizes how its own platform distinguishes itself from other streams of digital content, particularly because it gives marketers a chance to reach users through a medium that is widely seen as a "positive enhancer": a medium they turn to for "music to help them get through the less desirable moments in their day, improve the more positive ones and even discover new things about their personality," says Spotify.
"We're quite unique in that we have people's ears . . . combine that with the psycho-graphic data that we have and that becomes very powerful for brands," said Jana Jakovljevic in 2015, then Head of Programmatic Solutions; she is now employed by AI ad-tech company Cognitiv, which claims to be "the first neural network technology that unearths patterns of consumer behavior" using "deep learning" to predict and target consumers.
During my time spent listening exclusively to songs about grieving, Spotify was quick to recommend that I brighten my mood.
The fact that experience at Spotify could prepare someone for such a career shift is worth some reflection. But more interestingly, Jakovljevic added that Spotify was using this data in many ways, including to determine exactly what type of music to recommend, which is important to remember: the data that is used to sell advertisers on the platform is also the data driving recommendations. The platform can recommend music in ways that appease advertisers while promising them that mood-boosting ad space. What's in question here isn't just how Spotify monitors and mines data on our listening in order to use their "audience segments" as a form of currency—but also how it then creates environments more suitable for advertisers through what it recommends, manipulating future listening on the platform.
In appealing to advertisers, Spotify also celebrates its position as a background experience and in particular how this benefits advertisers and brands. Jorge Espinel, who was Head of Global Business Development at Spotify for five years, once said in an interview: "We love to be a background experience. You're competing for consumer attention. Everyone is fighting for the foreground. We have the ability to fight for the background. And really no one is there. You're doing your email, you're doing your social network, etcetera." In other words, it is in advertisers' best interests that Spotify stays a background experience.
When a platform like Spotify sells advertisers on its mood-boosting, background experience, and then bakes these aims into what it recommends to listeners, a twisted form of behavior manipulation is at play. It's connected to what Shoshana Zuboff, in The Age of Surveillance Capitalism: The Fight for A Human Future at the New Frontier of Power, calls the "behavioral futures market"—where "many companies are eager to lay their bets on our future behavior."
Indeed, Spotify seeks not just to monitor and mine our mood, but also to manipulate future behavior. "What we'd ultimately like to do is be able to predict people's behavior through music," Les Hollander, the Global Head of Audio and Podcast Monetization, said in 2017. "We know that if you're listening to your chill playlist in the morning, you may be doing yoga, you may be meditating . . . so we'd serve a contextually relevant ad with information and tonality and pace to that particular moment." Very Zen!
Spotify's treatment of its mood and emotion data as a form of currency in the greater data marketplace should be considered more generally in the context of the tech industry's rush to quantify our emotions. There is a burgeoning industry surrounding technology that alleges to mine our emotional states in order to feed AI projects; take, for example, car companies that claim they can use facial recognition to read your mood and keep you safer on the road. Or Facebook's patents on facial recognition software. Or unnerving technologies like Affectiva, which claim to be developing an industry around "emotion AI" and "affective computing" processes that measure human emotions.
It remains to be seen how Spotify could leverage such tech to maintain its reputation as a mood-boosting platform. And yet we should admit that it's good for business for Spotify to manipulate people's emotions on the platform toward feelings of chillness, contentment, and happiness. This has immense consequences for music, of course, but what does it mean for news and politics and culture at large, as the platform is set to play a bigger role in mediating all of the above, especially as its podcasting efforts grow?
On the Spotify for Brands blog, the streaming giant explains that its research shows millennials are weary of most social media and news platforms, feeling that these mediums affect them negatively. Spotify is a solution for brands, it explains, because it is a platform where people go to feel good. Of course, in this telling of things, Spotify conveniently ignores why those other forms of media feel so bad. It's because they are platforms that prioritize their own product and profit above all else. It's because they are platforms governed by nothing more than surveillance technology and the mechanisms of advertising.