The Defiant I Am Not Your Negro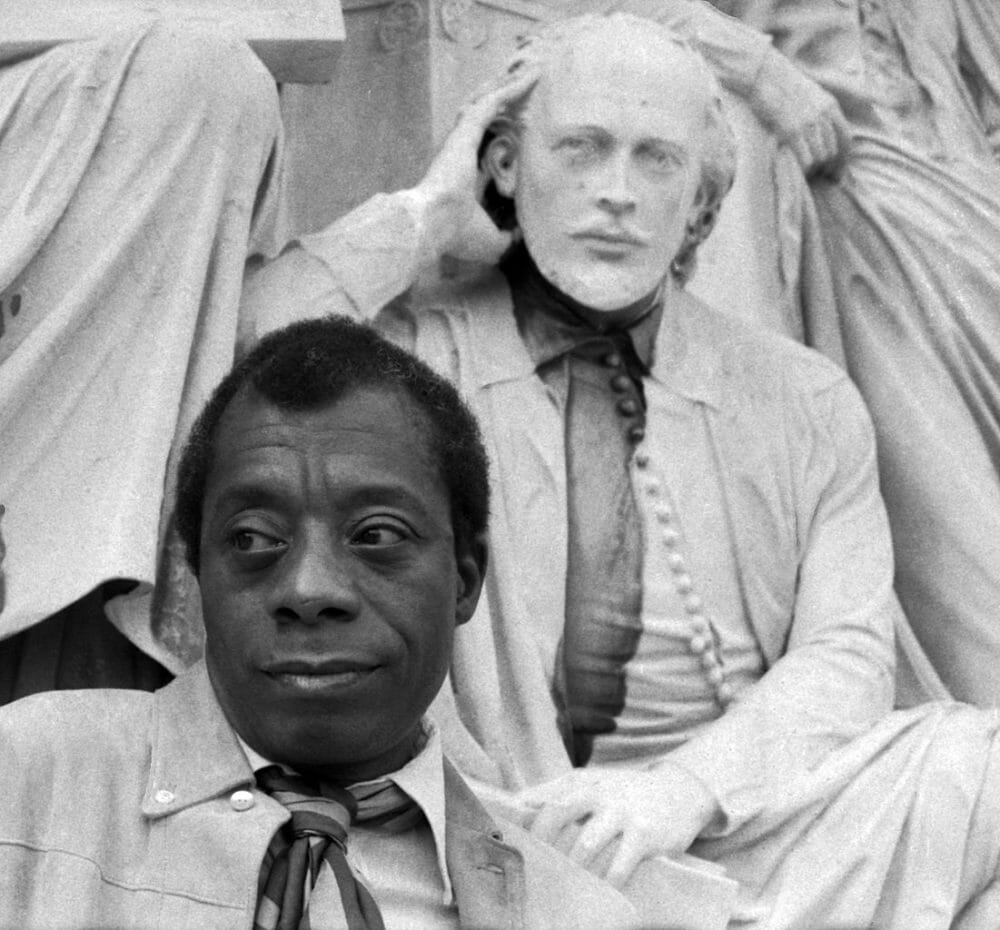 "You never had to look at me. I had to look at you. I know more about you than you know about me." / 
Wikimedia Commons
Samuel L. Jackson has played characters with reserved, understated voices, but he is known for the OUTBURST. His gradually rising tone is used to articulate legitimate rage, as in A Time to Kill, or no-nonsense agitation, in Changing Lanes, or comic frustration, as in Pulp Fiction.
In his latest film, Jackson does a turn as the offscreen protagonist's voice in Raoul Peck's documentary I Am Not Your Negro. In reprising the words of the late writer James Baldwin, Jackson dials down the bombast. It's a smart choice, since I Am Not Your Negro is all about voice. Whether we hear Baldwin's own elegant, Euro-inflected (if also affected) accent in footage from his many TV appearances, or Jackson's uncharacteristically quiet vocal, we're hearing from someone who understood how to effectively communicate his theories of race and American life in singularly mesmerizing ways. In his career as a novelist, essayist, playwright, and would-be screenwriter, Baldwin found myriad ways of voicing the smoldering pain of black life in white America, in a rhetorical register that was by turns confrontational and simple, complex and theorized, acutely insightful and spiritually urgent. The film puts that versatility on display, while breathing new topical life into Baldwin's voice and thought.
I Am Not Your Negro also coveys Baldwin's message in a suitably destabilizing array of images. The film is intercut between past and present, alternating archival footage and photography with contemporary images from Ferguson and other sites of protest. There are short excerpts from Hollywood shlock like Love in the Afternoon and Imitation of Life. This collage-like array of images is held together by Baldwin's words, spoken by him in clips from television interviews, or read from essays and letters by Jackson.
The movie is loosely organized around notes from an unfinished book Baldwin was working on before his death in 1987. Called Remember This House, it was to be about the lives and deaths of his friends, the assassinated black leaders Medgar Evers, Malcolm X, and Martin Luther King, Jr. I Am Not Your Negro uses those notes as an outline, and each man's death punctuates the chronicle like a dark benchmark. In a letter to his literary agent Jay Acton, Baldwin gives a progress report on the stalled project, noting, "I know how to do it, technically. It is a matter of research, and journeys." 
Peck made sure to emphasize both research and journeys in this feature-length montage. The director's decade-long work on the documentary is evident in the sheer quantity and diversity of research material. (Baldwin's younger sister and literary executor Gloria Karefa-Smart gave Peck unprecedented access to the writer's papers.) The journeys get a much more literal rendering: footage of elevated trains barreling through black neighborhoods and steaming past different American landscapes in cinema. At one point, Baldwin recounts a scene from big-ole racial message film, The Defiant Ones, which hinges on a painfully obvious metaphoric plot device: Sidney Poitier and Tony Curtis play escaped members of a chain gang who must try to get along because they remain shackled together—just like white and black America, get it? In Baldwin's astute interpretation, though, the ham-handed morality play becomes fodder for a meditation on the difference between black and white cinematic expectations.
When Sidney jumps off the train, the white liberal people downtown were much relieved and joyful. But when black people saw him jump off the train, they yelled, "Get back on the train, you fool." The black man jumps off the train in order to reassure white people, to make them know that they are not hated; that, though they have made human errors, they've done nothing for which to be hated.
The conspicuous lack of traditional documentary devices allows Baldwin to unintentionally speak to this moment, which his words, sadly, still do.
Throughout I Am Not Your Negro, Baldwin points out the limitations of white obliviousness, be it expressed in the empty status markers of postwar consumerism or the antiseptic chastity of Doris Day and Gary Cooper, whom he calls "two of the most grotesque appeals to innocence the world has ever seen." One of Baldwin's most eloquent assaults on unthinking white social presumption comes when he takes aim at the callow color-blind ethos voiced by Yale philosophy professor Paul Weiss. In a joint 1968 appearance with Baldwin on the Dick Cavett Show, Weiss tried to undercut Baldwin's argument—which he had only heard in part offstage—by appealing to a comically ungrounded model of high-minded Enlightenment dogma. "Why must we always concentrate on color? Or religion? Or this? There are other ways of connecting men," Weiss asked. Baldwin, in a tour de force of rising annoyance, rebuts Weiss's individualism with a lacerating account of his expatriate sojourn in France, "The years I lived in Paris did one thing for me: they released me from that particular social terror, which was not the paranoia of my own mind, but a real social danger visible in the face of every cop, every boss, everybody." In other words, while in America, he could not shake any of those daily horrors precisely because of race. He couldn't as Weiss so blithely stated, see himself as simply an individual. As Baldwin magisterially decimates Weiss's position, Cavett and Weiss look on in a state of dumbfoundment.
The journeys Baldwin evoked in his letter to his agent revolve here around two poles: his extended stay in France and his return back to America at the height of the civil rights movement. When he moves back to Harlem in the sixties he describes how he felt like a stranger within his own community. In sections called "Paying My Dues," "Heroes," "Witness," "Purity," "Selling the Negro," and "I Am Not a Nigger," he parses not only his observations of American life, but also his own complex and evolving understanding of himself. In an essay called "Black English: A Dishonest Argument," he reflects, "I was, in some way, in those years, without entirely realizing it, the Great Black Hope of the Great White Father. I was not a racist—or so I thought; Malcolm was a racist, or so they thought. In fact, we were simply trapped in the same situation."
Instead of following a straight-ahead, curatorial biographical arc in its narrative, Peck's film is more assertive and present-minded. The conspicuous lack of traditional documentary devices (glib speakers, reenactments, etc.) allows Baldwin to talk directly to viewers—and thereby to unintentionally speak to this moment, which his words, sadly, still do. In this space, Peck slyly shows continuity by displaying connected imagery at disparate times in the film. Birmingham beatings butt up against pictures of lynched black people hanging from trees; Rodney King's brutal assault and Eric Garner's murder, racist technicolor advertising with footage from today's garishly overlit Times Square, contemporary game shows, and Baldwin's astute claim that "White is a metaphor for power, and that is simply a way of describing Chase Manhattan Bank." 
These paired images and words tend to appear anachronistically, perhaps because Peck doesn't want to point at the all-too-obvious associations between the profound imbalances of racial power in Baldwin's day and in our own. This is not merely a meme-like accretion of complimentary images; you have to see it for yourself. There are no talking heads in the film, and in that way, the documentary recalls the nonfiction films of Billy Woodberry and filmmaker Arthur Jafa's poetic essay-documentary Dreams Are Colder Than Death (2014), a project commissioned to investigate black life in America fifty years after Dr. King's March on Washington. You pay more attention to what's being said than who's saying it.
American society damned defiant folks like the ones demonstrating in Birmingham, and yet made heroic epics about fictional mutinies.
Banishing talking heads from the scene also lends the film an unconventional, almost experimental quality, and offers another vantage on the world Baldwin so eloquently described: a view through the eyes of photographic subjects, so routinely used to being objects. Baldwin himself was once surveilled by the FBI, and a 1966 Bureau report appears in the documentary. The inclusion of this memo feels like a triumphant winking nod to Baldwin's awareness of the spying. The film's promotional poster notably features just Baldwin's eyes and the title, and all through the film are magnetic images of black people staring, looking off, caught in their own subjectivity. The effect of these eyes turned back on the viewer is breathtaking. What distinguished Baldwin's career was his principled rejection of the white gaze in favor of a black point-of-view, which he deems more intelligent for its knowledge of itself and white America. Jackson's voiceover makes this point unmistakably, saying at the end of the film, "You never had to look at me. I had to look at you. I know more about you than you know about me." By the film's close, I realized in fact that I knew less about Baldwin the man and more about America, but I'm sure that was by design. 
Deep into I Am Not Your Negro, an image appears that connects the various themes in the film: a black-and-white photograph, taken by Bruce Davidson in 1963, shows a young black woman gazing intently at something outside of the frame, her head turned away from the camera. As our frame of reference expands, we see that she's being arrested by two white policemen. The men flank her on either side and in the background a crowd of mostly black people gathered in front of Carver Theater in Birmingham, Alabama, watches the arrest. The theater's marquee draws the eye; in the background just above the woman's head the sign reads, "Suspense! Excitement! Susan Hayward in 'Back Street' and 'Damn the Defiant.'"
The signage, to me, is what philosopher Roland Barthes called the punctum, or piercing emotional detail, highlighting the signification at play in both the photo and the movie at large: the contrast of foreboding danger in the foreground with popcorn drama in the back, the black audience ironically positioned with their backs to the theater as they take in the real violence ahead. This is counterpoise writ in reality. It's a critical image at the heart of a film that's balanced between Baldwin's analysis of American racial politics and Hollywood flicks. The documentary is like a ninety-three-minute extended meditation on that photo, a space to look at the narratives made by the country's media industry alongside the glaring racial disparities it rarely gets right. American society damned defiant folks like the ones demonstrating in Birmingham, and yet made heroic epics about fictional mutinies, ergo 1958's Damn the Defiant!. By the end of the film, I found myself marveling at Baldwin's brilliance, and marveling at how much that glancing image of a movie marquee said about his life and career—and about the rest of us.