No Future for You
Salvos from The Baffler
---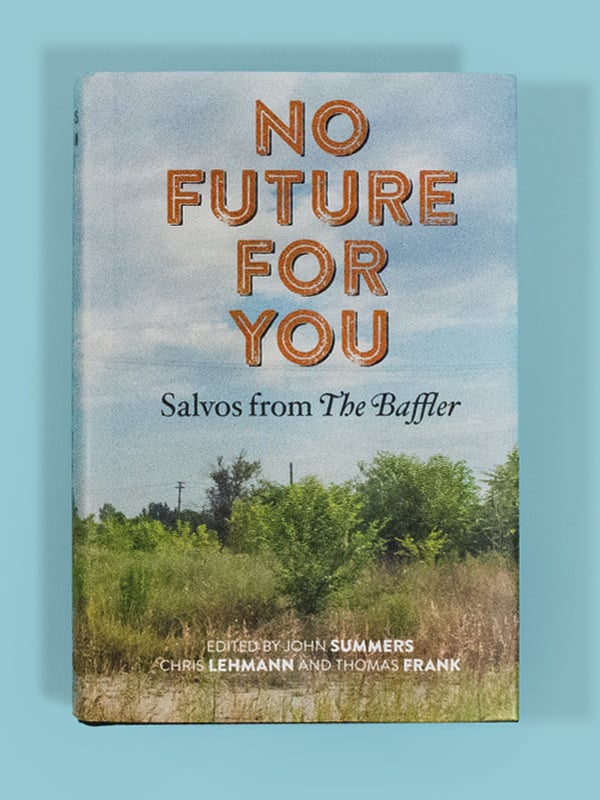 There's never been a better time to be outside the consensus—and if you don't believe it, then peer into these genre-defining essays from The Baffler, the magazine that's been blunting the cutting edge of American culture and politics for a quarter of a century. Here's Thomas Frank on the upward-falling cult of expertise in Washington, D.C., where belonging means getting the major events of our era wrong. Here's Rick Perlstein on direct mail scams, multilevel marketing, and the roots of right-wing lying. Here's John Summers on the illiberal uses of innovation in liberal Cambridge, Massachusetts. And here's David Graeber sensing our disappointment in new technology. (We expected teleportation pods, antigravity sleds, and immortality drugs. We got LinkedIn, which, as Ann Friedman writes here, is an Escher staircase masquerading as a career ladder.)
Packed with hilarious, scabrous, up to-the-minute criticism of the American comedy, No Future for You debunks "positive thinking" bromides and business idols. Susan Faludi debunks Facebook executive Sheryl Sandberg's phony feminist handbook, Lean In. Evgeny Morozov wrestles "open source" and "Web 2.0" and other pseudorevolutionary meme-making down to the ground. Chris Lehmann writes the obituary of the Washington Post, Barbara Ehrenreich goes searching for the ungood God in Ridley Scott's film Prometheus, Heather Havrilesky reads Fifty Shades of Grey, and Jim Newell investigates the strange and typical case of Adam Wheeler, the student fraud who fooled Harvard and, unlike the real culprits, went to jail.
No Future for You offers the counternarrative you've been missing, proof that dissent is alive and well in America. Please be warned, however. The writing that follows is polemical in nature. It may seek to persuade you of something.
Copublished by Baffler Books and MIT Press.

Contributors
Chris Bray, Mark Dancey, Barbara Ehrenreich, Susan Faludi, Thomas Frank, Ann Friedman, James Griffioen, David Graeber, A. S. Hamrah, Heather Havrilesky, Chris Lehmann, Rhonda Lieberman, Anne Elizabeth Moore, Evgeny Morozov, Jim Newell, Rick Perlstein, John Summers, Maureen Tkacik
John Summers
was the editor in chief of 
The Baffler
 from 2012-2016. 
Chris Lehmann is the DC bureau chief for The Nation, editor at large of The Baffler, and author of The Money Cult.
Thomas Frank
is a political analyst, historian, journalist and columnist for
Salon
. He is a former columnist for the
Wall Street Journal
, authoring "The Tilting Yard" from 2008 to 2010, and a founding editor of
The Baffler
. He is the author of a number of books, most notably
What's the Matter with Kansas?
(2004). His newest book is 
Listen, Liberal.
Baffler Newsletter
New email subscribers receive a free copy of our current issue.
---