The Singing Left
Music and struggle at the Blair Mountain centennial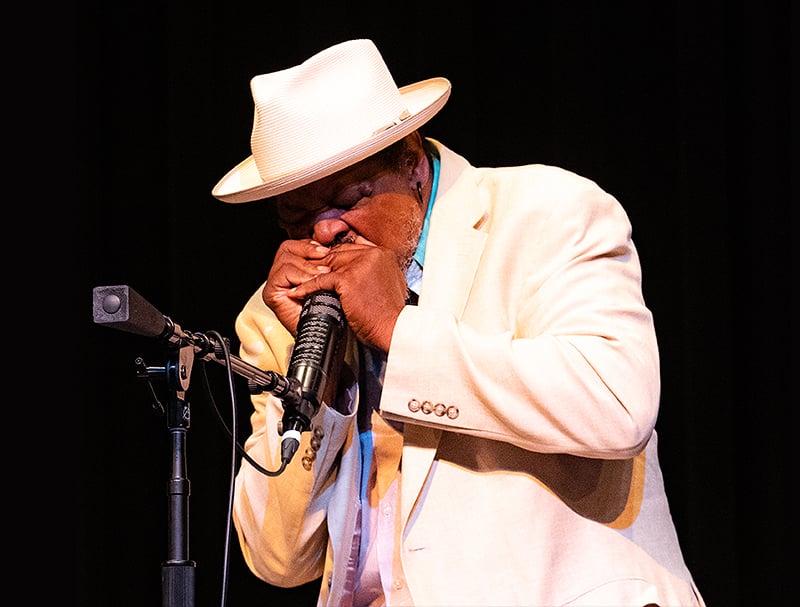 Phil Wiggins performs at the Blair Mountain Centennial. | Rafael Barker, collection of the WV Mine Wars Museum
From the moment I walked off the plane and into Charleston, West Virginia's small, utilitarian airport, there was music. Specifically, John Denver. A tinny recording of the New Mexico-born songwriter's beloved ode to West Virginia's picturesque backroads wafted through the baggage claim as I tried to find a cab willing to take me the five miles to my cut-rate hotel. "Take Me Home, Country Roads" was adopted as one of West Virginia's four official state songs in 2014, and evidence of the warm place it holds in many West Virginians' hearts (or at least, in their more tourist-oriented marketing materials) was inescapable during the five days I spent in and around the Mountain State's capital city. While Marylanders may have more claim to the song's geography, it follows that a state and a people who have so often been denigrated, exploited, and overlooked by outsiders would embrace a tune that so earnestly describes their beautiful, bruised home as "almost heaven."
Denver, a humanitarian and activist himself, didn't get around to mentioning the long history of struggle that has defined so much of the popular imagination about West Virginia in his radio hit. But for centuries, the region's own musicians sure did, in churches and coalfields and community centers scattered throughout the state. Appalachia's deep-rooted musical traditions have gotten its people through unimaginably hard times and have also provided inspiration for those suffering further afield. Take the luminous Hazel Dickens, a bluegrass icon and activist who was born into a coal mining family in Mercer County, and who became a voice for the state's working people, helping to illuminate their hard-fought battles in the classic labor films Harlan County, USA and Matewan. Alongside Alice Gerrard, Dickens became one of the first women to record a bluegrass album, and as her star rose, she lent her prodigious voice to the miner's plight, penning songs like "Coal Mining Woman," "Mannington Mine Disaster," and "Black Lung," the latter written for her brother who died of the brutal disease. "I've never lost my sympathy for working people," Dickens told the Chicago Sun-Times in 2002. "I've always said that if I have a religion, it's the working-class experience and what I feel for working-class people."
Appalachia's deep-rooted musical traditions have gotten its people through unimaginably hard times and have also provided inspiration for those suffering further afield.
Dickens went to her reward in 2011, but her influence still looms large on the current generation of West Virginian folk singers. Her spirit paid us a visit during the opening night of the Battle of Blair Mountain Centennial, a multi-day celebration organized by a dedicated band of local historians, authors, folklorists, trade unionists, museum curators, and activists to commemorate the most important labor uprising that most Americans have never heard of. In 1921, in the midst of a long march to Mingo County to free miners imprisoned in the aftermath of the 1920 Matewan Massacre, an interracial, interethnic group of ten thousand pro-union coal miners took their rifles and their red bandanas up Blair Mountain and went to war against a three-thousand-man private army mustered by the hated Sheriff Don Chafin. Bombs and poison gas were dropped on the coal camps, dozens were shot and killed, and federal troops were eventually called in to break up the conflict.
While the miners lost the battle—and nearly a thousand were imprisoned afterwards—their sacrifice and bravery became a symbol of resistance against the violence and corruption of the coal bosses and the corporate machine that kept those dark lords of the coalfields in power. Despite the coal industry and its political cronies' best efforts to bury the story of Blair Mountain (and the dearth of labor history education in this country), the impact of these original "red necks" is still felt a century later. The red bandanas worn during the 2018 and 2019 West Virginia teachers' wildcat strikes honored their place in history. At the Centennial, these beloved cultural artifacts were on full display once again, tied around the necks and tucked in the pockets of the mixed crowd of outsiders and locals who had all poured into the area for the anniversary.
The Blair 100 committee had spent years planning a week's worth of events to mark the occasion, with Charleston as its epicenter. There was an intentional emphasis on diversity and accessibility, with an ASL translator onstage for each performance and a concerted effort to acknowledge the ethnic and racial diversity of the Blair miners themselves, as well as the strength that multi-hued solidarity brought them during their struggle. On that first evening, the opening musical act, Heather Hannah & Company, incorporated Dickens's 1972 mainstay "West Virginia, My Home" into one of their impassioned folk medleys. Some in the crowd sang along, their voices mingling in the dark auditorium. Red bandanas slashed bright against the trio's earth-toned stage getups, and Hannah's own honeyed rasp lent ragged pathos to their old-time melodies. At one point, she invited her coal miner father and three other family members onstage to sing together, multiple generations joined in harmony.
The next two acts were already legends, and had appeared together on the original Matewan soundtrack alongside Dickens herself. Gerry Milnes, a West Virginia folklorist, educator, and multi-instrumentalist, fiddled up a storm to shame the devil, while renowned blues harmonica player Phil Wiggins whipped up a smooth, soulful blend of jazz, swing, and his trademark Piedmont blues to close out the evening.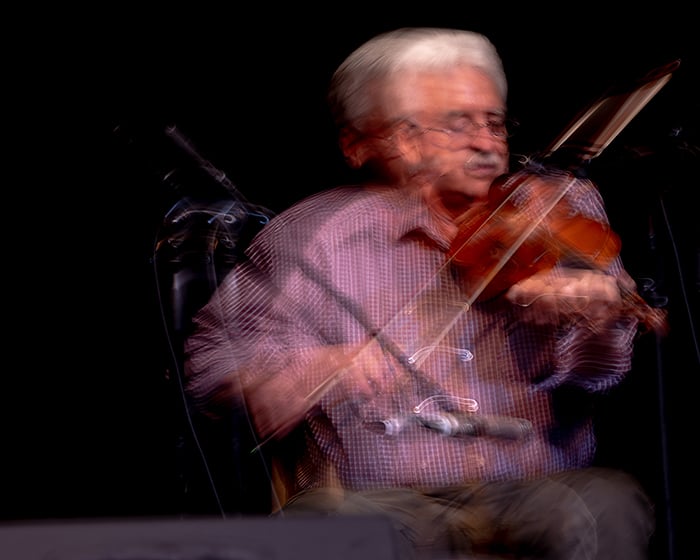 In between the musical performances, West Virginia state folklorist Emily Hilliard and Appalachian musician, balladeer, and documentarian Saro Lynch-Thomason gave short presentations on Mine Wars history and the music of the coalfields, with Lynch-Thomason periodically breaking into snippets of culturally significant song in gorgeously clear, measured tones. Doris "Lady D" Fields, a blues singer and songwriter known as West Virginia's First Lady of Soul, came up to share the story of her father, a coal miner born in Bessemer, Alabama, who was nine years old and already working in the mines when the miners began their fateful march in 1921; she closed her remarks with a verse of "Oh, Freedom." Crystal Good,  an activist, artist, and a member of the Affrilachian Poets collective, performed her poem, "Civil Up & Rising," which drew a direct line between the battle on Blair Mountain and the 2014 uprising in Ferguson, Missouri, following the murder of Michael Brown. She ended with a clip of rapper KRS-One singing a few lines from the labor classic "Which Side Are You On?" In 2015, that video was featured in a cover by Bronx-based Chilean rappers Rebel Diaz, whose own militant spirit is front and center in their work. "Can't be dormant, I've awoken, rise up, be ready," G1 spits on their bass-heavy reimagining of "Which Side Are You On?" "Brought the family with us, and we hold the machete."
On Friday evening, the West Virginia local of the Industrial Workers of the World hosted a performance by the Wooden Shoe Ramblers, a Twin Cities-based folk trio with deep roots in their own hometown labor and social justice communities and a keen awareness of their place in a long line of radical working-class troubadours. "All of us are working people, and organizers, as well as the musicians," vocalist and songwriter Jessica Garraway told me. "We try to take the lessons that we have learned in the streets and in organizing meetings, on the shop floor, in the community, and then put it in our music to keep these understandings alive, and get other people to think about the issues that we raise and how they connect with those issues and how it can impact their own work."
Alongside her bandmates, Garraway played a mix of old Wobbly songs; the Ramblers' adaptation of the Black spiritual "Wade in the Water," which honors the water protectors battling pipelines at home; the rousing and self-explanatory "West Virginia Teachers' Strike"; and "Harriet Tubman," an ode to the general they called Moses. The audience sang along on classics like Joe Hill's own "There Is Power in a Union," to which the Ramblers made a small gender-inclusive alternation. Instead of the workingmen of Hill's day, the trio chose to hail the power of "a band of working friends," emphasizing that everyone has a place in the one big union. "The relationship between music for the arts, theater and organizing has always been there," Garraway said. "And we're really proud to be able to continue that tradition."
Though I was in West Virginia to report on labor history, the music frequently took center stage, and not just during Blair 100's organized concerts. On Saturday, I hitched a ride to Matewan to visit the Mine Wars Museum and join a historical walking tour led by author, activist, and historian Chuck Keeney, the great-grandson of Mine Wars labor leader Frank Keeney. Day slipped into the evening unnoticed, and darkness fell as we drove down the serpentine mountain roads that John Denver used to dream of, headed back towards Charleston's finest dive bar with the driver's iPhone library on shuffle. When Bowie faded into DMX, the volume knob went up, up, to just a little louder than the car stereo could handle. He may have lived and died thousands of miles away from the coalfields, but Earl Simmons understood what suffering does to a man, and what it takes to keep pushing forward towards something that feels like hope. It felt fitting that his spirit had swung by on its way somewhere brighter. "And it ain't even about the dough," he reminded us as we drew closer to the city lights, with visions of Bloody Mingo still swirling in our mind's eyes. "It's about getting down for what you stand for, yo."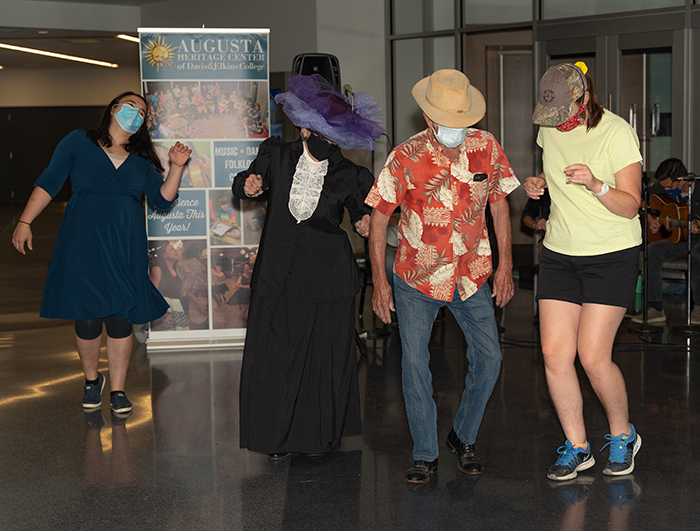 The next morning, head still cloudy with whiskey fumes, I went to church. My curiosity had won out over my hangover, and I found myself in a hard-backed maroon chair watching a man in a red bandana talk about God, at what felt like a thoroughly ungodly hour of the morning. The People's Church: A Dissident Coalfield Worship Experience at the Coalfield Jamboree theater in downtown Logan, West Virginia, was a hybrid of sermons, scripture, and music—lots of music. The nondenominational service was inspired by "the gospel of liberation" that arose from the mining camps who shunned the company church and accompanied by the dulcet plucking of local folk duo the Sycomores; vocalist Sabrina Shrader hopped in to sing a few gospel songs, and Angela Jones performed a stirring acapella version of "Oh, Freedom!" inadvertently picking up on the thread Lady D had proffered days prior. Though he spoke instead of sang, there was music in Reverend Brad Davis's sermons, too, with song lyrics woven into the tones of his voice and the pictures he painted. "A holy rising of sacred resistance in the coal fields has come," he thundered. "A rebirth is here, and we shall not be moved. We shall not be moved. And ain't nothing, ain't nobody going to turn us around."
The voices of those who were forgotten and ignored while they lived and toiled can find eternal life in song, and those who still struggle against oppression can find solace in their stories.
At the scorching-hot UMWA-hosted Labor Day rally in Racine later that day, the mood was decidedly more secular as folks lined up for barbecue and searched for shade. Onstage, blue-collar troubadour Tom Breiding unveiled a new song, "One Day Longer," penned in honor of the eleven hundred Alabama coal miners still on strike at Warrior Met. They've been out on an unfair labor practices strike since April 1 and have endured months of hardship and escalating violence on the picket lines in their pursuit of a fair contract that offers a decent wage, proper health care coverage, and time off to see their families. The Alabama strikers aren't asking for much—they really just want to get back what they already had under a prior contract, signed years before the previous owners declared bankruptcy and Warrior Met bought the mines.
Outside of Tuscaloosa County, these miners' ongoing struggle has largely fallen on deaf ears, ignored by politicians and major media, but the labor community has been there for them, and has been rallying support since day one. Back in May, The Valley Labor Report radio show put together Alabama Strike Fest, a benefit show that brought together a host of Southern musicians and comedians and raised over $70,000 for the cause. Breiding, who was born in Wheeling, West Virginia, and now lives in Pittsburgh, is the union's artist-in-residence, and frequently appears at UMWA rallies and events; I first saw him play at a Warrior Met miners' support rally in Brookwood, Alabama, and UMWA President Cecil Roberts has dubbed him "the greatest labor singer in the United States today." In Racine, he took the stage in UMWA camo, and sent solidarity out to the miners down South, neatly summing up their six-month ordeal in lyrics like, "From Warrior to Wall Street, there's money to share, and all you want now, is a contract that's fair."
The event's headliners, Ralph Stanley II & the Clinch Mountain Boys, played more than a few coal mining songs of their own, drawn from the outfit's combined seventy-five-year history as bluegrass royalty. Going back to Hazel Dickens and even before, the genre has long found a home in the coalfields; it offered miners and their neighbors a means to express their joys and woes. "Bluegrass is to the heart," Clinch Mountain Boys guitarist and backing vocalist Caleb Shifflett, a towheaded nineteen-year-old from Virginia, told me. "Most songs are written by experience from people who have been through it, whether it's songs about a flood or about coal mines or whatever it is. There's just so much history packed into it. And that's why bluegrass is important, to carry on the tradition."
That emphasis on tradition, and remembrance of those who came before, popped up in each conversation I had and at every performance I witnessed; it was a running theme throughout the Blair Centennial weekend, but it goes deeper than that, too. What is a folk song if not a living document of struggle, a celebration of resilience, and an ode to those who didn't make it? Music has always been a tool of working class resistance, from Wobblies and coal miners' daughters with guitars to immigrant hip-hop artists, radical spoken word poets, and anarchist black metal bands. The voices of those who were forgotten and ignored while they lived and toiled can find eternal life in song, and those who still struggle against oppression can find solace in their stories. The Wooden Shoe Ramblers put it so clearly: "I'll hear my spirit ringing where the chisel left this cleft / Between the hammer and the anvil, there is only singing left."