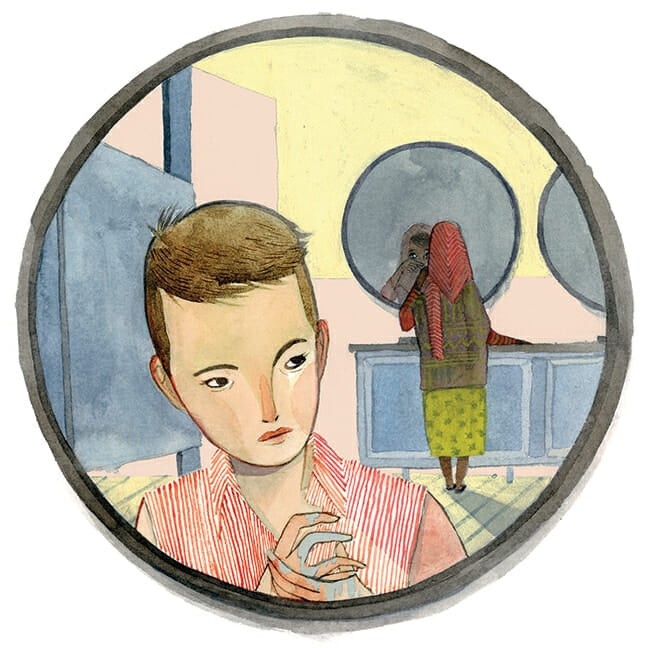 I've got money. But money means nothing. I have no visa. So I can't leave the airport. I can't take the express train to Vienna. So I drink Viennese coffee and eat Sachertorte. I'll be trapped in Terminal C for a full seven hours.
How many perfumes can you try out in the duty free shop for seven hours? How many gifts can you buy?
Mozart candies. Refrigerator magnets. Mozart candies. More perfume. Coffee. I read yesterday's paper. I hate being alone. At the airport. I hate being alone anywhere.
I people-watch. I drink another coffee. The coffee makes me pee. I go to the toilet for the third time. And I've been here just an hour.
Airports are catalogs of destiny. I watch people. I imagine stories. Who goes where. And why. And to whom?
And to what? It makes it easier for me.
I enter the toilet for the fourth time. A girl stands in front of the mirror. I have no idea why, but I feel an acute urge to ask how she is. She stands there with a suitcase and I know she's been there an hour. I know because I watch people. I've seen her every time I've been to the toilet.
I wash my hands next to her. And then, in a quiet, unobtrusive way, watching my reflection in the mirror, she says to me in poor English, "You are pretty."
I look her in the face and think, Oh God . . . . she's crying.
"Where are you flying?" I ask her.
"I don't know . . ." she says. And tears roll down her cheeks. A scarf tied under her chin absorbs them.
"Are you alone?" I ask the silliest possible question. We are all alone.
"Yes . . . he left and told me to wait for him . . . here in the toilet . . . ."
I fear the answer . . . but still I ask, "And when did he leave you?"
"Two days ago . . ."
I feel my stomach clench.
"Are you hungry?"
She nods.
I take her hand and lead her from the toilet.
Her name is Fatma. Fatma's stomach hurts. Fatma cries. Fatma is from Somalia. And I . . . I would have screamed.
She takes a pill for the pain. She cries more. Quietly. Tears roll down her cheeks. She doesn't know if she has a passport. He may have it. But he left. And told her to wait for him. In the toilet. She pulls a birth certificate from her pocket. Folded and worn. She's twenty-one years old. And she says, "He will come back, Inshallah."
Her big watery eyes grow even bigger and wetter when she sees the people from airport security. She clutches my hand and waits for them to pass. She is afraid. Afraid of what will happen when they arrest her. She asks me if there's a refugee camp in Bosnia. She asks me if Bosnia is in America.
She cries. She says, "He's coming, Inshallah!"
She doesn't want me to go with her to the police. She doesn't know what she'll say to him if he returns for her. I ask her, "Where did he bring you from?" She doesn't know. She shrugs. She says, "I have no parents. Dead. I have a brother. But I don't know if he's alive."
And again she cries. Quietly.
I forget everything. And time passes. Fatma cries.
They page me: "Last call for passenger Kamerić!"
I leave Fatma in the toilet. I give her a phone number. I hug her. Fatma cries. Now I must leave. I hug her tightly. And I feel completely empty.
I understand nothing. Nothing. Not solitude. Not sadness. Fatma remains. Alone. In the toilet at the Vienna airport, with sandwiches I crammed into her pockets and a crumpled Somalian birth certificate. And then I think, God keeps her. And her faith.
She contacts me ten days later. Finally someone from Vienna airport security noticed a young, beautiful woman who'd been crying in the toilet for five days. Fatma no longer cries.
She says they told her she'll get asylum. She says I'm a good friend. I say, "Take care Fatma, may God protect you. And keep in touch, Fatma."
And then I slowly understand what solitude is.
Solitude isn't sitting alone in the airport in Vienna and wondering if someone will be waiting when you touch down at home.
Solitude is the phone in the asylum center from which you call the only number you have.
Translated from the Bosnian by Jennifer H. Zoble.