In March 1989, Mark Kilroy, a premed student at University of Texas at Austin, walked across the Mexican border with three friends for a little spring break dancing and drinking. But on the walk home from Matamoros, Kilroy was separated from the group and failed to turn up at their hotel the next morning.
Three weeks after Kilroy disappeared, an informant who'd been captured during a large-scale drug-enforcement operation run jointly by U.S. and Mexican authorities led police to a ranch in a sparsely populated area west of Matamoros. The federales found what they were looking for—seventy-five pounds of marijuana—and more; at least a dozen male corpses in shallow graves. The bodies of the dead had been killed in a variety of gruesome ways: hanged, shot, or burned. All were mutilated: ears, testicles, and heads had been chopped off. Kilroy's body was among them. The scene—in a "windowless shack" on the ranch—was described in a June 1989 Rolling Stone article by Guy Garcia:
On the blood-smeared floor, amid a battery of still-glowing candles, stood an iron kettle filled with iron and wooden spikes, a charred human brain, and a roasted turtle. Other urns contained a grisly stew of congealed blood, human hair, and animal parts. Scattered about the room were coconut shells, cigars and cane liquor, an iron bed frame, heavy electrician's tape, a blood-caked machete, and a hammer. Police also discovered a large oil drum that seemed to have been used to boil some of the victims.
The Mexican press called the killers, headed by a cartel boss named Adolfo Costanzo, narcosátanicos, drug satanists. According to the Associated Press, they prayed to the devil "so the police would not arrest them, so bullets would not kill them, and so they could make more money." Among the items found in the room, surrounded by candles and offerings, was the statue of a skeleton dressed in women's clothing.
And so began the global media's fascination with Santa Muerte, a growing religious movement centered around a skeleton "saint" with more than an estimated five million Mexican and Mexican-American followers. "It's not clear exactly what role she played in the narco cult," wrote R. Andrew Chesnut, a professor of religious studies at Virginia Commonwealth University, in his 2012 book, Devoted to Death: Santa Muerte, The Skeleton Saint, "but this was her media debut as a sinister Grim Reapress linked to ritual human sacrifice and drug trafficking."
Santa Muerte is depicted by statues, on candles, and on prayer cards as a white skeleton with long, dark hair and the feminine clothes of a nun, bride, or the Virgin Mary. She holds a scythe in her right hand—or in some cases, the scales of justice. In her left, she holds the world. Enter any botanica or esoterica store from Queens, New York, to El Paso, Texas, to Tijuana, Mexico, and you'll find the sacred objects that believers use to worship and petition her for intercession in their daily lives.
These familiar trappings of household worship properly situate the ritual propitiation of Santa Muerte in the tradition of Mexican folk religion; she's one among many figures who create a synthesis of native folk beliefs and Catholic-style observance—not unlike the cheerful Day of the Dead characters who populate the hit Pixar holiday movie Coco. But in the study of religion, a key taxonomical truism is that one person's faith is another's cult. So while Santa Muerte's adorers are sustained by her resourcefulness and come-as-you-are acceptance, government officials and the media work overtime looking for ways to target salacious criminals. Mexico's narco-baiting officialdom is invested in portraying Santa Muerte as a satanic cult that identifies the violent and evil criminals of the drug wars.
Beloved by millions for her granting of daily needs and requests, Santa Muerte, the saint on altars of the poor, endangered, disenfranchised, and heartbroken, represents a principle of compassion and order within a socioeconomic hierarchy notably short on both. But she means something quite different to her adherents than she does to drug-warring governments. To police and military officials seeking to eradicate the violent scourge of black money, kidnappings, and violence that straddles the border, she is little short of the devil incarnate.
Love Turns to Carnage
It's been an unlikely transfiguration for a goddess previously best known for offering divine succor to the lovelorn. For more than a century prior to her rediscovery in the blood-drenched drug wars of the 1980s, Santa Muerte was revered in private as a reliable worker of love-binding spells for lonely and abandoned women. Chesnut, who traces the saint's skills at love to Spain, writes:
From the advent of love-related spells and curses centuries ago in the Mediterranean to the present-day Americas, patriarchal societies have generated strong demand for such love magic on the part of socioeconomically vulnerable women.
In addition to Santa Muerte's competence in bringing wayward men back, "humbled at [the] feet" of their vulnerable women, she is known to perform a host of other beneficent duties. An array of candle colors generally denote these aptitudes: red for love, gold for income and the success of a new business, purple for healing, brown for wisdom and enlightenment, yellow for relief from drug addiction, green for justice. Known as the White Girl or White Sister, the skeleton is most commonly associated with the white candle, which is used to pray for purity and protection and to show gratitude. White and red candles remain the most popular choice among Mexican and Mexican-American devotional offerings. Her broad ambit of authority, combined with her distinctly proto-feminist role in the informal pantheon of syncretic worship, has given Santa Muerte, among her predominantly working-class adherents, a reputation as one of the most powerful saints rearranging the life prospects of believers.
After Santa Muerte had enjoyed a long run of underground or private veneration as a love saint, an aproned housewife took the saint public in 2001. Enriqueta Romero, known as Doña Queta, lives in the working-class Mexico City barrio of Tepito. When her son returned from prison, where he had been introduced to the skeleton saint, he brought his Santa Muerte faith home to his mother, who placed a statue on an altar in her home as thanks for her son's release. To make ends meet, Doña Queta sold quesadillas out of her kitchen, leaving the door open to customers who began to ask if they could worship the statue visible behind her. On All Saints' Day in 2001, she moved her life-size statue of Santa Muerte to the street—there was no more room inside for the apples, candles, notes and other tokens of veneration her patrons had left behind. Today, Doña Queta hosts a monthly rosary service attended by thousands of worshippers who leave fruit, chocolate, tequila, and cigarettes, all the things they enjoy, for the saint.
The federales found what they were looking for—seventy-five pounds of marijuana—and more.
Santa Muerte is also more than a retiring household goddess. Her reputation as one tough broad endears her to her followers: she is a cabrona, a bitch, a battle-ax "like us." To the socially and economically marginalized, Santa Muerte is a nonjudgmental miracle worker. "Like St. Jude, Santa Muerte has a following among those in risky professions . . . those who live close to death," Lois Lorentzen, a professor of social ethics at the University of San Francisco, said in an interview in 2009. Lorentzen first heard of Santa Muerte when studying religion and migration among transgender Latin American women in San Francisco; she found that Santa Muerte was often practiced by those who had integrated the skeleton saint into their lapsed or latent Catholicism. The saint, like the death she personifies, served as the great equalizer—never reproving of the actions or life situations of her devotees. Santa Muerte is willing to honor requests that the Catholic Church's official saints will not.
The year after Doña Queta moved her statue to the street, archbishop David Romo Guillén founded the Mexican-U.S. Apostolic Catholic Traditional Church in Mexico City, incorporating all the accessibility and egalitarianism the saint is known for and appointing himself Archbishop. The church was registered as a religious organization in 2003."The archbishop promotes condom use for men and women and the doors of the church are open to gays, lesbians, transvestites, and transgender [people]," Lorentzen writes. "Priests are allowed to marry, women can become ordained, and divorce is not censured." Romo also holds services for prisoners. Lorentzen notes that few believers differentiate their prayers to Santa Muerte from the more official rites of their Catholic worship; Santa Muerte then provides a way for those excluded from the Church to continue the faith practices they grew up with but became estranged from. The Mexican government revoked the church's status as a religious organization in 2005.
A New Kind of Drug Lord
None of Santa Muerte's legacy of good works and expanded worship figures into the decades-long campaign in the Mexican press and among the frontline combatants in the drug war to stigmatize Santa Muerte as the epitome of predatory religious perversion. It's the darker side of the Santa Muerte cult that has bewitched the media and alarmed (and armed) officials and drug enforcement agents on both sides of the border—especially the black candle of vengeance that figures into Santa Muerte's workaday devotions. Santa Muerte's suite of protective miracles are indeed what compel men involved—either by economic necessity or by vice—in drug running and kidnapping activities to pray to her. And when these men are arrested, they take Santa Muerte to prison with them.
This fact alone has caused Santa Muerte's outlaw renown to spread far and wide. Mexico's incarcerated population peaked in 2014, with more than a quarter million men behind bars. The government attempted to modernize the justice system in 2008, to strange effect: since then the murder rate has risen, but the prison population has fallen. Mexicans know that it's hard to find any semblance of justice in their broken system, which explains, among other things, why Santa Muerte is a common tattoo among prisoners, who seek her protection from incarceration and wrongful conviction (or the rightful kind, for that matter). One Santa Muerte prayer for justice reads, in part:
To you Holy Death, I oblige your impartiality of your scale.

My Lady, look into my heart, hear me imploring for my necessities, make your divine hand guide the decision of judges and jailers.
This brand of worship is what fuels the official campaign to demonize Santa Muerte and her cult. Because of her socioeconomic provenance, she has become inseparable from narco culture, proving to be both spiritually and economically entrepreneurial: from candles to movies, from love spell ingredients like Santa Muerte powders and sprays to Mexican hip hop music. The saint's powerful images and iconography are everywhere in Mexican culture.
Santa Muerte has also reached American media and entertainment outlets, which have eagerly followed the lead of their Mexican counterparts, and highlighted the tight identification of the saint's iconography with narco culture. A Breaking Bad episode featured two drug dealers crawling on their knees through the dirt to pray at a Santa Muerte shrine. However accurate the portrayal, the series singled out killers to represent her following. The series El Chapo, produced by Netflix and Univision, was released last year and contained many callouts to the flashy, lurid, and dangerous side of Santa Muerte worship. And Reza Aslan's short-lived CNN series, Believer, aired an episode on Santa Muerte that quickly came under fire for stereotyping Mexico's drug-fueled violence.
Harvard Divinity School professor David Carrasco, a scholar of Mexican religion, was asked to answer questions in a Santa Muerte segment of the show. But as he wrote for HuffPo, Carrasco found after watching a preview that the "clowning of the narrator in the presence of Mexicans struggling mightily with limited resources and desperate religiosity" was sensational, ahistorical, and "contributes further to the shameful political and media insults about Mexico and Mexicans."
The irony is clear: U.S. media companies are making bank on stories of Mexico's lawlessness—a cycle of crime and violence that impoverishes and jeopardizes the lives of Mexicans while laying bare the complicity of the U.S. government for its role in prosecuting the endless drug war south of the border.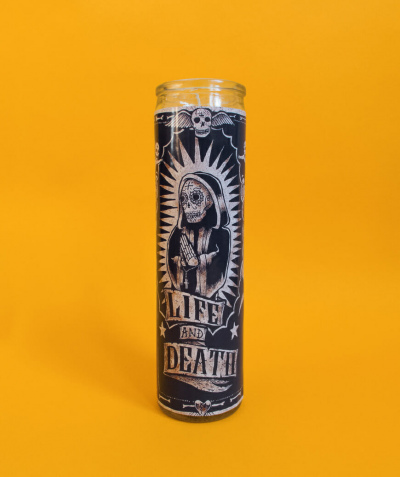 The Devil They Don't Know
The 1989 Matamoros killings of American Mark Kilroy and others may have been the cult's first public association with Mexican drug cartels—but not the most gruesome instance. As America's war on drugs shut down much of Colombia's operations in the 1980s and 1990s, Mexico's cartels picked up the slack, racking up billions of dollars and thousands of dead bodies by selling marijuana, heroin, methamphetamines, cocaine, and anything else with the promise of a growing market. Violent stories of renegade dealers and shoot-em-up cops have captivated Mexican and American news outlets over the past fifteen years, cementing the death cult narrative as an integral part of the drug wars.
Santa Muerte is trotted out in story after violent story to serve as both the confirmed spiritual motivator and designated protectress of the illicit and bloodthirsty narco warriors. There was the kidnapper Mochaorejas ("Ear Lopper"), who infamously cut the ears from his victims and sent them to their families. When asked why he killed a man whose family couldn't pay a $3 million ransom, he replied, "because he didn't give me the money I was asking for." Mochaorejas was arrested in 1998 and took a statue of Santa Muerte with him to his prison cell.
Then there's infamous Sinaloan drug lord, El Chapo, arrested in 1998 in Guatemala. He escaped from a maximum-security prison in 2001 and was recaptured in 2016 after a shootout. He is currently detained in the United States. While El Chapo's association with the folk saint Jesús Malverde predates Santa Muerte's rise, his son's loyalties are to the White Lady. The story of Santa Muerte continues to add the fascination of occult faith to the raging and seemingly endless violence of the drug war.
She holds a scythe in her right hand—or in some cases, the scales of justice. In her left, she holds the world.
American news outlets invested in ratings and wedded to conservative tropes—infused with racism, tough-on-crime drug-war rhetoric and a prurient fascination with motivating fear of the occult and the dead—lend a distinctly Trumpian gloss to the moral panic surrounding Santa Muerte, making her public enemy number one. "Faith, Drugs, and Human Sacrifice: A Mexican Folk Religion Has Texas Police Worried," read the headline of a July 2017 article at the conservative site The Daily Caller.
In February 2017 three Catholic Bishops in the borderlands of the American Southwest denounced worship of Santa Muerte as "antithetical" to the teachings of Jesus. "She's not a saint. There is nothing good that can come out of praying to her," Santa Fe Archbishop John Wester said in a related statement. The American bishops, alarmed by the rate at which the number of Santa Muerte's followers is growing in North America, have borrowed the scare tactics of the Mexican bishops who've publicly condemned the cult's practices as demon worship.
Ever ready to denounce what it considers aberrant faiths, the Catholic Church has, via its overheated pronouncements on Santa Muerte's putative Satanist appeal, abetted both Mexican and American drug officials' efforts to kill or capture traffickers. In March 2009, at least thirty-four Santa Muerte shrines near the Mexican-American border were bulldozed as the Mexican Army stood guard. "Their demolition was interpreted as a mission of psychological warfare aimed at intimidating the drug cartels," declared the Guardian's Jo Tuckman. Romo and his followers organized protests, claiming that the desecration of Santa Muerte shrines was a violation of Mexicans' constitutional religious freedom. "I feel so angry," Zaida Romero, a single mother who credited the saint with curing her cancer, told the San Diego Tribune's Sandra Dibble, "she has helped me so, so, so much."
As is always the case in the prosecution of the drug wars, the hysteria feeds the violence. Soon after Felipe Calderón, a close ally of the Catholic Church, became president of Mexico in 2006, he began targeting Santa Muerte and other so-called symbols of drug culture across the country. In 2009, the Los Angeles Times reported that the military destroyed five shrines in Tijuana and Rosarito Beach, supporting the government's efforts to prevent further erosion of the tourist industry. Calderón claimed that the military's efforts in Baja were a model for the country, even as the raids produced an uptick in rape, unwarranted searches and arrests and other abuses at the hands of the army, according to human rights organizations.
As is always the case in the prosecution of the drug wars, the hysteria feeds the violence.
In 2010 Nogales International reported that wiretap recordings captured Zeta cartel members "slicing open the stomachs of informants and raising the spilled blood to Santa Muerte, macabre performances that made even battle-hardened Mexican cops blanch." The paper equated the Zetas' behavior with that of the Sinaloan cartel headed by El Toro, which employed a Tijuana man—captured by the police in 2009—to dispose of more than three hundred corpses.
Santiago Meza López—better known as El Pozolero, "The Stewmaker"—enraptured international media. Meza's recipe for disposal was simple: place a large drum filled with a couple hundred gallons of water and two sacks of caustic soda over a fire. When it comes to a boil, add the body. Nothing but teeth and nails are left after eight hours of boiling. Meza then took the remains to a vacant lot where he doused them with gasoline and burned them.
A pozole, it's worth noting, is "a traditional Mexican stew made of hominy, pork and chilies. It is important to keep stirring the soup while it is on the stove," the Washington Post's William Booth reported at the time.
The next year, in 2011, Romo, the Santa Muerte archbishop, was arrested for running a kidnapping ring. He denied the charges, the Daily Mail reported, stating that his church "condemns violence and has no links to drug traffickers" but welcomes all who wish to attend mass. The arrest of the "icon of an underground cult that for many years has been the bane of the Roman Catholic Church and Mexican government" was "both surprising and inevitable," wrote the Los Angeles Times. The arrest was surprising in its boldness, the seemingly wholesale fabrication of Romo's vice from his very public and much-maligned faith, and it was inevitable because Mexican drug war officials have brooked no obstacles in their ruthless eradication of dissent.
David Metcalfe, a religion scholar, explained why law enforcement authorities on both sides of the border are alarmed by Santa Muerte:
You have a decentralized faith tradition whose main symbol is the grim reaper. You also have cartels who are decapitating people, skinning people alive, posting public executions on YouTube. When you have this situation and this iconography with no control over it whose basic symbol is death, that's pretty scary to the law enforcement and justice officials. Because if you look at the iconography and its potential for spurring violence, it's huge.
U.S. Marshal Robert Almonte, based in Texas, has been tasked with briefing U.S. law enforcement on Santa Muerte and her intricate relationship to drug trafficking. "Last year, Almonte testified that a Santa Muerte statue prayer card, found with a kilogram of methamphetamine in a couple's car in New Mexico, were 'tools of the trade' for drug traffickers to protect them from law enforcement. The testimony was used to help convict the couple of drug trafficking," reported the Daily News in 2013. The underlying message here was hard to miss: Don't get caught in the wrong place at the wrong time with Santa Muerte paraphernalia, if you know what's good for you.
Even U.S. military intelligence authorities are assiduously transforming the devotions of Santa Muerte into telltale clues of criminal license. "The Santa Muerte cult is anti-establishment and appears to glorify criminal behavior," reads a report by Kevin Freese for the Foreign Military Studies Office, Leavenworth, Kansas. "Although not all members of the cult are criminals, all live an existence that is dominated by crime. The cult seems to be linked closely to prisons, prisoners, and family members of prisoners." (The study is undated, but its most recent sources are from 2005.)
The last line of Freese's report reads, "as long as these appear to be conditions of life in Mexico and Latin America, and among Latin American communities in the United States, the cult of Santa Muerte will almost certainly continue to prosper." In other words, the global colossus of drug interdiction was yet again mistaking a symptom for a cause, and assuming that the often chaotic and uncontrollable condition of poverty was simply cognate with "an existence dominated by crime." It's precisely this sort of glib, heavily armed blindness to social reality that prompts so many believers to invoke the intercessionary power of Santa Muerte to make things right. And in the process, the organized official defamation of Santa Muerte worship probably spurs believers to wonder just who has taken on the devil's role in this particular morality play.