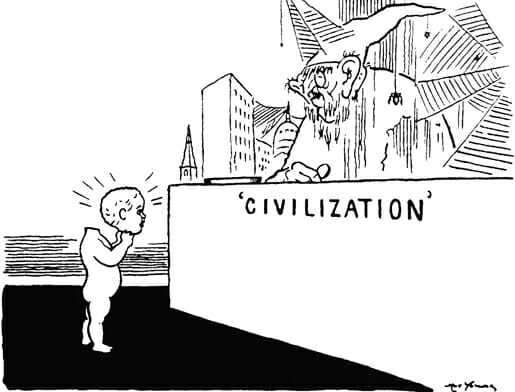 Somehow the pursuit of the American Dream is always most poignant in California. When it crashes here, it seems to do so with epochal fury. "California," Joan Didion once wrote, "is a place in which a boom mentality and a sense of Chekhovian loss meet in uneasy suspension; in which the mind is troubled by some buried but ineradicable suspicion that things had better work here, because here, beneath that immense bleached sky, is where we run out of continent."
A similar suspicion hung palpably in the air during my August visit to Orange County, Calif., the storied locus of virile, "B-1" Bob Dornan conservatism and entrepreneurial might which at that late summer moment lay inconceivably mired in its eighth month of fiscal insolvency. Here, in this theme park of a county (the theme, as one tourist brochure put it, is "you can have anything you want") the meeting of boom and loss was playing itself out in the daily papers: in the Orange County Register, the most reliable barometer of local opinion, one could read stories only pages apart that contrasted life under the penumbra of bankruptcy against the place in the sun that we had always known Orange County to be. Tales of personal depression and "bankruptcy blues" cast a shadow on the passing parade of upbeat economic indicators that everyone else seemed to be enjoying.
Nowhere was that "uneasy suspension" more strikingly manifested than the Crystal Cathedral, the immaculately-maintained headquarters of televangelist Rev. Robert Schuller, set in the modest, Eisenhower-era suburb of Garden Grove, where the John Birch Society once sold its pamphlets in the Knott's Berry Farm amusement park, and where Newt Gingrich's book now sells briskly in the Richard M. Nixon Memorial Library and Birthplace. The Cathedral, in the shadow of Disneyland, is a metaphorical motherlode in the otherwise inscrutable terrain of post-suburbia. Walking through the parking lot, past the silver railings and concrete of the private family gardens ("offering the finest in memorial property"), my first thought was of the Cathedral's fidelity to the environment outside. Designed by Philip Johnson, it is an immense building of white steel trusses and glass-paneled walls. Its mirror exoskeleton glares crisply, like any one of the corporate headquarters ringing the highway interchanges near Irvine. Flanking the Cathedral is a giant "Tower of Power" made up of steel tubes thrust upwards into the sky, terminating in a set of sharp, jagged points, their metal surfaces glimmering menacingly in the sun like a phalanx of missiles at a desert military installation. Inside, a smooth piece of crystal set in a larger mass of unpolished rock, rotates under glass like a jeweler's display in Fashion Island, one of the county's more exclusive malls. An inscription marking the fortieth anniversary of the Crystal Cathedral (1955–1995 A.D.) that is situated nearby reads like a distillation of the history of suburbia itself: "this was also the era of the birth of television, the building of nuclear weapons of warfare, an age of hope and fear."
The Cathedral is a sprawling "megachurch," with all the trappings of mass entertainment: indoor stadium-style seats for 2,862 (but not—at least not yet—skyboxes), Sony JumboTrons adjoining both sides of the pulpit, and an array of broadcasting equipment used to beam Schuller's "Hour of Power"—the country's most popular religious program—to its estimated three million weekly viewers. Just past the church entrance lies the "Drive-In Worship Center." On that day it was empty parking lot, but each Sunday it swarms with Schuller's vehicular flock, who watch from their cars as the Cathedral's ninety foot high doors slide open; a peculiar homage to the preacher's first house of worship, a drive-in movie theater. In the gift and book shop one may find Crystal Cathedral cocktail napkins and keychains, a "Motivational" book section, and myriad postcards and t-shirts bearing Schuller's copyrighted homilies, the most popular of which seems to be: "Tough Times Never Last, But Tough People Do!" Unlike his more inflammatory neighbor in Anaheim, the Rev. Lou Sheldon of the Traditional Values Coalition, Schuller is interested less in morality and sin than a libertarian inspirational uplift, designed to soothe those who have reaped the rewards of success and console those who haven't yet; hinting broadly that economic salvation is just round the corner. It's a message worth millions of dollars a year from viewers, and one which he delivers across the country in places like Flint, Michigan, where he is shown in Michael Moore's 1988 film Roger and Me pronouncing his regenerative slogans to a room full of unemployed autoworkers.
In a local library, I found what was perhaps, in light of the county's fiscal catastrophe, the most ironic piece of the Schuller merchandising empire, a slim volume called The Power of Being Debt-Free, written by Schuller and an undistinguished economist. After thanking Milton Friedman, Arthur Laffer, and a number of others in the introduction, Schuller notes that the book began over a dinner with Robert and Elizabeth Dole. The national debt, it seems, had been vexing him, so he set about drafting a recovery plan based on his self-help doctrines; the book, accordingly, is a litany of exhortations and bold pronouncements, a forest of exclamation marks interspersed with statements like: "America is a superpower with superpeople who have superpotential for superproductivity."
Minus its two or three wealthiest enclaves, Orange County barely makes the state's median income level.
But outside the library, Orange County seemed gripped not by "super" anything but rather the less empowering dynamic of "hope and fear." Under the bankruptcy, the county seemed to inhabit a dual world; one a gray dystopia of uncertainty and falling property values; another, the accustomed bright and buoyant showcase of affluent citizens who were forming start-up software firms in small industrial parks and shopping at Coach and Hermes. It was home to one of the country's most profitable Mercedes-Benz dealers, yet ominous talk loomed of massive cuts in bus service to help bail out the county—and just how would those nannies and gardeners from Santa Ana make the daily commute to Big Canyon Villas or Belcourt? In Orange County, such paradoxes run deep and jagged like irrigation ditches: only there did it seem to make sense that the soft-spoken and earnest editor of the new "alternative weekly," itself housed next to those software firms in a commercially-zoned office park, would meet me for lunch wearing a three-piece suit, and then drive me in his BMW to a cafe at "the Lab." Known as the county's "anti-mall," the former canning factory is a perfect fabricated bohemia—with rusted post-industrial debris as strategically chosen as the "environmental" music at the county's real malls—made possible through the generous cooperation of a local surf/skate-wear tycoon.
Popular ideas of Orange County still revolve around gated communities, golf villas, yacht clubs, and European signature boutiques. The picture is of a sylvan suburban paradise—just a shade less blanched than Sun City—where places like Coto de Caza, an equestrian rising-property-value preserve of the rich, stretch for miles along the breathtaking backdrop of the Santa Ana mountains. Media coverage of the bankruptcy focused on this sort of opulence fixedly, with a stream of TV dispatches from high-end Newport Beach shopping centers, where the point that Orange County was a "wealthy deadbeat" could be driven home more effectively. But a twenty-minute drive replaces the glimmering things of F. Scott Fitzgerald's imagination with the cluttered barrios of Santa Ana, the shabby procession of strip malls selling fish tacos and "$1 Chinese food," and the repeated binary clusters of attached homes (from $85,900) in Tustin Ranch for what Richard Ford once called "starter people." Minus its two or three wealthiest enclaves, it has been pointed out, Orange County barely makes the state's median income level.
And yet it's certainly easy to find pockets of privilege and prosperity in Orange County, places where the better-off can cocoon in relative safety as everyone else frets about the ground-level impact of the "Citron crater." One night in Newport Beach, I rode to dinner on the thirty-foot yacht of a Corona del Mar investment banker. As we motored slowly through the still waters of Newport Harbor, past the former estates of John Wayne and Gene Autry, past the second or third homes of international industrialists, the banker would turn away from the wheel every so often, pointing with awe to one of the multimillion-dollar vessels resting in their exclusive berths. "That boat cost more than God!" he would gush, conjuring up immediately the entwined supplication to religion and money that Schuller's ministry also seemed to suggest. Returning to the dock, the banker's assistant asked if I had enjoyed the ride, and then, gesturing to the panorama of bobbing boats and harborfront property, said with a smile, "See, not all of Orange County is bankrupt."