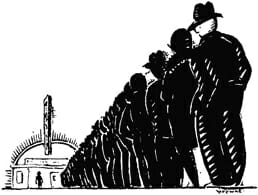 Any good necrography should begin at the grave. Fifteen years ago I spent a summer in Sag Harbor, tending bar and snarking at specimens of the Nineties boom who crowded the American Hotel each night. The first rule of gentrification is the gauzing of the past, and so in reaction to the partying traders I dug deeper into the area's history. In Canio's, a ramshackle bookstore where I hunted first editions, I spoke with an archetypal Long Island codger over a hardback of The Man With the Golden Arm, the once-famous 1949 novel about Chicago gamblers and drug addicts. "Nelson Algren lived out here, at the end," the old-timer averred. "In fact, his apartment was a few blocks from here. He died setting up for a party. He'd just found out he'd been accepted into the American Academy of Arts and Letters." He directed me to the cemetery where Algren lies buried. I spent an hour wandering among the pine trees and headstones there, but I never did find Algren's grave.
Nelson Algren is that rare cultural figure who seems both fiercely singular and a tabula rasa: in memory's eye he is alternately a serious novelist, a squandered has-been, a devoted idealist, a cranky misogynist and the original swinger. This last image is what has made him an icon for his hometown of Chicago—particularly these days, as the city gives itself over more and more to a hipster culture that's mannered, loud, and resolutely asocial. Indeed, if Nelson Algren's grave was recorded, perhaps Mayor Daley's minions could reclaim his corpse in the name of Chicagoland. Hipster tourism is an industry now in Algren's town, and this city would happily re-inter him in a sarcophagus in the old "Polish Triangle" at Division & Milwaukee, with spotlights and a plaque that the youngsters could ignore as they stumbled out of the Evil Olive nightclub. Algren's postmortem street cred would shine down like a midnight moon upon our hedonism.
For all the sad young men today, for all the transgressive artists and video-makers and DJs, social awareness is but a thin overlay on ironic appearances.
On the other hand, there's also a move afoot to appreciate the man's work. His books have actually been returned to print by Seven Stories Press. In April 2009, his spirit was feted at Chicago's Steppenwolf Theatre, with Russell Banks, Don DeLillo, Barry Gifford, and assorted Hollywood types reading Algren's unpublished writing. Said Banks on that occasion, "The people he wrote about were different than those who read his books, which is a divide that's impossible to get around." Even so, the marginalized humanity that Algren fought to memorialize remains absent from our contemporary literature, just as Algren himself now serves his city as a mannequin of hipster rebellion rather than a defeated spokesman for the down and out.
Bettina Drew's 1989 biography of the author tells how, during the Fifties, Algren came to believe that the vibrant, proletarian Chicago, in which he immersed himself while writing The Neon Wilderness and The Man With the Golden Arm, was replaced with something meaner, more corrupt and plasticized: Daley's Chicago.
Now, in the Chicago of Daley Junior, dissent seems positively impossible: our parking meters are sold off like spoils fenced at Maxwell Street, children murder one other with abandon, and ask nearly any neighborhood denizen what he or she really thinks of the city fathers' (unconsummated) Olympics-lust. But even as we wait for Urban Outfitters to offer form-fitting Nelson Algren t-shirts, we'll wait much longer for a young writer who follows Algren's path, because in reality the career Algren chose is the opposite of the white male hipsterism that now rules literary land. For all the sad young men today, for all the transgressive artists and video-makers and DJs, social awareness is but a thin overlay on ironic appearances (last year: corduroy! This year: shaggy beards, mirrored shades!); Algren's would-be descendants don't worry their pretty little heads about the 1995 heat wave, for example, which killed hundreds of impoverished Chicagoans. They don't wonder if anyone will ever be called to justice for the city's police torture scandal. Nor did they fret over the massive civic displacement that the Olympics would have entailed. But each of these would have made perfect material for Nelson Algren.
So in this city where sanctioned diversity is venerated, but real culture just gets stepped on in a thousand ways—in neighborhoods adequately policed only when gentrified, in the city's bureaucratic meanness towards grass-roots music (see the proposed "Chicago promoter's ordinance")—the deification of Algren makes a certain sense, as ironic a coda to the story of his misadventures here as this summer's hipster-clogged concerts at Pritzker Pavilion are to the tear gas fumes of 1968. The real story of how Algren lived recedes like cobblestones beneath blacktop.
The legend of Nelson Algren's life seems digestible. During the Depression, he rode the rails with hoodlums and dodged a two-year Texas prison term for typewriter theft; he returned to Chicago, and became an accidental novelist when an acquaintance suggested re-casting a tragicomic letter he had written as fiction. His first novel, Somebody in Boots, a Candide-like tale of Thirties vagrants, epitomized the proletarian literary style; his second, Never Come Morning, a melodrama of a North Side Polish thug, appeared just before his Army service in World War II. Algren returned to Chicago fully engaged, producing a singular short story collection and The Man With the Golden Arm, a novel that received the first National Book Award. Yet after that, Algren would publish just one more novel in his lifetime; he scuffled for money, bitter and adrift. He died with his famous books out of print and unavailable in the libraries of Chicago.
The Algren that emerges in Bettina Drew's biography seems flawed, but as a lifelong artist he appears profoundly in sync with the city and the period. Born in 1909, Algren recalled the Black Sox scandal of 1919 and the wreck of the Eastland (which drowned 981 picnicking Western Electric workers in the Chicago River). He was not really an accidental writer: he developed the bug in high school, and read the classics obsessively at the University of Illinois. He planned to become a sociologist, already "traveling among the poorer people, the downtrodden," a childhood friend recalled. He began writing fiction and crime journalism in 1931—not a good time to enter the job market, but a fine time to develop a wry fatalism, wandering the ruination of Texas and Louisiana.
Following his adventure in typewriter theft—which, against the legend, occurred when he was already under contract for his first novel—he immersed himself in Chicago's restive literary scene, in locales like the Jewish People's Institute and the Communist Party's John Reed Club. Algren's studiousness led to his debut in Story magazine, and friendships with James T. Farrell and Richard Wright, notable at a time when artistic desegregation was rare (Algren actually gave him the title Native Son). While Algren would later be perceived as an introverted iconoclast, he was very much part of a literary community at this crucial moment—the members of which would be pilloried for their artistic activities during the Red Scare. It's important, when digging up Algren, to take note of the man as he was, not to gauze him over into our very own Kerouac, a neutered antecedent of today's hipster cool.
Despite editorial help from Farrell, positive reviews, and Algren's own expectations of making a difference through sparking proletarian outrage, Somebody in Boots sold 762 copies. Algren attempted suicide soon after; his deep depression culminated in a stay at the University of Chicago Psychiatric Clinic. For years afterward, Algren denigrated his debut, although he essentially re-told its story with his 1956 novel A Walk on the Wild Side, which he seemed to regard as an opportunity to squeeze something out of the work (in true Chicago scrapper style).
Just as Algren seemed resigned to giving up literature for survival (he was married to his first wife, working in a warehouse, and stealing food off wagons), Wright connected him with the WPA Federal Writers' Project, which "gave new life to people who had thought their lives were over," as Algren later observed. For the WPA Guide to Illinois, he produced the chapter on Galena, "peopled with renegades and hustlers," and remained active in the League of American Writers, flirting with the Communist Party. Algren's political activism grew out of his firsthand observations of the violence of poverty, as did the empathy developed in his early literary characterizations, and it was just these two elements of social engagement that would soon cause him endless troubles.
One senses this in Entrapment and Other Writings, edited by Dan Simon and Algren scholar Brooke Horvath, the only one of the new Algren releases that does not replicate earlier publications. It mixes fiction and reportage: unpublished work (including a never-completed novel that would have constituted a substantial follow-up to Golden Arm) alongside pieces that appeared in magazines ranging from Sports Illustrated to Cavalier. Entrapment traces the simultaneous development of Algren's social earnestness and his stylistic daring, which often seem at cross purposes. This explains both why Algren achieved more than his peers in the proletarian movement, as well as his eventual burnout: he gambled his artistic potential in out-running a discordant era. As Simon notes in his introduction, Algren "saw writers generally—and himself in particular—as being one with those who don't otherwise have defenders." (Quick! Name one widely read contemporary novelist under 40 about whom you'd assert this. Three . . . two . . . one . . . you owe me a Coke.)
This seems apparent from his earliest stories, written in the Thirties. Algren made difficult artistic choices, often allowing his characters to appear ugly in the interest of vivid portraiture. In "A Lumpen" (published in New Masses in 1935), Algren sketches a down and out transient who is racist and psychopathic:
In the morning I walked west down Harrison and that was when I seen this parade. Niggers was walkin' with white men, carrin' banners, so I stood an' watched.

"Them's mighty cocky niggers," I said to a guy.

"We all came out of a hole, didn't we?" the guy said back.

"Maybe you're a nigger yourself," I said.

"Maybe I am and maybe I'm not," he answered. I thought for a second and then I said, "Say, guy, you want some o' me?" And I doubled up both fists.

"I got no time for fightin' now, 'cause I'm getting in the parade," said the guy and before I could spit through my teeth he was gone.
The narrator's desolate inner monologue pings from "If I could just get some chippie to marry me, I bet I could get on relief," to "The trouble with the whole works is Jews an' Niggers. That's why I'm down and out." The story's conclusion points towards the rosy-fingered Fascist dawn: the narrator is selling newspapers "for [Huey] Long," a better job than giving out prayer books. In a few paragraphs, writing while callow and broke, Algren confounds the reader's sympathies while nailing the unvarnished reality of the decade's collapse and introducing giddy humor via the absurd dialogue. Already in his early work Algren was struggling both to utilize and to shed the strictures of the talky left-wing style of the day in favor of something barbed and leaner, a haunting form of proletarian satire.
One thing Chicagoans know for sure about Algren is that he was associated with the neighborhood known as Wicker Park—once rough-edged and polyglot, but gentrified during the last twenty years to a grotesque, rococo extreme. Less well-known is how Algren's attentiveness to the neighborhood's low-income vitality sparked a weird, unsavory controversy that planted the seeds of his decline. In 1940, Algren moved to the "Polish Triangle" of Division Street and Milwaukee and Ashland Avenues, characterized by Drew as "an old-time proving ground for Chicago hoodlums." Algren absorbed the neighborhood's vices: he searched out poker games, tavern eccentrics, and participants in the underground economy of narcotics and crime, while surreptitiously taking notes and studying speech patterns, and following newspaper accounts of the mayhem of the day—the apprenticeship of a real "social" writer. (The latter included the trial of Bernard Sawicki, a nineteen-year-old multiple murderer, who seems to have given Algren his crucial line of dialogue, that he "never expected to be twenty-one anyway.") From all this came his second novel, Never Come Morning, a tough nourish melodrama about an amateur boxer. Richard Wright contributed a prickly introduction, noting that most writers would take an aloof approach to material that many would deride as illegitimate in the first place:
Most of us 20th century Americans are reluctant to admit the tragically low quality of experiences of the broad American masses . . . [T]here will come a time in our country when the middle class will gasp and say (as they now gasp over the present world situation): "Why weren't we told this before? Why didn't our novelists depict the beginnings of this terrible thing that has come upon us?"
Algren's publisher assured him that the novel was "going to make a stir." This proved accurate.
The novel was immediately vilified by conservative leaders of Chicago's Polish community, who chose, according to Bettina Drew, "to see it as Nazi propaganda." The controversy spiraled out of control, until Mayor Ed Kelly had the book removed from the Chicago Public Library. Worse, the Polish American Council sent a copy of its resolution against Never Come Morning to the FBI, which was happy to re-open earlier files on Algren's activities.
In this, Algren had good company among creative types, who had generally been radicals in the Thirties and then woke up in an America poised for an emerging surveillance state. Still, Algren again stands alone: Simon asserts that Algren's FBI file is the longest of any American author. Then: a military policy to divert known leftists to front-line infantry was applied to the novelist. "The FBI was in contact with the army about Algren," Drew writes; "his induction form was strangely stamped Special Assignment, and his incoming and outgoing mail was routinely opened." Despite his credentials as a writer, Algren was assigned to an artillery unit. He was repulsed by the other soldiers' eagerness, and appears to have been as terrible at soldiering as he was skilled at navigating the urban underground. Desperate to avoid combat, Algren spotted a "rabbi" in a lieutenant who'd been a contributor to New Masses before the war, and eventually secured an improbable transfer to a medical company. Algren sought out the company of gamblers and drinkers, and when he finally departed for Europe, he developed a facility for the black market, which inspired "He Couldn't Boogie-Woogie Worth a Damn," a flawless story about an AWOL African-American private who understandably decides to stay in Europe.
Once again, it's remarkable how Algren stumbled into representing an oppositional American archetype: the thoughtful nonconformist soldier who is the Army's shame. It's chilling to think how easily Algren could have been tossed into the meat grinder as payback for his progressive politics. Algren's absurd battle with the Polish leaders reminds us how rare such conflicts are today, now that so much of our acclaimed writing arises from cheap irony, pop culture references and solipsism. One begins to understand the fierce love Algren's protectors always had for him—even when readers slipped away, when he became slovenly and bitter.
The early Fifties were the peak of Algren's life, between the flush of literary respectability and his complicated affair with the feminist writer Simone de Beauvoir, whom he called "Frenchy." This relationship, of course, has provided as much fuel for coffee-house fantasies of the writer's life as have the antics of Bowles, Burroughs, and Kerouac, but this legendary love was conditional: de Beauvoir would not abandon her "open" commitment to Jean-Paul Sartre, and by the late Fifties the affair had turned sour, probably amplifying Algren's chauvinism.
Algren took on two incongruous freelance assignments in this period. The famous "prose poem" Chicago: City on the Make, originally an essay in Holiday magazine, remains a pungent but sentimental overview of the city (it was butchered by the upscale magazine but then brought out by Doubleday and kept in print by the University of Chicago Press). Easy to miss within it is Algren's baseline concerns: how can a society nurture literature when that society devotes itself to consumerism and war? "You can't make an arsenal of a nation and yet expect its great cities to produce artists," Algren challenges. Then: another essay on the artist's predicament, this one asserting that a serious writer must be prepared to resist a climate of political fear and the temptations of business interests. Published in the Chicago Daily News book section in 1952, the essay attracted an "outpouring of applause that amazed us all," as literary editor Van Allen Bradley recalled. (Where have all the newspaper literary editors gone, anyway, and the avuncular men-about-town with names like Van Allen Bradley?) It was extensively reprinted and Doubleday insisted on bringing the essay out as a book, prompting Algren to overhaul it. The prospect seems tantalizing: a still-youthful writer, his progressive passions fully engaged, given a platform to critique writing and the darkness of Eisenhower's America. Perhaps Algren could have been redefined as an essayist or critic.
The events that followed instead seem mordantly predictable. In March 1953, as the FBI investigated Algren again, his passport application was denied, based on allegations that he was a Communist. In September, after Algren tussled with an editor sent from New York to "polish" the essay ("into oblivion," Algren commented), Doubleday refused to publish it, a decision Bradley attributed to creeping fear of McCarthyism. Algren mailed the manuscript to his agent; it was lost. In 1956 Algren delivered the sole remaining carbon to Bradley for safekeeping. This copy wound up in the Algren archive at Ohio State University, untouched during Algren's lifetime. Nonconformity: Writing on Writing was first published in 1996. In it, Algren offers an important assessment at the start of the Fifties, wagering his (ephemeral) standing as an "important" public figure against the creeping stultification he perceived.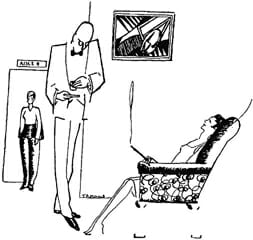 As ever, Algren's critique remains rooted in his activist experiences during the Thirties, but his argument that consumer comfort has crippled American writers seems prescient. Algren's inspirations include Faulkner's Nobel acceptance speech of 1950, with its observation that the American "tragedy" had become such "a general and universal physical fear so long sustained by now" that even writers and artists were hobbled. Algren examines the cost such emotional investment carried personally for F. Scott Fitzgerald, while praising Joseph Conrad and André Gide and eviscerating the then-popular Frank Yerby, the sort of writer who reduces "the art of writing to a ballroom game of seeing who can serve the heaviest tipper the fastest"—a cute anachronism, until one considers the prominence of precisely this sort of literary veneration of the white and the attractive and the moneyed in American writing since the Eighties. Some of Nelson's barbs can still sting.
Perhaps today's hipster/booster fascination with Algren is a consequence of our ongoing passion for the Fifties. That decade is the symbolic home of the beloved kitsch that helps us to understand our youthful preoccupations ever since. And Algren fits right in: the Playboy Club habitué; the American existentialist lost in a cool neon wilderness. A famous Art Shay photograph of the author epitomizes this. It shows Algren sitting in a claustrophobic nightclub watching clarinetist Bill Reinhardt play onstage. Algren appears relaxed and attentive to the musicians six feet away; he is well dressed, smoking, drinking from a rocks glass. Among other things, the photograph suggests commitment, and maybe this is what has been leached out of today's hipster culture, which laminates this Algren like a placemat: jazzbo Nelson, baby!
In reality, the Fifties were the decade when Algren's social engagement cauterized his artistic ambitions. His 1949 novel, The Man with the Golden Arm was greeted with adulation, and became the best-selling book in Chicago upon release. (Algren's money problems only intensified, however.) It's arguably the best novel of its era, and one of the most thematically difficult: its protagonist, card dealer Frankie Machine, is (like its creator) a fatally flawed flaneur in the juiced-up postwar milieu of Division Street—the ultimate insider on the scene, crippled by heroin and abusive love. But the book's sale to Hollywood immediately turned contentious; later, Algren would travel there to write the screenplay, and was tormented and then fired by Otto Preminger, who'd surreptitiously acquired the rights from the first producer. The acrimony and lawsuits dragged on for years, sapping Algren's strength. Back in Chicago, though, Algren's political involvement never wavered, epitomized by his decision to be honorary chairman of the Chicago Committee to Secure Justice in the Rosenberg Case, a move that probably fueled both his passport problems and the cancellation of his book about nonconformity.
Perhaps today's hipster/booster fascination with Algren is a consequence of our ongoing passion for the Fifties.
As a result of these setbacks, Algren seemed to turn away from the difficulties of writing novels. He became preoccupied with money and gambling; in 1956, he fell through a frozen lake near the Indiana Dunes, probably another suicide attempt. From then, a cascading series of little disasters quashed his determination to write novels. His biographer, Bettina Drew, points out that the aesthetic trends started to turn against Algren and his Thirties peers in the late Fifties; a highbrow backlash "directly attacked the whole idea of the writer as the compassionate social conscience"; lit scholar Leslie Fielder dubbed him "the bard of the stumblebum." Algren fell into the trap and returned fire, eventually becoming preoccupied with his critics and personal enemies.
This sets the tone of the travel book Algren published during the Sixties, Who Lost An American? (now reissued with its sort-of sequel, Notes From a Sea Diary: Hemingway All the Way). In 1959, Algren's passport was finally granted. He journeyed to Europe via first-class ocean liner, and this sequence shows the lesser Algren; humorous, but allusive and dated. Elsewhere, the book improves, although as Algren moves through Barcelona, London, and Paris, an atmosphere of musty nostalgia makes the reader yearn for the determined plotting of his fiction. The most memorable chapters assess Chicago again, with withering broadsides against the city's corruption and its booster culture. Algren's complex relationship with Chicago is better articulated than before: he castigates the booster class for applauding the city's rise from "squalor," for sucking up to Machine power, for attacking its writers while competing to be the lapdog to corruption, while deploring prostitutes and ignoring their johns, while beating the drum against delinquency and unwed mothers yet excusing the rampages of a notorious police burglary ring. He calls out esteemed figures for their collusion, like the Sun-Times columnist Irving Kupcinet, pioneer of bold-face celebrity journalism, and "saint of architecture" Frank Lloyd Wright: "He liked expensive buildings better than he liked cheap buildings, but if there wasn't any expensive building near at hand to like, Mr. Wright would just go ahead and like any old building. . . . " All of which tells us "why writers so often take a one-way flight from Midway or O'Hare and never come back."
Perhaps Algren should have booked his flight sooner. As his troubles mounted—a financially difficult divorce; vicious reviews of his work—the author seemed poised for decline. Art Shay's photography book, Nelson Algren's Chicago, thus conveys a devastating evanescence: here Algren really is a gliding bespectacled ghost—his doughy face always impassive, except on the cover, where he smiles at an archetypal North Side "party girl," thought to be Margo, an addicted prostitute whom Algren loved and helped get clean. Shay has a remarkable sense of composition, including environmental elements that make Fifties Chicago seem like a wonderland of grimy texture, decaying filigree, and the earnest consumerism of drink, games, cars, sport. Here is Algren, eating dinner with his cat in his "$10 a month apartment on Wabansia," his humble oilcloth-and-canned-food aesthetic a rejoinder to the coiffed quality of contemporary male fashion, all "fixies" and skinny jeans. Here is Algren cruising the Maxwell Street market with Marcel Marceau, picking through cheap toys. Algren at the Wicker Park nexus of Damen and Division in a winter maelstrom, sparks flying off the trolley cables, across the street from the Rainbo bar, that elegant mortuary monument to everlasting hipsterism. The novelist and the photographer crashed autopsies, courts, the police lineup: Far from a souvenir, Shay's book summarizes how a certain demographic really lived in this city in the postwar era; they situate Algren within the lost urban chaos that informs both his fiction and the legend.
The Sixties were hard on Algren, but then, they were hard on Chicago generally. Algren carried a .38, and was vilified in the press when arrested on marijuana charges. He survived on academic appearances and book reviews; when a Boston newspaper asked him to cover "The Crime of the Century," referring to the 1966 Richard Speck murders in Chicago, Algren replied, "I don't want to go to Vietnam." Algren considered leaving as early as 1968, when City on the Make was reissued with a retitled epilogue, "Ode to Kissassville." In August, he arrived back in town from a gambling junket to watch the city explode during the Democratic convention, assessing the famous police riot as follows: "I don't think the clubbing represents one man. I think it represents a majority of the people of Chicago. If an election were held today, he'd win." Given that Chicago really did become a more callous place on Algren's watch, the bitterness that sapped his productivity seems all too comprehensible.
In 1974, Esquire asked Algren to write an article on Rubin "Hurricane" Carter, since made famous by Bob Dylan and Denzel Washington; back then, Carter was just another murderer, albeit one railroaded by police misconduct. Algren concluded that Carter and his co-defendant were innocent, and decided to move to Paterson, N.J., to write about them. In order to raise money, he auctioned off his possessions, claiming, for example, that a random table was the site of poker games that inspired scenes in Golden Arm, and charging old friends for small mementos. "Now that I'm leaving, Chicago is finally saying some nice things about me." he observed. "You know, the kind of praise I wouldn't be getting unless I had died."
In 1973, the last book of Algren's lifetime appeared: The Last Carousel, a compendium of stories and essays. Editor Bill Targ recalled, "Algren sent me a huge box of clippings, scraps, junk mini-manuscripts . . . I spent a week reading, sifting, sorting out the wheat from the chaff. Damned little wheat." Thus, one discovers a weak grudge exercise, "Otto Preminger's Strange Suspenjers," in proximity to a hard-edged gem, an account of gambling in the dissolute copper town of Butte, Montana, where lynched labor ghosts roamed a once majestic downtown: "When fists were still what counted most but money counted more." The book's publication was overlooked in Chicago and elsewhere.
Algren's article on Carter was rejected, but Algren had at last found a project he believed in, with its echoes of the race and labor strife that preoccupied him for so long. And he stuck with it as his life continued to fray; he had a heart attack that he concealed from acquaintances, and a landlord in Paterson evicted him. The first draft of his reportage was rejected by Targ at Putnam's (probably reflecting their losses on Last Carousel); following suggestions by Studs Terkel and his agent, he decided to turn the book into a novel. Friends describe a man who enjoyed gambling at the track and fancy dinners he could ill afford; he was overweight, disheveled, lonely.
Algren's move to Long Island in 1980 was the culmination of these dashed hopes. When Donald Barthelme, Malcolm Cowley, and Jacques Barzun nominated Algren for the American Academy of Arts and Letters, a flurry of publicity and crowded readings resulted. Perhaps it was simply excitement in this moment, after so much rejection, that led Algren to ignore a doctor's recommendation that he check in to a hospital for observation, following persistent chest pains; after all, he was planning a party, and whatever his flaws, Nelson Algren was not a man to disappoint those he stood with.
Chicago is a gaudy city. We embrace our proletarian roughness and venerate our buffoons, from the Mike Ditkas of yesterday to tomorrow's corrupted politico. Perhaps Algren was our Cassandra: he was right when he argued for the significance of "squalor" and for the literary significance of the vast demographic of the dispossessed. The city was integral to what Algren observed and animated in his best fiction; thanks to Algren and a few others, Chicago framed American conversations about urban reality from the Thirties all the way through the Seventies and Eighties. In Chicago one could easily observe and understand what was really at stake: the lives of the poor and the working class, and the great question of whether these people could surmount the inequities visited upon them, or disappear into violence and depredation, into the numbing index of lives destroyed and ground under.
These days that subject seems remote. This is not to assert that Chicago is not violent and depraved; to the contrary—every night the killing fields of the South and West Sides provide a whispery tickling of the conscience. But now the gaudiness has taken over; you see it in so many neighborhoods on a Saturday night, where pricey hedonism has become all. This is why the empty veneration of Algren grinds: the progressive city he wished for and worked for is far away. In its place, a segregated wonderland where alcoholic vice is slickly commercialized and literature is just another culture-scent to be consumed.
In the Seventies, Wicker Park was an arson-ridden neighborhood of Latin gangs and white folks on drugs, and the building where Algren lived for years was torn down. After the writer's death, according to Drew, a sympathetic alderman had a section of Evergreen Avenue renamed in his honor. Inevitably, the Polish community leaders protested and the designation was removed, then quietly reinstated later. In the late Nineties, a movement to rename the triangular intersection at Division, Ashland, and Milwaukee after Algren was similarly derailed. As Chopin Theatre landlord Zygmunt Dyrkacz observed (with a convoluted sense of entitlement), "It'd be like going to an Indian reservation and naming it for a white author who wrote about the Indians and not naming it for the Indians themselves." Instead, a small concrete fountain was dedicated to Algren in 1997, inscribed with a passage from City on the Make. It's a sad bit of clutter, commemorating a neighborhood that has been transformed by the booster class and the hedonist economy. It seems an unsatisfying salute to the most perceptive and humane novelist produced by Chicago in the 20th century. On the other hand, the price Algren paid for a life of literary honesty was high, and maybe this piece of urban detritus is the appropriate way to commemorate his sacrifice—a reminder that art in the service of humanity pays diminishing dividends.