Cosmic Scholar: The Life and Times of Harry Smith by John Szwed. Farrar, Straus and Giroux, 416 pages. 2023.
Fragments of a Faith Forgotten: The Art of Harry Smith. The Whitney Museum of American Art, October 4, 2023–January 28, 2024.
In the Home of the Sages of Israel, a former Orthodox Jewish study hall and nursing home on the Lower East Side, is a modest display of memorial name plaques. Las Vegas mobster Bugsy Siegel, who's featured on the wall of the neighboring Bialystoker Synagogue, is not the most unusual honoree on the block. Between Samuel Queller and Abraham Mazursky, and the tiny electric bulbs that serve, with mixed results, as eternal flames, hangs the plaque of one Tsvi Hersh ben Reb Leyb, translated into English as "Harry Smith."
Smith was a nominal Episcopalian from Puget Sound, the son of an assistant foreman at a fish cannery named Robert, not Leyb. But a dive into his life story renders this posthumous honor—bestowed on him by the poet Lionel (Leyb) Ziprin—not surprising at all. A painter, filmmaker, occultist, ethnomusicologist, record producer, and polymath, Harry Everett Smith was an encyclopedist whose life's work was a never-finished theory of everything, an erudite collector of learned treatises who could turn mundane matters, from how a paper airplane is folded to the swelling chatter of a crowd, into something of great value, much like the early modern alchemists whose books he obsessively collected. He compared man-made and natural shapes, colors and sounds using a method he called "saturated study" that was touched by an apparent apophenia, or a compulsion to look for patterns in otherwise unrelated phenomena. Smith was not only drawn to understand various other cultures and their "exotic" music, art, and ways of thinking; as the Home of the Sages of Israel plaque shows, he became part of them himself.
Occasionally, and almost incidentally, Smith also influenced the course of American music, cinema, counterculture, and even ethnography. He was a skilled draftsman and prolific creator of intricate ink drawings, abstract paintings, and nonnarrative films. As a person, he could be volatile, or, as his friend and sometime-doctor Joe Gross described him, "a stoned, drunken, hunched-over demonically creative gnome" with a sinister side. He barely ate and took every drug he could get his hands on. But Smith was king of the coffeeshop philosophers, the one Bowery drunk with bragging rights. Who else could claim to receive regular checks from the likes of Allen Ginsberg and Jonas Mekas seemingly just to be himself? And wouldn't you have spotted him a drink, too, to hear about it?
A new biography and a major show at the Whitney Museum of American Art get closer than ever to making sense of Smith, celebrating his mythic reputation while attempting to create a narrative arc of his artistic career. Opaque about his origins, Smith suggested that he was descended from Romanovs who visited Alaska or from Aleister Crowley, the British occultist. Cosmic Scholar: The Life and Times of Harry Smith by John Szwed, the author of biographies of Sun Ra, Miles Davis, and Alan Lomax, begins by unraveling Smith's life from the stories that played so well among artists in downtown New York, where fanciful reinvention was the norm.
The Interlocking Beats of Respiration
Born in 1923 in Portland, Oregon, Smith was raised in small towns south of Bellingham, Washington, where his father worked in fisheries. Szwed tells us that the young Smith was "sickly, undersized, severely nearsighted, and, by his own accounts, lonely." He would wander the bay alone, trying to find patterns in the waves. When he came down with rickets at age nine, he missed weeks of school and took up reading and drawing.
"We learned everything we knew about old-time music from the Anthology. It was our Talmud. It was our Bible."
Smith's next major formative activity was spending time with the native Lummi and Swinomish peoples near his home. Szwed traces his interest in American Indians to an incident at school, when a fellow student impressed Smith with his story of having witnessed a ritual Lummi dance, while the Whitney credits Smith's mother, who taught at a Lummi reservation. What is clear is that Smith became engrossed in this culture, paying dozens of visits to a Swinomish reservation near his home in Anacortes and, later, the Lummi reservation outside of Bellingham, recording what he saw in watercolors and photographs. Photographic slides from this fieldwork are on display at the Whitney show; though they lack descriptions, they seem to depict performances, as well as carved masks and other items. During this period, Smith taught himself to cut vinyl recordings, lugging over fifty pounds of equipment to sometimes days-long ritual dances where he gained remarkable access for a non-native.
He also collected invaluable artifacts, such as a canoe bailer and grave markers that he later donated to the Washington State Museum. At age eighteen, Smith learned the recently invented International Phonetic Alphabet from Melville Jacobs, one of anthropologist Franz Boas's former students now teaching at the University of Washington. Armed with this technology, Smith began recording various local Salishan languages while devising his own form of notation to preserve the movements of the Lummi's dances. It was an early example of Smith's interest in recording the unrecorded, or even the unrecordable, "presaging," the Whitney states, "his later practice of adapting available technology to suit his needs."
In 1943, after medical exemption from the army, Smith headed to the University of Washington to study anthropology. Two years later, he moved to Berkeley to work with two eccentric members of the field, Paul Radin and Jaime de Angulo. Radin, the son of a prominent Lithuanian rabbi, and de Angulo, a Paris-born Spanish former ranchero, both studied native peoples of northern California while advocating that the scholar should learn from, and even be shaped by, their subject—"radical ideas" within the field of anthropology then and now, as Szwed points out. But Smith soon turned his back on a promising academic career, and embraced weed, surrealism, and the world of the Berkeley Renaissance that included poets like Jack Spicer and Robert Duncan. In his apartment, Smith devoted his time to painting, especially abstractions that he claimed mapped the solos of Dizzy Gillespie and Charlie Parker. Most of Smith's paintings are lost, but a few photographs of these works are blown up and presented in light boxes at the Whitney, with the accompanying jazz tunes pumped through mini-speakers. Manteca, named after a Gillespie collaboration with Cuban composer Chano Pozo, is a swirl of brightly colored and interconnected shapes against a black background, suggesting a torn-apart motherboard.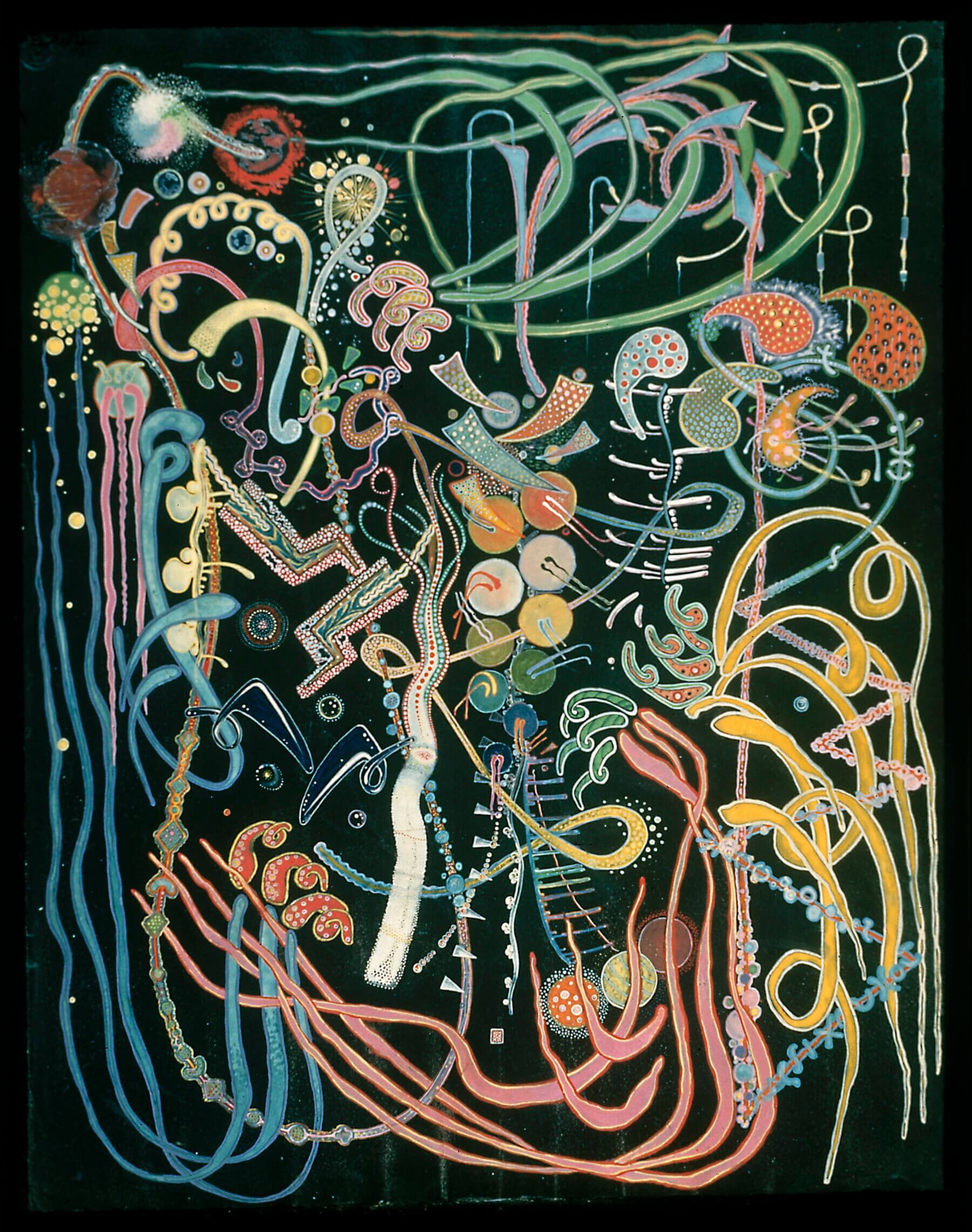 One of Smith's great discoveries in the Bay Area was experimental film. In 1946, the San Francisco Museum of Art debuted a pioneering series called Art in Cinema. Volunteering to work for the series in exchange for free entry, Smith came across the work of Oskar Fischinger, a German émigré who painted directly onto film strips. He made a pilgrimage to visit Fischinger at his home in Los Angeles and started manipulating his own film stock by scratching and batiking it for lo-fi special effects. Smith's first cinematic experiment, Film No. 1, which is on view at the Whitney, shows amoeba-like shapes spin and multiply, the result of a painstaking and messy process of creation. Although Film No. 1 runs to only three minutes, Smith already saw his abstractions as carrying a deep meaning for himself and, in an example of his perhaps outsized ambition, for society at large. He later wrote, "All these works have been organized in specific patterns derived from the interlocking beats of the respiration, the heart and the EEG alpha component and should be observed together in order, or not at all, for they are valuable works, works that will live forever."
In 1948, Smith moved to the Fillmore District in San Francisco, a Black neighborhood full of jazz clubs, where he took a room upstairs from a Creole restaurant. "It was a life he wanted to experience, in a community that gave rise to such great musical art," writes Szwed. But, unlike his immersion with the Lummi, "he kept no notebooks, made no recordings, took no photographs." Instead, following his more recent mentors de Angulo and Radin, Smith contributed directly to the scene of interest, painting large murals with planetary shapes in a jazz club called Jimbo's Bop City. He also continued making films, and when he learned that Fischinger was supported by Baroness Hilla von Rebay, the director of the newly established Guggenheim Museum of Non-Objective Painting in New York, Smith successfully solicited from her a grant for his projects. It was the beginning of a lifelong practice of being mostly supported by others.
Smith's plan was to make three-dimensional films using a modified projector. When Art in Cinema announced, in 1951, the first screening of these "non-objective films," the description of his work reflected a characteristic melding of his artistic and anthropological pursuits: the films would be "projected both with synchronized sound track(s) of Balinese, Hopi, and Yorouba music, and also accompanied by modern instrumentalists and a vocalist improvising directly from the visual stimuli." Yet just as he was ascending in the West Coast film scene, Smith turned his back on this world, too, and left for New York.
Mystical Recorder
In a now-legendary episode, Smith's first stop in New York was the apartment of Lionel Ziprin, the poet and Jewish mystic who would later honor Smith at the Home of the Sages of Israel. Smith had gotten Ziprin's contact from a ufologist and showed up carrying a staff and a seal—"the first of many of Harry's shock entrées in New York," per Szwed. (Others include when he told Jonas Mekas "I hate you" upon first meeting him, or the time he accused Diane Di Prima of revealing Kabbalistic secrets.) Ziprin and his wife, Joanne, also an artist, took Smith in and introduced him to Tibetan Buddhism and Aleister Crowley. But Smith's freeloading eventually irked the Ziprins, so he found his own apartment, a basement in the Bronx "that he had turned . . . into an atelier with Day-Glo paint and black lights, 'alchemical' substances bubbling on the stove, paintings on the floor, walls covered with collages, and a box with cutouts in the sides that he'd light from the inside to project on the wall."
A drug-filled set and Smith's volatile temperament ultimately led to the collapse of his animated version of The Wizard of Oz.
In New York, Smith kept painting, filmmaking, and attending jazz shows. But it was his field recordings that launched him toward one of his most important contributions. Lionel's grandfather was a rabbi who had immigrated to the Lower East Side from Safed, then in the Beirut Vilayet of the Ottoman Empire and now in northern Israel. He led a musical celebration of the Lag B'omer holiday attended by Smith in 1952. Captivated by the music, Smith then spent the next two years recording Rabbi Margolies. Szwed writes, "The music from Galilee fascinated Harry not so much because of its authenticity as folk song but because it lacked clear identity or origin—there were examples of what might today be called heterogeneity, transnationalism, deterritorialism, or creolization. He heard it as similar to what he had heard on some of the blues and jazz records he had collected." Smith was interested in the music's layers of languages and use in ritual performance. He was even compelled to study Hebrew, and the art he made in this period took on Kabbalistic themes, such as a geometric map of the divine emanations, which can be seen at the Whitney in a 1953 collotype print titled The Tree of Life in the Four Worlds.
Smith's liturgical recordings put him in touch with Folkways Records, which was run by Moe Asch, son of Yiddish novelist Sholem Asch. Smith sold some of his blues records to Asch, who was planning a massive anthology of world music. But Asch was astounded by Smith's unique knowledge of the American tradition, and in 1952, he deputized Smith to organize his own anthology. Released later that year as The Anthology of American Folk Music, the six-LP set was arranged into "Ballads," "Songs," and "Social Music." Rather than include songs that were most representative of various genres, Smith said that he selected "the things that were most exotic." His liner notes tried to move away from the typical racial categorization of genres that the record companies had used for the originals. "What was interesting to Harry," writes Szwed, "was that the musical styles of white and Black people had been reshaped and creolized by mutual influence, especially in the South." Smithian touches, such as epigraphs from Crowley and Rudolph Steiner, added an aura of mystery, even a mystical quality, to the anthology. It was a highly eccentric take on musical history, and yet it shaped a new canon, playing a key role in the folk revival. Bob Dylan recorded at least fifteen covers of songs from the Anthology. As folk singer (and "Mayor of MacDougal Street") Dave Van Ronk recalled, "We learned everything we knew about old-time music from the Anthology. It was our Talmud. It was our Bible."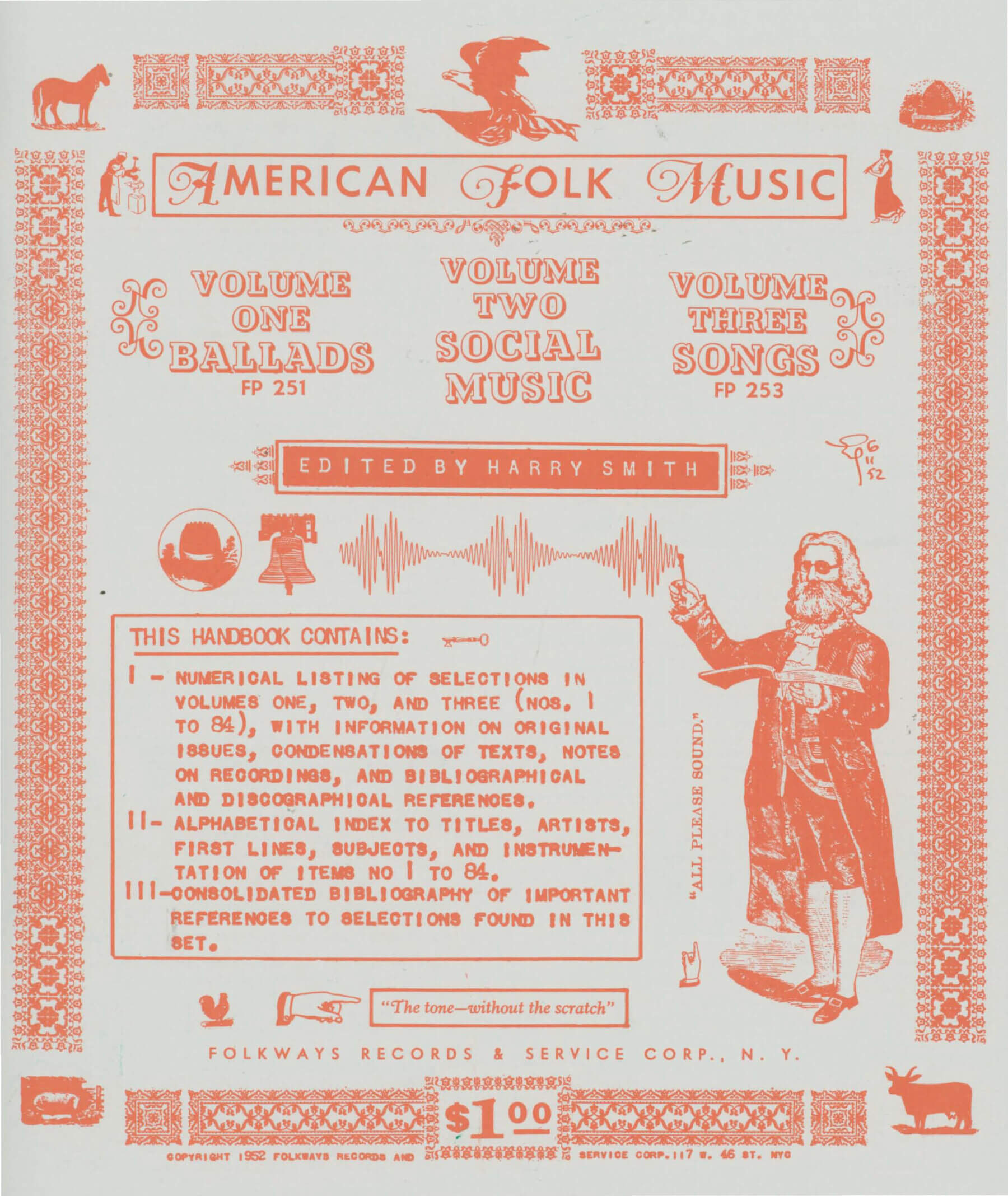 Although Smith is known for producing the Fugs' first record in 1965, it was another project Smith began for Folkways that year that he considered "the most important work he had done": The Kiowa Peyote Meeting: Songs and Narratives by Members of a Tribe That Was Fundamental in Popularizing the Native American Church. Unissued until 1973, this three-volume set was condensed from over twelve hundred songs Smith recorded in Oklahoma while serving as a "recordist" and consultant on the set of an experimental film called Chappaqua by industrial heir Conrad Rooks. Rooks's film featured cameos by Ginsberg and William Burroughs, and it won the Special Jury Prize at the Venice Film Festival in 1966. But two of its greatest achievements were by-products of its making: Ornette Coleman's unused soundtrack, which became the record Chappaqua Suite, and Smith's Kiowa anthology, recorded in hotel rooms and bars with equipment paid for by Rooks when Smith disappeared from set. (He was eventually fired.)
While in Oklahoma, he also used Lionel Ziprin's mother's camera to shoot footage of the Kiowa for Film No. 14 (Late Superimpositions), spurring an ethnographic turn in his filmmaking. Back in New York, he developed an interest in one group of Seminole people in southern Florida, convinced of the preservation of their culture. He traveled to the Everglades to make field recordings but, in typical Smith fashion, found himself drawn to something else entirely. "Once Harry saw the unique Seminole patchwork clothing of the Seminole women, he immediately related it to his old hand-painted geometric 35-millimeter films and abandoned his goal of recording their music," Szwed explains. Smith instead spent thousands of dollars buying up dresses and quilts that he later donated to the Smithsonian Institution. With funding from the Newport Film Festival, he made a nine-minute film, No. 15 (1965). Projected on a loop at the entrance to the Whitney exhibition, it consists of shots of these quilts zoomed in so close as to nearly remove the patterns from their context as objects.
Smith's fixation on the Seminole quilts reflected his lifelong admiration of vernacular culture, which he understood to reflect universal, but hidden, truths about humankind. He collected bandages discarded outside tattoo parlors and Ukrainian Easter eggs; like anthropologists going back to Boas, he had an abiding interest in string games, whose patterns, like dances, he enjoyed the challenge of mapping and considered to be "a widespread form of pre-film animation." The Whitney show features a 1964 black-and-white Andy Warhol "Screen Test" of Smith nervously demonstrating these string patterns. For years, he picked up paper airplanes across Manhattan, studying how they were folded and diligently marking them with the location and date on which he found them, hoping that a deeper message would emerge.
The Alchemist's Apotheosis
The year 1965 was a turning point for Smith. Though a consummate recluse, he would find himself at the center of the downtown scene. He moved into the Hotel Chelsea, where his apartment quickly filled with his library and collections of artifacts, becoming a vortex of creative activity for artists and writers. It was that year that Mekas, the kingmaker of American independent cinema, promoted Smith in his influential Village Voice column. In an essay titled, "The Magic Cinema of Harry Smith," Mekas announced, "All those Czechs, Poles, and Yugoslavs . . . are nothing but makers of cute cartoons. Harry Smith is the only serious film animator working today. His untitled work on alchemy and the creation of the world will remain one of the masterpieces of the animated cinema."
After a landlord had thrown out most of his paintings, Smith gave himself over to filmmaking. "Harry lost interest in what he called small underground films," Szwed tells us. Instead, he was drawn to the idea of making a sweeping, potentially genre-changing opus. With growing interest in Smith's work, the distribution of his films through Mekas's Film-Makers' Cooperative, and a special financial disbursement set up by Ginsberg, Smith embarked on an ambitious new project: an animated version of The Wizard of Oz. But a drug-filled set and Smith's volatile temperament ultimately led to the project's collapse.
This failure did not deter Smith from embarking on another quixotic and complicated adaptation. Despite his close connections to left-wing and antiwar activists like Ginsberg and Ed Sanders of the Fugs, Szwed observes that "Harry usually steered clear of acting on political issues." So it is surprising that his cinematic masterpiece would be a retelling of Rise and Fall of the City of Mahagonny, the 1930 opera by Kurt Weill with a Bertolt Brecht libretto. Smith's 1980 film, No. 18 (Mahagonny), is defanged of the Weimar politics that permeated the original, however; he wrote that he was drawn to the opera simply for its rhythm, melody, and story. Smith's interpretation consisted of a kaleidoscopic set of images of his friends and surroundings projected on four screens at once. Projected on a loop at the Whitney, Smith's Mahagonny includes juxtapositions such as a couple canoodling on a couch in one corner and a branch swaying in the wind, while a woman makes string figures below an inexplicably black fourth quadrant.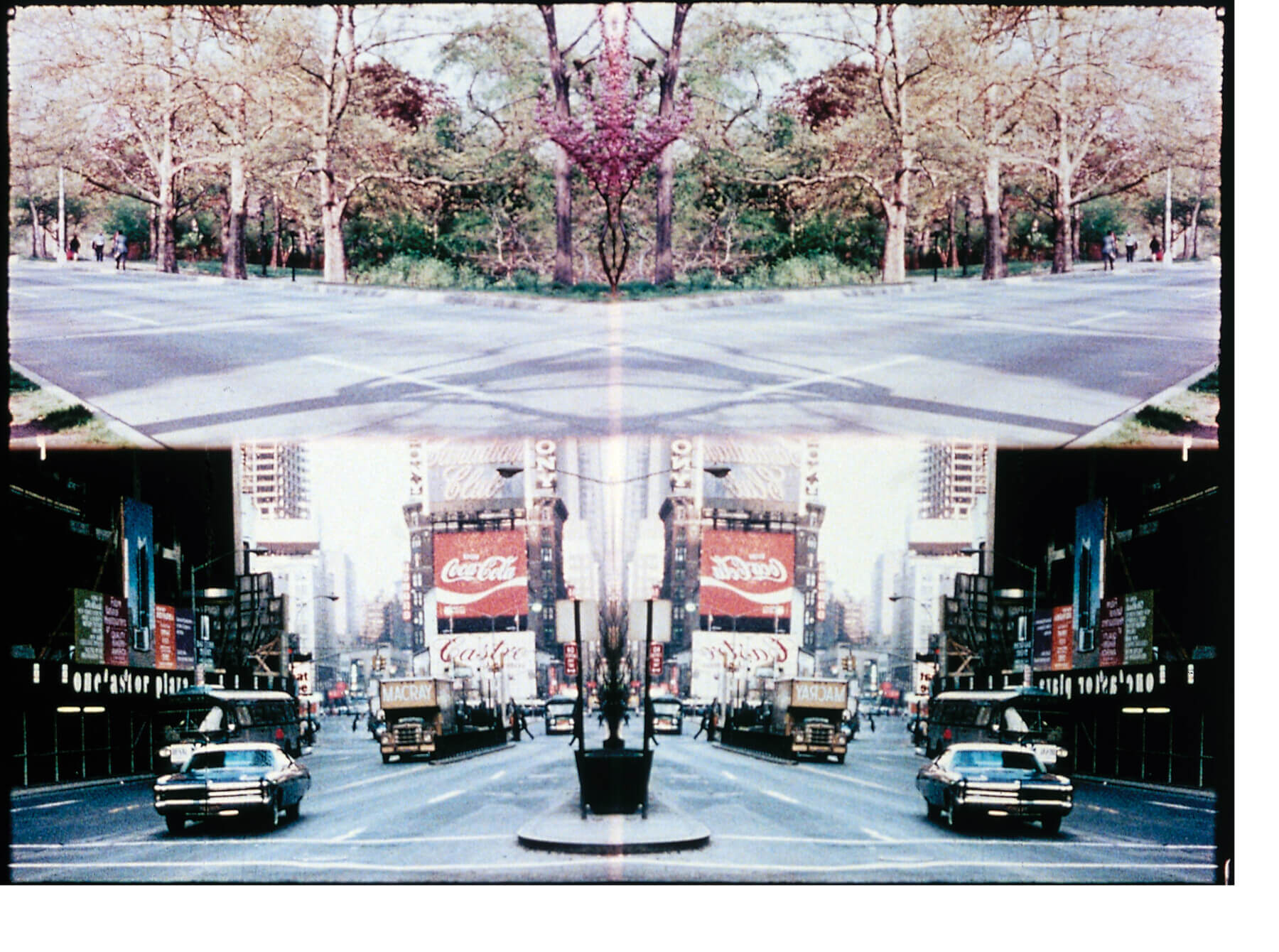 By the time Mahagonny premiered at Anthology Film Archives, Smith's health had declined from malnutrition and drug use, and he'd been pushed out of The Chelsea, taking refuge at an SRO hotel a few blocks away called The Breslin. The film was a typical Smith performance in which he manipulated his hand-painted lenses and slides during just a handful of six-hour screenings. Although Smith said that, "the best response to the film would be for the audience to fall asleep," it was understood by the few who saw it live, including Susan Sontag, as a major achievement. Nonetheless, after a few performances, Smith smashed his own slides and Mekas canceled the rest of the showings. The film would not be shown again—and then, without Smith's hands-on conducting—for over twenty years.
A Shaman of Special Merit
At age sixty-one, in 1984, Smith was forced out of The Breslin. Ginsberg took him in for what he thought would be two weeks; after unsuccessfully foisting Smith on others, it turned into a few years. Later, Mekas allowed Smith to sleep on a cot in Anthology, serving as the theater's "artist in residence" from 1987 to 1988. Then Ginsberg shipped Smith off to the Naropa Institute in Boulder, Colorado, where he had helped found the Jack Kerouac School of Disembodied Poetics. Honored with the title of "Shaman-in-Residence" and quartered in a cottage, Smith happily delivered lectures to students of the summer writing program.
If his existence had a meaning, it was one that he had to locate by reviewing it secondhand.
At Naropa, Smith perfected what might have been his purest form of documentation. While holed up with Ginsberg in New York, he had begun to make long recordings of ambient urban noise by sticking Ginsberg's Sony tape recorder out the window for hours at a time. In a way, it was a return to his childhood habit of looking for an ordered system in the waves of Bellingham Bay. "I have found surges in sound," Smith said of these New York field recordings, "punctuated by a single bird call or dog bark, that are pure beauty." He would sometimes claim that the hundreds of hours of tape would be used in a project he tentatively titled Materials for the Study of the Religion and Culture of the Lower East Side.
But Smith took this practice with him when he left the neighborhood. In Boulder, Smith continued to record from his open window and carried his tape recorder wherever he went. He would go out for an evening to restaurants and clubs, in the company of others, and remain silent the whole time while recording. "Then," one Naropa student remembered, "he gets home and listens with his headphones, over and over." Smith had played with the boundaries of film and life over the decades, experimenting with performing film and considering the aftereffect of watching a movie—the dancing of light on the retinas—to be its own form of animation. But in these late experiments, Smith simply left the recorder on as he lived. If his existence had a meaning, it was one that he had to locate by reviewing it secondhand.
In 1991, Smith was awarded the Chairman's Special Merit Award at that year's Grammys. Although his health had been fluctuating, he returned to New York to accept the award in person. But Smith collapsed on stage at the ceremony and ended up back at the Chelsea. He spent the last months of his life there, in declining health, hallucinating and "surviving on NyQuil, Alka-Seltzer, flu medicine, Zand Insure Herbal Immune Support, instant mashed potatoes, ginger ale, coffee, and cigarettes." He lost consciousness in his room and was rushed by his assistants to the hospital, where he was declared dead on account of cardiac arrest and stomach ulcers.
Smith's presence has hovered over the art world ever since—some would argue literally. Soon after he died, Mekas was so sure that Smith was haunting Anthology that he convinced the Lithuanian Catholic priest Vytautas Palubinskas, of Hudson Square's now-demolished Our Lady of Vilnius, to perform an exorcism. Mekas eventually canceled, not wanting to drive Smith from a place he loved.
Wild Thought
The treatments that Szwed gives Smith's life, and that the Whitney provides for his art, are masterful feats of reconstruction, and long overdue. One notable lapse occurs in Szwed's chapter titled "The Parapsychologist," which covers the important years of 1954 to 1964. During this period, Smith worked closely with, and was paid by, two American military intelligence researchers: Arthur M. Young and Andrija Puharich, who were investigating psychedelics, ESP, and mind control. Szwed notes that "the U.S. government had become concerned with what they believed was psychological warfare research in Russia, and Puharich was part of the counter-research backed by the army and the CIA." Young, meanwhile, had invented the Bell helicopter, and founded an Institute for the Study of Consciousness with his wife, Ruth Forbes, who housed Smith in New York one summer. (Forbes was also connected to Lee Harvey Oswald through her son Michael Paine, who befriended him while working at the Bell plant in Fort Worth, Texas, in 1963.)
"Whether it was the Cabala, my grandfather, the Indians on the reservation . . . you know it's being classified."
While Szwed is liberal in his asides about the colorful backgrounds of those with whom Smith interacted, from Chelsea Hotel neighbors to book shop proprietors, he leaves this aspect of Smith's life underexplored, simply offering that "Harry never revealed how he became involved with these people," and, "Just how Harry related to these people of wealth is not known." Since the question of who funded Smith followed him throughout his life, this would have been a good place to pause and consider whether these relationships played a role in shaping the politically disinterested philosophy he promoted at the center of the art world during the Cold War.
Another loose thread is the role of Smith's ethnographic work. Cosmic Scholar and the Whitney both draw a line from Smith's early ethnolinguistic activities to his later artistic practices: the Whitney wall text calls his fieldwork "the portal to his study of patterns of belief and lexicons of representation," while Szwed writes, "In spite of his later works in film, painting, and folk music, and his study of the occult, he would always identify himself as an anthropologist." But did a teenage Smith really know what he was doing while, for example, compiling "a list of nouns" from speakers of the notoriously complex and arguably noun-less Salishan languages?
Smith's collecting may be better placed in the long history of making native word lists, which was understood by practitioners, such as Thomas Jefferson, as an enlightened activity that helped shape a distinctly American identity, rather than in the established scientific study of peoples and languages. While unorthodox methodologies like Smith's were criticized in his day for essentializing the people under study, interestingly, the Whitney frames his rejection of the norms of sociolinguistics as a positive attribute. "Anthropology as a field . . . was fundamentally extractive" and "reinforced the violence of settler colonialism within the United States," the wall text reads, while "Smith, who was self-taught in his anthropological studies, did not share all of the discipline's assumptions and methods." Smith's friend, Lionel Ziprin, saw it differently, remarking, "You see anthropologists are whites, super-racists . . . Looking at specimens." He continued, "Harry had a streak of it, I am sorry to say. Whether it was the Cabala, my grandfather, the Indians on the reservation . . . you know it's being classified."
Despite their incredible syntheses of Smith's pursuits, neither Cosmic Scholar nor the Whitney propose a theory to unite them, or his particular interests in Native Americans and "the worlds of Black Americans, jazz musicians, and Orthodox Jews." We learn that Smith believed everything was interrelated but never exactly how—or what drove Smith to pursue this belief. Smith himself suggested he was simply motivated by a gut feeling: "I intuitively decided I wanted to collect records," he once said. Elsewhere, in an unpublished interview reproduced by Szwed, he came closer to revealing a deeper purpose: "I try to fill all the moments that God, whatever that is, that . . . infinitely small immensity that draws all things together by thrusting them apart." There's something beautiful to Smith's conviction that everything is imbued with a spark of divinity; like a gnostic, he was on a quest to uncover lost knowledge that could present itself anywhere. In this sense, "Fragments of a Faith Forgotten" is a well-chosen title for the Whitney exhibition.
Still, there remains an unresolved tension to Smith's methods. "There are no savage modes of thought," he once wrote, following Boas and Claude Lévi-Strauss, "no civilized ones." Smith claimed he wanted to make films "for all people, whether they be Papuans or New Yorkers." Yet he was clearly drawn to people who he thought channeled some uncorrupted culture. Even the Black American bebop musicians he respected had this aura for him. "Hardly any of these people can read music and many have trouble reading and writing English," Smith wrote, "but for these very reasons they are often in very unknowing contact with the true sources of creativity" (emphasis mine). While claiming to flatten distinctions between so-called primitive and civilized societies, Smith was actually very conscious of the separation between the two, and seemed to prefer what Lévi-Strauss called "wild thought."
Smith rejected "civilized" society himself, delving into the realm of the unwritten, the unspoken, and even the unthought, which he tried to make palpable through his creative output. Although Szwed writes that Smith "would never 'go native,'" he did immerse himself in the cultures he respected. Smith was not simply a student of the occult but seen as a "magus," "shaman," and "wizard." He was given unprecedented and yet-unmatched access to the Lummi. His attempt to look back at American traditional music had the effect of shaping popular music for decades. Harry Everett Smith became Tsvi Hersh ben Reb Leyb.
It was this shapeshifting quality, and Smith's reenchantment of secular life, that made him so appealing to postwar artists searching for meaning and experimenting with new identities. Keeping Smith around, and alive, was a way to tend the flame of the possibility of something beyond the art world's quotidian concerns. The Whitney show is not then a narrative pointing to any particular masterworks. Instead, the centerpiece is Smith's archive as a whole, and the experience of trying make sense of its variety, beauty, and mystery. The exhibition presents us with the challenge, and the pleasure, of trying to classify it all; to think like Smith. In the end, just as Smith transformed himself, he had a near-theurgical power to change others, which is why his legacy is so large. As W.H. Auden wrote of W.B. Yeats, "he became his admirers."