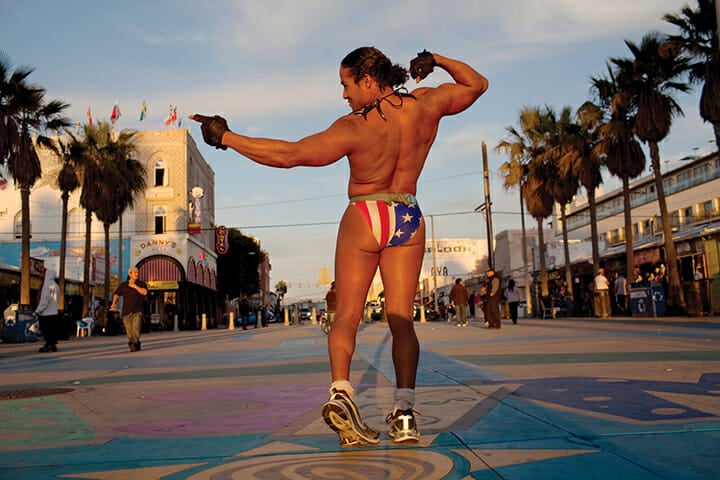 "Mr. X," a muscleman regular on the Venice, California, boardwalk, shows off his stars and stripes.
One can think of gentrifying neighborhoods as the real estate equivalent of Ernest Hemingway's bankrupt veteran in The Sun Also Rises. Change occurs gradually and then suddenly. Once upon a time, places like Brooklyn's Williamsburg, San Francisco's Mission District, and Washington's U Street Corridor were working-class neighborhoods. At some point, artists began to move in. The company was congenial and the price was right. They were able to get by selling hand-beaded jewelry and living in the back of the shops, or working as political activists for low-paying, likely futile left-wing causes. We didn't need to sell out to the man here.
Then word gets out about the charm of the place. The next thing you know, it's an arts-themed shopping mall. But no one can really say how and when it happened.
Consider Venice, California, the Los Angeles beach community. It's hard to pinpoint the moment when it became a playground for the upper classes. When I asked residents and business owners during a visit last summer what was happening to them, a surprising number blamed GQ, of all things. That's because in 2012 the magazine that tells men how-to-shop-but-still-be-men proclaimed one of Venice's main thoroughfares, Abbot Kinney Boulevard—which bisects the community for more than a mile beginning a few blocks from the Pacific Ocean—"The Coolest Block in America."
"Just about everything in GQ's Style Bible (plus delicious cocktails and a swim) can be had on Abbot Kinney Boulevard," GQ enthused about the rapidly gentrifying street, calling out the "limited-edition sneaks from Japan (leopard print, yo!)" for sale at Waraku and describing the Jack Spade men's shop—located in a turn-of-the-century bungalow—as "a groovy love shack" where customers can play Ping-Pong in the front yard.
To be fair, GQ is a pleasure-industry tip sheet and not, say, a magazine that wants its readers to think about the meaning of it all. Its Venice recommendation didn't need to mention the community's past, when it was simultaneously a boho retreat and the site of gang warfare. Moreover, such celebrations are usually forgotten the day they are printed. This one, however, was not.
The already substantial crowds exploded, led by a surge of twentysomethings hoping to find a combined shopping and party-time experience—so much so that LA Weekly, yet another arbiter of on-the-edge cool, proclaimed Venice's shopping strip one of "Los Angeles' Douchiest Neighborhoods." As Weekly writer Dennis Romero put it, "Abbot Kinney is not so much a neighborhood as an exception to any concept of Venice as a place where artists, surfers, African Americans and Latinos used to rule." Sigh.
Trout Salad, but Please Hold the Homeless
Perhaps Venice's final act began in 2008, when Gjelina opened on Abbot Kinney Blvd. Here was your typical glam-hip restaurant, this one known for its "nouveau-peasant fare," according to The Hollywood Reporter. The reviews were excellent, and it immediately attracted long lines and fame (or notoriety) for a no-substitutions policy so intense that the unthinkable happened. A very pregnant diner by the name of Victoria Beckham—a.k.a. Posh Spice—was turned down by management when she requested Gjelina's $13 small-plate smoked trout salad but asked that a number of the regular parts—grapefruit, avocados, lemon, and red onion—be laid to the side. International headlines ensued.
You can bike! Go to the beach! Shop! Enjoy the ocean breezes! Spend time on "the coolest block in America."
Success attracts imitators. Other high-end farm-to-table restaurants soon followed, advancing down Abbot Kinney and onto nearby Rose Avenue, where they elbow up against social-service organizations. The homeless now walk by the chic outdoor patio at Superba Snack Bar, wheeling shopping carts filled with their belongings. At the corner of Lincoln Boulevard and Rose, a 48,000-square-foot Whole Foods shares a strip mall with a Laundromat and a 99 Cents Only store. "Skid Rose, meet Restaurant Rose," wrote a scribe for the Los Angeles Times.
And then, in 2011, Google arrived and began snatching up property, moving more than four hundred employees into a campus near the beach. For Google, the artists and hipsters of Venice are the perfect prop, a way of claiming business cool. "What makes Google L.A. unique?" Google's website asks itself. The answer:
It starts with our location in Venice, long home to the edgy and offbeat, from Beat poets in the 1950s and the Z-Boys skateboarders of the 1970s to Jim Morrison, George Carlin and Jean-Michel Basquiat. . . . All that creativity is inspiring, helping us push the needle on innovation in technology development as well as in helping clients develop exciting new approaches to engaging customers.
The Google expansion has sent tech money surging into the local real estate and retail markets. "Everyone says the GQ article" caused the change in Venice, says Marian Crostic, a photographer who moved into a bungalow on Abbot Kinney with her husband, Fred, back in 1976, when it was so ungentrified it was known by the less hip name West Washington Boulevard. "I don't know. Fred and I think people have a lot of money; they put their money into real estate because they have to invest their money."
But it seems that after the GQ article appeared, things got worse. Tales began to circulate that landlords were presenting copies of the offending GQ issue to store-owning tenants and demanding fantastic increases in rent. This much is sure: Jin Patisserie, a neighborhood pastry shop famed for its tea and cakes, was replaced by cookie-cutter Kreation Kafe, a Los Angeles–based juicery, the sort of place that attracts ranting complaints from anonymous customers on Yelp for running out of walnut milk. Glencrest Bar-B-Que, a takeout joint with mixed word of mouth that the locals had either loved or loathed for decades, also vanished, and the higher-end Pork Belly's Sandwich Shop moved in. Upscale chains began to arrive, of the same kind that have overrun New York City's Soho and other former artist enclaves. Keetsa, an "eco-friendly mattress" retailer, opened shop last year, as did Australian company Aesop, which sells antioxidant-rich body-care products. (Don't worry: the Aesop brand favors "interiors that respond to neighbourhood anthropology," according to its website, so the concrete floor of its Venice store "has been left untouched," with "the marks of its previous life as an artist's studio evidenced in its imperfect paint flecks and fissures.")
As for Google, it even took over the building that houses the iconic Gold's Gym. The real muscle in town is money, after all.
The Money Swamp
Yet before we get too indignant, it's worth remembering that pining for the "real" working-class, artistic Venice is to forget that the community was born of a wealthy real estate developer's failed fantasy.
Founder Abbot Kinney, along with two partners, once controlled two amusement parks in what is now Santa Monica, as well as swampland located directly to the south. In 1904 the threesome began to quarrel and decided to dissolve their partnership. They tossed a coin to determine the split. Kinney won. To everyone's shock, he rejected the existing businesses and took the swampland. There he created "Venice of America," a fantasy resort town, a salute to Italy's floating city. It was an amusement park with intellectual aspirations, complete with gondolas. The business model? The hordes coming in via the Los Angeles street car system would go for the cheap thrills, while wealthy people would come for high-minded entertainment and gobble up the bungalows lining the new canals and adjacent streets.
This high-minded plan didn't really pan out. Kinney made Venice a stop on the Chautauqua lecture circuit; Sarah Bernhardt performed, the Chicago Symphony played, and William Jennings Bryan spoke. But many more of the visitors to Venice preferred to spend their time and money on the less than erudite side of leisure—the adjacent amusement park, with its funky arcades, the Darkness and Dawn funhouse, the early roller coasters, the world's smallest woman. And, of course, the beach.
Kinney died in 1920, and Venice slowly collapsed in his wake, as Prohibition made a serious dent in the party-time atmosphere. In 1925, in desperate need of a financial bailout, the town formally joined with Los Angeles. But rather than yielding an infusion of help, Venice's new civic enclosure produced a state of malignant neglect. The one exception involved that great engine of growth powering the fast-spreading empire known as Southern California: private development money, marching in lockstep with the advance of the automobile. All but six of the canals that Kinney rooted out were paved over to make way for cars. The amusement park fell into disarray, and finally closed in the late 1940s.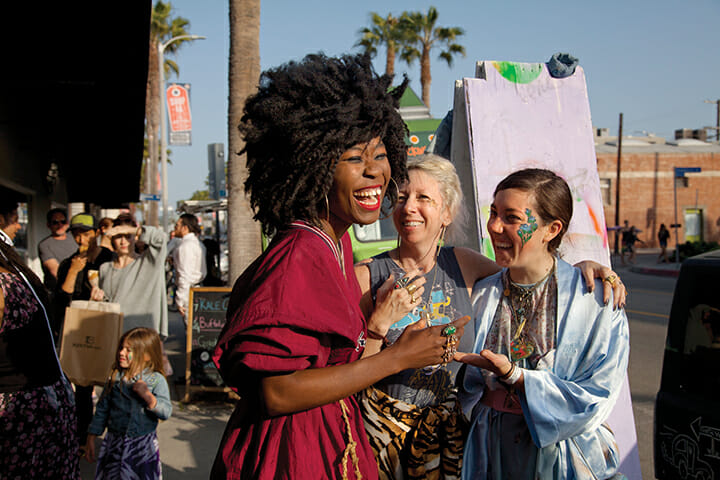 After that, Venice became a lower-middle-class, racially diverse community with an artsy flavor, where the relatively cheap rents meant you could find Beat poets and oil derrick workers living side by side. Venice was the place where Jim Morrison ran into Ray Manzarek on the beach, and the two decided to form a band. Painters Chuck Arnoldi and Ed Moses moved to the community, amid elderly Jews living on meager Social Security checks and pensions. (If you take one thing away from this essay, read Number Our Days, the late anthropologist Barbara Myerhoff's heartbreaking study of this now-vanished group.) In the 1980s the historic neighborhood of Oakwood became a regional epicenter of the crack trade, and gang warfare that was considered vicious even by the dim standards of Los Angeles raged on an on-again, off-again basis for almost two decades.
All but six of the canals that Kinney rooted out were paved over to make way for cars. The amusement park fell into disarray, and finally closed in the late 1940s.
When it seemed that things couldn't get much worse for Venice, the community's financial prospects picked up. A number of artists and former hippies stayed on after they became successful. Their presence led to a mini Hollywood invasion, sparked by the kinds of actors and directors who viewed themselves as outside, you know, the system. Dennis Hopper set up a compound in the heart of Oakwood. Simpsons creator Matt Groening purchased a two-bedroom cottage on the Venice canals, a move he reportedly made at the request of his then wife, who didn't accept his quaint idea that a mortgage was "too bourgeois."
It's funny how things have tended to work out for the countercultural rebels. Groening's surrender to homeownership turned into an excellent investment after all. A multimillion dollar initiative to revive the remaining canals, which had all but collapsed into stagnant pools of filthy, smelly water with adjacent sidewalks sinking into the earth, was finally completed in 1993, though the effect was to draw more of the same sort of wealthy residents.
In those years, the encounters between old and new Venice had a faintly surreal feeling. The block where I lived in the late 1990s was a five-minute stroll from Hal's, a local restaurant and watering hole that everyone went to, where paintings by Ed Moses and Joni Mitchell hung on the walls, and the Hydrant, a coffee shop for dog lovers, with a large open patio on Abbot Kinney where patrons could sit outside with their pets.
I'd walk during the day, but not after dark. A local story had it that a famous television actress came home one night to find the entrance to her street blocked. "It's a shooting," the cop refusing to let her through said. "What are they shooting?" the Hollywood veteran asked. "People," the cop replied.
Warning: Cool Zone Ahead
These days, Venice can feel like a shooting of the sort the actress imagined, except you are starring in your own leisure epic. You can bike! Go to the beach! Shop! Enjoy the ocean breezes! Spend time on "the coolest block in America."
If you have the money for it, that is. Abbot Kinney's modest, single-story bungalows are increasingly becoming artifacts, replaced by new, relentlessly upscale luxury developments. The houses now for sale are the popular mix of rustic and designer sumptuousness. Kitchen sinks are often "farmhouse" but bear about as much resemblance to agricultural living space as Marie Antoinette's dairy farm did to the real thing. The appliances are high-end designer products costing thousands of dollars—refrigerators and ranges are Viking, dishwashers and washing machines Bosch. It is all meant to convey effortless luxury, with a helping of fun.
The preferred style? What's generally called "architectural." There is much in the way of glass, light, floating staircases, and commodious, loft-like expanses. A few are designed by name architects like local resident David Hertz, who rents out his own home, which is adjacent to the Venice canals, on luxury site Onefinestay for $2,159 a night. "We tend to feel like we live in a spa-like environment, a resort-like environment," Hertz told the Los Angeles Times. He might be right. The home features a chemical-free lap pool and walls of "sustainable reclaimed wood," and is, according to the site, "a nirvana of fantastic views and total privacy."
These are McMansions, but McMansions with style, for those with the taste to live in an urban neighborhood with rough edges and not in a cookie-cutter suburban development. Move to Venice, these homes are whispering, and you can be a part of the arts world. And better yet, you'll be spared the emotional and financial angst that comes with living in an actual arts bohemia.
"It's a way to be in the arts world without being an artist or buying paintings," admits Jeff Sulkin, an architect and former Venice resident who is now designing a home for a client who works in the financial services industry. "It's a self-image. If you see yourself as a creative person, you let someone build you a house like that."
"It's an imprimatur that says, 'I'm in Venice. I want to be associated with this,'" he adds. "'I'm not going to go to the galleries every weekend, but I want to be associated with the creative community.'"
Needless to say, few artists—even of the film industry sort—can scare up the cash to buy such residences as the "slick architectural" house on Amoroso Place with "a soothing back-drop for dining & entertaining" that was recently listed for $2.6 million. As a result, real creativity is increasingly less than welcome. Never mind selling out to the man to live here. You need to be the man.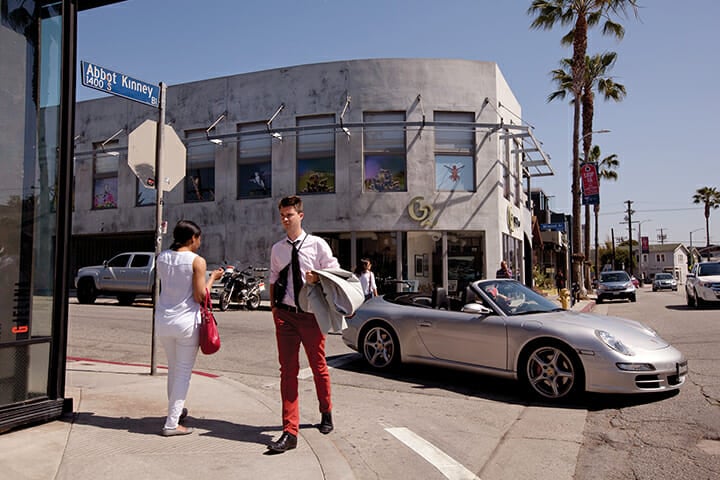 The tale of Eileen Erickson's tree house is instructive. Erickson and her late husband, Sid, built the two-story play structure out of bamboo more than a decade ago for the enjoyment of their grandchildren and other neighborhood kids, not to mention the stray tourist who sees it. It's giant and whimsical and makes just about everyone who walks by laugh. It is also, according to the city of Los Angeles, which suddenly took an interest last year, in violation of multiple construction codes and should be taken down.
The idea of enforcing quality-of-life codes makes long-time Venice residents roll their eyes. Erickson has been an outspoken opponent of the home-renovation trend in Venice, and is convinced the anonymous person who finked on the tree house was retaliating. At the time, there were at least three homes on her block currently under construction.
Another longtime Venice resident has run afoul of the new real estate consensus in far uglier fashion. The Gonzalez family of Abbot Kinney—just down the block from the Crostics—found themselves out on the street after sixty years in 2010. A death in the family and an ensuing financial dispute among the survivors tied up the home in legal limbo, and it was eventually sold out from under them. It's now been bulldozed; after the property was flipped again, it became the site of an organic nursery, Home Grown Edible Landscapes.
This high-end establishment, as its name suggests, specializes in helping urban homesteaders design and maintain "sustainable" and "organic" gardens on their properties. If that's too much work, they'll handle it all for you. No need to get your hands dirty. "Grow like a pro—because the pros grow for you!" the sign out front reads. "The Cook's Garden by HGEL is now offering a limited number of growing subscriptions to home cooks . . . grown to your specifications by our expert staff!"
As I am contemplating the sign, wondering if this is an inspired satirical commentary on gentrification of this formerly hip zone, a woman and her husband walk by. "I could use that," she tells her husband, as she snaps a photo of the sign with her iPhone. "We killed all our plants last year."
The Hero's Journey
One of the unique features of upper-middle-class life in 2014 is a simultaneous demonization and celebration of spending. It works sort of like this: If you are blowing your paycheck on cheap, mass-produced, plastic goods at Walmart, that is not a good thing. But if you demonstrate a combination of proper, authentic, and natural taste, mixed with a twist of environmentalism and purpose (see: organic garden), well, that's another matter entirely.
On a practical level, this rationalization permits people who would otherwise subscribe to the tenets of John de Graaf's Affluenza, or who would nod their heads in agreement while they read such anticonsumerist manifestos as Juliet Schor's The Overspent American, to indulge in sumptuous shopping.
Think of it this way: Abbot Kinney Boulevard is a consumer's Chautauqua.
Accordingly, many of Venice's businesses, no matter how luxurious or self-indulgent, advertise self-improvement and doing good, frequently with a New Age or holistic spin. At the posh accessory outlet Kendall Conrad, the handbag line is "artisanal," the materials used are "sustainable," and the black Lupe Sino handbag is $1,250. The Dailey Method, a barre-based cardio workout, promises that, for a mere $22 a class, one's "body, mind and physical awareness will be transformed."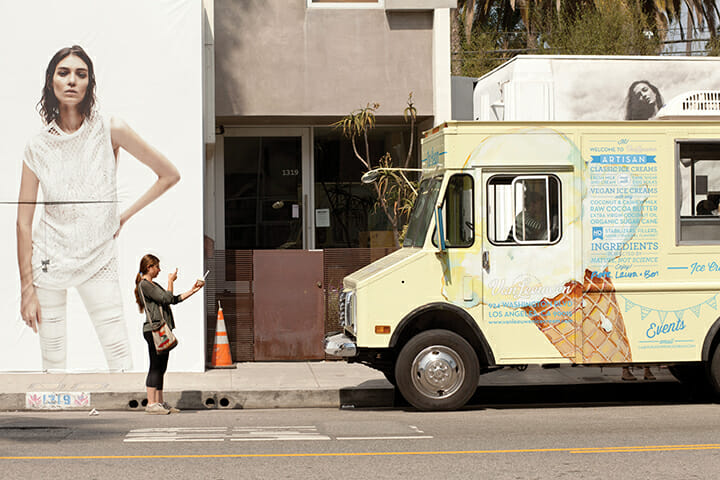 The same goes for restaurants. In the publicity materials for Barnyard, a newly opened restaurant located near the beach, executive chef Jesse Barber refers to his tenure at another well-regarded dining establishment, the Tasting Kitchen on Abbot Kinney. At this venue, apparently, workers participated in an epic, soul-enriching quest straight out of Joseph Campbell's mythologies. Barber claims he "led a troupe of talented, young professionals on a journey that involved late nights, early mornings and loads of commitment to their culinary craft," and then goes on to say, "I hope to create lasting relationships with neighbors, friends, farms and local vendors." Just serving quality food, as some other eateries do, won't suffice.
Still other Venice businesses offer earnest lectures on the importance of charity, that modern-day shibboleth among the upper classes, who seem to be under the impression that voluntary donations can somehow make up for national and global inequalities of income and wealth. If some of the money spent on luxury items goes to the less fortunate, then the explosion of high-end—excuse me, "artisanal"—retail is no longer spending for spending's sake, but a reflection of the global citizen's higher spiritual calling.
At TOMS Shoes, founded by Blake Mycoskie, a former competitor on CBS's The Amazing Race, it's one pair of shoes or glasses for you, and one for a poor person in need. "I believe business can be used to improve people's lives," he told the Los Angeles Times when the flagship store opened on Abbot Kinney in 2012. There's also a coffee bar on the premises. Mycoskie has spoken at South by Southwest, headlined a Clinton Global Initiative summit, and written a book called Start Something That Matters, all to spread the gospel of social entrepreneurism.
All this was not Abbot Kinney's original vision, but it might just be an updated, twenty-first century version. Today's Venice is the perfect mix of entertainment, nostalgia, and upscale education for our own Gilded Age, where work is supposed to be fun, shopping is supposed to have meaning, food needs to demonstrate virtue, and leisure must embody some greater vision of global justice to be worthy of anyone's time. There's no need to feel guilt about spending money, or bulldozing family homes, or squeezing out longtime neighborhood activists and local merchants—so long as it's done with the right sense of taste and fun.