X-Rated Men
Of twinks and the men who love to exploit them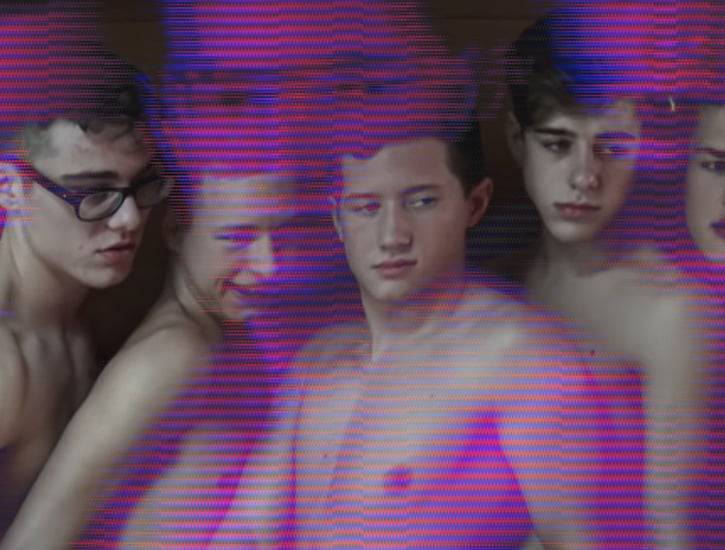 Boys! Boys! Boys! | The Baffler
Keith Miller started on the backend of the porn business. In 1997, this Indiana native with perpetually tired eyes cofounded the Internet Billing Company LLC, an early provider of secure online payment systems, largely for porn and dating websites. Miller left in 2000 to open a string of gay and straight clubs in southern Florida, shelling out $690,000 for one historic location. They all failed. Miller then journeyed to the frontend of the adult film industry, founding what would become a mecca for twink porn: 13 Red Media.
Early videos featured Miller (stage name: Jeff Sterne) paddling the asses of young models under the title SpankThis, but after moving the company to San Diego in 2006, Miller expanded his offerings to include Helix Studios and 8TeenBoy, both of which feature uniformly lithe and "barely legal" twinks having sex with one another, the latter privileging men so young that they occasionally still have braces. With his eye for youth, Miller turned his company into one of the world's leading purveyors of twink porn, rivaled only by Slovakia's BelAmi. While the opening night of one of his clubs in Fort Lauderdale, built for fifteen hundred people, only drew a few hundred, Miller found himself fawned over in the X-rated realm—surrounded by industry awards and a revolving gaggle of beautiful boys. In 2019, he was even inducted into the GayVN Hall of Fame. 
It was in San Diego around 2010 that the porn magnate made the acquaintance of Bryan Singer, by then a successful Hollywood director. While Miller had created an adult entertainment empire, Singer had found renown in the mainstream. After making his reputation with The Usual Suspects in 1995, for which writer Christopher McQuarrie and actor Kevin Spacey won Oscars, Singer directed a series of successful superhero movies: X-Men (2000), X2: X-Men United (2003), and Superman Returns (2006) that together grossed over $1 billion, making him one of the most powerful men in Hollywood. But despite the sizable gap in profits, name recognition, and clout, Singer took an interest in Miller's oeuvre.
"He likes Helix models a lot," said one person familiar with the company—so much so that he started dating one, which brought Singer into the studio's orbit. His fandom became a point of pride, and the studio arranged private premieres of the porn titles Helix Academy (2013), Lifeguards (2016), and Vegas Nights (2019) for the Hollywood director. "Apparently Bryan said he's watched Helix's films more than his own," said Cameron Parks, a former model and production assistant. Although you might be forgiven for confusing them: in the age of homogenized "content," twink porn and orgiastic superhero flicks are actually quite similar. They both rely on clunky plots that serve only as a means of delivering pulse-pounding action, they both generate endless sequels, and they both cycle through a universe of completely interchangeable, replaceable protagonists. "We have a recurring cast of characters," Miller has said.
Despite diverging at the letter of the law, the Hollywood titan and the pornographer have more in common than a knack for blockbuster genre films and a taste for thin young men.
By the time they met, Miller and Singer had settled into their respective modi operandi. Miller, keeping things above board on the legal front, surrounded himself with young men who were often in precarious emotional and financial states, guaranteeing himself a supply of twinks who were grateful for his cash and willing on occasion to date him to insure its continued flow. Singer, while likewise drawing into his orbit a rotating entourage of cash-poor youngsters, has accumulated numerous credible allegations of sexual abuse and rape of underage boys going back to 1997—accusations he's repeatedly denied but that recently managed to wreck his career. (Neither Miller nor Andrew Brettler, Singer's lawyer, responded to requests for comment.)
Despite diverging at the letter of the law, the Hollywood titan and the pornographer have more in common than a knack for blockbuster genre films and a taste for thin young men. Singer and Miller adopted the same strategies for bringing the boys into their lives: they dangled the fixings of the glamorous life—drugs, booze, money, the promise of stardom—in front of them but always just out of reach, leveraging the power of economic and emotional manipulation to sate Singer and Miller's desires for carnal and fiscal pleasure, with little regard to the costs.
---
Singer and Miller had the resources to help their young lovers get on solid ground financially. Instead, they enticed them with ephemeral trappings of wealth. As The Atlantic reported in early 2019, Singer took one of his young lovers, Bret Tyler Skopek, to a birthday dinner at the restaurant Nobu, where wines fetch up to $3,300 a bottle. They then went back to Singer's house with a few other boys, took MDMA, and had sex. Singer was also generous with his private jet and offered lovers the use of his Ferrari. At West Hollywood gay clubs, he held court at VIP tables and footed large tabs for swarms of young men. "It's an attractive thing. Have free drinks, have fun," said a person who observed Singer interacting with young friends of theirs. "And all of a sudden it's like, 'Here's the person who paid for that. Would you like to meet him?'"
Besides flying young models into Las Vegas, where Helix Studios moved in January 2018, to film porn and show them a good time, Miller bought a Porsche to ferry stars around town. He often sponsored large parties, "family" dinners, and weekend getaways: in early November 2018, according to someone who was there, Miller paid for dinner for his team at a Palm Springs restaurant to the tune of $2,600, including booze for underage boys, having bribed a club bouncer into allowing the group inside.
Also trotted out before these young men was the prospect of stardom—although it infrequently materialized and, on the rare occasion that it did, expired as quickly as the boys' "barely legal" charm. As noted in The Atlantic, Singer promised the then eighteen-year-old Skopek an audition for a small role in an upcoming X-Men film. It never took place. Miller also treated his models as if they were on the verge of making it big. In an email made available in a public court filing, Ryan Gordon, a videographer who briefly planned a new venture with Miller, wrote, "You explained to me how important it is for you to elevate the models to a place of stardom. You call them stars and you treat them like celebrities—this is so incredibly rare." But their time in the spotlight is often brief: one source told me that "twenty-one is too old at Helix." And when they do move on, the boys are often ill-prepared for real life and struggle to find work outside of the porn and sex work industries. Cameron Parks, who started filming for Helix at eighteen and was fired three years later, had no real friends or connections outside the porn industry. He had been discouraged from finishing college while working for Miller. "They [had] told me I shouldn't go back to school and instead spend my time with them," he said.
The same year Miller cofounded Internet Billing LLC, Singer invested $30,000 in the Digital Entertainment Network, which was ostensibly intended to be a gay youth-oriented TV network. Flush with investment capital, the owners of DEN promptly turned their Encino mansion into a raucous party house, where group porn screenings were common and candy, drugs, and alcohol were showered on teenage boys. Singer was a regular guest. In 2014, BuzzFeed reported on how this gauntlet of parties functioned as an "entrenched system" around Singer, "facilitated by . . . scouts, who bring Singer into regular orbit with 18- to 20-year-olds at parties sustained by large amounts of alcohol and drugs—edging precariously close to the line between legality and illegality."
Miller, too, threw parties: smaller versions of Singer and DEN's infamous bacchanals, held at the Las Vegas McMansion where Helix porn was shot and actors shuttled in and out. Underaged drinking and drug use were encouraged. But while Singer used scouts, Miller used Twitter as an efficient recruiting tool. Representative is the case of Liam Riley, who had already amassed a considerable following as a celebrity high school cheerleader when Miller enlisted him over Twitter at the age of nineteen.
These recruitment strategies have proven particularly well-suited to scooping up young boys from vulnerable backgrounds. Twink porn performers, in particular, often hail from families and small towns hostile to their sexuality; for them, college frequently isn't feasible and mental health issues are not uncommon. To many observers and participants, the "communities" around Singer and Miller initially seemed genuine—a utopia of sexual liberation. Unfortunately for the boys, there was always someone younger and more exciting waiting in the wings. As Jordan Sargent wrote in 2014 of Singer's circle, "Most of the young guys are chewed up and spit out." A person familiar with Helix Studios said that slightly older models were hyperaware of their need to "stay in [management's] good graces and compete with eighteen-year-olds. They're not the fresh faces anymore." Singer and Miller appeared to see nothing wrong in treating young, vulnerable men as resources to be strip mined—their workaday exploitation obscured by wealth and power.
For the boys who found themselves pulled into the orbit of these men through the gravitational force of drugs, glamor, and the chance at fame, the consequences can be dire.
After all, allegations against Bryan Singer hung around for twenty-two years before they derailed his career last year. In May 1997, a fourteen-year-old extra on the set of his film Apt Pupil filed a lawsuit claiming that minors had been forced to film a shower scene naked (the case was purportedly settling out of court). Victor Valdovinos later told The Atlantic that Singer repeatedly sexually assaulted him on the set of that film. In 2014, a few months after the premiere of X-Men: Days of Future Past, a case filed by Michael Egan accusing Singer of sexual assault was dismissed due to inconsistencies in Egan's statement, but as many have convincingly argued, these contradictions could have been due to the confusion of severe trauma. Three years later, a statutory rape case filed by Cesar Sanchez-Guzman was settled for $150,000. The first time Singer suffered a substantial loss over these allegations was in March 2019, when he was fired from his job directing the film Red Sonja—a story in which a young girl takes revenge against her rapist. Just a year earlier, he had secured a rumored $10 million directing fee. His name was then removed from the BAFTA nomination for his work directing the bloated mess of a biopic Bohemian Rhapsody.
To my knowledge, no Helix actors have filmed porn for the company while under eighteen. But the studio does encourage fans to imagine performers as younger than they are: sets are often modeled on teenaged bedrooms and one series featured models describing then "reenacting" their earliest sexual experiences. But despite reaching legal "adulthood," these men don't stop needing the guidance and assistance they sought in Miller. A somewhat confusing symptom of our American isolation, caused by inequality and exacerbated by technology, is that discarded former Helix models have been turning to female gay porn fans on Twitter for support. One twenty-two-year-old model met a surrogate mother through his work with the studio. While sex is off the table, they talk on the phone every day.
The once tightly curated image of Helix Studios has begun to unravel, with models taking to Twitter to air complaints amid a significant recent exodus of performers—including Helix golden boys Joey Mills and Blake Mitchell. Nonetheless, in January of this year, Helix Studios was awarded a "Best Feature" for Vegas Nights at the GayVN awards. "People can say a lot of shit about Helix," Cameron Parks noted, elbowing his way to the front of the group on stage at the GaxVNs. "I mean, I don't blame them. But they still make a good movie," he went on, while the assembled porn elite shouted at him to "get off the stage." (Parks has since quit porn entirely.) Others are more direct: "Keith is just a fucking idiot," according to Helix star Kyle Ross.
For the boys who found themselves pulled into the orbit of these men through the gravitational force of drugs, glamor, and the chance at fame, the consequences can be dire. Singer's ex-lover Bret Skopek found himself working at a restaurant but struggling to get by—he was "swapping sexual favors for a night of lodging," occasionally staying in a homeless shelter. In November 2015, a twenty-five-year-old former Helix model who went by the name Zac Stevens committed suicide by jumping off a bridge in San Diego. His body landed on the balcony of a Marriott hotel guest. Tributes and condolences from the porn industry poured in on social media. A memorial GoFundMe set up for Stevens raised $605—slightly more than the going rate for a single Helix scene.