White-Hot Furies
On the "unhinged white woman" genre, from the 1990s to today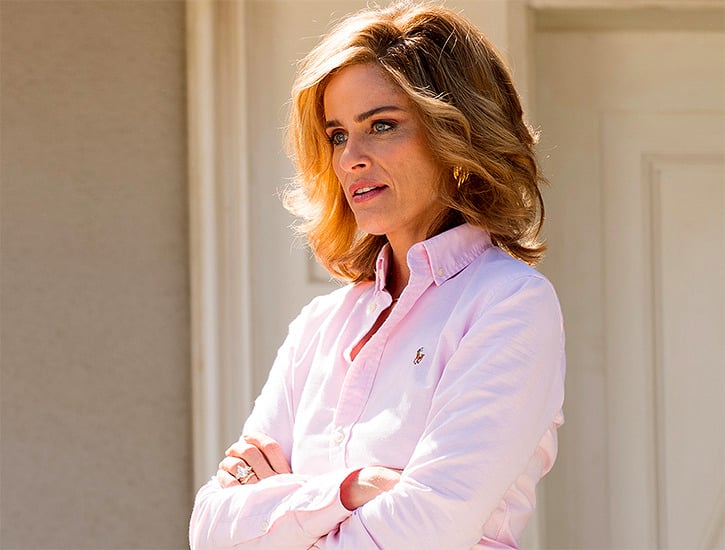 Amanda Peet as Betty Broderick in Dirty John. | USA Network
In the spring of 1990, Twin Peaks inaugurated the "dead girl" show. The series, which concerned the mysterious killing of a teenage homecoming queen with a deeply troubled personal life, captivated the nation, led to a second season (as well as 2017's critically acclaimed Twin Peaks: The Return), and spawned an entire genre, including Law & Order: SVU, The Killing, Veronica Mars, True Detective, Top of the Lake, and a host of other American shows. Twin Peaks is widely believed to be a TV show about the medium of television, so it's fitting that it would come to define a new category in American TV history.
In Dead Girls: Essays on Surviving an American Obsession, the writer Alice Bolin investigates the true crime stories that have found such a large following. Of the proven theory that intimate partners are overwhelmingly responsible for murdering women, a pattern observed on Dateline and other crime docuseries, Bolin writes, "When a man kills his ex-girlfriend because she leaves him, he is saying . . . shame and sadness are feelings I should not have." On the recurrence of "dead girl" narratives, Bolin explains, "It's clear we love the Dead Girl, enough to rehash and reproduce her story, to kill her again and again, but not enough to see a pattern. She is always singular, an anomaly, the juicy new mystery."
The same might be said, though, for the lethal woman. We watch her kill and kill again, always with the same sense of her strangeness. Shortly after Twin Peaks became a hit, in the spring and fall of 1992, CBS aired two movies-of-the-week: A Woman Scorned: The Betty Broderick Story and Her Final Fury: Betty Broderick —The Last Chapter, both of which eventually became cult hits and Lifetime staples. Based on a true story, A Woman Scorned is a classic for the kabuki rage of Meredith Baxter, who played Broderick's inexorable descent into vengeful murder straight, without any sense of irony or winking commentary. Despite its aesthetic value as a 1990s relic, the film has a long legacy in American culture. The DNA of A Woman Scorned can be found all through the docudrama genre that later exploded in popularity on cable: the Lorena Bobbitt story; the media's sympathetic rendering of the Mary Kay Letourneau story and its subsequent made-for-TV adaptation; The First Wives Club (and its reboot as a television series); Snapped and other true crime series; and even Lifetime's usual melodramatic formula. It's also all over the spectacularization of Tiger King and its characters, the Carole Baskin memes, the histrionic backlash to the "Karen" nickname, and the manner in which upper middle-class white women's rage and entitlement is depicted onscreen and subsequently manifested in the zeitgeist. Indeed, in late August, Deadline announced that a film called Karen had been greenlit and would star Orange Is the New Black's Taryn Manning. The film is an attempt to capitalize on the emergence of "Karen" as the catchall term for an entitled white woman, usually one who puts Black people in grave danger for minor annoyances.
The DNA of A Woman Scorned can be found all through the docudrama genre that later exploded in popularity on cable.
Betty Broderick is back, as well. This summer, the USA Network gave us a new version of The Betty Broderick Story, as the second season in its Dirty John series. (The first season told the story of a former nurse anesthesiologist named John Meehan, who preys on a woman in Southern California. The series seems to be interested in white women who its producers think are victimized.) In the new retelling, Amanda Peet plays Betty, and Christian Slater portrays Betty's ex-husband Dan Broderick. Rachel Keller stars as Linda Kolkena Broderick, Dan's young second wife.
In real life, Betty Broderick was a fortysomething California divorcee who, in 1989, killed her ex-husband and the wife who had replaced her. Ostensibly enraged by Dan's affair with Linda, who was in her early twenties when they began their relationship in 1983; his alleged lying about the cheating, which she argued was emotional abuse; and the ongoing custody battle for their four children, Betty murdered the couple as they slept. The story captivated America, turning Betty into a seedy celebrity. The LA Times article about the murder became one of America's classic crime stories. After a mistrial, Betty was eventually convicted of both murders in December 1991, and she was given a sentence of thirty-two-years-to-life. After Ted Bundy and before Casey Anthony, Betty Broderick fused both of their sensibilities: she was charismatic like Bundy, and her case pioneered the mix of elements (white female fragility, melodrama, media attention) that characterized the Anthony trial in 2011. In a piece on the media circus surrounding the latter trial, Andrew Cohen noted that Anthony "might even have been a soccer mom if things had turned out differently." Those trial broadcasts, thanks to Florida's "sunshine laws," "were extraordinarily popular because they were a potent blend of soap opera, reality television, and Law and Order." That description pretty much fits the cinematic and real-life versions of the Broderick story.
Refracted through thirty years of true crime obsession, dead girl narratives, Lifetime films, third- and fourth-wave feminism, and screenwriter Ryan Murphy's meta-camp anthologies, USA's eight-part limited series is extremely obvious. In the first episode, Betty says, "I'm a woman being divorced in America. I have no rights. I'm an obstruction!" That declaration is too on-the-nose, as is the rest of the series. In its over-enunciation of Betty Broderick's pain, the series presents a softer look at her demented behavior, leading to a too-sympathetic depiction. Nothing in the Broderick case suggests Dan or Linda Broderick deserved to die, and this series undercuts that notion by devoting so much time to Betty's investment in Dan's career, and by appealing to the tragedy of Betty's being cast aside for a younger woman.
---
Although they first aired on CBS, I always think of A Woman Scorned and Her Final Fury as Lifetime originals; they fit the network's recognizable aesthetic so well, which is why the films became staples on Lifetime and its telefilm-only channel, the Lifetime Movie Network (LMN). In her 2016 essay on Lifetime's history, Laura Goode captures the network's gauche, liminal sensibility along the cultural spectrum:
While Lifetime has always had a panache for marrying high and low culture, the channel has also told multifaceted, complex, even contradictory women's stories long before "prestige" antiheroines were trendy. On Lifetime, women are strong; women are victimized. Women are sexual; women are violently sexualized. Women want a reflection of their own experiences; women want an escape from their own experiences.
A Woman Scorned and Her Final Fury patently embody this in-betweenness. In A Woman Scorned, Broderick was the original "prestige antiheroine," swaggering around La Jolla plotting her next attack on her ex and his new wife, cowering as a victim in alternate scenes. Baxter's characterization of Broderick put a fine point on Betty's testimony and publicity campaign. She talks about how Dan Broderick stripped her of her sexuality while she violently sexualizes Linda Kolkena Broderick in turn, frequently calling her a "whore" and leaving filthy voicemails to her ex-husband. As numerous accounts of the time suggest, many women could relate to Broderick's story, and saw the trade-in as verisimilitude. Broderick, like Lorena Bobbitt after her, provided an escape from many women's experiences; most women were not about to kill or maim their exes, no matter how much frustration or rage they carried around with them. Broderick's story offered escape in the form of a prolonged revenge fantasy.
On Lifetime, women are strong; women are victimized. Women are sexual; women are violently sexualized.
The criticism about the film and the Lifetime genre it likely spawned helps to place A Woman Scorned and Her Final Fury firmly at the beginning of this tradition. In a 2004 review of TV Movie Superstars: Women You Love—a Lifetime documentary retrospective of the most popular and enduring TV movies that had aired on the network up to that point, including the Broderick diptych—Entertainment Weekly critic Ken Tucker wrote that "the white, middle-class women portrayed in these movies are potent fantasy figures for a big segment of Lifetime's audience, and it's clear the actresses latch onto anything relatable in the soapy plots and junky dialogue." Crucially, this review gets at the tension of both Betty Broderick and the biopics that came in the wake of her homicidal rage. Alternating between calling Lifetime films "schlock" and "social-realist epics," Tucker further explores their liminality, writing, "Maybe it's the still-raw emotions that burn through even the silliest scripts—or the cheerful inanity of 'TV Movie Superstars' framework—that gives such mediocre movies an emotional power that resonates for millions." Fittingly, he notes that the documentary's producers "adopt a tone at odds with their subject." In that way, TV Movie Superstars appropriately mirrored the films it celebrated. After all, adopting a tone at odds with their subject is the whole ethos of Lifetime made-for-TV movies. Murder, rape, stalking, kidnapping and chronic disease, among other subjects, are deathly serious, but oftentimes in the network's hands they're treated rather lightly.
A Woman Scorned and Her Final Fury lie somewhere in between those poles, and that's also where camp lies, in between earnestness and criticism. In that tradition, you'd find John Waters's 1994 black comedy Serial Mom and Monster, the Aileen Wuornos biopic, which Charlize Theron won an Oscar for. Indeed, as Goode explains, Lifetime is "an anthology of gender as genre," and one of its main subgenres, the unhinged white woman, is owed to the Broderick films, which aired frequently on the network. Today, they remain influential. A 1999 book about the billionaire heiress Susan Cummings, who in 1997 killed her boyfriend and did only fifty-seven days in jail, used A Woman Scorned as its title, perhaps as a reference to William Congreve's popular adage, but maybe as a nod too to the ubiquitous Broderick movies that had done so well in that decade. Earlier this summer, Lifetime aired a suite of films called the "Obsession Thrillogy," one of which was titled Her Final Vengeance. A 2011 reference book called Women Criminals: An Encyclopedia of People and Issues, edited by Vickie Jensen, a CSUN professor specializing in homicidal women, cited A Woman Scorned as one of three references for its Broderick entry.
---
A Woman Scorned opens with a scene that presages the soccer mom in the popular imagination: Betty Broderick aggressively pacing the pitch, rooting for one of her sons. There's a political volatility in Broderick's physicality, first in the soccer scene, as she stalks the sidelines of her son's match, and gradually after, as the film goes on. Later in the movie, this opening action finds a parallel in her literal stalking of Dan and Linda, and Betty's helicopter parenting matches her grave figure hovering over the bodies of her sleeping marks, who stir right before she fires.
But just as A Woman Scorned demonstrates Broderick's instability, the film subverts this presentation with her virtuous, self-righteous narration. Over footage of the couple preparing for a 1983 gala, we hear Betty say, "For years we'd worked ourselves to the bone . . . finally when the eighties arrived, so did we. Our lifestyle became downright opulent. We joined two country clubs, bought a ski condo in Colorado, and a boat in La Jolla. To put it mildly, we were euphoric. We were celebrating, literally celebrating." But they also spend part of the celebration bickering over a scheduling conflict with Betty's manicure day. There's clearly discord that she isn't entirely interested in relaying; instead she's compelled by her own innocence. (We learn later that the voiceover is Broderick's narration of the story to what appears to be a doctor in her jail cell.) At a party thrown by Dan Broderick's law firm, Betty glowers at her husband, who has just complimented the firm's new assistant, the woman who will eventually become his second wife: "I have lots of friends who are real pretty . . . but I had never heard Dan say, 'Wow, she's pretty,' about anyone." Again, this voiceover gets at her myopic worldview: although she had never heard him remark on another woman's prettiness, how is she so sure he hasn't noticed other women besides her in the fourteen years they'd been married?
Later, when the couple splits, Betty acts out, harassing Dan and his new wife, crashing an SUV into his house (while the kids are at home), and verbally abusing her children. After all of that violence, she calls cops "nazis" for enforcing a restraining order. All of that resistance, for what? She receives an alimony payment of $16,000 a month, and owns a new house that's completely paid for. And still, she feels entitled to more: she needs her ex-husband's affection and attention. She doesn't heed the restraining order. After she commits the murders, she is not arrested, even though the police know that she's admitted guilt; she's allowed to turn herself in. In some ways, Betty and Linda Broderick were complementary figures. Just as the "unhinged white woman" was taking off in the culture, so was the "dead girl" trope. How were those ideas engaged in the nineties and beyond? And why did they both center white women?
The questions answers themselves: If the dead girl was black or brown, would the audience be riveted? Would they care enough? And would audiences find a lethal black woman to be at all "entertaining"? No, the narrative power of these stories depends on the assumption that someone "good" and "normal" has somehow gone horribly bad. (The closest comparison might be the story of a black Philadelphia woman named Vivian King, who in 1993 murdered her seventeen-year-old daughter, high school track star Shilie Turner. Though the story recently was used as an episode in the Oxygen TV true crime series Buried in the Backyard, the story itself received far less national attention, then and now, despite Turner's Olympic-level talent and the lurid example of domestic violence.)
Just as the "unhinged white woman" was taking off in the culture, so was the "dead girl" trope.
The career of Meredith Baxter thrived on that imagined transformation. At first, she was cast as network TV's politically progressive, career-minded white mother. From 1976 to 1980, she starred on ABC's Family as Nancy, a young divorcée and single mom who eventually goes to law school. For seven successful seasons, she played architect and ex-hippie Elyse Keaton on NBC's Family Ties, which began in 1982 and ended in 1989, right as the Reagan era petered out. Along with Kate's Secret (1986), a TV movie that starred Baxter as a bulimic housewife, the two Betty Broderick telefilms completely changed the actress's professional trajectory. They inverted the dependable housewife fixtures she had played on Family and Family Ties and kicked off her typecasting as an "unhinged woman," to echo People's characterization of her roles at that time. In her memoir Untied, Baxter recalls her enthusiastic interest in playing Broderick when she was pitched the idea in 1991. Calling Broderick "an unconventional figure of empowerment for casually discarded women everywhere," she also refers to her as "a woman done wrong" and "resentful, unappreciated, targeted, passed over." Although she also critiques Broderick as "privileged," "arrogant," and "entitled," she marvels over how perfect of a character she was, writing,
What a character! A woman with no boundaries of her own who certainly couldn't respect anyone else's. I read everything I could get my hands on about Betty, tons of magazine, and newspaper articles and interviews. And I found I held a certain amount of sympathy for her; I wouldn't have chosen to kill two people, but I felt I understood what brought her to that point. I think there was a fair percentage of the female public who felt the same way at that time.
The film's audience seemed to confirm the populist appeal the actress described. When A Woman Scorned premiered in March 1992, it became CBS's second-highest-rated TV movie of the season (and the second-highest-rated TV movie across all networks), and Baxter received an Emmy nomination for her depiction of Broderick. Although People praised Baxter's performance in Her Final Fury as radiating an "incandescent intensity," the second telefilm is generally derided as the less interesting of the pair. Still, Her Final Fury is instructive for the way it frames Broderick's growing celebrity, and how it sets the stage for her cultural legacy.
In Her Final Fury, Dan Broderick's brother Larry says, "She's turned herself into some kind of feminist folk hero," and argues that in the time it takes the murder trial to play out, "she'll be canonized!" And she was. We see her receiving fan mail, and then arguing with a correctional officer, explaining that she doesn't need to follow rules because she's something of a prison celebrity who receives more than "two hundred letters a week." This assessment was real: a November 1992 article about the two TV films identified Betty's impact throughout the country, explaining that Broderick became "a national heroine to numerous women whose husbands had left them for younger women." That same year, Oprah interviewed her, further propelling her celebrity. If Twin Peaks was about TV, so too was Her Final Fury. While it only set out to show the fallout of Broderick's actions, in its attention to the San Diego housewife's manipulation of her newfound fame and her self-flagellation, the film illustrates the ways that entitled white women's unjustifiable rage was exploited in the media.
In her 2015 autobiography Telling on Myself, Betty Broderick seems to understand the ongoing entertainment value of her story. She writes that she hopes, "[her] life and experiences will offer some insights into how things can go as wrong as wrong can be." But, "more realistically," she admits, "if that doesn't work, then maybe it will just be some decent entertainment for readers. Either way is good by me." The decent entertainment provided by these kinds of stories extends to the playful veneer of digital media. Even today's Karen memes, as much as they are meant to publicly shame bad actors, contribute to our goofy internet fun: memes, comical hashtags, video compilations, and challenges. Here again, as in the 1990s, Karen is treated just as Betty was, not entirely taken seriously by mass culture except as something to laugh at.
---
At the end of A Woman Scorned, there's a dawning realization. After killing Dan and Linda Broderick, Betty stays up all night and drives to the ocean to watch the sun come up. As in Whatever Happened to Baby Jane?, one of the first films in this camp genre, A Woman Scorned's heroine spends the film's denouement at the beach. The southern California setting is merely coincidental, but Baby Jane is an apt corollary for another reason. Besides both films' campiness, each concerns white women who feel they were gaslit by loved ones, and who are stuck in the past, afraid of aging; they believe they deserve special treatment, and are patently homicidal. Where Baby Jane was an obvious caricature, A Woman Scorned and Her Final Fury are not obviously so: the pancake makeup and moth-eaten frocks of Baby Jane are replaced with 1980s-style Robert Palmer "Addicted to Love" powder. False victimhood and over-the-top behavior are features of both films; their anti-heroines both want to control the narrative. In A Woman Scorned, Broderick says her ex-husband Dan "turned [her] in for a younger model." This film turns Broderick into a younger model of Baby Jane.
Before A Woman Scorned, white women who killed in TV movies were usually sympathetic figures who'd suffered abuse (see: Farrah Fawcett in The Burning Bed), but A Woman Scorned upended that approach by featuring a woman who killed for no good reason, using camp to elevate her, diminish her crimes, and turn her into a cult hero. By making Broderick a B-movie queen, enhanced by the lurid, pulpy sound of its titles, A Woman Scorned and Her Final Fury normalized the entitled, vengeful white woman figure in 1990s American pop culture.
In one way of looking at it, Betty Broderick capitalized on the protected status afforded to white women in this country and used it to become famous, and although she didn't convince the second jury who tried her case that she was innocent, by the time she was done proselytizing on network TV, she had become a cause célèbre. Broderick's trick—aided by the popularity of the TV movies—was to publicize her own sense of "ecstatic purity," to borrow a term used by Deborah Eisenberg's character in the short story "Your Duck Is My Duck." Eisenberg's character uses the term to describe the dreamy primordial quality of the water she saw outside of her seaside bedroom, "before [the water] was sullied by life." The sea water is part of the interplay between cliffs, the sun, and other elements of the natural order. But the language of ecstatic purity might also apply to America's credo, and the country's own "natural" social order: first of its own innocence, then that of its white citizens, and especially its white women. The ecstatic purity of the white woman carried away by a thug in blackface, as seen in The Birth of a Nation, gave way to the ecstatic purity of Carolyn Bryant Donham, who falsely accused Emmett Till of harassment, then to Betty Broderick and the series of Karens we have been talking about this year. Broderick's "either way is good by me" brazenness and savviness became cemented in A Woman Scorned and Her Final Fury, which looped on American television for decades.
Betty Broderick capitalized on the protected status afforded to white women in this country and used it to become famous.
The depiction of the entitled, unhinged white woman might have another precursor on syndicated TV, one that gets at this long, storied history. A Woman Scorned and Her Final Fury have a cinematic predecessor in Gone With The Wind, one which is coincidentally related to Betty Broderick—Victor Fleming's 1939 masterpiece turned Turner Classic Movies-staple was Dan Broderick's favorite film. The classic, at its core, is about Scarlett O'Hara's lost sense of reality. Gone With the Wind presents the slave mistress as an ur-Karen. Ironically, in 2015, the conversation around white women and entitlement came to a head regarding what's been called an "artistic provocation" by the poet Vanessa Place, which centered around Place's line-by-line tweeting of Margaret Mitchell's novel, sometimes alongside images of the mammy played by Hattie McDaniels. This summer, the film was removed from HBO Max following the George Floyd protests, but restored not long after with added "context." While the film was missing from the streaming service, its energy was freely available in the litany of the Karen stories flooding social media. Rhett Butler's iconic line, "Frankly, my dear, I don't give a damn" might hold a key to the destruction of this trope. Many people don't give a damn anymore either—about offending bigots, publicizing racist encounters, or questioning the tantrums of the entitled—and perhaps that's what stings these women the most. But that new attitude means they do give a damn about new realities.
For the past several years, American culture has discussed incels, white supremacists, "toxic masculinity," and the intersections of all three in "You will not replace us," the chant of the Charlottesville marchers in 2017. We also see the counterpart of these aggrieved men in a woman, who, in her bewildering behavior, says that she will not be replaced, neither by a husband, nor in the protected, deluded place our country's social hierarchy has historically held for her. One hopes that in some future America, she will know that asking her to be kind, decent, and not awfully entitled is not the same as wanting her to be passive in the face of real mistreatments, or to emulate the woman—the nation's First Lady—who stood so loyally by her abusive husband and even seemed to excuse his outrages with the line: "I really don't care, do u?"