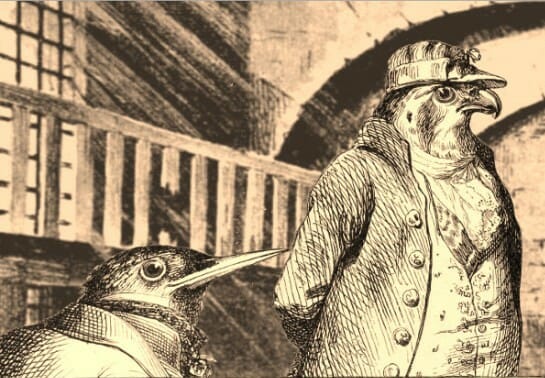 One of the public domain images that illustrates the new video game "Aviary Attorney." / Jean-Jacques Grandville
W
o
r
d

F
a
c
t
o
r
y

• Today in union busting: Midwestern home improvement giant Menards has made managers sign an employment agreement stating that
The Manager's income shall be automatically reduced by sixty percent (60%) of what it would have been if a union of any type is recognized within your particular operation during the term of this Agreement. If a union wins an election during this time, your income will automatically be reduced by sixty percent (60%).
Meanwhile, in New York City, where the death toll on construction worksites has been on the rise, union workers are rallying today for safer conditions.
• You can breathe a little easier now that the gun-toting, civic-minded bystander who shot at shoplifters fleeing a Home Depot has "vowed never [to] help anyone again," according to the New York Times. She's had her permit to carry a firearm revoked until at least 2023 for her troubles.
• Video-game-playing, French legal history buffs rejoice! A new game just for you, "Aviary Attorney," will be released on Steam after a successful Kickstarter campaign. "Set in 1848 Paris, the game only uses public domain drawings from that time to depict the trials and tribulations of bird lawyer Monsieur Jayjay Falcon."
Baffler Newsletter
New email subscribers receive a free copy of our current issue.
---