Theater of Pain
The fervent degeneracy of Blacklips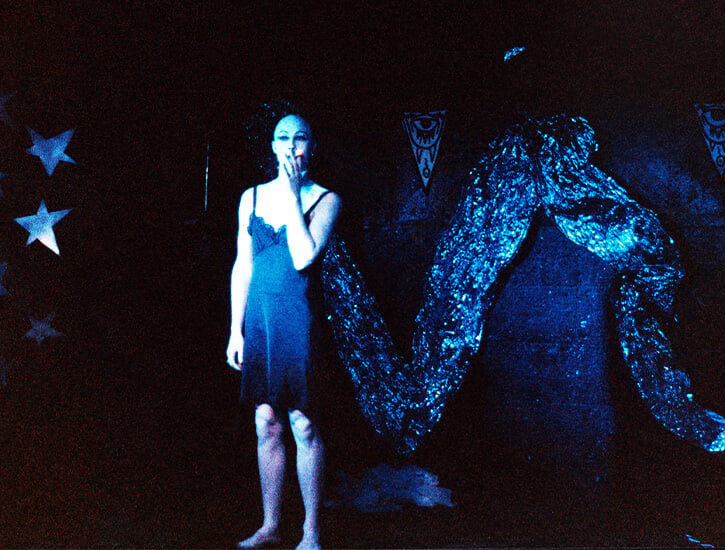 ANOHNI as Fiona Blue. Photo by Megan Green. | Courtesy Mexican Summer
Blacklips: Her Life and Her Many, Many Deaths by ANOHNI and Marti Wilkerson. 472 pages, Mexican Summer. 2023.

Blacklips Bar: Androgyns and Deviants—Industrial Romance for Bruised and Battered Angels, 1992​–​1995. Anthology Recordings. 2023.
In a 1990 interview with KZSC, the college radio station at the University of California-Santa Cruz, Vito Russo blasted the assimilationist tendencies then taking hold in the queer movement. Responding to questioner Gary Reynolds's suggestion that aggressive AIDS activism was just going to "turn people away from our cause," the AIDS activist and queer film historian insisted that "this is not a popularity contest."
"The nicer you are to them," he added, "the shittier they treat you."
Russo, whose 1981 book The Celluloid Closet created a model for queer media criticism that fired back at homophobic depictions of gay life on the big screen, would not survive the year. But as a visiting professor at Santa Cruz during the 1989–1990 school year, he would teach ANOHNI, then a performance studies student, on the need to throw oneself into pitched battle against the status quo.
Already, ANOHNI, who knew from a young age that she was trans, had begun to find the people that would make her life possible, particularly Johanna Constantine. As she filled her dorm room with "rotting fur coats, Japanimation and gore posters, rubber corpse pieces, crucified birds, ostrich feathers, a growing collection of homemade clothing comprised of transistor boards and electrical tape," Constantine revealed the separation she and ANOHNI sought from their staid surroundings, those prickly bits of themselves that the straight world would never countenance.
Their friendship—along with that of Psychotic Eve—would lead to the formation of Blacklips Performance Troupe on New York City's Lower East Side in the summer of 1992. Though it only lasted for three years, the group sustained a spirit of fervent degeneracy in the wake of the AIDS crisis, staging over one hundred original plays at nightclubs like the Pyramid and Crowbar. Now, with the release of Blacklips Bar: Androgyns and Deviants—Industrial Romance for Bruised and Battered Angels, 1992​–​1995, a double album of troupe performances and incidental music from the shows, as well as Blacklips: Her Life and Her Many, Many Deaths, a nearly five-hundred-page book of photos, video stills, scripts, interviews, and other ephemera, Blacklips comes to life once more, a testament to the power of ribald perseverance amid deteriorating conditions.
To come of age in the shadow of AIDS, yet to lack firsthand experience of adulthood before it began ravaging the queer community in cities like New York, was its own form of social and emotional purgatory, one that ANOHNI and her peers could only square up against with macabre humor and gristly pageantry. While those a decade or two older might remember a time when anonymous cruising did not risk death, that opportunity had vanished by the time Blacklips arrived on the scene. As ANOHNI says in the book, "AIDS severed the queer twentieth century." On the other side of the fissure arose the challenge of maintaining a spirit of defiant faggotry while mourning the loss of mentors and peers.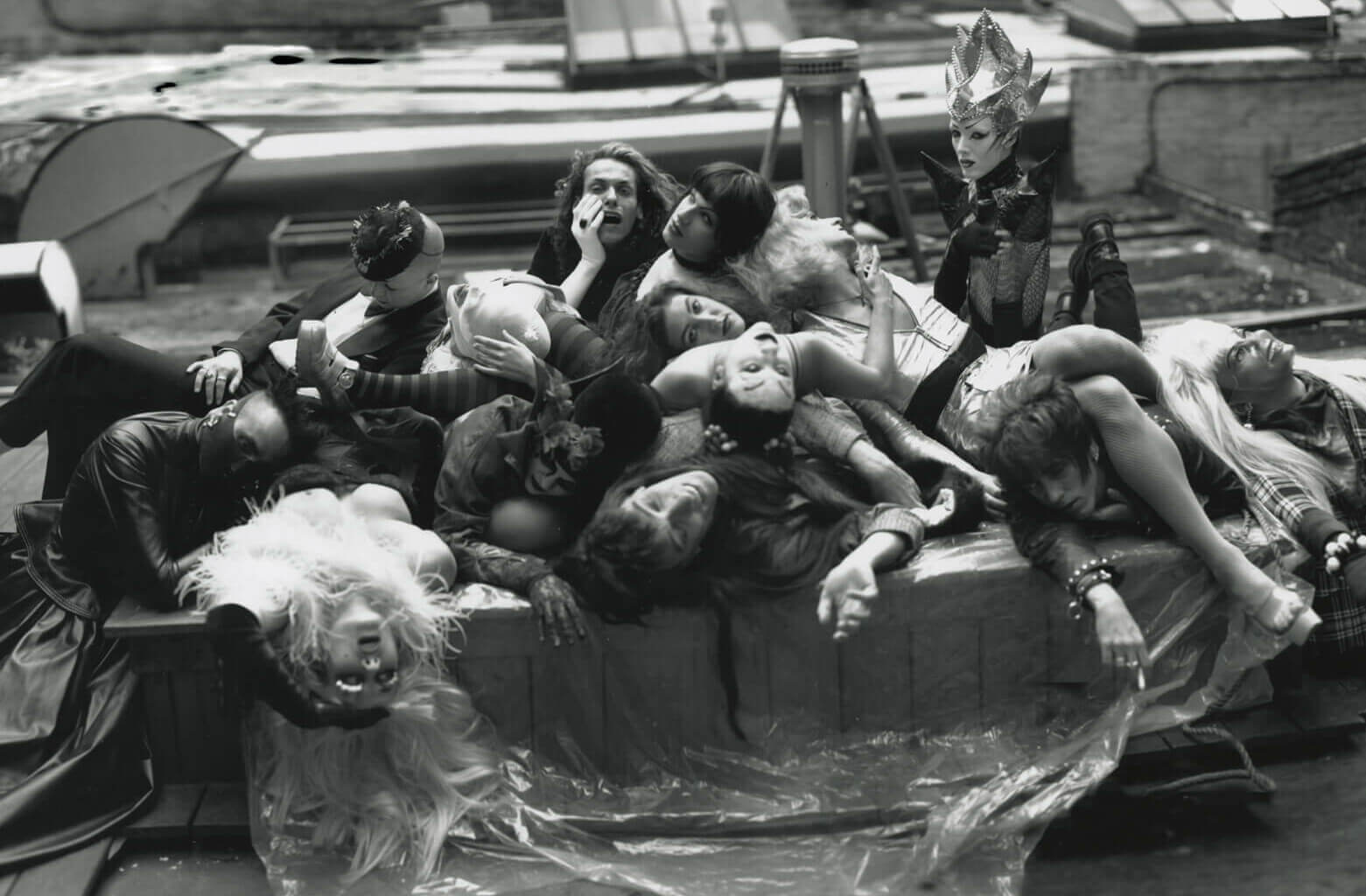 For those who comprised the Blacklips Performance Troupe, which formed around a core of thirteen dedicated members and various part-time players, their evocations of the past were not nostalgic, but a haunted reckoning with the mentors and lovers they'd lost too soon. The compilation album testifies to the obvious influence of irreverent homos that defined the previous generation, with tracks from John Waters collaborators Divine and Edith Massey, as well as a particularly haunting, stripped-down cabaret piano cover of Lou Reed's "Satellite of Love" by Blacklips member Ebony Jet. Though people like Reed and Waters remained to shepherd younger queers into adulthood, it was difficult, nigh impossible, to confront the unprecedented events of recent history: the mass death of friends and lovers, made worse by the widespread belief that the queer community had brought the crisis on itself through rampant promiscuity.
In that context, it comes as no surprise that there's a sneering dissonance across the album's double-length runtime. It emerges more fully in some moments, and is tamped down in others—but it is impossible to escape the music's jagged fury and brazen sexuality. A perfect example is Leigh Bowery's "Useless Man." Over a driving, industrial beat, the Australian performance artist conjures a litany of unspeakable sexual acts: "Bootlicking, piss-drinking, finger-fricking, tit-tweaking, love-biting, arse-licking, shit-stabbing, motherfucking, spunk-loving, ballbusting, cock-sucking, fist-fucking, lip-smacking, thirst-quenching, cool-living, ever-giving, USELESS MAN." A recording of the song played at the group's final performance on March 13, 1995, accompanied by the murder of Constantine's Deer Monster, a character she and ANOHNI first conjured on an acid trip in the California wilderness as teenagers. The Deer Monster's metaphoric end pointed the finger directly at the leaders of straight society who condemned gay people and the planet at large to a slow, miserable death.
The iridescent core of the album is "Rapture," ANOHNI's pleading ode for gentleness at the end of time. Its beauty, arising from ANOHNI's quivering voice, also cannot escape the sight of the capital-R Rapture concocted by modern Christianity, one that would undoubtedly leave behind the "androgyns and deviants" of Blacklips. Yet in singing, "Our father who art in heaven / For the kingdom, the power, the glory, yours / Now and forever," she refuses the separation from spirituality that mainstream Christianity has imposed on those that shirk conformity. Staring honestly at a world that is no longer capable of propping itself up, ANOHNI's vision of an elegiac ending ("Oh, my friends / I've watched them falling / Falling softly to the ground") shows grace even in the face of death.
Ironically, a major source of inspiration for Blacklips came from the Branch Davidians, who saw their compound in Waco, Texas, compound sieged by the FBI in February of 1993. While that group's messianic Christianity was the inverse of the Blacklips brand of queer degeneracy, the two nonetheless shared a sense of fanaticism and apocalyptic dread, which inspired the latter to rebrand as Blacklips Performance Cult. The shift, like much else of the group's work, was spontaneous: as group member Flloyd recalled saying in March 1993, "I wish I was in a Cult," to which fellow performer Clark Render replied, "Look around doll . . . you are." The new name appeared in flyers for the following week's show and thereafter; in a sign of pure cosmic synchronicity, the group also staged Charlie's Angels that week, a play that recounted the horrific tale of Charles Manson's murderous spree.
A current of manic devotion to the collective is evident in the images populating the book. Like an even lower-budget John Waters production, Blacklips sets were a delirious mixture of improvisation, drag lip-syncing, and gristly terror. The performers often found themselves in obscene, nihilistic fantasies, caked in animal blood and wielding real blades as stage props. Yet unlike a religious cult, the dynamic, scantly rehearsed performances gave cast members space to find their own approach. The give and take of collective writing and performance, united toward the end of creating something wholly original, channeled each member into a shared experience that could only emerge under such conditions.
As its members described, participating in Blacklips proved deeply cathartic. Sissy Fitt described the project as "performance therapy," saying, "I was able to act out every single thing I had imagined doing since I was a child: being mean, being a murderer, being a lover, being a girl, being a Nazi . . . and not worry about what I looked like or what people thought." Profoundly constrained in many other aspects of their lives, limited by a society indifferent to the agony unleashed by the AIDS epidemic, cast members processed great heartache through their creative output, including countless acts which resulted in the staged deaths of its members. Struggling to live with the very real death that defined their world, Blacklips knew that the stage could be their place to work through an unending series of adversities.
Yet this death drive could prove frustrating, especially to Ebony Jet, the group's sole Black cast member, who saw many plays enacting the masochistic fantasies of frustrated, suburban-bred kids, scarred by AIDS but ignorant of the daily realities of growing up in the decaying Black metropolis. "I grew up in Harlem . . . that violence was just part of daily life," she said. As Ebony and ANOHNI note in conversation in the book, the group often struggled with stereotypical portrayals of its members, especially around race. As Ebony told ANOHNI, "I would have wanted that space to be able to say, 'What are you most comfortable with? What's something you've been dying to do and how can I write it in?'" ANOHNI admits this kind of openness and consideration could have saved the group from its eventual disbanding.
Still, death was ever-present for the group. One of the most painful deaths haunting Blacklips was that of Marsha P. Johnson, who died of a suspected homicide in the summer of 1992. Just days before her death, ANOHNI had kissed her hand at Pride and expressed a deep-felt sense of gratitude for her care for other trans women; her murder was a tipping point for ANOHNI and the other founding members, in large part spurring Blacklips to form. While their play The Ascension of Marsha P. Johnson, first performed at the Pyramid in 1994, served as some kind of offering to the departed mother of so many within the Blacklips orbit, it nonetheless marked another continuity break from the previous generation, a feeling of loss the collective was forced to digest time and time again.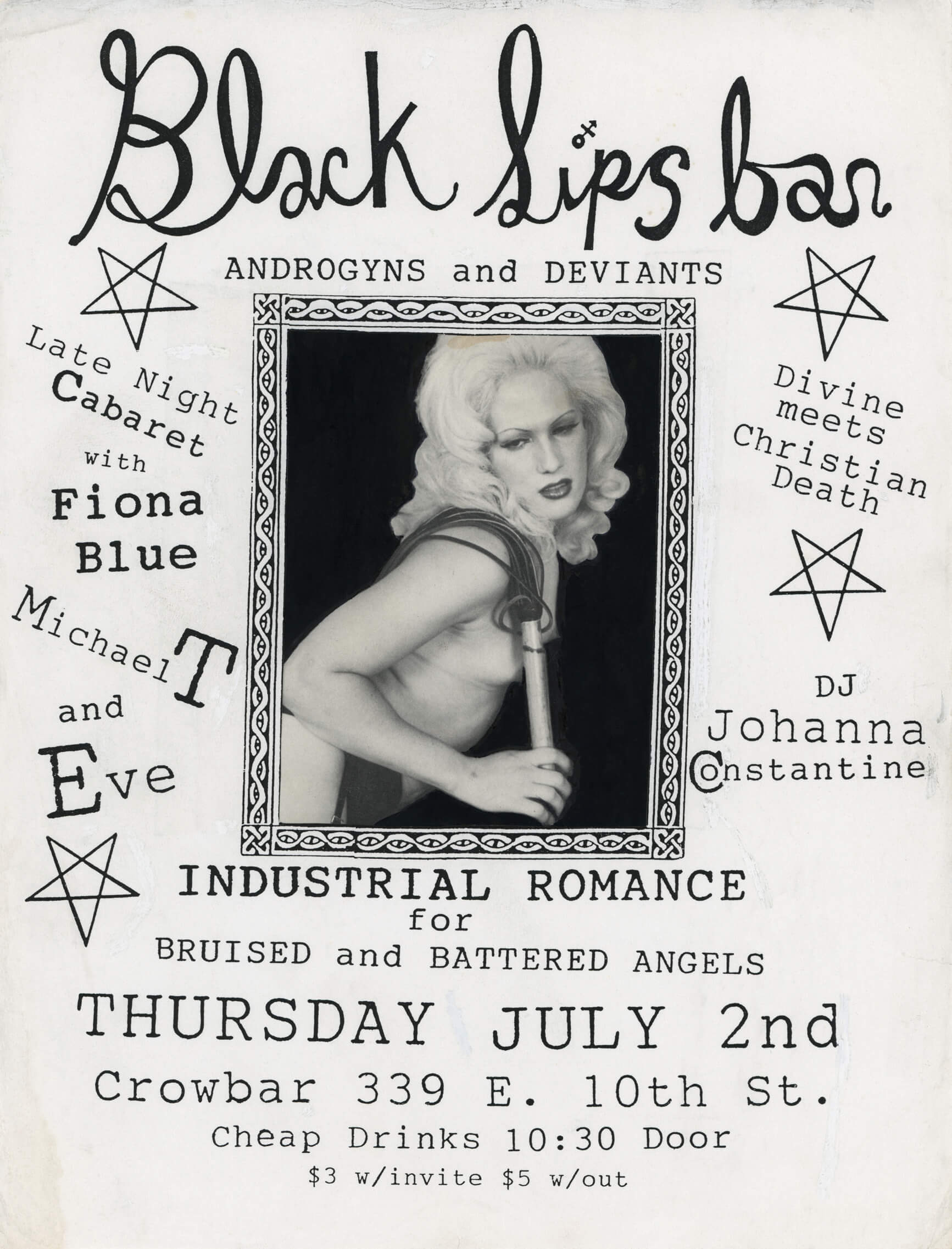 As the book's title suggests, the repeated deaths—and resurrections—of Blacklips, and its afterlives, have meant that the project has served different purposes to those who have encountered it in its many guises. But while its anarchic beauty and inhabitation of a less-gentrified Lower East Side can at times encourage pangs of nostalgia amid today's moment of rising rents and political backlash, that's a mistake: as ANOHNI says in the book, "In one breath we had inhaled the AIDS crisis and exhaled climate collapse." Rather than romanticizing the specific conditions that allowed a freaky, low-rent performance cult to sustain itself, occupying a neighborhood that still held traces of its pre-gentrified self, the renewed attention towards Blacklips today instead asks: How can our ongoing refusal to discard the most unassimilable and frightful qualities of queerness serve the goals of collective liberation?
Of course, as it centered on live, often one-off performances of hastily assembled plays, a return to the worlds that Blacklips assembled can only ever be partial and incomplete. Yet that transience serves the project well: given that the group's regular 1:00 a.m. Monday night performances were only seen live by, at most, a few dozen spectators, we are forced today to appreciate Blacklips in fragments. However easy it is to get lost in the music and images presented in this compilation and book, they are ultimately a starting point for our own imaginations, much as Blacklips looked to the departed for inspiration while forging their own path.
Fellow downtown queer playwright Jeff Weiss—who co-wrote the play Hot Keys with Richard C. Martinez, a key precedent for Blacklips's theatrical style—cited a letter from his dying cowriter: "However sad and sorrowful our losses, the fact of daily life, read performance, must go on. . . . We have a moral obligation to persist in real time." To properly honor every death that Blacklips has experienced, from those of its mentors and idols to that of the collective itself and the relationships which underpinned it, necessitates a similar sense of responsibility to present circumstances.
Most critically, as Russo's KZSC interview suggests, it's never wise to play nice with those who want us dead. According to the Trans Legislation Tracker website, in 2019 there were only nineteen anti-trans pieces of legislation introduced nationwide. So far this year, 512 bills have been introduced. Among those passed include Tennessee's draconian anti-drag legislation, prohibiting "adult cabaret" performances in public, and Arkansas's medical malpractice bill, a de facto ban on gender-affirming care for minors (both of which have temporarily been blocked by the courts). While palatable spokespeople will always play a role in softening the image that people may have of us outside the community, groups like Blacklips are a reminder that our liberation cannot be contingent upon trans people choosing to mask their most feral selves. In an article for Artforum about the Blacklips reissues, ANOHNI describes how the rise of RuPaul in the early 1990s brought drag into the mainstream; suddenly, straight people wanted "drag queens to serve them omelets and do a scissor kick or whatever." The money that came from what ANONHI calls "daylight culture" gnawed away at the drag performers, resulting in the "dignified, amazing dynasties of gorgeous, unbelievable queens, participating in a race to the bottom."
Though there may only ever be a slim fraction of society that clamors to watch garishly painted drag queens fling bloody bits of meat into a crowd late on a Monday night, that didn't prevent Blacklips from transforming the lives of many who encountered the project. As member Sissy Fitt said in one interview, "When I was performing at Blacklips, I was performing for the rest of the cast." Far from worrying about how their deranged performances might read to the uninitiated, potentially hostile straight viewer, those that sustained Blacklips over its short lifespan knew that creating their own off-kilter world was work enough.
In our own time, all we can do is endeavor for the same. If the music, images, and text presented in this lifetime of Blacklips can inspire that kind of devotion amongst another generation of queer urban misfits, then one final revival from the dead—new flashes rising out of the archives and back into wider conversation—will have been well worth the effort.