The Queer Art of Cruelty
The defiant drag of Doris Fish
Who Does That Bitch Think She Is? Doris Fish and the Rise of Drag by Craig Seligman. PublicAffairs Books, 352 pages.
Sylvia and the Synthetics had a flair for chaos. In 1972, the Australian drag collective put on a show that featured one queen suspended from the ceiling by a parachute (she fell and broke her leg); another who, hoisted high on the shoulders of a naked bodybuilder, bit into a raw sheep's heart at the climax of her lip-synch (to Dodie Stevens's saccharine 1959 ballad "Coming of Age"); and a repressed suburban housewife whose afternoon chores were interrupted by a horde of bearded queens who proceeded to have a frenzied orgy with her vacuum cleaner.
The Synthetics didn't restrict their sex and violence to the stage—nor did they keep the quaaludes they guzzled before performances to themselves: attendees were given a pill gratis at the door to get them in the mood. Over the two years of the collective's altogether too-brief existence, audience members would be pelted with buckets of water, whipped cream, and rotten fish heads, and were not infrequently kicked by queens in stilettos. As one Synthetic explained: "People are used to the pretended violence in films—we give them the real thing. We actually are violent." Or as another, Jacqueline Hyde, put it: "We wanted to destroy."
This was the crucible out of which emerged Doris Fish, the drag persona of then-twenty-year-old Philip Mills. Doris would become his lifelong work of art. As Craig Seligman's biography recounts, Doris left sun- and blood-soaked Sydney behind for the pleasures of gay San Francisco for the first time in 1975 —"Big dicks and pendulous balls abound," she reported home—and from there went on to become one of the city's most beloved drag queens, but a trace of these violent origins remained in an act that defined itself by its embrace of cruelty. "The more it hurts," she once said, "the better it looks. If it doesn't hurt, it isn't glamorous." It might be easy to dismiss this as a throwaway drag queen's quip as opposed to something like an aesthetic credo, but the life of Doris Fish is in part the story of someone exploring what it means to take that principle seriously—to the extent that any queen would dare to take anything seriously, least of all herself.
Philip Mills was born on August 11, 1952, in the Sydney suburb of Manly Vale, a name that conjures up what he would have been expected to become in 1950s Australia: the rugged, surfing, sports-playing, Christian anti-communist of white Australian ideology. And yet when Philip announced his intention to go to art school, came out to his parents around the age of eighteen, and started smoking marijuana at home, his parents, Ace and Mildred, were nothing but supportive. If their son was going to smoke weed, they reasoned, they should grow it at home in their garden so at least they knew where their dope came from. Mildred was a pious Catholic of the daily morning Mass type, but that did nothing to prevent her from becoming one of her son's greatest champions. Throughout Doris's career, Mildred would be brought on stage as part of the show, and when Doris sailed down Sydney's Mardi Gras gay pride parade in the 1980s on her Fishmobile, Mildred was right up there beside her. Mildred, Philip later remarked, shared with Doris what he described as a "pathological need for attention." If Doris was one way to get this attention, then she really was her mother's daughter: and indeed, Mildred—or more precisely her closet—provided her son with his first opportunity to dress in women's clothes.
Sydney's thriving drag scene dates back to at least the 1920s; by the 1950s, the sight of a queen releasing live birds from her wig was the mere standard. By the early 1970s, the city had exploded with its own distinctive version of sexual liberation: in 1971 Dennis Altman, a teacher at the University of Sydney, published Homosexual: Oppression and Liberation, and groups like the Roxy Collective started hosting pop-art style happenings that would bring together the twenty or so members who would go on to form the Synthetics, who made their stage debut in October 1972. Among them were Jacqueline Hyde, Jasper Havoc, and Danny "Miss" Abood, who would come to be Doris's lifelong friends. It was Jackie who schooled Philip in what she called "Romantic Cruelism": less a worked-out philosophy than their particular version of the practice of mockery, camp, and bitchiness shared by all drag queens. And yet it was a particularly intense one, or at least that is how Doris wanted it to be remembered. When Jasper's descent into drug addiction culminated in his death in 1979 in a house fire from which Doris barely escaped with her life, Jackie recalls the "cruelness" of how Doris revealed what happened. She turned it into a slow reveal stage routine in which she complained about the loss of her phone line, the wasted effort of designing the house's interior, only to reveal, deadpan, at the end: Jasper? "She's dead, love."
That this was a coping strategy was obvious, at least to Jackie, for as she remembers: "We were not into expressing emotions—never, never a pinch of emotion." Or as Miss Abood recalled of Doris's reaction to their best friend's death: "Doris didn't have some of those emotions. And you just had to accept it in the end." If this wasn't true of Philip, who remained close and supportive of his family to the end of his life, it was certainly true of Doris, whose routines and reminiscences—reminiscences that read like routines—reveled in performing a blend of sentiment and cruelty. As a drag artist, Doris Fish is a case study of what this kind of cruelty enables, since neither she nor Jackie are alone in seeing it as central to a particular kind of queer aesthetic whose scorn for everything that is sensitive, authentic, and earnest increasingly seems to belong to a bygone age.
Philip, like the other queens and queers of his generation, knew cruelty all too well. Despite the support of his parents, he grew up in an Australia whose police commissioners would declare homosexuality the country's "greatest social menace." That gave license to the beatings like the one which left him, aged twenty-one, with his "black-and-blue head . . . the size of a basketball" and his jaw so damaged his teeth had to be wired shut. In the 1980s, newspapers in Queensland accused gay men of deliberately donating HIV-positive blood in order to kill children; "exterminate gays" and "die, you deviate" declared the headlines. Even as the AIDS epidemic took hold, the U.S. Supreme Court reaffirmed, in 1986, that individual states could criminalize gay sex.
But there was also the more subtle cruelty of gay men toward drag queens. Seligman cites Edmund White's 1980 observation about San Francisco that even there "the scorn directed against drags is especially virulent; they have become the outcasts of gay life, the 'queers' of homosexuality." A touch of cruelty in such a world is less a compensatory survival mechanism—and as such, a stunted form of development to be, at best, patronizingly understood—than simply a reflection of the world as it really is.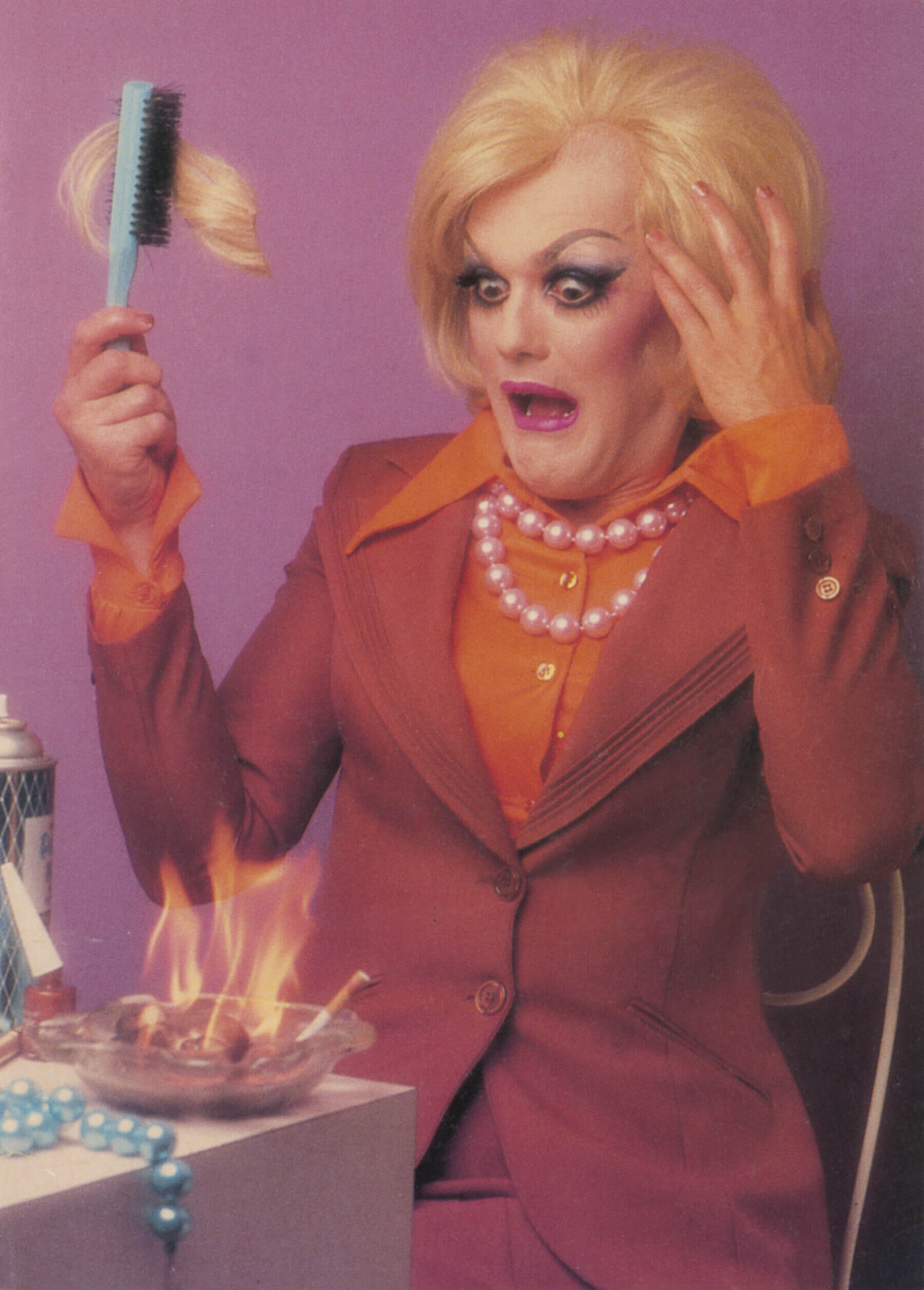 After the demise of the Synthetics in 1974, Philip continued to construct Doris Fish on stages in Sydney and San Francisco. Her look became glamorous, evoking the divas and stars of Golden Age Hollywood, but it always had a touch of late-sixties, acid-inflected exaggeration that she called the "Day-Glo Revival." Philip described her persona as follows: "This Doris Fish character thinks she's a real woman, or she thinks she's fooling everybody. That's an underlying gag that I have with myself onstage, even though intellectually I know that I'm not fooling anybody. And the audience laughs at the delusions of the character."
Doris wasn't just cruel to those around her, or to the members of her audience. She offered herself, in her failures to conform to the ideals of a "real" woman, as an object for the cruelty she recognized is at the heart of the richest comedy. We get our real kicks from laughing at, as the saying goes, as opposed to the more appropriate if tamer pleasures of laughing with. There was another aspect, too, to Doris's art of cruelty. Philip had the make-up and fashion skills to pass if she wanted, but that wasn't the point of drag: "When you walk down the street no one looks twice at you, because you're so convincing that you just pass . . . [but] that doesn't get me the attention I desire." Acts of cruelty—in this case, against stereotypes of femininity—were a way of fulfilling the need for attention that Doris inherited from her mother. "I need attention and have to be No. 1." Or as Miss X recalls Doris once saying: "I want to be worshipped."
Worshipped she was in her adopted home of San Francisco, where she eventually settled. With her friends Tippi, Miss X, and others she founded a show called Sluts-a-Go-Go and soon became one of the city's most famous drag queens. In 1980 she filmed a weekly gay community television show interviewing local celebrities on a set sometimes adorned with naked men (it never aired). In 1983, again with Tippi and Miss X, she started performing Naked Brunch, a live theatrical soap opera whose episodes channeled Dynasty to offer a surreal commentary on local and national politics; and she joined other San Francisco queens to star in the camp, so-bad-it's-good classic Vegas in Space, eventually released in 1991.
While continuing to support himself with the sex work Philip began and enjoyed in Sydney, San Francisco offered Doris a more stable income as a model for the West Graphics card company, through which her self-staged portraits ended up in homes across America. By 1989—a sign of her place in the city's culture—she was given her own column in the San Francisco Sentinel, one of the city's weekly gay newspapers. There she wrote about the next generation of queens like Justin Vivian Bond and Lypsinka, to whom Doris presented herself as passing on the torch in drag history: "Now it's your turn," she remembers herself saying.
TV, movies, modeling, and show after show after show: Doris Fish worked hard throughout the 1980s as the horror of AIDS unfolded, and it was for her work that she wanted to be known. And so it was all the worse for her to have to write, in 1990: "It's dreary to have AIDS, as a hobby, a career, or a life." Behind this affected boredom lay almost a decade of witnessing, firsthand, the greatest cruelty of Doris and her generation's life. Given the amount of sex he had, Philip was certain he had become HIV positive by the mid-1980s, but he kept his diagnosis private until the onset of AIDS brought Doris's performing career to an end with a benefit that entered San Francisco drag legend and which gave Seligman's biography its title. Seligman spares his readers none of the horrors of AIDS: toward the end, the "skin on Doris's face had drawn so close around the bone that he could no longer shut his eyelids all the way." And rightly so, for it's wrong to only remember the glamour of drag queens past—and not the deaths that have made them something we can only remember in the first place. Cared for by a whole network of friends, and by Mildred right to the very end, Philip Mills died in San Francisco on June 22, 1991, just shy of his thirty-ninth birthday.
At the end of Doris's life, her friend Jackie asked, "Are you still a Romantic Cruelist, Doris?" To which she replied, "Darling, I'm a victim of it." In its ambiguity, it's a rare admission—at least in this biography—that there might be a price to pay for a life that faced up to the cruelty of the world by subjecting it to a drag queen's mockery. And yet meeting that cruelty with a disdain of her own enabled Doris to refuse the terms that the world offered to her:
I am not interested in acceptance from . . . the "straight community" if it means I have to pretend to be something I am not. What is the point of our years of struggle if people who present a "negative image" are to be hidden and excluded from our community media and from their full rights as citizens of this planet? Freedom and equality are not just for those who present a positive image. They are for all.
Given that this is a lesson many have still to learn, maybe we could all do with a bit more of Doris Fish's cruelty in our lives.