The Fairest Soul Brother in England
An unsolicited critique of Eric Clapton's Unplugged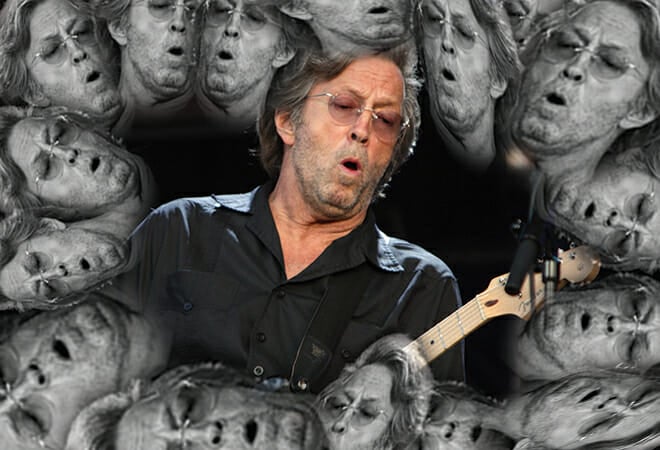 Four albums into a solo career that began in earnest in 1974, following records with the Yardbirds, John Mayall & the Bluesbreakers, Cream, Blind Faith, and the Beatles, with a Billboard-topping cover of Bob Marley's "I Shot the Sheriff," Eric Clapton, by 1976, was an alcoholic former heroin addict who had recently succeeded in stealing the wife of his close friend, George Harrison. On the night of August 5, Clapton, who had already developed a reputation for erratic on-stage behavior, unloaded on the audience of the Birmingham Odeon:
Do we have any foreigners in the audience tonight? If so, please put up your hands. Wogs, I mean. I'm looking at you. Where are you? I'm sorry, but some fucking wog Arab grabbed my wife's bum, you know? Surely got to be said, yeah, this is what all the fucking foreigners and wogs here are like, just disgusting, that's just the truth, yeah. So, where are you? Well, wherever you are, I think you should all just leave. Not just leave the hall, leave our country. You fucking . . . I don't want you here, in this room or in my country. Listen to me, man! I think we should vote for Enoch Powell. Enoch's our man. I think Enoch's right, I think we should send them all back. Stop Britain from becoming a black colony. Get the foreigners out. Get the wogs out. Get the coons out. Keep Britain white. I used to be into dope, now I'm into racism. It's much heavier, man. Fucking wogs, man. Fucking Saudis taking over London. Bastard wogs. Britain is becoming overcrowded, and Enoch will stop it and send them all back. The black wogs and coons and Arabs and fucking Jamaicans and fucking . . . don't belong here, we don't want them here. This is England, this is a white country, we don't want any black wogs and coons living here. We need to make clear to them they are not welcome. England is for white people, man. We are a white country. I don't want fucking wogs living next to me with their standards. This is Great Britain, a white country, what is happening to us, for fuck's sake? We need to vote for Enoch Powell, he's a great man, speaking truth. Vote for Enoch, he's our man, he's on our side, he'll look after us. I want all of you here to vote for Enoch, support him, he's on our side. Enoch for Prime Minister! Throw the wogs out! Keep Britain white!
Clapton's repetition of the National Front refrain and endorsement of Powell, a conservative MP whose "Rivers of Blood" speech in Birmingham eight years earlier had criticized Commonwealth immigration and the Race Relations Act, led to an open letter decrying him in the British music press, as well as the formation of Rock Against Racism, a British-born activist group that organized anti-fascist concerts in the late 1970s and early 1980s. A broader epidemic of ostensibly irreverent racism had swept the artier edges of the rock scene in this period: David Bowie told reporters "Adolf Hitler was one of the first rock stars" and was photographed in apparent mid-Sieg Heil, though he repeatedly denied it; Lou Reed sang, on "I Wanna Be Black," from Street Hassle (1978):
I wanna be black
Have natural rhythm
Shoot twenty feet of jism, too
And fuck up the Jews

I wanna be black
I want to be a Panther
Have a girlfriend named Samantha
And have a stable of foxy whores
Oh, oh, I wanna be black
In a 1979 mea culpa for the Village Voice, Lester Bangs indicted the New York punk scene for "acting like racism is real hip and cool"; across the pond, skinheads were beginning to embrace the drony mood of Joy Division, whose name was translated from Freudenabteilung, the concentration camp brothel described in the 1950s novella House of Dolls. Race relations, which had always been the principal subtext of rock and roll, had soured in the post-utopian hangover of the 1970s, after black teenager Meredith Hunter was stabbed to death by Hells Angel Alan Passaro at the Rolling Stones's Altamont Free Concert in 1969. By 1974, Lynyrd Skynyrd was leading Confederate flag-waving singalongs to "Sweet Home Alabama," which, outside of the Anglophone world, charted in Austria, Switzerland, and Germany.
None of these artists, however, went quite as far as Clapton did in Birmingham, nor did his music or persona allow for the ironic shrugs afforded to the Stooges, whose guitarist Ron Asheton collected Nazi memorabilia, or the Ramones, whose lyrics sometimes contained Third Reich imagery though two of the founding members were Jewish. An earnest bluesman and virtuoso guitarist, Clapton jammed with Jimi Hendrix, who called him "the fairest soul brother in England," and B.B. King, who expressed gratitude to Clapton for helping to popularize the blues in white America, "opening doors" for musicians such as himself. He had recorded with Aretha Franklin and, as he insisted over the years, had black girlfriends, but it was Clapton's love of bluesmen from B.B. and Albert King to Otis Rush and Muddy Waters that made a style of guitar playing from the early twentieth century Mississippi Delta the pinnacle of artistic achievement in the British rock scene of the 1970s. Clapton was certainly not the first rocker to don musical blackface: Anglo-American popular music has been a history of appropriation since at least Bix Beiderbecke. As Amiri Baraka (then LeRoi Jones) writes in Blues People (1963), "the emergence of the white player meant that Afro-American culture had already become the expression of a particular kind of American experience, and what is most important, that this experience was available intellectually, that it could be learned." Despite his mastery of the twelve-bar changes, Clapton knew little of the history, attitude, or emotional depth written into the riffs he got rich rehearsing. "The tone is the feeling," Waters once told an interviewer, and "you can't counterfeit that"; young white musicians "ain't got no soul, they ain't had enough hard times," he chuckled.
A largely white boomer fan base has come to embrace the unironic confession of troubled male life only when it excises the expression of black pain—not to mention black history.
Clapton mildly apologized for the Birmingham outburst in a documentary released on Showtime in 2017, Eric Clapton: Life in 12 Bars; blaming the excesses of the era alongside his personal difficulties, Clapton admits, "I was becoming not only chauvinistic but fascistic, too. I was kind of a semi-racist, which didn't make any sense." Citing depression and addiction, Clapton was exhausted by a music industry unwilling to hold him accountable for his public declaration of hatred. Though he doesn't hasten to listen to his early solo records because, he says, "I can hear how drunk I was," they remain some of his greatest successes: 1977's Slowhand, which became Clapton's nickname, contains both classic rock radio staples "Cocaine" and "Wonderful Tonight." He finally got sober after the birth of his son Conor in 1986, whose tragic fall from the 53rd floor of Manhattan's Galleria building, on East 57th Street, in 1991 would result in a Grammy.
"Tears in Heaven" deserves to be made fun of, as it was in 1998 by Mr. Show's David Cross, whose Claptonesque Horace Loeb wins a "Teardrop Award" for "Heaven Better Save Some Tears," a "song about the death of his five-year-old son." Co-writing such a personal song with Will Jennings—the schlockmeister who would go on to win another Grammy (and an Oscar) for "My Heart Will Go On"—for the soundtrack of a Jennifer Jason Leigh cop movie (1991's Rush) reads as deeply cynical, especially batting cleanup, as it does on Clapton's biggest hit, Unplugged (1992), which some sources cite as selling twenty-six million copies, making it, arguably, the bestselling live album of all time. More cynical still is the appearance of the chime-laced pop ballad on what is otherwise one of the most explicitly blues records of Clapton's career. Filmed and recorded on January 16, 1992 at Windsor's Bray Film Studios, for the MTV franchise which had previously featured acoustic sets from Paul McCartney to Poison (and would famously host Nirvana in 1993), eight of Unplugged's fourteen tracks were written by black blues musicians: Bo Diddley, Big Bill Broonzy, Son House, Bo Carter, Jesse Fuller, Robert Johnson, and Hambone Willie Newbern. Another, "Nobody Knows You When You're Down and Out," was popularized by Bessie Smith in a 1929 recording; Clapton had previously cut an electric version on Derek & the Dominos' Layla and Other Assorted Love Songs (1970), the title track of which was slowed down and syncopated on Unplugged to massive acclaim.
A musician myself, I am not immune to Clapton's talents, which have been heralded for decades in the platitudes specific to guitar magazines. His technical precision is obvious, but so is Kenny G's, and on Clapton's most beloved recordings, I am more drawn to the emotional intensities of his hired guns: Duane Allman's slide guitar throughout Layla, or the nostalgic pathos of the piano outro on the record's title track, composed by drummer Jim Gordon (who traded it to Clapton for studio time) and cleverly borrowed by Martin Scorsese for the climactic sequence of Goodfellas (1990). Though Clapton's Unplugged band is no less gifted—including among its members Tom Petty and the Heartbreakers drummer Steve Ferrone and veteran keyboardist of both the Allman Brothers and the Stones, Chuck Leavell—Unplugged is nonetheless all about Clapton (refracted through Unplugged's semi-purist rhetoric of grunge authenticity): a stripped-down display of his nimble fretwork, his voice deepened and graveled by time's improprieties. The implication here is as strong as it is absurd: sobered by addiction, the threat of obscurity, and the death of a child, it is only in middle age that Clapton, having adopted the professorial spectacles and sport coat of a proto-Jonathan Franzen, has come to understand what it means to sing the blues.
What is missing in Clapton's imitation of African American musical tradition on Unplugged, which Chicago Tribune critic Greg Kot fairly described as "a blues album for yuppies," is the quality most responsible for the music's sadness as well as its humor, lasting relevance, and political bite: that is, a profound self-awareness. As Eric Lott writes in Love and Theft: Blackface Minstrelsy and the American Working Class (1993), whose title Bob Dylan lifted for his 2001 record, "Minstrelsy brought to public form racialized elements of thought and feeling, tone and impulse, residing at the very edge of semantic availability, which Americans only dimly realized they felt, let alone understood." The antebellum minstrel show, whose enthusiasts included Mark Twain, Walt Whitman, and Abraham Lincoln, was an expression of white America's ambivalence toward its own culture of self-proclaimed supremacy; "the whites involved in minstrelsy," Lott writes, "were far from unenthusiastic about black cultural practices or, conversely, untroubled by them, continuous though the economic logic of blackface was with slavery." Nowhere in Unplugged or in Clapton's broader discography is mockery as close to the surface as it was in nineteenth-century minstrelsy or the Democratic Party of Virginia today. Still, to deny its presence is to ignore the wholesale and longstanding appropriation of a genre that evolved, through "race records" of the 1920s, '30s, and '40s, as a means within the African American commentary to critique Jim Crow. In a verse Clapton softens somewhat in his cover of the song, Son House sings on his 1941 version of "Walking Blues":
Oh, the blues is a lowdown old aching chill
If you ain't had 'em boys, I hope you never will
Later, House adds, and Clapton omits:
Oh, your hair ain't curly and your doggone eyes ain't blue
I said now if you don't want me, babe, what the wide world I want with you?
Leaving aside the politics of omission, it nonetheless becomes obvious, in this context, that a largely white boomer fan base has come to embrace the unironic confession of troubled male life only when it excises the expression of black pain—not to mention black history. What's more, the sick effectiveness of this ploy plays out absurdly in lyrics like "Once I lived the life of a millionaire," which, no matter how mournfully intoned, sound shamelessly disingenuous when they're sung by a millionaire.
It's unlikely that Nina Simone was thinking of Cream's "I Feel Free" (1966) when she chose to sing "I Wish I Knew How It Would Feel to Be Free" a year later, as Skynyrd had been when they recorded their iconic response to Canadian Neil Young's chiding "Southern Man" (1970), but the imaginative gap between these songs reveals the depths of blindness at work in the history of popular culture. Had Clapton doubled down on his views, like John Wayne, or wrung his hands over them more publicly, à la Liam Neeson, it's unclear whether he would still be considered by Rolling Stone the second best guitarist (after Hendrix) of all time. But the very cultural amnesia that allowed Clapton's career to come back and even to thrive is what enables and perpetuates the social unconscious of blackface, which like Unplugged, we would all do well to find a way to live without.