Split City
What vision of the future will voters in Chicago go for?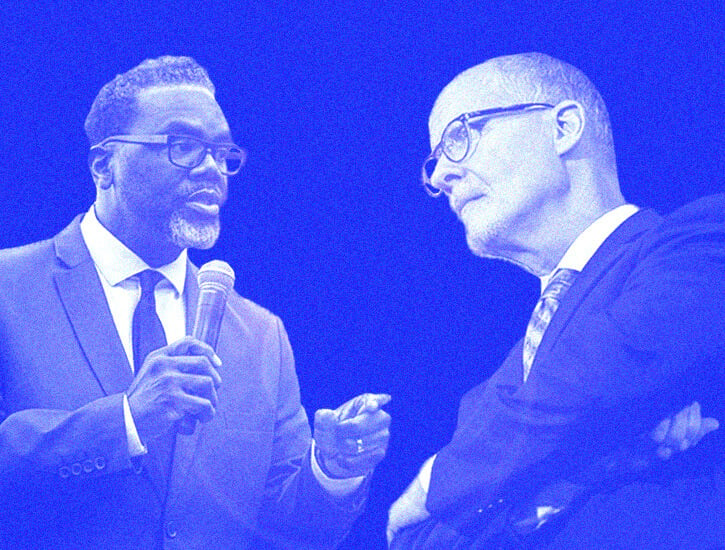 On April 2, 2019, in a haphazardly decorated storefront on Chicago's South Side, I watched in shock as mayoral candidate Lori Lightfoot demolished her opponent, Toni Preckwinkle. It wasn't even close: 74 percent of voters in this historic runoff went for Lightfoot, a political unknown. "Wow," I said to my companion. "I never thought it would be this brutal."
Lori and Toni; Toni and Lori—two Black women of vastly different experience running on center-left platforms so similar that they nevertheless seemed at times separated only by the consonants of their names. Partisans will disagree, but at the time it seemed almost irrelevant who won. I voted for my candidate, ran the general vibe, but it'd probably be OK if the other one won.
Four years later, Lightfoot is out: the sweeping mandate she rode into office obliterated by her uncanny ability to, in the words of outgoing Tenth Ward alderwoman and erstwhile Lightfoot ally Susan Sadlowski-Garza, "piss off every single person they come in contact with." During Lightfoot's single term in city hall, she indeed managed to alienate not just the voters who vaulted her past the far more experienced Preckwinkle but also the media, whom she regarded with particular disdain, and a large chunk of the city council. A record number of aldermen declined to run for reelection this year, many citing—off the record—fatigue and burnout from dealing with the mayor's singularly mulish management style.
Most notably, however, Lightfoot will leave office roundly disliked by members of the two most powerful unions in the city: the teachers and the cops. And no one watching the contest between the two candidates vying to succeed her in the city's April 4 election is sanguine about the possibilities for reconciling these factions, or the rest of this famously divided city, should the other guy win.
In last month's primary, Lightfoot came in third behind two men who could not be more diametrically opposed. Paul Vallas, with 33 percent of the vote, is the onetime head of Chicago Public Schools and a perennial also-ran who came in ninth in the last mayoral race. During that campaign, he carried around a push broom as a visual manifestation of his promise to "sweep up City Hall." This cycle, he pushed a tough-on-crime platform, capitalizing on fears of gun violence and escalating numbers of carjackings and property crimes—and came out on top. Brandon Johnson, with 22 percent, is a CPS teacher turned union organizer and, now, Cook County commissioner with, like Lightfoot before him, little public record to stand on. He's running on a progressive platform that centers on a holistic approach to crime that addresses the root causes of violence through investments in mental health services, education, housing, and jobs—funds to be raised by taxing the rich.
Vallas, who is white, is backed by the Fraternal Order of Police and the city's business and real estate elite. Johnson, who is Black, is supported by the powerful Chicago Teachers Union, which has poured just over $2.2 million into his war chest. Vallas pulled in voters from the city's whitest enclaves on the northwest and far southwest sides—historic strongholds of cops, firefighters, and other municipal workers. Johnson's support came largely from the so-called lakefront liberals who swung for Lightfoot four years ago. The vote across the rest of the city—meaning the overwhelmingly Black and Latinx South and West sides—fractured, with Lightfoot eking out a victory in many wards but not always by a meaningful margin.
At the first televised debate in this six-week runoff sprint, the first question out of the gate from moderator Mary Ann Ahern addressed the disconnect head-on: "You both have been labeled extreme. . . . How will you appeal to the vast majority of Chicagoans who did not vote for you?" Neither candidate had a good answer.
The pundit class likes to map this schism onto the broader crisis of national politics. Closer to home, many, including Johnson, have compared the current race to the historic 1983 matchup of Harold Washington and Bernard Epton, the Republican state representative who ran on the platform "Epton: Before It's Too Late." You didn't have to be a dog to hear that whistle. (Epton lost against Washington, who became the city's first Black mayor.) But despite this contest's own racially tinged rhetoric—Vallas is fond of the provocative slogan "Public Safety is a Civil Right"—the Johnson-Vallas race doesn't always slot into obvious Black/white polarities.
As the candidates tack toward the center, barnstorming across Chicago churches, union halls, and community groups, Vallas has endeavored to distance himself from rabid supporters on the far right like FOP head John Catanzara, who was quoted earlier this week in the New York Times predicting "blood in the streets" should Johnson win. He's also tried walking back a comment from 2009, when he described himself as "more of a Republican than a Democrat." Johnson, for his part, has spent no small amount of energy walking back past comments in support of defunding the police. He now promises to promote two hundred rank-and-file cops to detectives and reiterates that his "Justice for Black Lives" resolution, passed in 2020 by the Cook County Board, should be framed as a reallocation of resources toward restorative justice rather than a direct response to the movement for defunding.
Still, in the Black and brown neighborhoods that suffer the brunt of the city's violence, Johnson's proposed solutions are not universally popular. Community activist and failed fellow candidate Ja'Mal Green has thrown his support to Vallas, proclaiming on Twitter that "young Black kids are dying. We need tangible resources not rhetoric or Black unknown faces who won't commit to a plan." While Johnson has claimed the endorsements from the likes of Jesse Jackson, Preckwinkle, and a host of other Black politicos (not to mention Bernie Sanders and Elizabeth Warren), a head-scratching array of Black leaders have stepped up to endorse Vallas: not just firebrands like Green or perennial mayoral candidate Willie Wilson but also former congressman and Illinois Black Panther Party cofounder Bobby Rush, whose son was shot and killed in 1999 and who only two and a half years ago compared the Fraternal Order of Police to the KKK.
What is happening here? Is a consensus candidate even possible? More to the point, what will it bode for Chicago when half the electorate cheers the new occupant of city hall and the other half considers him an existential threat?
It's undeniable that gun violence is an ongoing crisis in Chicago, as it is across the country, but while the city's per capita murder rate is higher than in New York or Los Angeles, it is lower than that of Milwaukee or Detroit, and homicides city-wide actually dropped from 2021 to 2022. It's also undeniable that violent crime is concentrated in majority-Black neighborhoods on the West Side that are the most segregated and economically disadvantaged. The threat street violence poses to widespread public safety has been whipped up by opportunistic politicians seeking to capitalize on white voters' fears. In centering his campaign on policing, Vallas is taking a page from the conservative playbook that last year pushed former cop Eric Adams into the mayor's office in New York—and progressive lawyer Chesa Boudin out of the district attorney's office in San Francisco.
But to truly understand this race you need to turn away from the current crime panic and look to the 1990s, when Paul Vallas was CEO of Chicago Public Schools. Appointed in 1995 by then-mayor Richard M. Daley to oversee a district that had been dubbed the worst in the nation, Vallas spent the next six years making it worse: he championed charter schools, cut staff, and slashed special-ed budgets. He skipped payments into the teachers' pension fund, instead redirecting property tax monies that would have funded pensions into the operating budget to cover costs. The effects of this "pension holiday"—and another that followed under subsequent leadership—have left the teachers' pensions underfunded by more than 50 percent. Vallas put underperforming schools on probation, then fired almost two hundred teachers en masse. He opened military and first responder high schools in low-income neighborhoods and promoted ROTC programs that created a pipeline of Black and brown students into the armed forces. He instituted harsh standardized testing requirements that sent thousands of kids to summer school—which resulted in meager improvements in test scores and higher dropout rates.
His leadership began the process of dismantling a robust system of neighborhood schools that, while often underfunded and struggling to serve their communities, had been supported by Washington-era progressive policies that saw them as integral to civic life. The wave of school closures, consolidations, and charters that rocked the city over the two decades that followed—including Rahm Emanuel's decision to close forty-nine schools and one high school program in 2013—began after his watch but were the logical outcome of decisions Vallas began making based on a conviction that school systems were bloated, particularly urban ones. Vallas would export these reforms to Philadelphia, where he left the district with a $73 million deficit before heading to New Orleans, where he oversaw sweeping privatization that effectively destroyed the public education system.
In Chicago, the school closures disproportionately impacted communities of color, mapping cleanly onto the map of segregation that was established by federal Home Owners' Loan Corporation red-lining practices in the 1930s and continues to this day. Students and families in schools that closed lost their community hubs, leaving kids traumatized and neighborhoods in disarray. Students were forced to travel across town or simply across gang lines to get to school, which fundamentally altered the nature of the divide between Black and white and Black and brown communities across the city. Worse, these reforms didn't work: CPS continues to face a stark enrollment decline and current schools CEO Pedro Martinez predicts the system will be operating at more than a $600 million deficit by the 2025–2026 school year.
Johnson lives on the West Side, in one of the highest-crime districts in the city, and he got his start teaching in the schools ravaged by Vallas's turn as CPS CEO. As University of Illinois labor studies professor Robert Bruno, speaking to Chalkbeat Chicago, put it, "I think maybe Paul Vallas helped to create the conditions that made Brandon Johnson inevitable." As a middle school teacher, he grappled with how lack of access to affordable housing and food and the ongoing threat of gun violence devastate the educational outcomes of Black and brown children.
He became an organizer with the Chicago Teacher's Union in 2011, just as its political power in the city began to grow and it began to fight back against policies Vallas instituted in the 1990s, advocating for wide-ranging solutions to the intersectional Gordian knot of poverty. In the wake of a landmark 2012 strike, the union created United Working Families, a political organization intended to cultivate and support Black and brown candidates running on social justice platforms for public office—candidates like Johnson, in his campaign for commissioner. And in 2015 he joined a thirty-four-day hunger strike protesting the closure of Walter H. Dyett High School in the city's Bronzeville neighborhood, an under-enrolled school whose fortunes had languished after the conversion of another nearby high school to a selective-enrollment college prep school under Vallas. Dyett reopened in 2016 as an open-enrollment arts high school, drawing 85 percent of the student body from the neighborhood. In his campaign, Johnson leans hard on all this history—but it can't be dismissed as hollow posturing.
In this runoff, voters are confronted with two separate visions of what a city can and should do. Does it create neighborhoods that thrive around a local school? Does it build strong communities, engaged families, and economic opportunities by investing in education? Does it pour money back into the neighborhoods themselves? Or does it starve the school system of resources to the point that families flee to the suburbs if they can afford to, leaving the most vulnerable behind? Does it throw its financial support behind the police and financial incentives to corporations and big tech in hopes of turning the city into a neoliberal economic powerhouse—a process started by Daley, turbocharged by Emanuel, and continued by Lightfoot?
What Chicago is voting on, in short, is whether we are going to go deeper down the path that Vallas started paving in 1995, or whether we're going to implement a process of restoration that begins with the school system. With less than a week to go, Johnson has closed the gap in the polls and the outcome is anyone's guess.
Earlier this month, a West Side church hosted a candidate forum. It had the raucous, tent-revival feel of the best of local politics: fiery preachers, personal testimony, and a band jamming out Stevie Wonder covers. "Brother Brandon" spoke first, and after he departed for another event, Vallas—who was late—took the stage. He listened as a community member stepped up to the mic. In a quiet voice, Mrs. Brown shared memories of moving to Chicago from Mississippi in the 1960s, of the riots that destroyed the then-thriving West Side in 1968 in the wake of the murder of Martin Luther King. Fifty-five years later the area—nearly thirty-five square miles of the third largest city in the country—is still Swiss-cheesed by vacant lots and abandoned buildings, and devoid of robust businesses, grocery stores, and functional public transit.
"Mr. Vallas, should you be victorious in this mayor's race, we're looking to you to make things better for us," she said, connecting the dots between the cataclysmic end of the Civil Rights era and the conditions Vallas helped to perpetuate and exacerbate. "We need schools! Most of us, our children travel miles and miles and miles. That's not right." For a moment, before this multiracial, pan-generational crowd burst into applause, you could hear a pin drop.