Puerto Rico Was Ready
Ricky may have resigned, but the fight's not over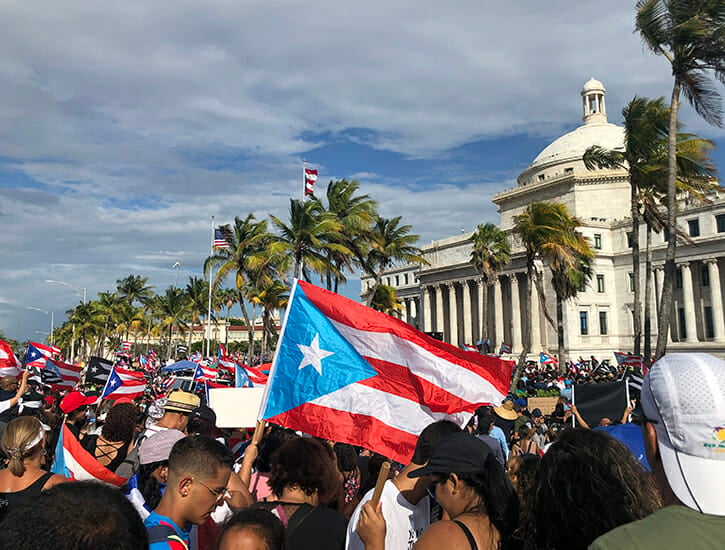 Protestors in Old San Juan, Puerto Rico, began to seek out cold beers and places to sit around 8 p.m. on the night of Monday, July 15. Many found refuge at La Cubanita, a bar on Calle San José, just a few blocks from the heart of an intergenerational effort at Calle Fortaleza and Calle de Cristo—which face the governor's baby blue mansion, the oldest executive residence in the Americas—to force Governor Ricardo Rosselló from office. The protests had been sparked not just by the revelation of rampant corruption in Rosselló's cabinet but the leak of 889 pages of a private chat in which he and other politicians made sexist, racist, transphobic, and fatphobic comments about fellow politicians and constituents alike.
The mood in the bar at this evening hour remained jovial, hopeful, and energized. Older men, self-identified socialists, spoke of how they hadn't seen mobilization like this in ages. Surely, the governor would hear the shouts of "Ricky, renuncia!" and give in to the demands of the people. This was already day five of the protests, and their message was being rapidly spread throughout the global Puerto Rican diaspora.
But within a matter of hours, police would begin shooting tear gas into the peaceful crowd. A bar on the corner of Calle San José, where one waitress had jokingly held up a chalkboard advertising happy hour deals as though it were her protest sign, would be closed and boarded up for days, as hawkers took to the street selling Medalla beers and water.
---
On Wednesday the 17th, another massive gathering took place at El Capitolio, where rappers Residente and Bad Bunny shared a stage with Ricky Martin to call for Rosselló's resignation. People packed the streets of Old San Juan that day while police helicopters hovered overhead, everyone giving them the finger and going on with their chants: "Este lucha sigue de este a oeste"—this fight continues from east to west. The action had already grown much larger than its inciting incident; signs announced people's reasons for showing up, whether it was a future for their daughters or the loss of their mothers and fathers in the mishandled aftermath of Hurricane Maria. ACLU legal observers stood among the crowds in blue vests. As night wore on, those in apartments above sent down water in buckets from their balconies. Singer La India appeared to screams from the crowd, in a pava hat worn usually by farm workers and the kinds of country-dwelling people who had been among those mocked in the leaked chats.
The intensity of the protests has not been a surprise to those on the ground.
Puerto Rican flags of every stripe were flying: the official royal blue, the anti-colonial light blue, rainbow LGBTQ editions, and the black resistance flag. The "Grito de Lares" flag, representing an 1868 uprising against Spanish rule, appeared as well, and the visual effect called to mind Reinaldo Arenas's 1965 recollections of witnessing the Cuban revolution, "The Parade Begins": "Banderas y banderas. Delante y detrás." Flags and flags, ahead and behind. The energy of possible revolution pervaded the atmosphere.
Wednesday's protestors began to disperse around 9 p.m., gathering again at bars on Calle San Sebastían to pour out into the street drinking, leaving only the most fervent activists at the police blockade of Calle Fortaleza. But after 11 p.m., at the main intersection of the protests, the police once again shot canisters of tear gas into the night, sending people running in all directions. Women were carried out of the fray, eyes closed and crying, while others, red-eyed, looked shell-shocked as the police continued to block streets in military formation and send gas into the crowds. Eventually, I made it to a friend's balcony, where I watched as gas began to be sprayed even toward the bars where folks had gathered to drink. Scattered protestors continued fighting with the police until "Rey Charlie," a motorcyclist who had been bringing together riders from around the island to the city on these nights of protest, came in with a cavalcade of roaring bikes to the delight of everyone who remained.
---
On Thursday the 18th, the crowd at the main protest intersection had become somewhat more subdued. The following Friday afternoon was tranquil, even as I found small and large pellets that had been shot at protestors while walking around. But on Monday, July 22, over five hundred thousand people filled a highway during a national strike as they marched on the governor's mansion. The strike's organization had been non-hierarchical, with the message spreading largely on social media, and the crowd reflected these origins with its diversity of age, race, and messaging. Some marchers performed acrobatics on highway signs; others painted their bodies with flags; still more simply brought their presence, making a statement that ended up on the front pages of major newspapers across the United States. Despite the unity and diversity of their demonstration, the police once again began shooting tear gas at 11 p.m.
But late last night, after nearly two weeks of protests, a national strike, and a disastrous Fox News interview, Ricky finally bowed to pressure and announced his resignation, effective August 2. Continued protests, however, are still planned. And even before Rosselló announced his decision to step down, there were already shouts of "Wanda, renuncia!" for Roselló's presumed successor, Justice Secretary Wanda Vásquez.
The intensity of the protests has not been a surprise to those on the ground. The leaked chats, which took place on an app called Telegram, did not create this energy: they merely ignited it. From the disgraceful response to Hurricane Maria—which resulted, according to one study, in the deaths of at least 4,645 Puerto Ricans—to austerity measures imposed on the island by the executively appointed PROMESA board, created by the Puerto Rico Oversight, Management, and Economic Sustainability Act which was signed by President Obama in 2016 and is locally referred to as "la junta"—dissatisfaction with the island's government, and its relationship to the mainland United States, has been widespread. A shocking number of femicides in recent years has seen activist groups like La Colectiva Feminista en Construcción connecting the dots between colonialism, austerity, and violence long before "Ricky, renuncia!" was a chant on anyone's lips, as scholar Aurora Santiago Ortiz has pointed out at Zora. May Day protests are an annual occurrence on the island, and in 2017, there was a system-wide strike University of Puerto Rico (UPR) over a PROMESA-proposed budget cut of $450 million. Similar student actions took place in 2010 and 2005 before it.
These protests have been a mobilizing force for Puerto Rican youth, who've been honing their skills. Young students at UPR protesting on Calle del Cristo who I spoke to last Tuesday told me they were there to defend their country. What they saw in the leaked chats doesn't represent them. One student had "a little experience" at the 2017 strikes and knew that tear gas would be part of the police strategy.
This is all to say that conditions have long been ripened for national protest, and not just among the youth. Roselló—whose father, Pedro, was governor of Puerto Rico from 1993 to 2001—became the focus, but the most popular chant also calls for the lifting of PROMESA. Graffiti and protest signs demand, as well, the destruction of the island's colonial status, which has been imposed in various ways by the United States since the annexation of the island in 1898 (and before that, by Spain, since 1493). The anti-colonial essence of the current protests, then, also calls to mind the movement to remove the U.S. Navy's presence from the island of Vieques, which began in 1999. The effects of Naval test bombings conducted on Vieques, located just off the coast of the Puerto Rican mainland, have continued long after the Vieques Naval Training Range was officially closed in 2003. Cancer rates on Vieques are unusually high, many bombs remain unexploded, and the former Naval facility remains a toxic Superfund site. The years-long Vieques protests have been identified by many as a source of inspiration for the current movement.
---
José López Serra, a Santurce-based curator whose current exhibition "Morder el polvo" (Bite the Dust) features work by Beatriz Santiago Muñoz, Javier Fresneda, and Seth Ferris, sees the connection between these different eras of protest. " 'Morder el polvo' explores the trace of colonial militarism in the context of Puerto Rico," he tells me. "Apart from being a colonial possession, the other constant in Puerto Rican history is the incessant militarization of our lands, the defensive value that Empire has assigned to this place. The exhibition looks to the places and objects that have been left as part of this idea of Puerto Rico as Fortress, as well as possible ways of reimagining them."
People are feeding each other, making art, keeping energy high—and they've been practicing.
For Serra, the current protests have clear antecedents in the Vieques and UPR tradition—but there is a new element as well. "I grew up seeing the imagery of Vieques on TV, seeing the people on the beaches . . . getting arrested, and the euphoria that getting [the U.S. Navy] out of Vieques and Ceiba was in the 1990s early 2000s," he says. "I've been in three, four UPR strikes, so being gassed and having the police thrown at us is so no surprise. What's different now is that's not just UPR students and professors, it's the whole of Puerto Rico turning out against the government."
In addition to art, the protests have also been a site of activism through food, and not just in the now-daily cacerolazo, or pan-banging, occurring at 8 p.m. each night. From early on, there were folks showing up with free food to power the fight, and for Casa Vegana de la Comunidad—a food justice organization that regularly offers meals, organizes events, and educates around vegan issues—it has been an opportunity to expand their already consistent efforts to feed those in need. "It is a tool to keep up the fight until we see results," says Cindy Negron. "You can't fight the government on an empty stomach. We are providing gasoline to sustain the flame of the demonstration."
As Puerto Rico and the diaspora celebrate their victory over Ricky, it's nonetheless clear that the Rosselló government's corruption and disdain for the people have ignited a fight far fiercer than one simply for the end of this particular administration. After more than five hundred years of colonialism, militarization, and economic distress, the island has had enough of its nonsensical non-status and is revolting against imperialism in all its manifestations. Here, people are feeding each other, making art, keeping energy high—and they've been practicing.