Vanity Foul
In celebrity profiles, the puff piece makes way for the power piece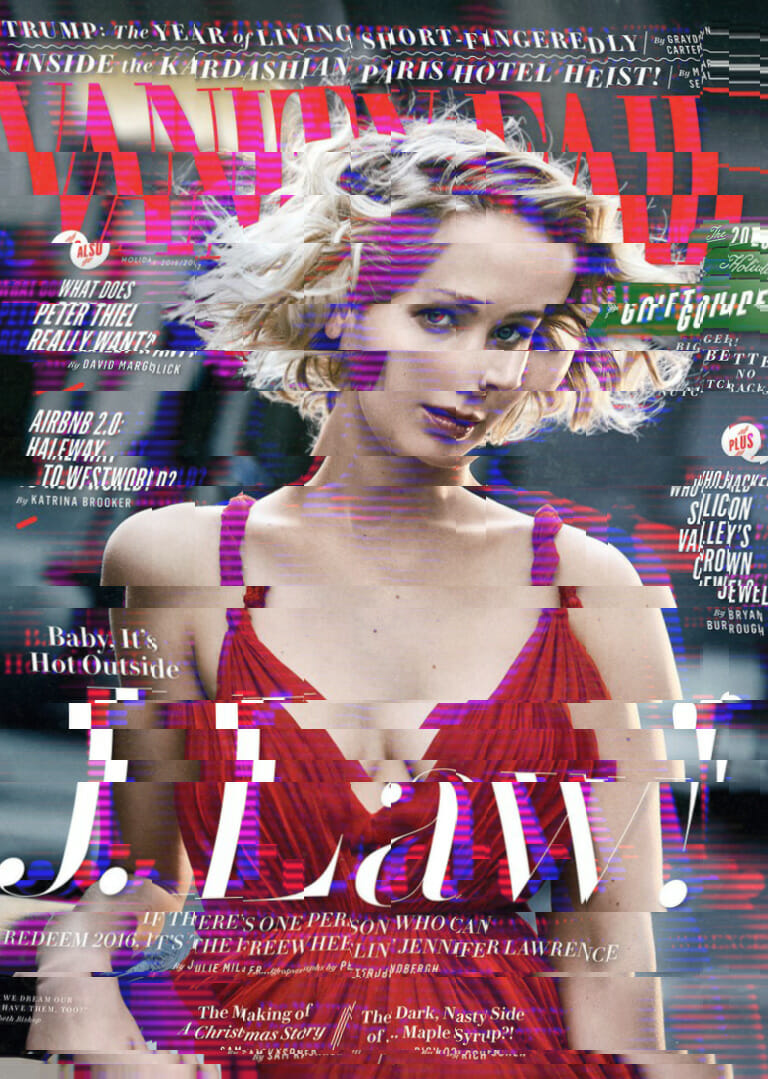 Coming to a magazine cover near you. / The Baffler
Puffery, in the sense of "inflated laudation," dates back to the late eighteenth century. In law, it is used to denote that which no one would reasonably believe, originating with a legal case in 1892 in which some poor Gilded Ager tried to get their money back when an anti-flu potion failed to inoculate them. The company's ad had promised to pay one hundred pounds if it didn't work but the defense was, essentially, "God, we were kidding"—it wasn't serious, it was "mere puff." The company lost, the word won. In the mid-twentieth century it found its way into the "puff piece," a journalistic idiom denoting less an article than a hand job, celebrity profiles being the piece de non-resistance. In a 2014 chronicle of the form, Anne Helen Petersen wrote of the celebrity profile's reputation for being "flattering and banal in the way that florid descriptions of drapes and romances can be." Though "personality journalism" stretched back to the 1700s, in the 1920s the press conspired with the film studios to create thinly veiled PR copy. In the latter part of the century, these puffs of smoke-up-the-skirt spread like Monroe's itch along with the circulation of the mainstream press. "In the twenties and today, the profile functions as the celebrity urtext, setting and resetting the tone and tenor of the celebrity's image," Petersen explained, remarking that the "oversight and calculation created prose that was generally stiflingly boring." 
But one hundred years after the puff piece floated into our consciousness, it is being swept aside by a new kind of celebrity profile, developed within a newly engaged culture. It may be no less calculating than its predecessor, but its purpose is the opposite. Rather than meaning nothing, it means everything. The power piece positions itself as the celebrity profile as activism, and sometimes it even succeeds.
In September, Graydon Carter announced that he was stepping down as editor-in-chief of Vanity Fair. The moment the sexagenarian actually left the building, however, arrived months later. The March 2018 issue of the magazine featured a cover story on Jennifer Lawrence, who, it stated, "is imbued with insatiable curiosity, professionalism, a work ethic, and extraordinary natural talent." Thousands of words long with virtually no content, the profile relied on bromides to bolster the twenty-seven-year-old actress's already well-established Girl Next Door brand. "I have read a lot of painfully banal celebrity profiles but this new VF one on Jennifer Lawrence," tweeted Petersen, "it's like toothache-magnitude-painful levels of banality." In an untimely retrograde affair, Lawrence modeled gowns on a twenty-four-acre farm and cooked—"I can't work on a diet. I'm hungry."—for interviewer Krista Smith, Vanity Fair's executive west coast editor and, according to the site, "de facto ambassador to Hollywood." As the New York Post pointed out, the cover was unsettlingly similar to Lawrence's Hollywood Reporter cover from December, a coarse metaphor for the interchangeability of the form.
One month later Vanity Fair was almost unrecognizable. Gone was the hyper-stylized cover, the heavily made-up blonde starlet, the dramatic detached gaze. In its place, a black lesbian writer, shot au naturel, her eyes leveled with the camera. "Lena Waithe Is Changing the Game," read the headline. Author Jacqueline Woodson not only addressed what it was like for Waithe to be the first black woman to win an Emmy for writing in comedy, but what is was like for Woodson herself and women like her. "For so many of us who have not seen an out Black lesbian front and center this way, her arrival is a small, long-awaited revelation," she wrote. "Her arrival is our arrival." The piece received the social media equivalent of a standing ovation. "Vanity Fair is a pop culture periodical that in the past has been known to go for the biggest name," Sesali Bowen explained in Refinery29. "I'm struck that the publication made space for a Black lesbian who is known primarily for her contributions behind the scenes."
One hundred years after the puff piece floated into our consciousness, it is being swept aside by a new kind of celebrity profile.
Vanity Fair under Graydon Carter was known, per the New York Times, as "a stew of Anglophilia, liberal politics, old-style Hollywood glamour and a sense of mischief." New editor Radhika Jones, who took over in December, had previously worked at The Paris Review and the Times and told the latter that her bag was "discovering new talent and keeping an open mind to new voices and bringing artists together." In the April issue, long-time Vanity Fair photographer Annie Leibovitz traded in her rote melodramatic studio productions for fly-on-the-wall imagery capturing Waithe's quotidian routine. In The Cut, Emilia Petrarca observed the absence of obvious accessories and designer credits (other than a kick-ass sneaker collection). "As a whole, it is a refreshing departure from the glitz and glamour we're used to from Vanity Fair," she wrote. "And a promising step forward."
Radhika Jones stepped into her new job on the heels of a wave of publicity over Teen Vogue's editor-in-chief, Elaine Welteroth, who spent last year transforming the boys-and-brands mag into a catalyst for teen activism. She is only the second black editor-in-chief in Conde Nast's history and, at twenty-nine when she was hired, its youngest. Welteroth (who has since announced her departure from the publication) featured a number of black personalities on Teen Vogue's cover—Willow Smith, Chance the Rapper, Solange—advice from trans model Hari Nef, and even a guest editorial by Hillary Clinton. "I felt like there was an opportunity to go a little deeper and to feature a different type of girl: someone who actually used their platform to be a role model and to be a thought leader," Welteroth told the Times. "There was something shifting in the zeitgeist."
Others were feeling it, too. In July, Allure featured Muslim model Halima on its cover wearing a hijab—a first for the magazine—above the cover line "This Is American Beauty." ELLE chose forty-five-year-old rap icon Missy Elliott to front its women in music series, while GQ named kneeling quarterback Colin Kaepernick Citizen of the Year. Still, according to a survey by Fashionista, only a third of the ten reviewed fashion publications featured people of color on their covers, and trans and Asian faces continued to be overlooked. But even though the celebrity with the most covers that year was Nicole Kidman—at fifty, she was at least shilling age diversity—close behind were Zendaya, Solange, and Chrissy Teigen. Jezebel's Clover Hope noted that, "some of these magazines have figured out that a simple formula for achieving diversity is with split covers." Indeed, Teen Vogue—which had featured Paris Jackson, Chance the Rapper and Solange in a split—was, along with Allure, the most diverse of the year.
Bylines were also diversifying. In 2015, VIDA made a "commitment to intersectionality" in its yearly roundup of women in the literary arts and a year later found that 48 percent of the publications it monitored had gender parity at least. Like Woodson on Waithe, Rachel Kaadzi Ghansah had written on Missy Elliott in ELLE's June 2017 issue by expounding on the shared experiences of black women, situating the story within the broader political conversation around race and gender. Though Vanity Fair's initially promising July cover featuring a pregnant and nude Serena Williams was ultimately paired with a prosaic romance by Buzz Bissinger, Vogue chose a woman writer (Abby Aguirre) to deliver Zendaya's cover story. Jezebel's Hazel Cills noted that the Good Look Book "so often loves to" allow older male writers to treat young women celebrities "like fuckable faeries." This was a year after The Cut had published a Mad Libs generator of men profiling female celebrities—"Want to learn how literally any Hollywood starlet has both ample breasts and abundant talent, without gleaning anything noteworthy about her?"—followed by Vox's analysis of eight famous profiles in which the female celebrities were packaged like sex toys.
The change had been a long time coming. While gossip scholars like Anne Helen Petersen and Elaine Lui (Lainey Gossip) dismantled the celebrity machinery, arch writers like Taffy Brodesser-Akner and Caity Weaver (both previously at GQ and both now working at the Times), as well as New York's David Marchese, scrutinized the scenery around their star subjects. In 2015, The Awl's John Herrman addressed the tonal change in celebrity journalism in the era of social media, which provides famous faces direct contact with their fans. "Remove the presumption of access and you have no choice but to report against the wishes of powerful subjects," he wrote, adding, "A more antagonistic press doesn't guarantee a more rigorous press. But it's . . . something?" Like Herrman, who is also now employed by the Times, other media-savvy reporters who dissected their own industry were taking positions at more mainstream outlets: Jezebel's Jia Tolentino moved to The New Yorker, Anna Holmes to Topic; Gawker's Choire Sicha was hired at the Times and Doree Shafrir at BuzzFeed (Weaver is also a Gawker alum). Jazmine Hughes, an editor for The Hairpin (owned by Sicha's The Awl) landed at the Times magazine. Orbiting this group were writers of color like Wesley Morris, Jay Caspian Kang, and Roxane Gay, who, within the context of the white cis male status quo, analyzed marginalized culture—a perspective finally being acknowledged in the aftermath of Black Lives Matter, Trump, and #MeToo. We are now primed to pay attention to journalists of color like Emily Yoshida at Vulture, Nicole Chung of The Toast, K. Austin Collins at The Ringer (with a recent move to Vanity Fair), and Justin Chang at the Los Angeles Times, all of whom are dissecting culture from an intersectional standpoint.
Savvy magazine editors who can sniff out the zeitgeist like well-read bloodhounds may just saran-wrap their cover stars in activism-lite.
These days, if you're merely white and famous, your cultural capital is limited. We—by which I mean left-leaning media consumers online, so, some of we—no longer accept celebrity journalism that exists in a bubble (or a puff) outside reality. Something as trivial as People's Sexiest Man Alive becomes a battlefield when a white middle-aged country singer with conservative politics who judges a reality TV competition edges out big-screen entrees of forces of color like Mahershala Ali, the star of the Oscar-winning Moonlight, not to mention healthy snacks like Oscar Isaac, John Cho and Riz Ahmed. Famous women are not immune either. In December, the Los Angeles Times' magazine The Envelope was chastised for celebrating women in film by featuring six white actresses alongside the headline "A Shift in Focus." "A shift in focus from . . . white men to white women?" read one scathing tweet. Even one of the six cover stars, Jessica Chastain, issued a critique. "It's a sad look that there's no WOC in this pic of us promoting our female lead films," she tweeted. "The industry needs to become more inclusive in its storytelling."
Shia LaBeouf is not a good example of that. The volatile blockbuster starburst and part-time "performance artist" appeared on the cover of Esquire in March (if you didn't notice, it's OK, few did). As the discussion of everything we have been denied by privileged white men reached a crescendo, the profile of a thirty-one-year-old white Spielberg protégé "who was handed a golden ticket and promptly lit it on fire" seemed to misread the room. Welteroth explained in the Times last year that magazines like Teen Vogue used to follow only "big-budget film projects," but not anymore: "It's like, what do you stand for?" Of course, the worry now is that if you don't stand for much, you will be handed a soapbox anyway. Savvy magazine editors who can sniff out the zeitgeist like well-read bloodhounds may just saran-wrap their cover stars in activism-lite—scoring easy political points even as they expertly avoid the commercial risk of alienating their white, heteronormative readership by choosing a marginalized figure to front their magazine. The suspicion dogs Allure cover stories featuiring white stars like Helen Mirren expounding on feminism and Emily Ratajkowski and Amber Heard pouting for the camera while shooting the advocacy shit.
If you stand for systemic regression, your profile risks being picked to pieces. In March, New York magazine was admonished for featuring Kellyanne Conway on its cover under the headline "The Real First Lady of Trump's America." Hannah Gold at Jezebel acknowledged that there had been other profiles of the purveyor of alternative facts but, "New York's profile is particularly flattering, beginning with the cover, which literally portrays Conway in a good light, flashing an appealing, open-mouth smile and dressed like a modern-day pilgrim." In June, the other First Lady, Ivanka Trump, smized on the cover of Us Weekly under the cover line "Why I Disagree With My Dad" in a story that propagated what Jezebel's Stassa Edwards called a "soft-focus, image-friendly narrative," serving as a glorified publicity stunt for the White House. Despite profiling what appeared to be the polar opposite, Rolling Stone's Justin Trudeau feature a month later took a similar approach. The cover displayed the handsome Canadian Prime Minister leaning against his desk, shirt sleeves rolled up like your hot TA, next to the query, "Why Can't He Be Our President?" The article gave passing glances to pesky controversies—pipelines, Indigenous issues—in order to focus on how much cooler Trudeau is than Trump. "Trudeau doesn't play golf; he snowboards," Stephen Rodrick wrote. "There is a real person inside him." Ryan McMahon, an Anishinaabe comedian, summed up the mouthfeel when he tweeted, "Is this sponsored content?"
The criticism isn't reserved for celebrities. In February, in a long-awaited follow-up to the viral video that appeared to show her swallowing her anger, Uma Thurman spoke to the Times about #Metoo. The piece stood out for all the wrong reasons. Filed under the Opinion section, Maureen Dowd's profile was a barely comprehensible, wildly overwrought puff piece. As the actress discussed serial rapist Harvey Weinstein, Dowd described her "looking anguished in her elegant apartment in River House on Manhattan's East Side, as she vaped tobacco, sipped white wine and fed empty pizza boxes into the fireplace." In her newsletter, Anne Helen Petersen compared it to a Vanity Fair profile, writing, "Women's otherwise serious stories have long been rendered frivolous by associating them with clothes, the body, glamour, emotion—which is precisely the effect of Dowd's 'color.' It trivializes trauma." Some celebrities, like Chastain with The Envelope, have taken to directly criticizing publications for misrepresenting them. In November, Lupita Nyong'o publicly denounced Grazia UK for erasing her ponytail. "I am disappointed that @graziauk invited me to be on their cover and then edited out and smoothed my hair to fit their notion of what beautiful hair looks like," she wrote on Instagram. The magazine responded by apologizing "unreservedly."
Diversity among a magazine's subjects does not grant the publication a free pass. For instance: "The hills and slopes of her body are so captivating that you might not even notice the delicate beauty of her countenance until it's staring at you head-on from across a dimly lit restaurant booth while you wait to discover what it is that Cardi loves," Caity Weaver wrote about Trinidadian-Dominican rapper Cardi B in the April issue of GQ. Despite the fact that the author is a biracial woman, the excerpt reads a little like it could have come out of The Cut's Mad Libs generator. It was a particularly odd choice given the way that Cardi B has talked about her time as a stripper. Objectifying her plays into the very stereotype she has chosen to subvert, fundamentally misinterpreting what she stands for. The Cardi B profile suggests that the real value of the power piece, what separates it from puff, is not only its representation of diversity, but its acknowledgment of our current cultural context, the complicated and politically charged world in which not only these celebrities, but readers, live. The puff piece will only be blown away when the celebrity profile interacts with the world and moves along with it.