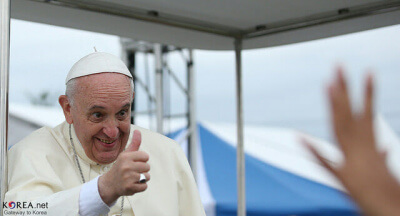 • Welcome to the United States, Pope Francis! Francis is the sort of social media celebrity who's popular enough to bring pope kitsch to the secular world. To this end, Snapchat has introduced a special filter featuring Francis, the Popemobile, and a quote from Chamillionaire's 2005 smash hit, "Ridin'." Francis—who has repeatedly decried our late capitalist "throw away" and consumer culture that has left our souls deadened, rotted, and hardened to God—is surely thrilled.
• Today in #brands: "We are a Doritos generation," exclaims Mashable over the news that the corn chip company has devised a limited-edition product showcasing their LGBTQ pride. Doritos, in partnership with the It Gets Better Project, wants you to celebrate pride by gorging on chips in all colors of the rainbow. Nevermind that the blue and purple chips look completely unappetizing—you're making the world a better place by consuming and engaging!
• It's the U.S., not Iran, that poses the greatest threat to world security, Noam Chomsky told a bustling audience at the New School in New York City this past Saturday. From his latest piece in The Baffler, it's certainly easy to see how that argument would carry weight.
• Editors at The New York Times have found new and innovative ways to express their distaste for Donald Trump: article corrections. Rub it in that he's a scumbag, please.