Pennsylvania Portents
The Keystone State's gatekeepers lose their keys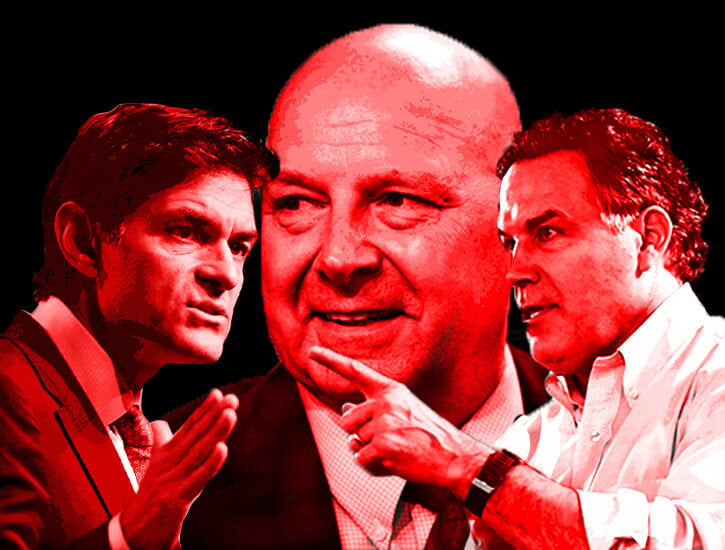 Despite chaos in the waning hours of the election, the Pennsylvania primary delivered exactly what was expected: a Republican Thunderdome made up of the party's most extreme elements, and a commanding Democratic Senate primary victory for Lieutenant Governor John Fetterman, who carried every county in Pennsylvania.
In the Republican primary for governor—a clown car of a race that saw one candidate drop out, get back in, only to drop out again—Douglas Mastriano, a far-right Trump supporter who was present at the attempted coup on January 6, 2021, waltzed to victory despite the Republican establishment's last-ditch effort to stop him, prompted by fears that his brand of extremism is unelectable. Their anxiety may be misplaced; Mastriano's looming antiestablishment campaign against Pennsylvania Attorney General Josh Shapiro bears an uncomfortable resemblance to the 2016 Missouri gubernatorial election in which Republican Eric Greitens prevailed over picture-perfect Attorney General Chris Koster.
The drama of the Republican gubernatorial primary was topped, perhaps, only by the Republican primary for the state's open Senate seat, which saw the carpetbaggers Dr. Mehmet Oz (New Jersey resident, Oprah-approved medical huckster) and David McCormick (Connecticut resident, hedge fund ghoul) duking it out on the airwaves and fending off a last-minute surge by far-right candidate Kathy Barnette, who, like Mastriano, was present outside the Capitol on January—in her case, marching alongside Proud Boys. Dr. Oz, the recipient of Trump's coveted endorsement, is currently leading McCormick, with a recount all but certain.
But the most fascinating race was the Democratic Senate primary between Fetterman, Congressman Conor Lamb, and State Representative Malcolm Kenyatta. Fetterman, a rough-hewn politician ill at ease in Harrisburg's political culture, sailed to a commanding victory despite an eleventh-hour stroke and surgery to install a pacemaker: medical emergencies that were quickly capitalized upon by volunteers for Conor Lamb's campaign, which finished a distant second.
Fetterman is an interesting figure—at least, that's what the media keeps saying. He's generated a veritable cottage industry of profiles, dating back to his failed 2016 Senate run. Invariably, these pieces highlight how he's not a "typical politician," a talking point repeated ad nauseam by his campaign throughout the primary. In fairness, it's repeated because it's at least partly true, and because the media and voters love it; Fetterman hardly fits the image of a high-profile political figure and Senate hopeful. But his image— that of a hulking, blue-collar populist more comfortable in a bowling shirt and cargo shorts than a tie—was a major component of his victory, coupled with his progressive reputation.
To many, this Senate race looked like a proxy war between wings of the Democratic Party, with Fetterman's brash populism competing against Kenyatta's establishment-friendly brand of progressivism and Lamb's unabashed Blue Dog politics. Fetterman's campaign boasted all of the hallmarks of a progressive insurgency: his spokesperson Joe Calvello was a regional press secretary for Bernie Sanders in 2020, and Fetterman raised enormous amounts of money through an impressive, small-dollar fundraising operation. Lamb, reliant on large donors, struggled to compete; his expected salvation thanks to a flood of dark money fizzled when a false political advertisement alleging that Fetterman was a socialist was pulled from the airwaves and condemned by Senate Democrats like Elizabeth Warren.
But scratching the surface of Fetterman's reputation makes it clear he's a more complicated figure than the media narrative has allowed. Fetterman is a Harvard graduate from a wealthy family, and most of his positions fall squarely in the Democratic mainstream. Despite his progressive image, much of the institutional left has held him at arm's length; the Pittsburgh chapter of Democratic Socialists of America declined to endorse him for his run for lieutenant governor in 2017, and Bernie Sanders has likewise been leery of lending vocal support. This may be because Fetterman has, since 2016, tempered his past support for Medicare for All, moved away from a ban on fracking, and remained hazy on the scale or extent of student debt relief he'd back. Fetterman—who, prior to his present run, had little to say on foreign policy—has also pointedly criticized the "Squad" for voting against Israel's Iron Dome and is committed to "leaning in" on America's relationship with Israel. Further opposition to his campaign has centered on a bizarre incident involving his stopping a Black jogger while carrying a shotgun, which he has struggled to explain.
But there are other signs of a person at odds with his image. With a tightly orchestrated campaign, slick digital advertisements, masterful use of political surrogates (such as his more likable wife, Gisele), and a sophisticated fundraising operation, Fetterman is more of a standard politician than his brand would have you believe. That political savvy is a large part of how he boxed out the competition in the left-of-center lane. There's a credible argument to be made that Malcolm Kenyatta was at least an equally progressive (perhaps even more progressive) candidate, though he struggled to court widespread support. Kenyatta ticked many of the right boxes on policy positions and won endorsements from a wide swath of organized labor and the Working Families Party, but his more comfortable relationship with the party establishment (and past criticism of Bernie Sanders) dogged him through the primary.
For most voters, the carefully established Fetterman brand—that of an unconventional, deliberately irreverent politician bucking the powers-that-be—remained persuasive. His campaign deliberately eschewed powerbrokers and gatekeepers, spurning the very institutional endorsements desperately coveted by his main opponent, Conor Lamb. Fetterman's commanding defeat of Lamb is the most consequential element of the Pennsylvania primary. Lamb's campaign, which was criticized as terribly managed, in part due to Lamb's controversial brother and senior adviser Coleman Lamb, aggressively courted establishment support, at one point even falsely claiming an endorsement by Philadelphia's Fifth Ward Democrats. His painfully conventional candidacy—a Weird Science experiment concocted in a DSCC lab—crashed and burned, leaving the political career of a one-time party darling a flaming wreck.
Fetterman's victory is no real victory for the left. It does, however, expose a yawning chasm between Pennsylvania Democrats and left-of-center powerbrokers, and a large segment of the base: a trend that was visible up and down the ballot on Tuesday night. The Philadelphia machine was unable to derail the reelection of state representatives Rick Krajewski and Elizabeth Fiedler, and although votes are still being counted, the Allegheny machine and conservative elements of organized labor appear to have failed to stop Summer Lee's ascent to Congress, even with a last-minute flood of outside spending by AIPAC in support of her competitor Steve Irwin. Endorsements by "notable" Democrats like former governor Ed Rendell and Philadelphia mayor Jim Kenney were shown to mean nothing to voters. People who once served as gatekeepers to political power in the state appear to have lost their keys.
In that regard, Fetterman may have done progressives a favor. He and his campaign helped lead the charge on a night when insurgents appear to have largely smashed Pennsylvania's Democratic old guard. The cracks in their power had been evident for years, most recently with Ed Gainey's victory over Bill Peduto for mayor of Pittsburgh last year. Now it's worth speculating whether they have any hope of clawing it back. But the opening created by this primary will mean little if it doesn't translate into success in November. Fetterman's populist rhetoric and grassroots campaigning, combined with Josh Shapiro's more traditional but effective brand of power politics, may prevail. And Pennsylvanians, especially progressive Pennsylvanians, had best hope they do. The alternative vision presented by Douglas Mastriano and Senate candidates like Dr. Oz and David McCormick—one of escalated culture wars, slash-and-burn austerity, and the shredding of our last vestiges of democracy—is too terrifying to countenance.