New American Feud
The "New American" label glosses over racial and class-related hierarchies in dining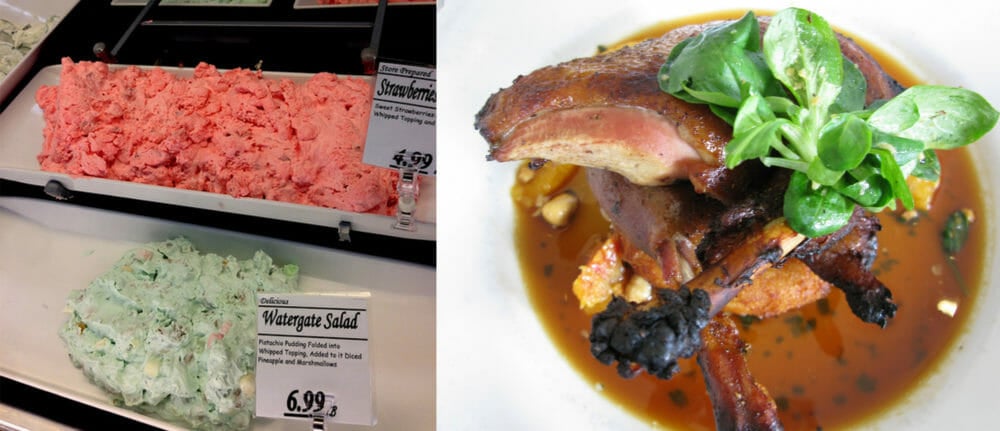 The 1980s in America meant saying tata to Watergate salads and letting a bit more of the world into our national cuisine. Then, in a 1998 restaurant review in New York magazine, Hal Rubenstein recorded a plot twist in New York's—and, by domino effect, America's—culinary history: Tavern on the Green, "mother of all tourist restaurants," was trying to win the hearts of sophisticated locals. Originally conceived as a pleasant surprise for Central Park's peckish passersby, now the restaurant bore a cornucopia of what you might call local color—at least, if vermillion gazpacho, crab cakes with celery rémoulade, orange-sesame-glazed shrimp, duck-confit spring rolls with tamarind sauce, damp artichokes with lemon pepper aioli, and purple borscht with duck could be considered local to Central Park. This hodgepodge of French, Spanish, Chinese, Indian, and Russian influences, when served alongside American favorites like crab cakes, is what's somehow become known as "New American" cuisine.
The term can be summed up as popular American food influenced by the techniques and flavors of foreign cuisines, many of which were brought over by middle and working class immigrants. Exclusion may be its hallmark. As writer and food blogger Michael Procopio told Bill Daley in the Chicago Tribune in 2015: "It's not Chinese, though there might be a dumpling on the menu; not Korean, but what's with the kimchee slaw under the loup de mer? And it's not a steakhouse, though the menu carries a steak and a fussed-over gourmet burger." Sometimes there is an emphasis on seasonal, locally sourced ingredients, and other times there are elements of molecular gastronomy (think foamy sauces). Its only consistent element, or so it seemed to the unimpressed Rubenstein at Tavern on the Green, was the new, staggeringly expensive tariff: only the rich could enjoy this bold New American fare. He felt that the restaurant, by vying for wealthy New Yorker approval while pandering to tourists, was trying to have its matcha green tea frosted cake and eat it too. 
Today a Yelp search for the category "American (New)" in Manhattan shows 7,743 results from "$" to "$$$$." (According to 2014 data from New York's Department of Health, there are 9,654 restaurants in Manhattan.) But while New American cuisine has become ubiquitous and democratic, and spread outside the metropolises, to say New American food unites Americans along economic lines would be glib. There is a difference between the type of American who pays $9.50 for one Katz's Pastrami Egg Roll at New York's RedFarm, a name-dropping mouthful, and the type who pays $15.29 for six Cheeseburger Egg Rolls at Applebee's. But if an haute food trend from the coasts has trickled down to Applebee's and other Middle America mall restaurants, with no signs of budging, we can assume it is no longer trendy; yet many self-described New American establishments (and the media) have a hard time letting go of the term's youth. 
In an August Washington City Paper article, Eric Ziebold, a chef at New American restaurant Kinship, insists that the cuisine honors America's legacy as a melting pot, by invoking seemingly unrelated news: "Contrary to what's been going on in our country . . . with the police getting assaulted and the Black Lives Matter movement, the reality is that everybody in America is supposed to be created equal—that doesn't exist everywhere in the world," he says. "It's that openness to culture, that openness to ideas that really makes a modern American restaurant today—the ability to embrace influence from other places." The idea that America is exceptional for its multiculturalism is flattering, but ignores the fact that restaurants all over the world, from Sweden to Peru to Myanmar, do the same. Putting berbere sauce on a menu is not the same as embracing Somali people—many of whom will qualify for "extreme vetting" if Donald Trump institutes the policies he stumped on.
The term New American encourages the idea that food from rich countries is more worthy of our money and scrupulous tasting notes than food from developing countries.
At the end of the day, the label's charm stems from the fact Americans are willing to pay more for a dinner that has the word "American" tacked on it than, say, Thai or Ethiopian food. Zagat data from 2015 shows that the average price of a Thai meal in a Zagat-rated restaurant is $32.50, while the average price of an American meal is almost double, at $63.92. However, the same Zagat survey shows Japanese as the cuisine Americans spend the most amount of money on per meal ($68.94), which indicates that the social class of the immigrant—Japanese immigrants to America tend to be wealthier than Thai immigrants—is key. Notice the unmistakable difference when customers talk about dining experiences in New American restaurants versus Chinese restaurants. Yelp reviews on the page of Joe's Shanghai in New York's Chinatown discuss the great value for money, serenade the "XLB" (xiao long bao, or soup dumplings), and regard the staff askance. One reviewer goes as far as to say: "The service has always been bad, even at Chinese food restaurant standards. Ok, I get it, you want to be 'Authentic' by treating non-Chinese patrons rude." Compare it with New York's "American (New)" restaurant Estela, where nobody shortens burrata, the server has a name (Emilia), and reviewers imply other reviewers should stop complaining about the high prices because, well, that's just how much this sort of experience is worth. 
It's not just the social class of the immigrant that affects how much Americans are willing to pay for a non-American meal, but the economic and military prosperity of the mother country. Although Indian-Americans are the richest ethnic group in the United States, according to data from the U.S. Census Bureau, which listed the group's median income at $100,547 in 2013, India is a still-developing country and does not hold the same social prestige as Japan—so people pay less ($37.40 per meal, according to the Zagat survey) for its food. In his book The Ethnic Restaurateur, Krishnendu Ray, a professor at NYU, calls this "the global hierarchy of taste," in which the cultural value of cuisines is stacked according to the capital flows of the world. This might be why the only failed venture of famous restaurateur Danny Meyer (Shake Shack, Union Square Café) was Tabla, an upscale Indian restaurant located next door to Eleven Madison Park in New York. Ray told the Washington Post this was because Americans weren't willing to pay so much for food that was, in their eyes, cheap—even though a typical chicken curry consists of over twenty ingredients and, like much Indian food, is very time-consuming and labor-intensive to prepare. Put some turmeric powder in milk or mango achaar in a ramekin next to a club sandwich, though, and people will pay for that "New American" flair. 
The term New American encourages the ethnocentric idea that American food, or food from other rich countries like Denmark or Japan, is more complex, more worthy of our money and scrupulous tasting notes, than food from developing countries, so we need to fuse them with American foods to elevate their status. It is unfair to lump together Thai or Indian and Pakistani food as "ethnic," while celebrating both the variety and nuance of New American food.
Trump, regularly fed by celebrity chef Jean-Georges Vongerichten, chose to be photographed on the campaign trail eating McDonalds.
New American cuisine is often heralded as being original and creative, but even this is not entirely true, and it is certainly not an exclusively American trait. A crowd-pleasing, funhouse-mirror reflection of various world foods, it still holds its own as a singular cuisine, albeit shakily. What gels it together is a claim to creativity, which is to say that it's the perfect environment in which hybrid food fads can grow. It's not about how good cronuts taste, but that a genius decided to combine a doughnut and a croissant. Social media rewards photogenic gimmicks: a ramen burger will get more likes on Instagram than a regular burger, and the experience of waiting on that line gives us something to tweet about. No wonder it is called a feed.
In fact, New American food has been accompanied by a cultural branding exercise akin to that of French nouvelle cuisine in the 1960s, a trend that entailed, among other reckless innovations, undercooking haricots verts and pairing veal with kiwi. In The Oxford Companion to American Food and Drink, Andrew F. Smith compares France's nouvelle cuisine to pornography: "hard to define, but people knew it when they saw it." (Not unlike our own hazy definition of New American food.) Restaurant critic Henri Gault describes it as "one of the splashiest social and artistic events of the postwar period." (Not unlike how dining is treated like a fine art form today.)
The French nowadays simply refer to that trend as "nouvelle cuisine," dropping the nationalistic element. Some Americans are doing the same; chefs like Joe Ng of RedFarm and Jessi Singh of Babu Ji in New York are charging customers a lot of money for food they fearlessly identify as Chinese and Indian.
The term "New American" has gone stale. Chinese, Thai, French, and other foreign cuisines have influenced American food for long enough that we don't need to be warned of their ghostly presence with the word "New." It's time we just call New American food it what it is: American food.
I would even venture to say that the term "New American" is a little dangerous in our current political climate. It is no coincidence that Trump, who is regularly fed by celebrity chef Jean-Georges Vongerichten, whose signature restaurant sits in Trump Tower, was photographed on the campaign trail eating KFC and McDonalds. It was a way to make the billionaire seem relatable to Americans who have never tasted kimchee on a burger or truffle parmesan fries—and might be irritated at the addition of fancy ingredients to such an iconic American dish. Anti-immigrant sentiment is high, and when we say immigrant influence on our food is "new"—when it is certainly not—it incentivizes xenophobic Americans to wail about yet another way immigrants have taken over. That's the reason behind "Latinos for Trump" leader Marco Gutierrez's warning that unchecked Mexican immigration will result in a taco truck in every corner. Liberal media made jokes and memes, but our election results show that perhaps many Americans did see this as a genuine threat.