Morbid Symptoms
An exhibition uncovers the nightmares haunting Britain's present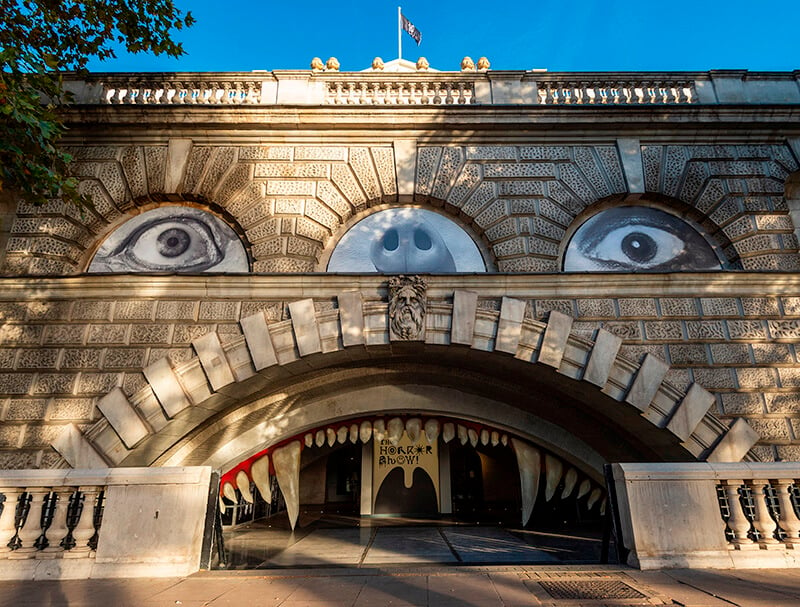 Stephen Chung for Somerset House
The Horror Show! A Twisted Tale of Modern Britain. Somerset House, London, October 27, 2022–February 19, 2023.
"It was meant to be great but it's horrible," reads a flyer headed "Confessions: S. Claus" in scribbled capitals.
It's lights out on Oxford Street this year. No more midnight neon. No more conspicuous glitter for compulsive sightseers to gawp at the wonders of capitalism. Even the affluent society can no longer keep up with its electricity bill. . . . the sick gnomes of Europe have turned off the lights this year. You can't even have the fantasy of enjoyment: the grisly spectre of Father Christmas has put the prices up: you can't afford the gifts, you don't deserve to afford them because you haven't sweated your guts out to keep the treadmill turning.
This text could be from the UK Christmas season just past: strikes across the public sector, among teachers, train workers, nurses, ambulance workers, postal services, and border police; a zombie cabinet only recently in abeyance after forty-four days in government; the worst inflation in four decades; unprecedented fuel poverty as the cost of living skyrockets. It's not, though—the flyer is from 1968. It was written by King Mob, a group that took to Selfridges with one member dressed as Santa Claus to pierce the ritzy department store's consumerist bubble by handing out items for free to kids: "Let's smash the whole great deception. Occupy the fun palace and set the swings going. Grab the gifts, and really give them. Light up Oxford Street. Dance around the fire. Exult in the funeral: the final showdown of the Christmas con."
King Mob was a London-based outgrowth of the Situationist International, a group influenced by Guy Debord's Society of the Spectacle, which channelled political protest through surreal, performative interventions. They poured their ire onto culture—"the commodity which helps sell all the others." The first issue of their publication the King Mob Echo touted a quote from Marx: "I am nothing but I must be everything." King Mob was linked not only to the avant-garde Parisian Situationists, but to Ben Morea's Motherfuckers, who used stunts to emphasize social issues, by, for example, breaking into the Pentagon during an anti-war protest in 1967, or dumping uncollected waste from the Lower East Side into a fountain at the Lincoln Center during a fancy gala that took place amid a New York garbage strike. Along with brothers David and Stuart Wise, who knew Morea personally, King Mob included impresario Malcolm McLaren, who would later reprise the group's ragged handwritten scrawl and elements of their punk spirit in his promotion of the Sex Pistols.
King Mob's Christmas flyer was featured in The Horror Show! A Twisted Tale of Modern Britain, recently co-curated by Claire Catterall, Iain Forsyth, and Jane Pollard at London's Somerset House. Somewhere between a survey and an art exhibition, the show made the case that gothic horror in its various irreverent guises is woven through the fabric of postwar British culture and showed how artists' evocations of otherness and nonconformity have posed a challenge to the status quo.
To what extent the genres punk, post-punk, goth, rock, grunge (and so on) can be grouped under the banner of horror was one of the questions the exhibition posed. A tale in three parts, it began with "Monster," dedicated to the political and aesthetic rebellions of the 1970s and 1980s, before moving to the occultist digital wasteland of the 1990s and early 2000s in "Ghost," and, finally, to the contemporary reappropriations of Wicca, astrology, and the supernatural in "Witch." Blending artworks with items and artifacts—each section contained its own cabinet of curiosities—the exhibition rekindled the patina of each period while avoiding narrow chronologies, organizing the bubbling energies it chronicles into distinct archetypes within the national id.
---
In 1980, psychoanalytic theorist Julia Kristeva theorized "abjection" as the breakdown in meaning that occurs when the distinction between self and other is breached. The abject was in abundance at The Horror Show, such as in the artwork for David Bowie's 1974 album Diamond Dogs by Guy Peellaert, which depicts a skeletal Bowie with a glamorous, bouffant mullet, his waist morphing into the sinewy hind legs of a dog. When it was released, this grotesque image disturbed Britain's prim cultural inertia and revealed what had been lurking beneath: unmuzzled creatures, hungry and angry. Human beings could no longer be confined by such tight enclosures—we were both more volatile and more exuberant than the postwar consensus suggested—and culture's boundaries were accordingly redrawn to include more of what had been cast out. Bowie was midwife to this seismic shift, in which the unmet promises of the utopian sixties invited a darker approach, with teeth.
In The Horror Show!'s second room, short films by Dick Jewell and photographs by Derek Ridgers catalogued the glam, punk, and drag of this period, which was spearheaded by the fabulous Australian outrage merchant and underground sensation Leigh Bowery: behold the fabulous weirdness of an ascendant New Romantic underground, with its "freaks who come out at night," as Dylan Jones memorably put it in his book on the topic. The show's beating heart was found in this opening teenage rampage. As John Doran writes in The Horror Show's catalogue: "It was in this chasm that young people began recreating themselves as monsters, in order to help smash postwar conformity and unleash waves of creativity that had never been witnessed in this country before."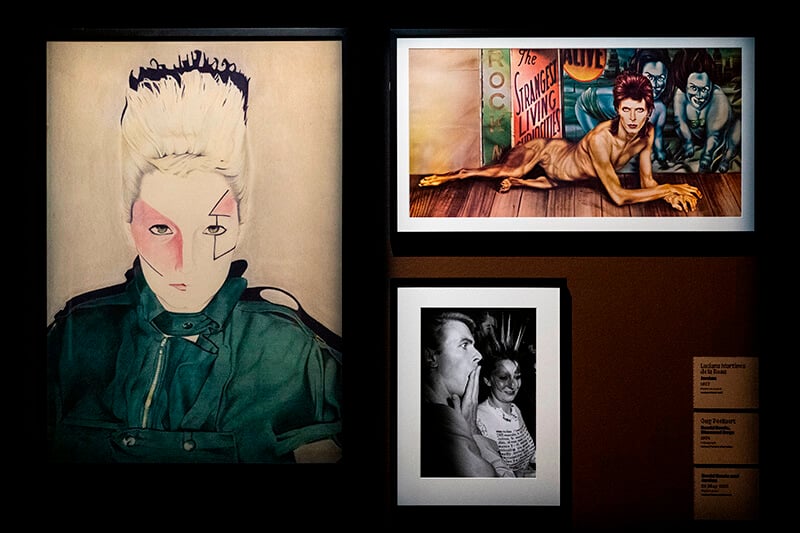 That creativity included Vivienne Westwood's much-mythologized boutique, SEX, which she ran with McLaren on Chelsea's Kings Road during the 1970s. Frequented by the likes of Adam Ant, Chrissie Hynde, the Sex Pistols, Siouxsie Sioux, and the Bromley Contingent, it peddled bondage gear, bullet bras, rubbers, harnesses, and Westwood's signature tartans, items which pointed to the hypocritical sexual mores of the era. SEX even sold T-shirts depicting the zipped leather mask of the so-called "Cambridge Rapist," who was found after an extensive manhunt fleeing the scene of a crime disguised in a long blonde wig.
When the pieces collected in "Monster" stretched forward into the present, however, the social and political focus of 1970s and 1980s punk tended to fade into grotesque body horror, with its simpler rewards. There is Jake and Dinos Chapman's conjoined triplet mannequin with long hair and connected vulva-like folds of skin, The Return of the Repressed (2007), for example; Francis Upritchard's The Moustache Problem (2022), with its briefcase of hairy dismembered mouths; and Jenkin van Zyl's lopped off-monster heads, Six Scintillating Sinners (In Vitro) (2021). Compared to their forebears, many of these more contemporary iterations felt staid and shorn of critique, like the depressing sight of Damien Hirst's formaldehyde sharks after decades of yellowing.
---
Walking through The Horror Show!, I was often confronted by a sense of haunting, not because of the beastly items on display, but for the "hauntological" way the moods and styles the show chronicles have repeated on us ever since, recurring after ever-shorter intervals, often with a dwindling sense of their own stakes. The artists' turn inward throughout "Monster," onto the surfaces of the body, registered not just as evidence of our intensified atomization (or a contemporary propensity for cringe) but the loss of a common enemy.
Thatcher's harrowing visage loomed large in the show's early works. She appeared as a monstrous, macabre figure, like one of the titular witches in Nicolas Roeg's 1990 film. A grotesque rubber mask from a satirical puppet show (Spitting Image, 1984–96) depicted her as a crone, while in Ralph Steadman's caricatures, her monstrous mask slips. A copy of Stanley Cohen's seminal Folk Devils and Moral Panics: The Creation of the Mods and Rockers (1972) historicized the authoritarianism that began to greet the young as they were scapegoated for a raft of social ills during this period. Young people resisted this incursion through rituals, as Stuart Hall and Tony Jefferson have it, writing back in the pages of anarchist magazines such as Class War, or by making unabashedly political art like that of then twenty-four-year-old Keith Piper, the flyer for whose Past Imperfect, Future Tense at Finsbury Park's Black Art Gallery was displayed here. Likewise, there was Eddie Chambers's Destruction of the National Front (1979–80), which turns the Union Jack into a Swastika before reassembling it into increasingly fragmented shapes across four panes. Derek Bishton's photograph of the artist standing before his work struck a poignant note amid the show's oddities.
"The mercilessness of the Thatcher years lacked any ambiguity," Natalie Olah concludes in her essay about "Ghost," The Horror Show's middle section. But that clarity was in shorter supply as the exhibition unfolded and the cognitive dissonance of the 1990s began to mount: the rictus grin of Cool Britannia and Y2K's phantom Millennium Bug. As the weird slid into the eerie, the primal scream of early revolt was transmuted into the millennium's ambient hum. The trancelike feel of this section, which the curators characterize as a sudden "pressure drop," recalled Mark Fisher's account of the weird as something disturbing but fundamentally creative, "constituted by a presence," and the eerie as "a failure of presence"—nothing where there should be something. The artworks and artifacts displayed in "Ghost" were charged with this sense of the simulacrum, of already creaking façades obscuring a fundamental lack, as in Cornelia Parker's Meteorite Lands on the Millennium Dome (1998) where a framed map of London reveals a burnt hole left by a meteorite where the Dome should be. "Britain's fault lines are glossed over with empty promises and a Teflon-coated dome, as an airless cultural miasma invades, nostalgic for lost futures and a misremembered past," the curators write of the 1990s.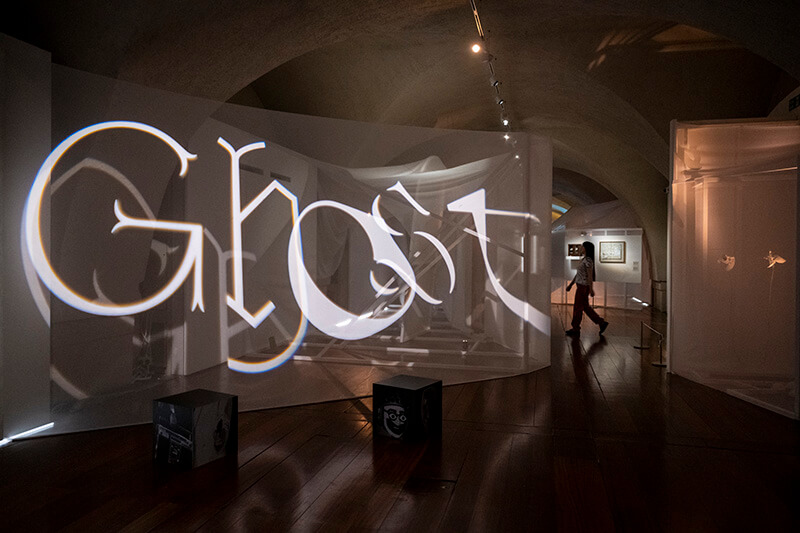 Nothing where there should be something: that feeling of sapped lifeforce spread through "Ghost," which was animated, if at all, by a grim nostalgia for sealed chambers of the past and a futuristic longing for a new mediated existence, a life lived onscreen. The clash between these styles created a sense of escapist vacuity, a present unrepresented beyond the productions of PR. Susan Hiller's antique cabinet of glass vials with water from holy wells, or Iain Sinclair and Brian Catling's eerie psychogeographic cartographies, felt as if they were speaking to us from the inside of some moldy old wardrobe. These anachronisms were filtered through the paranoid affects of an invisible tissue of data centers, bleeping and ambient: the ether that the internet spelled.
The disavowed violence of the twentieth and twenty-first centuries, the Cruel Britannia just out of view, ran through the works in "Ghost" like a blade. Jeremy Millar's Self-Portrait as a Drowned Man (The Willows) (2011) presents a hyper-realistic sculpture of the artist as a washed-up cadaver, redolent of Ron Mueck's horribly lifelike forms. Millar's application materials for the "Institute of Cultural Anxiety"—a pastiche of Pall Mall's Institute of Contemporary Arts hosted by the ICA itself—give a name to the abiding sensation of dread that characterized this decade and beyond. They also poke fun at an art world that was increasingly populated by con artists like Tracey Emin, who could be found in The Horror Show! declaring, alongside self-issued bond notes, that she sees "no reason why the spiritual and the material should not go together . . . art has become a currency."
This failure of reckoning evoked an overriding feeling of seepage, of petering out. "There was a sense of Britain becoming a backwater, the former seat of a criminal empire, reduced to a pitiful, hollow shell of corporate interest, greed, and hostility," Nathalie Olah writes of the 1990s, when the question of what British identity was became harder and harder to answer.
---
Into this chasm oozed the show's final section, which looked to contemporary feminist reappropriations of tarot and pagan mysticism as guides to the horror show of the present moment. "Witch" felt like a cabaret: a collection of garish postures that recorded a retreat into aestheticized, fist-pumping rebellion. A towering grass cloak with "TRUTH" emblazoned down its back by Ackroyd and Harvey (2015) formed the room's centerpiece, stationed alongside artifacts—including a sphinx-like dog, El Perro (2008), by Leonora Carrington—many of them sewn or ceramic, feminized materials which reclaim the paradigm of the harridan, the bitch. Elsewhere, the on-screen siren of Juno Calypso's A Dream in Green (2015) posed tantalizingly, a sea-green temptress in infinite regress. Finally, descending into the exhibition's last cavern, the present vogue for writing about witches found an analogue in grandstanding sculptures by the likes of Turner Prize-winning artist Tai Shani, whose The Neon Hieroglyph, (2019) concluded the show—a large jesmonite ghostlike structure with a noose around its neck and strange glossy viscera poking out from its insides.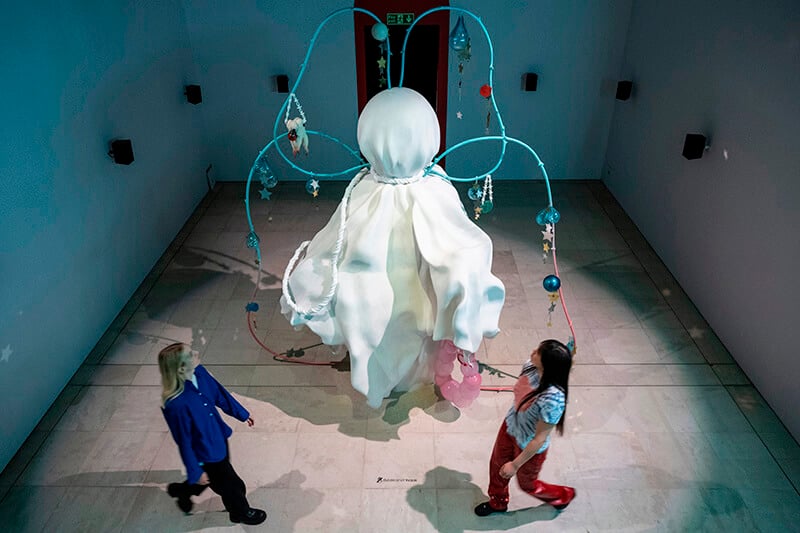 Theorizing the present is always a tall order, but it was hard to proceed from the democratic purchase of The Horror Show!'s earlier sections into this world of defensive kaleidoscopic spirituality and ritual healing, the "hyperpolitical" lexicon of resistance in its current garb looking and sounding so tired. Reading the diktat "We Invoke The Culture of Heretics" emblazoned on a poster of a woman with flaming hair, an acronym for WITCH, I wondered about the resonance of such an invocation decoupled from a more directly political injunction. Albeit the pink cat-ear beanies of the women's marches were on display, little of the artwork in this section manages to touch on the UK's rampant, intensifying transphobia, or the Tories' systematic defunding of domestic violence services while gendered violence continues to rise.
The artist Laura Grace Ford's work, sandwiched between "Ghost" and "Witch," offered an unusual patience and sincerity that ran counter to these pyrotechnics, picking up the DIY aesthetics of earlier decades, as Juliet Jacques has noted. Ford's graphic zine Savage Messiah (2005–2009) reads London in the grip of privatization "as a palimpsest, of layers of erasure and overwriting," she has said. Her understated biro drawings of those at the sharp end of austerity cut against the surrounding hyperbole, and her new sonic installation, An Undimmed Aura (2022), with sound and mixing by Stephen Mallinder of Cabaret Voltaire, evoked with its eerie howls the marginal experience, as the show's curators write, of "those hiding in the black spots that neoliberalism has failed to assimilate." Photocopied images of brutalist tower blocks and concrete underpasses recalled Rachel Whiteread's somber structures, imbuing them with feeling for those extruded from the new world's lurid phantasmagoria, undimmed spirits treading paths now "lost to Google," as Ford's voiceover riffs.
Stuart Hall, drawing on Raymond Williams, once expressed the belief that
there's never any configuration of society, any particular relationship, conjuncture, shape, that incorporates all the energies. There are always energies that are left out, always people on the margin, or societies on the margin, or people who can't express themselves within the dominant structure, whatever the dominant structure is. And what is to come will come as a result of those forces constitutively outside beginning to trouble, undermine, subvert, haunt the nightmares of the present—just at the moment when the present thinks it's closed.
Those words rang through my mind as I moved through The Horror Show!, and I wondered about the nature of those energies today, especially as I emerged from this intelligent if frustrating exhibition through the bowels of Somerset House onto its ice rink, brightly lit in pink, with a bar sponsored by Moët & Chandon and Norah Jones's sticky dulcets curdling over the tannoy.
Hall was attentive to culture's protean, commoditizing dynamics, how "the cutting edge of difference and transgression is blunted into spectacularization." The recent knell for Vivienne Westwood reminds us how those earlier monstrous styles now grace our screens as bona fide zombies, with remake after remake deadening their force. On my nightly scroll through Instagram, I recently heard Westwood describing her disillusion with this defanging: "It's great nowadays to see young people dressed as a punk, but, you know, because it's entered into the iconography of 'I am a rebel' and that's what I look like if I want to be that kind of rebel—but for somebody my age to think that it's got any credibility in any way? No, it hasn't: it's just an excuse for people to run around."
If consumerist co-optation was a problem for King Mob in 1968, then we are in the grip of something far more powerful today. Of all the contemporary pieces on display in The Horror Show!, the care and solemnity of Ford's publicly-oriented work—with its Blakean spirit and appetite for the dignity of daily, diminutive acts—seems to model a strategy capable of haunting our present-day nightmares. Lord knows we will need more of them as the twenty-twenties continue their turbulent churn.