Making Waves
From Boston to Wisconsin, vulnerable workers push back against impossible conditions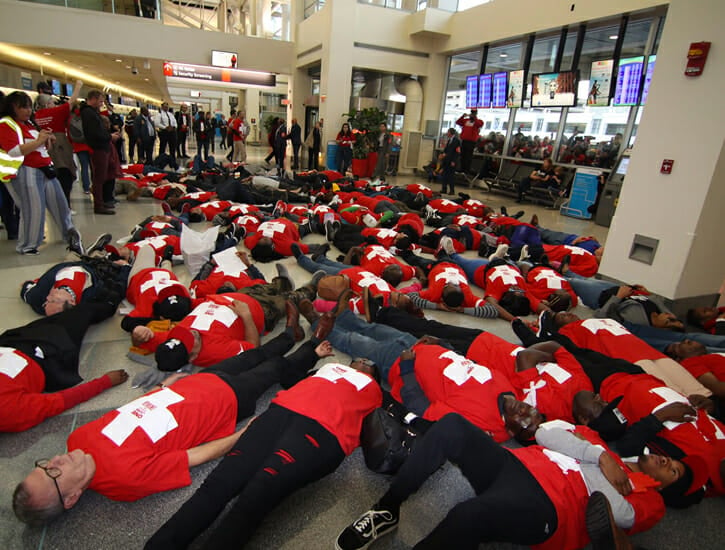 Airline food service workers stage a die-in at Philadelphia International Airport. |
UNITE HERE Philly
The U.S. working class is currently riding a mighty strike wave, the likes of which hasn't been seen since the height of Ronald Reagan's 1980s union-busting spree. The biggest stories have dominated the headlines for weeks, or—in the case of the ongoing #RedforEd movement within the education sector—even years, and their main characters have become folk heroes: The CTU and SEIU teachers and support staff of Chicago fighting for a better future for their coworkers, their students, and their city. The UAW factory workers of General Motors who left the line cold for almost six weeks to end discrimination and inequality at a company that had grown fat off of a government bailout and kept the spoils for itself. The Uber and Lyft drivers leading protests for the fair wages and safer working conditions that their Silicon Valley overlords will do anything to avoid paying for. The fast food workers of #Fightfor15 calling for basic dignity, a $15 minimum wage, and a union, who have forced the national conversation (and the current crop of presidential hopefuls) to catch up to their demands.
These and so very many other players are the driving force behind our current moment of widespread labor unrest, one that has seen almost half a million workers hit the bricks in pursuit of a better deal since 2018. The year's not over yet, and it's likely that those numbers will shoot even higher before 2020. While a bona fide general strike may still be a revolutionary's daydream (for now . . . ), one thing is certain: direct action gets the goods. More and more regular working people, union and otherwise, have realized that the only way to win anything resembling equity—let alone liberation—is through militant collective action, and they've shown that they are prepared to take that battle to the bargaining table, to the picket lines, and to the streets. The spirit of 1919 lives on a century later, even if it looks a little different.
The trouble now is that there are so many campaigns, actions, and contract fights happening at any given moment that it can be difficult to keep up—even when it's your job to do so. I was recently commiserating over this very quandary with another labor reporter (one of the small but dedicated group of journalists covering this beat), lamenting the fact that we can't cover every story because of the dwindling number of publications to pitch, the bane of editorial indifference, and our own occasional need to sleep. Every strike or protest determines the well-being and livelihood of dozens if not hundreds of workers, but a cruel fact of our media ecosystem is that some strikes reap hundreds of headlines, while others languish in near-silence. Contrast the amount of (well-deserved!) press that the GM strike received with the coverage of the 1,800 Spectrum cable company workers of IBEW Local 3 who have been out on strike for over two and a half years. If a worker on the picket line cries out for justice and nobody hears it, what does that say about our movement? It must be emphasized: every strike matters, and every good contract won is a victory for workers everywhere.
The spirit of 1919 lives on a century later, even if it looks a little different.
It's true that the amount of labor reporting at various publications has rapidly increased over the past few years, due in no small part to digital media's post-2015 organizing wave led by the Writers Guild of America, East and the NewsGuild (as well as endless bloodletting in the form of recurring mass layoffs). The quickest way to change someone's opinion on unions is to drop them into a bargaining session with the boss to see exactly how the sausage is made; much like Soylent Green, the main ingredient is people. The fledgling organizing efforts in tech and ongoing student worker organizing campaigns at ivory towers like Harvard (whose grad student union just held a 90 percent pro-strike authorization vote!) have also attracted interest from a mainstream media who'd long ago written off the working class as a bunch of bigoted roughnecks in hard hats. Of course, movement publications like Labor Notes, The Nation, and In These Times have been chronicling these stories, big and small, for decades, and upstart newsletter Strikewave has done an admirable job following in their footsteps. No one can cover everything happening in this chaotic capitalist dystopia, but it's heartening that so many of us are trying. It is my intent with this monthly missive to shed light on those labor stories that may have gotten lost in the shuffle or taken place too far outside East Coast centers of power to have warranted closer inspection from establishment sources.
Take the hotel workers at Boston's Battery Wharf Hotel, who have been on strike since September 5. Represented by UNITE HERE—the food service staff and hospitality union whose members have made a name for themselves with their fearlessness—these seventy-five hotel workers walked following a year-long contract battle with the Ontario-based Westmont Hospitality Group, the hotel's operators. The main bones of contention were wages and pensions, as well as safeguarding job security, diversity, protections for immigrant workers, a union-provided healthcare plan, and strong sexual harassment protections. The latter are an absolute essential in an industry where women of color make up the majority of the workforce, and harassment and assault are common. Battery Wharf is the only hotel in Boston that has not agreed to UNITE HERE's terms; the union represents thirty-two hotels in the city and concluded a forty-six-day strike at the Boston Marriott in 2018.
The ever-dependable Teamsters, who handle deliveries and trash pick-ups at Battery Wharf, have refused to cross the picket line, and the strikers have also picked up support from several politicians, including Senator Elizabeth Warren. British folk singer and activist Billy Bragg played a few songs at a "massive" October 4th rally, which surely provided a morale boost for those who have been putting in twelve-hour days on the picket lines for nearly two months. As UNITE HERE's Nicki Morris told me, Strike leader Serandou Kamara is a former refugee from Sierra Leone who, in 2009, at seven months pregnant, was fired along with nearly a hundred other non-union Hyatt housekeepers in favor of lower-paid subcontractors. It was then that she secured a union job and rose to become a crucial voice in UNITE HERE Local 26. While the enthusiasm and energy among Kamara and the rest of the strikers is high, with no resolution in sight, the Battery Wharf workers still have their work cut out for them.
UNITE HERE's rallying cry of "One Job Should Be Enough!" also echoed through the halls of Philadelphia International Airport last week, when low-wage airline food workers (the majority of whom are immigrants from West Africa) employed by LSG Sky Chefs, an American Airlines contractor, staged a die-in by the ticket counters. American Airlines hubs have the lowest wage standards for subcontracted airline catering workers, and health care is a major issue for their employees; according to a recent UNITE HERE survey of 2,200 workers, many travel back and forth from different countries to access medical care because it ends up being cheaper than going through the company insurance. In a touching display of solidarity, Boston-based Local 26 members bussed down to Philly to support their union siblings. As UNITE HERE President D. Taylor told the New York Times earlier this month, "The government is not going to take care of us. Business is not going to take care of us. We've got to take care of ourselves."
According to a recent UNITE HERE survey of 2,200 workers, many travel back and forth from different countries to access medical care.
The choice of a die-in was a strategic one for the airline food workers, whose right to strike is not well-protected, thanks to the Railway Labor Act. The federal law, which was passed in 1926 and amended in 1934 and 1936, oversees unionization and collective bargaining for railways and airlines; it was created with the goal of keeping the nation's transportation infrastructure running smoothly even in the face of worker unrest. As a result, it discourages these workers from striking and requires that they receive approval from the National Mediation Board before they can legally hit the picket lines.
The Association of Flight Attendants (AFA), who are revered for their militant strike tactics—a profoundly destabilizing program known as CHAOS—have filed two separate release requests to the NMB on behalf of their members at the regional airline Air Wisconsin (operated by United Airlines) this year alone: one in May, and another in October. Workers at Air Wisconsin make as little as $15,000 per year, their wages have been frozen since 2007, and overall, they are compensated 45 percent less than flight attendants on mainline carriers. They've been stalled in contract negotiations with United for years, but have turned up the pressure with pickets at airports in in Milwaukee, Chicago, and Washington, D.C. With the support of the AFA-CWA and its firebrand president, Sara Nelson, Wisconsin Air's flight attendants are digging in for battle; last year, the result of their strike authorization vote was 99 percent in favor.
"We have been in mediation at Air Wisconsin for three years," says AFA-CWA President Sara Nelson. "The flight attendants live in poverty and the company's wage proposal is at 2 percent. They fly under the United brand and United needs to help out. . . . Now we're turning up the heat."
While airline workers remain hamstrung by early twentieth century labor law, more recent legislation in New York has worked to expand farmworkers' rights. The passage of the Farm Workers Bill and establishment of the Farm Laborers Fair Labor Practices Act will finally give them collective bargaining rights in the state and grant them the long-overdue basic worker protections they are currently denied under the 1935 National Labor Relations Act, which excludes several categories of vulnerable workers, including independent contractors—more on that later. The bill takes effect on January 1, 2020, and will enshrine farmworkers' right to overtime pay, a day of rest each week, disability and Paid Family Leave coverage, unemployment benefits, and other labor protections. While this law is certainly good news (provided that employers actually follow its letter), one beloved brand has already potentially run afoul of its mandate.
Chobani Yogurt prides itself on its progressive reputation. But its workers are concerned about the company's new partnership with Fair Trade USA, an organization with a long documented history of labor violations and worker exploitation. On October 10, a coalition of labor organizations including SEIU Local 32BJ, the Workers Center of Central New York, the Worker Justice Center of New York, and the Farm Worker Labor Organizing Committee, AFL-CIO penned an open letter to Chobani founder and CEO Hamdi Ulukaya. They called on the company to commit to respecting union organizing rights. So far, Chobani has made no public acknowledgement of its workers' demand to organize, even after one of the dairy farms that supplies Chobani, Mark's Farm, fired workers for trying to form a union. One former dairy worker published an impassioned op-ed in the New York Daily News detailing the grueling conditions and substandard wages that he and his coworkers endured to make Chobani's products—giving the lie once again to "compassionate" capitalism and demonstrating that in the wretched game of chance that is our current economic system, even the gentlest roll of the dice from a rich man's hands can spell misery for the working class.
Farmworkers aren't the only group of workers excluded from the NLRA who have been speaking up and making serious gains in various state legislatures. While the passage of Assembly Bill 5 in California remains controversial for a freelance journalist carve-out that limits writers to filing thirty-five pieces per year before a company must hire them as an employee—freelancers say that this will lead to publications simply hiring out-of-state writers instead—it will make a serious impact on the lot of ride-hail drivers who work for apps like Uber and Lyft by forcing the tech companies to reclassify these workers as employees, and thereby provide them with basic worker protections. Uber and Lyft, however, are fighting tooth and nail to avoid treating their employees like humans, or even acknowledging them as employees, so the ramifications of AB5 are hard to predict.
In the wretched game of chance that is our current economic system, even the gentlest roll of the dice from a rich man's hands can spell misery for the working class.
In New York, the Independent Driver Guild, a Machinists Union project to organize and support app-based drivers, has been organizing since 2016 around an extremely basic human need: for drivers to have access to restroom facilities at New York City-area airports. The campaign came out of an IDG women's meet-up and has been led by women drivers, though drivers of all genders are affected by the lack of facilities. When they began organizing, there wasn't so much as a port-a-potty in the JFK airport waiting lot. As the IDG pointed out, taxi drivers, travelers, and even pets had facilities at the airport—but there was no restroom for ride-hail drivers. In 2017, they were finally given port-a-potties; now, years later, drivers have won running water restroom trailers at Newark, La Guardia, and JFK. Port Authority has also passed a proposal to build permanent facilities, including a prayer/meditation area and washing station. According to the IDG, Uber agreed to contribute to the costs of the project by paying for the Port Authority trailer; Lyft declined. The guild's members are still waiting on improvements in Manhattan, though; as a guild representative said, "We submitted a proposal years ago [to the New York City Taxi and Limousine Commission and Department of Transportation] and it has been sitting in bureaucracy ever since."
"It should never have been this hard to get running water restroom facilities in the wealthiest metropolitan area on earth, but I am proud of our work to make this happen," says Uber driver and IDG steward Michele Dottin. "I am proud to be part of the sisterhood that improved working conditions for more than one hundred thousand for-hire drivers who serve our airports, our sisters and brothers behind the wheel."
The common thread uniting all of these struggles is that they're being spearheaded by some of the most marginalized and vulnerable workers in the movement, who are fighting from positions that have historically not been well-protected by labor law while also pushing against the yoke of systemic oppression. By facing down these seemingly insurmountable odds, they've made their mark on the current labor landscape—whether or not they made headlines along the way.