It's Pat
After twenty-four years, the NYPD's "blue bulldog" steps down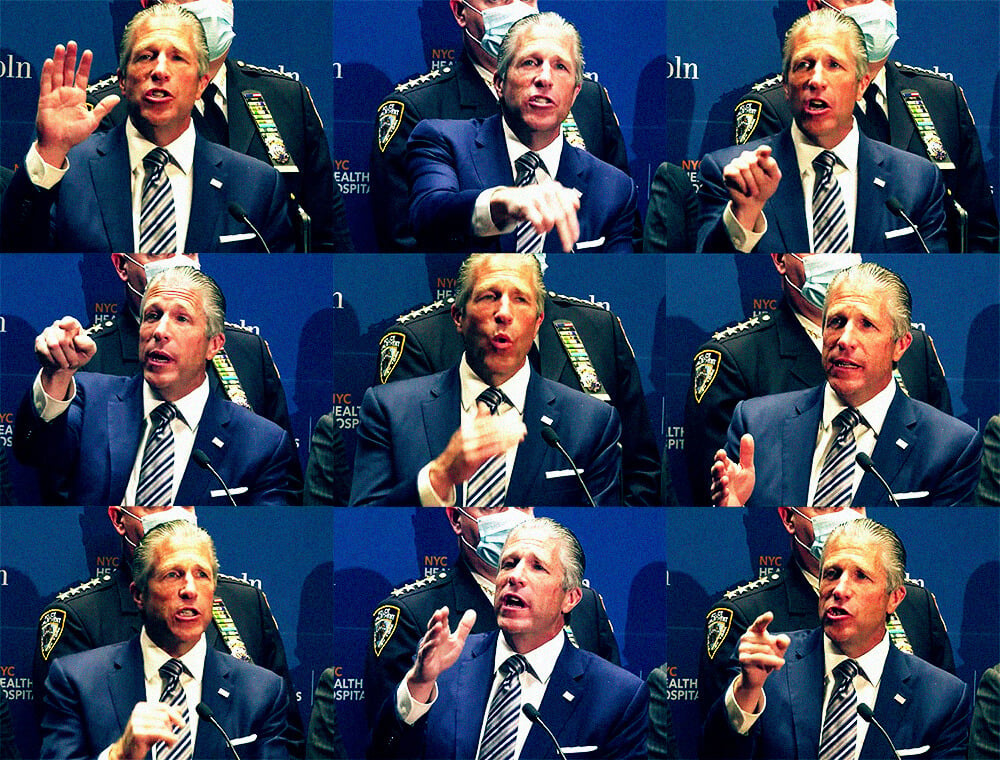 The many faces of Pat Lynch. | The Baffler
In September of last year, the New York City Police Benevolent Association, the largest cop union in the world, representing just under fifty thousand police officers, awarded NYPD Commissioner Keechant Sewell its "Person of The Year" award.
"The PBA does not give this out easily," PBA president Pat Lynch told Sewell as he presented the award: a bronze figurine of an officer standing next an American flag, shielding a child under his arm. "To get this, you earn this."
Lynch spoke glowingly of how Sewell had stood next to him when officers had been shot on the job. But this is something that each and every commissioner had done during the entirety of Lynch's twenty-four year tenure as president. The honoring of a police commissioner, not least the giving of its highest honor, was a shocking turn of events for a union that has persistently railed and rallied against both NYPD leadership and their city's mayors—regardless of how sympathetic they were to cops.
The PBA blasted Giuliani and his stridently anti-civil rights commissioners (the union said they would bar the mayor from attending NYPD funerals because it "would only bring disgrace" to the memories of the officers). They showed up to protest "stop-and-frisk" Bloomberg at one in the morning. They famously turned their backs on de Blasio, and they rioted in the streets against Dinkins, New York City's first Black mayor. Their complaints against conservative mayors almost always stemmed from low pay and expired contracts, which is to be expected of a union, agitating for more money for workers. Their complaints against the more liberal mayors have stemmed from the latter's support of even a modicum of reform for the constitutionally challenged New York City Police Department.
By the time Sewell accepted the award from PBA president Pat Lynch, however, something had shifted. The NYPD was now in its seventh year without a contract, a point at which they should have been foaming against the city and its appointed NYPD leadership. Instead, it was all love. "You've earned it commissioner," Lynch said, handing over the award.
So, what changed? Why was Sewell, another City Hall henchman bearing down quotas and dicta on the beleaguered rank-and-file, being lavished with praise? Lynch, giving his final speech as PBA president, alluded to the answer in his introductory remarks.
"This is the twenty-fourth time I've taken this podium," Lynch told collected delegates, reflecting on his legacy. "And you've helped bring this organization onto the national stage for the defense of police officers. When people think of the NYC PBA, they think of defense. Sometimes we're praised, sometimes we're criticized, but we're always recognized." The PBA, and police unions in general, were riding high. High enough to no longer register a commissioner as a bureaucratic antagonist—but as an equal partner in the war to uphold the thin blue line.
---
Lynch first took office at a time of disarray for the PBA. During the mid-nineties, union lawyers were brought up on racketeering charges, as sclerotic leadership fell prey to the time-old infirmities of municipal union leadership, i.e., arrest. Lynch, along with other younger union delegates, demanded greater financial transparency, pay raises as crime fell to historic lows, and a more aggressive stance when the NYPD was in the headlines, especially following the killings of Amadou Diallo and the torture of Abner Louima. Change would be difficult, as the union hadn't held a contested election in almost twenty years. But Lynch and his band pulled off an upset by demanding to "see the books" for a union that should have been, without all the corruption, flush with cash. He won the vote comfortably, and quickly restored some modicum of stability to the PBA's financial situation. Lynch has held the position ever since.
The NYPD has five separate unions, but the one for patrolmen, the "street grunts" walking the beat, is the PBA, and it is the largest by far. To remain the head of the PBA, Lynch has never moved for a promotion, meaning he's going on year thirty-eight as a patrolman at the 90th precinct in Williamsburg, earning a paltry (given his veteran status) $108,000 last year. PBA delegates are often given "detail" jobs—community liaison or giving traffic summonses, easy work. Of course, none of that is actually Lynch's job. Instead, his job is to be the "blue bulldog," rabidly biting back at any real or perceived criticism of the NYPD.
"Their job is to not get the officers swept up in the politics of New York City," said Angel Maysonet, a retired NYPD officer who started before Lynch's time in office and saw firsthand how he changed the tenor of the position. He explained that Lynch's task was to be the loud one in the room on behalf of all of them.
Officers are generally prohibited from speaking out about work conditions or sharing any messages that can be seen as political, though of course, this rule is meant to be broken—as evidenced by the city's near-ubiquitous thin blue line flags or cheesy Punisher logo knockoffs. But Lynch, who sports a strong New Yawk accent, slicked-back hair, and an imperious, Irish-as-hell indignant air, has been under no such prohibitions as a union leader. And so, shortly into his tenure, he was able to step into the spotlight.
Maysonet doesn't believe that Lynch's messaging differs much from his predecessors; it's the world that has changed around him. The internet and an ever-diversifying media ecosystem became hungrier and hungrier for more incendiary comment. "He came to the forefront because his message was spread further," Maysonet said. "Once he was given a voice at the podium, the way the police commissioner would actually allow him to be front-and-center, it changed our perspective on this guy. We thought he might be the real deal and actually doing something for us."
Lynch was able to forcefully push back against any criticism of the NYPD—and there was a well-founded and nonstop torrent of it during his time in office—because he was constantly approached by the media for comment during reform efforts and emergencies, and hopped on the closest podiums whenever a police officer was hurt on duty. He was always good for a quote. (Although the PBA did not return a request for comment or an interview with Lynch for this article, so not always, I guess.)
"What Pat Lynch puts out there is so out there and toxic, that it makes for good copy," said Joo-Hyun Kang, a former Executive Director of Communities United for Police Reform. "He lies, he misleads, and says things that are extreme and not based in reality, and as a character, it's appealing for news outlets."
To take just one example: in 2014, Lynch orchestrated a public protest of de Blasio, following the murders of two NYPD officers in their squad car. At this point in his time in City Hall, de Blasio had supported modest police reform efforts, which set off a wave of dissent among cops, especially after de Blasio spoke about the "dangers" his biracial son might face from them. As journalist Michael Hayes wrote in his recent book looking at policing during the de Blasio era, The Secret Files, Lynch urged officers to turn their backs on de Blasio at the hospital where the officers were taken. But Lynch told then-commissioner Bill Bratton he hadn't urged officers to protest, prompting future NYPD commissioner James O'Neill to tell him he was "full of shit." After the mayor and Bratton addressed the media, Lynch held his own press conference announcing that the blood of the officers "starts at the steps of City Hall." It was his most enduring provocation—and deeply effective.
While many reform advocates questioned de Blasio's true commitment to reform, the turning of backs and a monthslong work slowdown by the NYPD soured de Blasio on trying to do much to stop the NYPD's often lawless conduct. His Civilian Complaint Review Board, which monitored police conduct, would remain almost entirely toothless for the rest of his time in office. When de Blasio's then-police commissioner O'Neill finally fired officer Daniel Pantaleo, who choked Eric Garner to death, in 2019, Lynch went apoplectic and said that the city had "abandoned" police officers.
In fact, by the time of the 2020 uprising against police violence, de Blasio had given his full-throated support to the NYPD, even as it drove its cruisers through protestors. Lynch, buoyed by national news outlets that sought him out for comment as some sort of counterpoint to the protests, took the opportunity to unilaterally endorse Donald Trump's presidential re-election campaign. It was the first time the PBA offered a national endorsement, and it was done without polling his membership (which, if I had to speculate, most likely would have agreed with Lynch).
While it helped make Lynch a household name far beyond New York, the 2020 uprising also focused the general public on the role of police unions in pushing back against police reform—through lying about crime and work slowdowns, or in court, where they sued to stop reforms, encouraging police officers to prioritize only one type of safety: their own. It opened a larger debate about the role of a union when it comes to the monopoly on violence and qualified immunity, a policy that insulates officers from consequences for their actions. Sure, a union should stand up for their workers, but should they really be able to amass enough power to create a state of affairs where officers can kill and maim and act with near-impunity?
Regardless of people's opinions, the de facto answer is a resounding yes.
The Covid-era reactionary turn in New York City and attendant rise in crime rates, which have since bounced back down, offered Lynch the opportunity to push his agenda even further. The victory of former police officer and PBA member Eric Adams—himself a former critic of the union's racism, defense of discriminatory policing, and corrupt leadership—further clarified Lynch's success. Despite a punishing year where people were finally examining the role of the PBA in entrenching a violent status quo, Lynch was handed a mayor who spoke cop, was unrelenting in his support of police, and wanted to bring back much of the discriminatory policing the union had stood up for.
And so there was just one final job left for Lynch: a new contract.
---
During the years without an actual contract, grunt officers had become frustrated with Lynch's leadership. Starting pay remained low, and shifts were long. Sure, some cops were making hundreds of thousands of dollars by racking up overtime, but these were mostly decades-long veterans. The department was bleeding officers, which, in turn, was hurting dues. "All unions 'sell out the unborn' in contract bargaining, meaning you look out for current members at the expense of future hires," one current police officer told me. "Fine, whatever, but it never seemed like [Lynch] has the future hires' best interests in mind."
Meanwhile, the Adams administration has rendered punishing cuts to social services, schools, and libraries across the city, but the NYPD budget has only increased. In April, Lynch finally got his new contract, which issued retroactive raises back to 2017, essentially giving officers a raise of 28.25 percent. It was now clear why cuts were needed to every other part of city government.
Despite this apparent victory, not all PBA members were pleased with the outcome. "I think he lucked into this contract and will gladly take the credit," said the officer I spoke to, who did not want to be named for this article.
Soon after he got the new contract (which only runs for two more years), Lynch announced he would not run for reelection as PBA president—he's run up against a patrolman's mandatory retirement age. Lynch's chosen successor, Patrick Hendry, will lead the union beginning next month.
In addition to handpicking the next president of the PBA, Lynch exits under his power. His two contemporaries in the cop union game, the Sergeant Benevolent Association's Ed Mullins, and the Correction Officers' Norman Seabrook, were both led away in handcuffs (that endemic union corruption thing). Police reform under the Adams administration is a dead letter. And while police impunity preceded Lynch, his commitment to reifying it, to making it an unquestionable, unassailable fact, forms what looks to be an enduring legacy.
Lynch fought to keep police misconduct records under wraps, and when they were finally revealed during his tenure, decades of deep, corrosive, and mostly unpunished abuses were laid bare. Even then, the NYPD budget ballooned (by 27 percent over a decade), as did the amount the city pays annually to settle misconduct cases (an increase of 42 percent just last year alone, bringing the total to $121 million). All of the bad behavior, almost none of the consequences. Now, even police commissioner Sewell, who let cops skate on tons of misconduct, is being shown the door, probably because she was never really running the department anyway, which suited Lynch just fine.
Addressing his delegates for a final time as president last September, Lynch hit his normal notes. He was leaving, sure, but the era of the Pat Lynch—of the media-friendly, aggressive cop union leader, unburdened by shame and unbound by strictures regarding acceptable speech—is going to stick around for a long time.
"It's you, standing up against evil. It's you, standing up for our flag, our department, our city, and our profession," he admonished. "Never apologize. Never once. Never back away. Never walk away."