Holding the Line
Snapshots from the WGA picket lines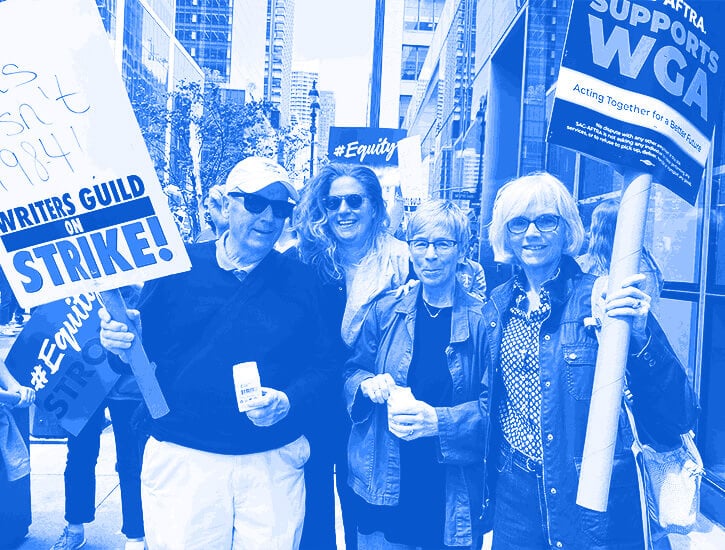 Picketers at Hudson Yards. | Photo courtesy Hilary Elkins
The last time the Writers Guild of America called a strike, fifteen years ago, it was almost winter. Now, picketers are gearing up for a hot summer of bodies on the line in anticipation of the current strike stretching on for just as long as the last one, which went on for one hundred days. Some of the concerns motivating WGA members this time around are the same: the fight for residuals (now over streaming rather than DVDs) carries on. Some, like the threat of artificial intelligence to writers' livelihoods, are new.
A strike authorization vote was approved on April 17 by 97.78 percent of participating WGA members, giving the unions the right to walk out once their three-year contracts expired on May 1. When negotiations between the big Hollywood studios (via the Alliance of Motion Picture and Television Producers) and the WGA failed to produce a new contract, the writers sprang into action. Since May 2, more than eleven thousand members have been on strike, with rolling picket lines outside major studios located largely in Los Angeles and New York.
At two of the WGA East picket lines in the strike's second week, writers, as well as those attending in support, betrayed no sign of fatigue as the sun bore down on them. At an extravaganza outside the offices of HBO and Amazon Studios in Manhattan's Hudson Yards—a show of solidarity to send a message to management—Lin-Manuel Miranda handed out doughnuts; a brass band played, peppered with horns from passing trucks; and picketers held hundreds of signs, mostly disparaging AI ("ChatGPT is a plagiarizing ass bitch," read one). At the Steiner Studios lot (of Joker fame) in the Brooklyn Navy Yard, a more classic strike action was shutting down production, with WGA members stationed at multiple gate entrances. Picketers received a mysterious tamale delivery from someone in Sunset Park, with a note that read: "WGA stay strong." The group included writers, actors, and even students from the screenwriting school located just over the yellow stripe helpfully demarcating the picket line.
What follows are eight snapshots from attendees at both pickets. These interviews have been condensed and edited for clarity.
---
Hudson Yards
Greg Iwinski
Writer for late night television; member of the WGA East Council's negotiating committee
This is outside of the Amazon and HBO offices, but I came earlier this morning at 7 a.m., and there was a whole team outside of a shoot for a television show where we stopped production. Unlike with previous strikes, we have a lot of great union solidarity: IATSE and Teamsters. Our goal is to shut down production and shut down the industry until they are willing to talk to us. As a giant corporation, if you make every work sector very mad at you, those work sectors will team up to inflict pain on you. That's what is happening now, and it's going to happen when all these other parts of television do their own contracts. We will be with them to do the same thing.
We want to have our minimum wages from regular linear TV transferred to streaming, which they've already done for episodic shows. Screenwriters want to eliminate free work and unlimited rewrites while their pay hangs over their head. And TV writers want to deal with mini rooms, which is a situation where a bunch of people, for much less pay, do the most important job of coming up with an entire season of TV. Then those scripts are just handed out freelance, and there's never a staff position.
Brooklyn Navy Yard
Aliyah Bynoe
Student at Feirstein Graduate School of Cinema
We still have classes right now, I just had a really cool teacher that let us go early.
The class was for screenwriting, so we're all getting our spec scripts ready to submit, but she told us that we can leave early come out here. We're really not supposed to be submitting to any of the companies that are on the strike line, so as of right now, for a lot of fellowships, competitions, no one is really submitting anything. Yeah, it's tough, but it's tough for [the striking writers].
For me, the biggest thing is AI. You can't have a robot make up some of these things that you see on TV, at that point it is just really lazy. You have hundreds if not thousands of talented people: use them, and just pay them for their work.
Hudson Yards
Adam Scott
Actor; SAG-AFTRA member
I'm here to support the WGA 100 percent. I'm behind the writers. Solidarity is everything, and it is an inspiring atmosphere.
Just hold tight, we're behind you, and what's fair is fair.
Brooklyn Navy Yard
Stephani De Luca,
Writer for shows including The Deuce; WGA member since 2018
Several shows have paused production and shut down. I just talked to a scenic artist who was on a show called The Savant, with Jessica Chastain, and they paused their production. We didn't picket them, but the showrunner chose to pause their production, as many showrunners have.
[The WGA has] a diversity of membership in terms of both TV and film writers, but we're all struggling with corporate profits being in inverse proportion to what they're willing to pay us. Studios are claiming that their streaming endeavors are not profitable, and that's simply false. You can't tell us that in a negotiation and then get on an earnings call with your shareholders and your board and then report those profits: that's public information.
It's affecting us in terms of lower-level writers not being able to move beyond the staff writer position, just really a lack of being able to move up, and also it's an existential crisis for our profession and for the film business as a whole.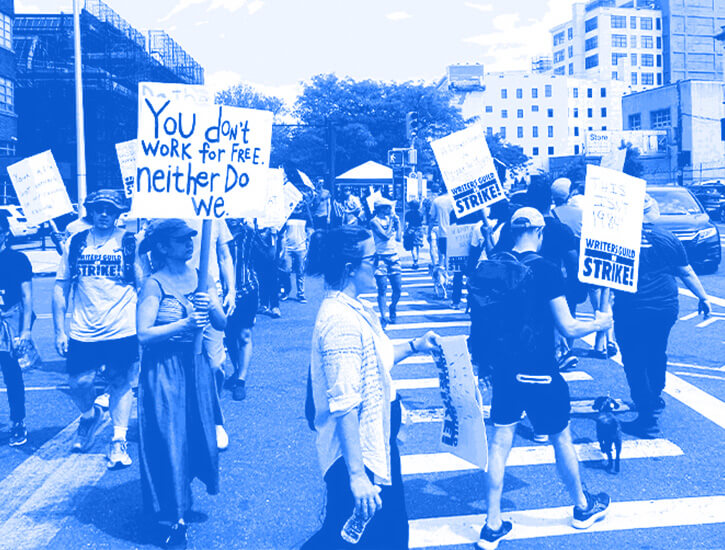 Hudson Yards
Larry J. Cohen
Writer for shows including Berlin Station and Borgia; WGA member since 2012
I think AI has been a surprisingly big issue—surprisingly because they've resisted taking it off the table on the studio side, so I think that has actually elevated it. But it's quite insidious. It's about diluting the value of writers. For example, imagine if a book was optioned, and they put that book through ChatGPT, and then they handed you an outline and said, great, we've already finished the outline, we don't have to pay you for that. So now they are like, we can pay less. But in fact, they've probably created more work for you.
I think strikes are painful for everyone. As long as you believe in the cause, it's worth the fight. If there's a good reason, anyone can strike over anything.
Brooklyn Navy Yard
Eileen Noonan
Actor; SAG-AFTRA member
I am here as a member of SAG-AFTRA to show solidarity and support for the writers. If the writers get [to a set] before the shoot begins and form a picket line, then IATSE and the Teamsters, if they want to, can choose to not cross that picket line. And that means two picketers from the WGA can shut down production because there is solidarity from other unions.
Our contracts are up for renegotiation soon, and we have our own grievances. Many of them overlap neatly with the writers' ones, like streaming residuals, concerns about AI. It's especially affecting voice actors. People are concerned about their voices being used as the basis of an AI that can then be used on a commercial somewhere else. I guess it depends on how that negotiation goes, but if they put [striking] to a vote, I will be voting yes.
Hudson Yards
Mike Scollins
Writer for Late Night with Seth Myers
We're out here striking for better wages for writers. CEO pay continues to go up, but writers' wages are continuing to go down. Everyone is feeling really galvanized right now, and we know that doing this now is going to protect our futures better than anything else. The strike authorization vote passed with 98 percent, which is the highest authorization vote the WGA had ever seen, and it also had the highest voter turnout.
Brooklyn Navy Yard
Recent Tisch graduate
My biggest worries are definitely AI. They just banned that in school because people were using it for their script ideas, so it's becoming a huge problem. But I'm also worried about mini rooms and witnessing that you can't get stability off something you used to get stability off. I just graduated from screenwriting at Tisch. It's really dangerous graduating out of arts school during a strike because these companies have a history of trying to catch us and bait us into writing and becoming scabs, which will then get you banned from the union. So it's good to stay aware and support these causes even though it seems very tempting in the beginning. Writing as a job, you think of it as really isolated, just you sitting at your room, at your desk, alone. But coming together for these types of activities, it shows that you have a community.