Goodbye, Dolly
Mythmaking in Dolly Parton's America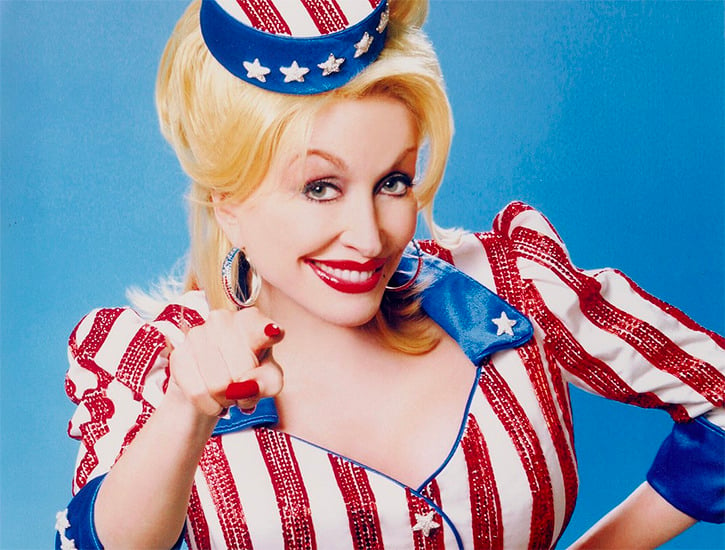 In an account that made the rounds just before Christmas, first told to the famously fun if less than reputable Inside Edition, Talia Hill, the nine-year-old costar of the new Dolly Parton movie Christmas on the Square, recounted nearly being struck by a moving vehicle on set—until Dolly swooped in just in the nick of time:
"We were on-set, and I was at the hot chocolate station, and they said, 'Go back to your beginning positions. So, there is a vehicle moving, and I was walking, and then somebody grabbed me and pulled me back. And I looked up, and it was Dolly Parton," she said.

Talia, who was stunned and grateful, said Dolly [who plays an angel in the movie] immediately hugged her and said, "Well, I'm an angel, you know."
This news item prompted a cascade of coverage, much of it titled some variation of "Actual Angel Dolly Parton Saves Young Girl." But the latest wave of Dollymania didn't start with this saccharine anecdote that could have easily come out of the script for Christmas on the Square.
Dolly Parton's PR manner has always been surgically crafted; she's played her own political leanings close to the chest, while others have ascribed theirs to her. Various readings of her altruism have cast her as everything from a "Notorious RBG"-style liberal to Commandant Dolly—ready to foment a communist peasant rebellion from her humble cabin in Locust Ridge, Tennessee. In the last two years alone, she has been the subject of a WNYC podcast, a Netflix series and documentary, a book by the journalist Sarah Smarsh, and glowing essays and profiles in outlets like the New York Times. While the rest of us spent 2020 on the front lines trying to stay virus-free, or girding our loins from home while we scoured the internet for a kettlebell that cost less than $600, Dolly was everywhere, and to hear much of the internet tell it, omnipotent. Like another Appalachian legend, the Mothman, wherever there is tumult, there is Dolly.
Various readings of her altruism have cast her as everything from a "Notorious RBG"-style liberal to Commandant Dolly.
Back in the summer, after public demonstrations in the wake of George Floyd's murder by the Minneapolis police broke out nationwide, Dolly came out and proclaimed Black Lives Matter: a tame gesture for those on the left (even Mitt Romney marched in those protests), but a meaningful one by the standards of Music Row, famously careful not to alienate the white, rural consumers who they are terrified of losing with even the mildest gesture of equality. She deserved credit, but the subsequent calls to replace Confederate statuary with her likeness seemed strange. After all, it was only in 2018, four years after Ferguson, that Dolly renamed "The Dixie Stampede," a Lost Cause-lite dinner show that the writer Aisha Harris described the disorienting experience of sitting through twice while white supremacists marched on Charlottesville in her essay "Springtime for the Confederacy."
No matter what good deed Dolly does, it is always presented publicly by her fans and supporters as an inflated version of what really happened, creating an impossible standard to live up to. For example, she is often credited with raising the literacy rate in the Mountains through her Imagination Library, but the library is exactly that: imaginary. I've gotten into Twitter fights with people who couldn't point out Rivertown Junction on a Dollywood map about whether the library is a real, physical place. It's not. Instead of making unquantifiable claims about Dolly's influence on literacy, what's wrong with just saying she gives out a lot of books to kids every year?
This past November, when it surfaced that Dolly had donated $1 million toward Covid vaccine research, the tweets came pouring in: "Dolly gave us the vaccine!" Her donation was a good gesture for sure, but the Moderna vaccine had been ready for clinical trials since before America's national emergency was even declared. Back in 2016, when wildfires ravaged east Tennessee, Dolly Hivers proclaimed that she had paid for new homes for everybody, like a hillbilly version of Extreme Makeover: Home Edition. In reality, Dolly started a fund that distributed about $9 million dollars in relief, spread out over six months, to just under nine hundred people. That's no small sum, but as Jessica Wilkerson points out in her 2018 essay "Living With Dolly," charity can only go so far, and people in Sevier County, Tennessee still face major housing insecurity.
The gift to the people of Sevier County also accounts for precious little of Dolly's estimated $600 million fortune, and it's in this same county where you can find the crown jewel of her empire: Dollywood, her eponymous theme park, nestled in the hills of the Great Smoky Mountains. Back in 1986, Dolly leveraged public funds from the state of Tennessee to the tune of $1.6 million and took more than a half million dollars from the city of Sevierville to get the park going. Electronics manufacturing had left the area, and boosters in small-town Appalachia did what they've always done when the jobs go: touted a willing, desperate, low-union-density workforce to anybody with One Big Idea to turn the local economy around. From my work in both organizing and small-town government in eastern Kentucky, I can tell you this strategy continues to be popular: "We could be the next Pigeon Forge!" is among the more common refrains when the discussion turns to economic development, and the Kentucky nonprofit SOAR—Shaping Our Appalachian Region—touts the state's "faith, grit, and #Appalachia ingenuity." Translation: "We have a willing, desperate, low-union-density workforce." But Dollywood is not the model that residents of eastern Kentucky should stake their economic hopes: non-managerial workers at the park continue to earn what qualify as poverty wages in Sevier County. You can create a ton of jobs, and I believe Dolly had the best of intentions when opening the park, but if all those jobs are low-wage ones, you're just creating more working poor.
Last week was another big one for Dolly's public image, with three different stories making the rounds. The first was the revelation that she had turned down the Presidential Medal of Freedom twice. In that classic, measured Dolly fashion, she left the listener to decide for themselves if her rationale was a subtle, yet ornery rebuke of Trump. But you can guess which direction the people writing it up ran in. Next, she made headlines by saying she was putting others first and waiting until more people get the Covid vaccine to do so herself, because she doesn't want to look like she's "jumping the line" due to her donation. Dolly is seventy-five-years-old and eligible for the vaccine just about everywhere, which makes this act of "humility" seem a little self-aggrandizing.
The third news item was a rare misstep from her PR people: I wonder who on team Dolly thought it was a good idea, in the middle of a global health crisis that has killed more than one in a thousand people in this country, to pervert one of her most beloved songs into an ode about working more, all to sell Squarespace subscriptions and a new Dolly Parton perfume? In the minute-long spot, which will have debuted during the Super Bowl by the time you read this, Parton reimagines "9 to 5" as an anthem for the rise-and-grind, side-hustle set. At one more ominous point in the song, she just repeats the word working several times in a row. This was devastating for many of her uncritical admirers on the left, who have long considered "9 to 5" to be a working-class anthem. In reality, it might have included some truthful anecdotes, but "9 to 5" was never really about Dolly herself—rather, the character she played in the 1980 movie of the same name.
I grew up in Dolly's America, the one that existed when that phrase still referred to a particular place.
Is it really fair to Dolly to ascribe to her all of these intentions, then revolt when she falls short of our expectations? In an episode of the 2019 podcast "Dolly Parton's America," she flatly rejects many of the labels her progressive fans have put on her in recent years. Feminist? No. Parton declines to be identified as such, and even goes so far as to say she sympathizes with the male point of view, specifying, "I love men." Still, some of her admirers on the podcast try to strip her of her autonomy in answering the question by implying she's a crypto-feminist by virtue of her acts. (Dolly later hedged during a TIME magazine event, saying, "I suppose I am a feminist if I believe that women should be able to do anything they want to.") In the same interview, she proudly embraces the role of businesswoman.
So, why are we so surprised when people are who they are and act accordingly? Because when things get dicey, and collective action has largely been abandoned, we want our icons to be living, breathing, one-size-fits-all memes who can preside over us as symbols of hope. Antifa Dolly? Why not? Photoshop a shotgun on her! We Bash the Fash in this Hollar, Y'ALL!! It's usually all in good fun, however disconnected from reality it is, and I of all people understand the temptation. I'm a Dolly fan, and to her credit, everybody I've ever met who's worked in Nashville and interacted with her has nothing but the best things to say.
But I also grew up in Dolly's America, the one that existed when that phrase still referred to a particular place. I still love her music, and I remember warmly all the trips to Dollywood we took as a family, the only place we ever vacationed. I've even forgiven the jackals at Aunt Granny's kitchen, the restaurant on the Dollywood grounds, who refused to refund a seven-year-old me after he dropped the turkey leg dinner he'd waited in line an hour for after being tripped by a craggy red-headed man in a Darrell Waltrip shirt. And of course, nobody is doubting the fact that Dolly overcame one of America's steepest social climbs to get her art out into the world, or her God-level songwriting acumen, or her legendary ability as an entertainer. But as for me, I'm putting my money on an emancipatory effort by and for working people, instead of relying on the kindness of our heroes to bail us out.