Fighting Back in Flatbush
Tenants take on one of New York's most notorious property companies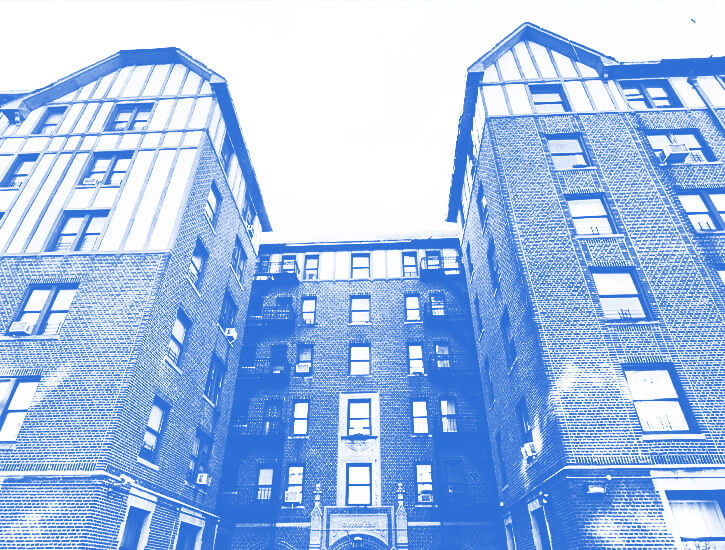 1834 Caton Avenue in Brooklyn. | Google Maps
In late spring, twenty-five tenants from a Flatbush prewar apartment complex gathered in the building's ornate lobby. Months earlier, one of these tenants, Natalia Marques, had gone door-to-door with a survey about health and safety issues. The results were still pinned to a communal noticeboard: forty-five units had a cockroach problem, nineteen units reported unreliable water access, forty-four units had mice or rats. Beside them, a poster read: "Gotten stuck in the elevator lately? Come find out how we are fighting for a better building together!"
Flanked by free donuts on her right and two pro bono lawyers from TakeRoot Justice on her left, Marques, with the energy of a schoolteacher, pointed to a flip chart outlining the tenants' next steps. Just a few weeks later, at the end of June, Marques and dozens of her fellow tenants would file a lawsuit with New York's Housing Court to force their landlord to make necessary repairs.
The residents of 1834 Caton Avenue, which has over eighty units across six floors, have been asking for adequate living conditions for years. Tenants say the building has gone through periods of good and bad management, but things got noticeably worse when Goldmont Realty took over in 2015, after buying the property for a whopping $18.5 million—a big jump from its $11 million sale to Caton Avenue Partners LLC in 2013. "The management before was better," Cheryl Sandiford, who has lived in the building for twenty-five years, says. "We lost our super, the good one, he passed away in 2015 or something like that. It's different." The building's current landlord is officially reported to be Jonathan Samet, who last year featured at number thirty-nine on New York's Worst Landlord List, curated by Public Advocate Jumaane Williams. However, Samet works for Goldmont, who appear to publicly operate under shell LLCs with different names for each building they own, such as 1834 Caton Partners LLC, as well as more sweeping names like Essex Package Realty LLC and US Realty Corp LLC. This makes it hard for tenants to verify who is truly behind their woes.
The man at the heart of this operation, who manages to evade those worst landlord lists, is Leon Goldenberg. For thirty years, Goldenberg has been the CEO of Goldmont Realty, which owns over seventy properties, mainly in Harlem and Brooklyn. Across his portfolio are thousands of housing violations, running the gamut from "visible mold condition" to "infestation consisting of mice" and "infestation consisting of roaches" to "evidence of a water leak." Goldenberg regularly shakes hands with the city's politicians despite presiding over an empire of buildings stacked with concerning living conditions. Last month, he posted to social media a photo of himself in Israel with New York mayor Eric Adams. In 2017, he hosted then-mayor Bill de Blasio on his radio show, Community Matters.
While allowing the conditions of their buildings to deteriorate, Goldmont Realty also appears to have significantly decreased the number of rent stabilized units across their properties between 2007 and 2021, with one building alone, 475 Ocean Ave, just south of Prospect Park, losing a hundred stabilized units. Moreover, the company has been subject to lawsuits from former employees—a porter and superintendent—for, among other things, being overworked and underpaid. The lawsuit brought by the porter alleged that they had worked "without receiving the applicable minimum wage."
It's not surprising, then, that one of the biggest complaints from the tenants of 1834 is the lack of superintendent care, with repairs allegedly taking months and being of poor quality. Sandiford doesn't begrudge Goldmont their empire of rent stabilized buildings: "Everybody's gotta do what they gotta do to survive, right?" But, she adds, "we are paying them our rent, we need to have the problems fixed if we have problems in the apartment. That's all we ask."
Data from New York City's Department of Housing Preservation and Development website makes the case against Samet, Goldenberg, and Goldmont Realty clear-cut: 1834 Caton has more than two-hundred seventy-seven open violations, ninety-two of which are "class C," i.e., "immediately hazardous." Nine hundred complaints have been filed over the last two years. As tenant Jex, who prefers not to disclose his full name, says: "It's a shitshow."
Jex is one of the tenants named in the lawsuit against Goldmont. He grew up in the building and has lived there for thirty years; currently, he rents his stabilized one-bedroom apartment for $970 a month. Despite the issues, he stays because of New York's inflated rental market. "They could easily take my apartment and chop it into a two bedroom," he says. "That would jump from what it is now to about $2,500. . . so for me to go out and try to find some shit cheaper than that, that ain't gonna happen."
We were chatting after the spring strategy meeting, and he stepped outside to point out the new buildings that have popped up in the rapidly gentrifying area of Flatbush. When the neighborhood started to change, he says, there were some benefits. The train station next to 1834 Caton used to close early, but now it is open all the time. But some of the new neighbors aren't as friendly: "We have a couple of new neighbors that every time we have a meeting, they walk through and go upstairs. . . I don't know if they don't want to be involved or whatever the case may be, but what I do know is that some of the rents they be charging here are crazy."
When Natalia "came banging on my door," as he describes Marques's initial survey crusade, he decided to give tenant organizing a chance. "For the most part, I already think negative shit, so it's like: okay, let's see what you're about." But "half of these tenants in here, over the years, have been through these meetings . . . So they are mentally exhausted," he explains. It can be hard to sustain enthusiasm for these efforts when they don't yield the desired results. "I grew up here, I watched these tenants come down for meetings. . . they get them riled up, whatever, we don't see nothing."
---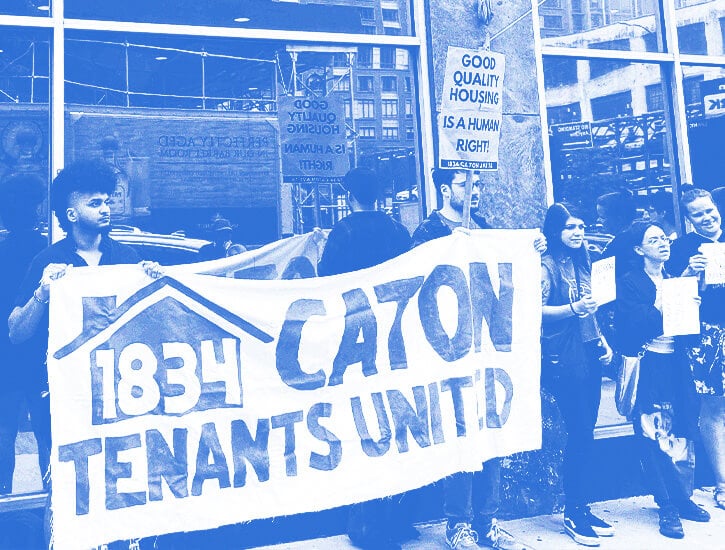 By the time the first hearing in the 1834 Caton lawsuit was meant to take place, it was summer. On July 24, I saw Jex in the crowd of people going through security at the Brooklyn Housing Court on Livingstone Street, as people around me talked about the reputation of the judge, Remy Smith, who was overseeing the case. One man described her to me as "an equal opportunity hater": "she hates tenants and landlords, she hates everyone." This supposed hate can lead to interesting results. Earlier this year, Judge Smith sentenced a landlord to Rikers for eight days for failing to respond to the court and for not fixing violations.
One violation that is a major concern for the tenants of 1834 Caton is the elevator, which is frequently shut off. Sandiford says that when the elevator is out of service on her side of the building, residents must go to the other side, use that elevator, and cross the roof with their groceries. But the roof isn't exactly a beacon of stability. "It's scary, so so scary," she says. Numerous residents have had their ceilings collapse, including Jex, who says his bathroom caved in. The same thing happened to a tenant named Vivian, who only wanted her first name published. "I get up to go to the bathroom," she recalled to me at the spring meeting, "and I hear this water . . . I follow the sound into my kitchen, but when I go in, I am stepping in the flooded water . . . I see everything in my kitchen, the whole ceiling was caved: you can imagine the mess."
Vivian, who has lived in 1834 Caton for twenty-two years, added, "I'm seventy-six years old. I can't handle that. Even when we opened the cabinets, the stuff was inside the cabinets! I was just so upset." The case against Goldmont has inspired her, and she wants more tenants to take action. "You don't have to organize and do anything by yourself, you've got a whole neighborhood, a whole building, if you need help."
Sandiford lives in a rent-stabilized apartment on the sixth floor and works for the City Parks department. "My husband and I lived here, but he passed away in 2017. My kids lived here, but they have gone, so now I am just living here alone . . . my grandson sometimes comes and stays." The lawsuit is a last resort, she says. "We tried to get to the landlord, but he was paying us no mind." Even an attempt to get a wheelchair ramp installed was unsuccessful. "The lady under me, she is wheelchair-bound, they lift her up from the lobby up to the stairs, they bring her up that way because the elevator doesn't come down to the lobby," Sandiford says. The last time she had the superintendent fix something in her apartment was in April, despite repeated requests. "The kitchen cabinet is still hanging. The faucet in the bathroom I have to put a plastic bag over that, so my grandson doesn't use it, because the water doesn't go down."

As tenants and supporters piled into the housing court room this July, expecting their trial to begin, another case was being brought against a different landlord. After some time, Judge Smith paused the other trial and told the 1834 Caton tenants that their own landlord needed more time: their trial was being pushed back to August 30. As the crowd walked out of the courtroom, some put their fists up in solidarity with the tenant on the stand.
---
This summer was not the first time the management of 1834 Caton Partners LLC and, by extension, Goldmont Realty, had been in contact with Judge Remy Smith. In June 2023, the New York's Department of Housing Preservation and Development (HPD) filed a false certification case against the building's owners and operators for pretending to have fixed seven housing violations. Smith ordered them to pay the HPD $1,750 by September 8, 2023.
It was also not the first time that tenants of a building owned by Goldmont had decided to organize. In December of last year, the tenants at 617 West 141st Street in Hamilton Heights, where Samet is also listed as a landlord, woke to a five-alarm fire caused by a malfunction of electrical wiring in the top floor's ceiling. Around nine people were injured, and multiple long-term tenants were displaced. In March, the Columbia Spectator reported on the struggle of the displaced tenants to find new housing, as well as a phenomenon called the "fire loophole," where landlords can "legally undermine protections for rent-stabilized units" by delaying repairs or renovating fire-damaged units so they can rent them at market rate. The 617 West 141st Tenant Association is now working with lawyers.
At yet another Goldmont property, 201 Linden Boulevard in East Flatbush, the Tenant's Association coordinator told the Brooklyn News Service last year that she had reached out to Samet, who is listed as the landlord to this building as well, to no avail. "I sent an email to Jonathan Samet describing all the problems, including rat infestation, and he said they were going to be solved," she said, according to the report. "It's been nearly nine months since I sent the email, and nothing has changed."
The Goldmont realty website offers clues as to why so many complaints go unanswered. "As an owner of many buildings and Condo and Co-op units, Goldmont knows that money does not grow on trees, and that, while throwing money at a problem tends to solve it, it's not an efficient way to run a building," it reads. In a section of the website for prospective clients seeking management for "Low Income/Regulatory housing," Goldmont boasts of their knowledge of HPD and how to tackle housing violations. A bulleted list declares that they are "Regularly Engaged in HPD Dismissal Request Programs" and "Navigating the Complexities of Clearing Violations— Especially Old Ones!" Goldmont Realty did not respond to multiple emails and phone calls for comment.
The company's skills at clearing HPD violations will certainly be put to the test in the coming months. After a rally outside the Brooklyn Housing Court on a rainy morning at the end of August, the tenants and supporters of 1834 Caton Avenue entered the courtroom once more. Following a couple of huddled conversations between the TakeRoot lawyers and the tenants, Judge Smith announced that Goldmont and Samet had decided to settle, as a lawyer informed me. Settling, in this instance, entailed a sixty-day court order to complete repairs.
Outside the courtroom, I spoke to Michael Leonard, a lawyer with TakeRoot Justice. He told me, "We were ready to go to trial, to prove our case to the judge, which would have been very easy for us because there are so many outstanding code violations in the building." Still, the tenants were, for now, chalking it up as a victory.
For Vivian, it was a milestone. "We've never come this far," she said. "We've had a lot of different people at different times, it just kept going and going and failing and failing, but this is a victory because we made it this far." However, as Leonard noted, landlords often need to be taken back to court for these orders to be enforced. Even Vivian doesn't believe the hundreds of violations will be fixed in two months: "He let things go too far," she said of Samet. "A lot of the violations are in the ceilings or in the walls, with the pipes—that's what he had to do with my bathroom. He wants to sit back, kick his feet up, and just listen to us cry. No more tears, that's it, we've got the boxing gloves on now."
Nearly two weeks after the court order, as fall—and a storm—approached New York, the 1834 Tenants Association posted a video to its Instagram Account. A hole, where a light fixture appeared to have once been, was leaking water in fast drips. Underneath it were multiple towels and two tall bins. The caption read: "These are still the conditions we live in."