Feminists of the Basque Country
Pushing for tolerance and inclusion on contested terrain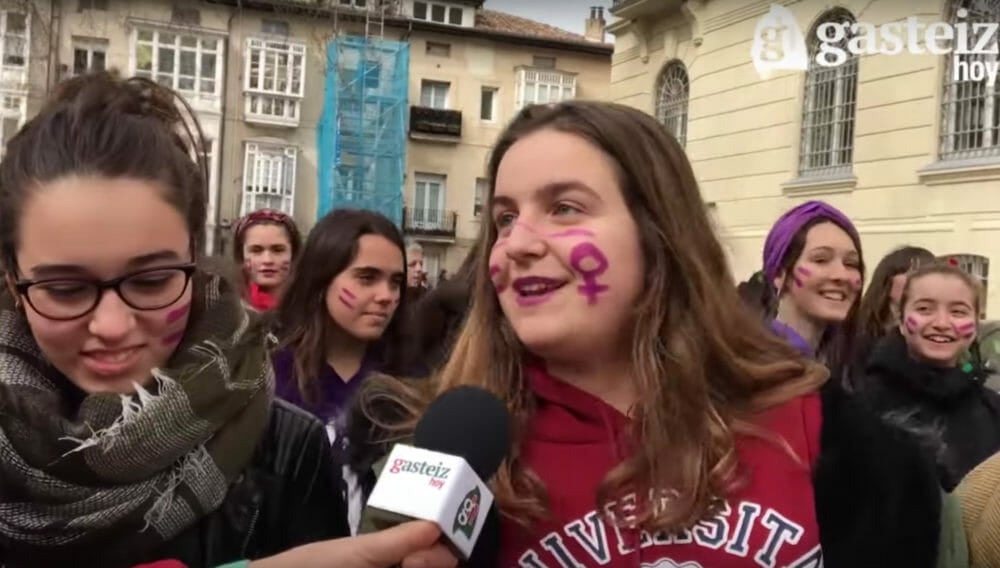 C
o
l
u
m
n
s

Editor's Note: The Baffler's "Alienated" columnist, Rafia Zakaria, is traveling in Spain. In her dispatches in coming weeks she intends to subvert the usual white-traveler/black- or brown-country dynamic to paint a picture of present-day Spain through a Pakistani-American feminist eye. Questions of history and legacy, intersectional feminism, and institutional xenophobia, and the constrictions posed by a rising right are everywhere in Spain, as they are in the rest of the world.
The women of the Basque city of Vitoria-Gasteiz are used to living with the ghosts of things past. In the town's stone streets, some of the best preserved ones from the Middle Ages, everything used to be something else, and very many something elses before that. The Casa Del Cordon, for instance, a museum in the middle of the medieval city, was once a defensive tower, around which a Jewish merchant, Juan Sánchez de Bilbao, went on to build an impressive mansion. The Jews of Vitoria, a walled city dating from the twelfth century, were expelled from it in 1492. Bilbao had to leave his impressive dwelling, which had been built with an inordinately tiny front door so that all would have to "bow" to enter.
The metaphor of making new arrivals bow to enter, however, persists. Basque Country, newly peaceful on the scale of its history, is a region where care must be taken to refer to the "Spanish Administration" rather than "the government," just as it is "Basque Country" and never Spain. Even though the days of attacks by the ETA (Euskadi ta Askatasuna) are long gone and the group has apologized to some victims and acknowledged some responsibility for the pain of the long-running separatist conflict, the clash over who controls the narrative of those most recent ghosts lingers. Paka, a Basque feminist who is now part of the women's collective Asamblea de Mujeres de Álava, showed me a fancy new monument built to commemorate the lives lost to ETA terrorism. There it sits plopped in the medieval quarter, its paint and plaster so new that one can smell it from across the street. Eli Etxeberria, another feminist from the collective, summed it up: "Where are the monuments to those lost to the terrorism of the Spanish state?"
The newer migrants who have begun to arrive in Basque Country pose a challenge to a culture whose identity is predicated on maintaining its autonomy and distinction.
In the melee of many monuments that is Vitoria, that one cannot be found. Nor are any of the monuments paying homage to the town's feisty feminists, with whom I spent my time. What doesn't exist, one must create. Last month, as they organized a rally for International Women's Day, joining with trade unions to call for a work stoppage (jornada de huelga feminista), some of them got up into the steps to the city's main Cathedral of the White Virgin (Cathedral La Virgen Blanca) and wrote "8M. Emakumeok Planto" with purple paint into one of the alcoves. (Loosely translated from Euskara, the Basque language, as "March 8: Women Say Enough.") The slogan appeared on banners that day, along with "Si las mujeres paramos, se para el mundo"—if women stop, the world stops—and the shorter version "Nosotras paramos."
People did pay attention; the march was a massive success with more than twelve thousand attendees, a commendable feat in a city of only two hundred thousand people.
But someone else also paid notice. Some from Mujeres de Álava were fined for adding their contemporary bit of feminism into the walls of the old Cathedral dedicated to the Virgin. Their resentment was understandable and obvious, imbued with the flavor of repressions past and present. When we climbed down from the steps of the Cathedral (I had to see the graffiti for myself), a police car whizzed by. "They like to take care of us," mused Gladys Giraldo, an impressively articulate woman who was very much the intellectual (and interpretive) force of the group. "They like to keep Vitoria like a city for show, perfect and pristine."
While the central rift that characterizes Basque Country is the seething and centuries-long resentment against the Spanish state and its impositions on a people who have long maintained their independence, their language, and their way of life, there is also a new and encroaching threat. As I was leaving, some of the Mujeres de Álava were gearing up to participate in a caravan that is pressing the Spanish government to accept the migrants to whom it has committed under EU guidelines. The Basque, after all, know about broken promises by the Spanish government, and they take care to emphasize even those not made to them.
While La Mujeres activists are eager to welcome them, not everyone here will think along the same lines. The newer migrants who have begun to arrive in Basque Country, ensconced as it is in the very north of the Spanish peninsula, pose a challenge to a culture whose identity is predicated on maintaining its autonomy and distinction. As many in the group pointed out to me, two decades ago a black person was an oddity on the streets of Vitoria, and was usually someone famous on a visit. This is not so anymore. Vitoria's streets are filled with people of all colors, not just black people but women in headscarves, and even in the brightly colored tunics and scarves of Pakistan and India.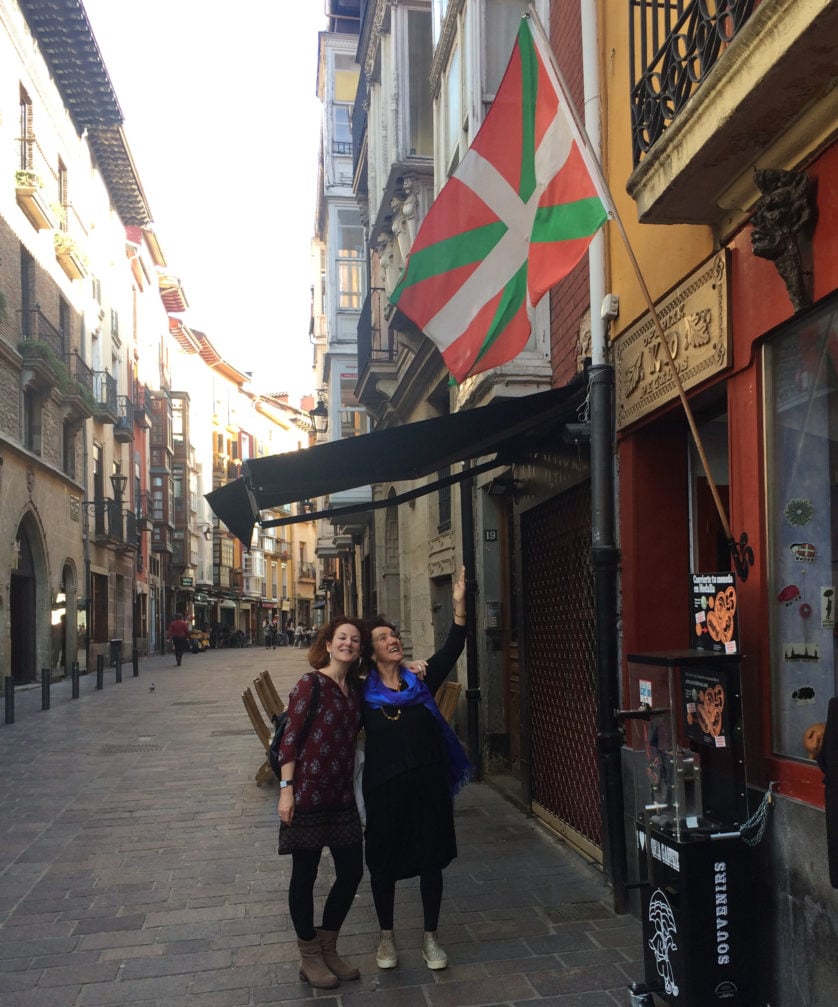 The Basque still seem uncertain as to what to do with all of them; many have come from southern parts of Spain, where migrants crossing the Mediterranean usually enter. The hesitation lingered over a recent gathering at the community center, where Mujeres de Álava had organized a debate. During the discussion, a question circulated among the mostly white crowd regarding intersectionality in practice. How could migrant women from these new communities be welcomed into women's groups, without condescension or prescription? The question is as tricky in this Basque town as it is in America or anywhere else. I repeated it to Kulsoom, a Pakistani immigrant woman who arrived in Vitoria with her family in 2012. "You know our women," she said, "they get busy with home and kids and are too scared to join associations, to get outside their own culture."
She is right. Newer migrants, particularly those who want to stay within their own cultural group, are, in more than a manner of speaking, like the Basque themselves. They may have given up their country, but they want to hold on to their culture, their language, to familiar customs and food and ways of being. Hanging out at the bars and cafes that dot the narrow and picturesque streets of Vitoria may be anathema to Pakistani women, many of whom are given the task of maintaining Pakistani-ness in their diaspora household. On the other side, drawing them out or extending a hand is likely to be awkward for the notoriously shy Basque, who have rejected the overtures of the Spanish state to be "integrated" into Spain. Can they demand that newcomers to Basque Country do what they have resisted themselves? Will shared histories of persecution create new bonds between those who have had to leave their home and those who cling to it? In Vitoria, where tentative first conversations are taking place, it is difficult to tell. As Gladys, my guide, put it, "There is tolerance here, but the tolerance has not really been tested."
Rafia Zakaria is the author of Against White Feminism (W.W. Norton, 2021) and Veil (Bloomsbury, 2017). She is a columnist for Dawn in Pakistan. She's written for the Guardian, Boston Review, The New Republic, and The New York Times Book Review.
Baffler Newsletter
New email subscribers receive a free copy of our current issue.
---