El Alto Chronicles
Quya Reyna gives voice to Bolivia's Aymara people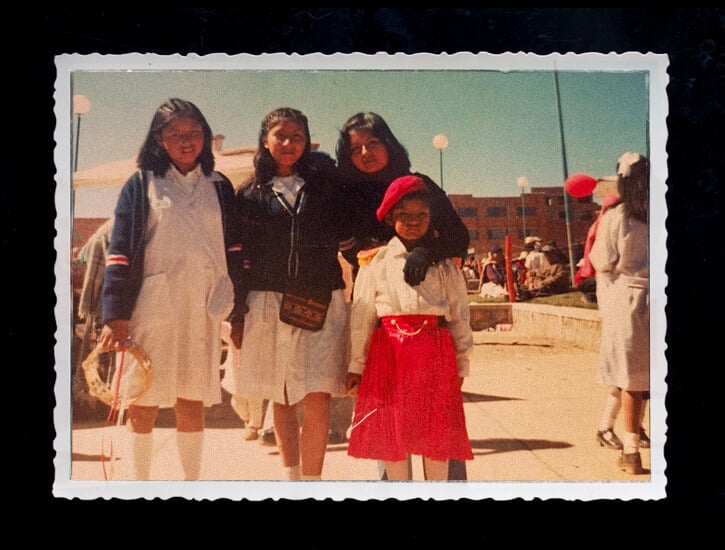 Quya Reyna (wearing a red beret) with sisters and cousin, 2002.
Reyna Maribel Suñagua Copa is a twenty-seven-year-old Aymara writer from El Alto, a so-called ciudad satélite or satellite city of Bolivia's capital La Paz. El Alto's setting is as extraordinary as it is tricky to describe: it stretches out across the flat altiplano—high desert plains that make up a part of the Andes—for miles at an altitude of over 13,150 feet, with a clear view of the snow-capped Huayna Potosí and Illimani mountains. If you stand over the city's edge and look down at the valley, you'll find La Paz.
A majority of El Alto's almost million residents are Indigenous Aymara who migrated from rural areas to settle in this cold, largely unplanned metropolis over the past four decades. Today, it is one of Bolivia's fastest-growing urban centers, albeit one without universal access to paved roads or running water or garbage collection. It is also a young city. Approximately two-thirds of the population is under the age of twenty-four, working mainly in trade and manufacturing. Copa's parents, Adela and Filomeno, are street vendors who trade in pirated goods coming in from neighboring Peru; Filomeno also does carpentry.
Copa prefers to go by Quya, or "queen" in Aymara. Her first book, Los Hijos de Goni (The Children of Goni), is a collection of personal narratives that offer a loving picture of everyday Aymara culture in El Alto. But the stories she tells—of witnessing the protests in 2003 that toppled neoliberal president Gonzalo Sánchez de Lozada (also known as Goni and "el Gringo" for his American-accented Spanish), of her futile efforts to save street dogs, of her father's bargaining skills—do not romanticize. They offer a human portrait of urban indigeneity at a time when expanded rights and access to resources are lifting Bolivia's Aymaras from poverty, while ethnic hatred and condescension still run deep.
Los Hijos de Goni was published by a local independent publisher Sobras Selectas and is yet to find a distributor abroad. Locating the book in La Paz wasn't easy. Many booksellers frowned when I brought it up, and the few shops that had carried it in recent months were sold out. "Everyone wants to get their hands on her book now," a young woman told me at a university book fair, where I finally found it. "Even if just to talk shit about it."
As it often happens, the shit-talking has been a boon for Los Hijos de Goni. Quya has dealt with her haters—for the most part, whites and mestizos living in cities away from the high plains—with great aplomb. It all started with a comment she made earlier this year at a book fair in Bolivia's eastern lowlands, where most of the country's wealth is concentrated among the white upper class. "Someday, the brown and Indigenous are going to displace the elite in Santa Cruz," she told the audience. In fact, she told them, don't believe that Santa Cruz, Bolivia's largest city, its main economic engine, is majority white. It's just that it has a large concentration of people who are ashamed of having Indigenous blood.
Her words unleashed a string of negative press and even attack interviews on television. "A 'writer' from El Alto goes to Santa Cruz to reveal her hateful and provocative rhetoric," tweeted former congressman and political consultant Luis Eduardo Siles. In "Cobertura," a current events interview show, host Judith Prada asked Quya: "Don't you think you've probably spent too little time in Santa Cruz to be able to tell that its people here are much more visionary?" Quya, taken aback, told Prada, "I think that's an interesting critique. But the reality of a brown Santa Cruz is nothing new." When I mentioned this interview to my cousin, a college professor whom I'd always considered the most open-minded of my relatives, she accused Quya of inciting hate. "But have you read the book? Have you read any of her work?" I asked. "No," she told me. "I just know her type."
---
For centuries, Bolivian society has mostly stuck to the "types" established by its colonizers and their descendants. Up until its National Revolution of 1952, which redistributed land and granted basic civil rights to all citizens, the country's thirty-six Indigenous ethnic groups had been largely denied the opportunity to vote, collectively own land, or go to school. Bolivia's feudal system meant that in 1950, 4,000 people owned 70,000 square miles of land, while 765,000 who depended on agricultural work had no land at all. It was a form of indentured servitude that forced many Indigenous people to work for no pay, for the right to simply grow food.
I know this intimately. My father's family built its wealth and status through this system. Never mind that our family is part Quechua (the other most dominant Indigenous peoples in Bolivia), a fact that's obvious from the color of our skin and the shape of our eyes, no matter how hard my aunts and uncles and cousins try to deny it. Before the Revolution, my great-grandmother owned huge expanses of land, spread out over the southern department of Chuquisaca. Quechua families leased those lands from her. To build a house or to buy farming equipment, they would give her gold jewelry or family heirlooms in exchange for cash loans—entering a never-ending cycle of debt that effectively kept them in bondage. When she died, I remember hearing as a child, my great-grandmother had amassed enough gold to fill a bank's vault. I asked my seventy-nine-year-old aunt about this recently, and she denied that her grandmother was out to get anybody. "She cared for these people and helped them build their lives" was all my aunt said.
I have come to understand her defensiveness. This is how the Bolivian middle-class secures its comfort and sense of privilege. People like my aunt and my cousins still rely on live-in Indigenous female helpers who are "paid" with room and board, or who make barely $5 an hour. As the daughter of rural migrants from the highlands, Quya Reyna gives voice to an underclass that has long been stuck in servitude and is not supposed to aspire to more. This—more than any arguments it puts forward—is why her book has received such nasty pushback. How dare this indiecita tell white readers that stories about urban Aymaras can be literature? How dare she write? How dare she even think?
---
Last month, I met Quya at a coffee shop in La Paz after her working day; she does communications for an NGO. I was struck by her youthful round face, framed by black glasses and a dark, straight bob that was parted in the middle. She ordered a quinoa salad but barely touched it while we talked.
Quya told me that she was a spoken word artist before she turned to writing. "You should know that I've had these stories in my head for years," she said. "It's just that I told them orally." As a teenager on the El Alto improv circuit, she found that stories about her family tended to strike a chord with the audience. Later, she began posting some of these tales on her Facebook feed. And at college, where she studied communications, Quya had her own nighttime radio show. Los Hijos de Goni is her audacious response to the positive feedback she received from other young people for her social media posts and broadcasts.
Many of these family stories have now made it to the book. In one essay, for instance, she writes about how her parents would encourage the kids to bring home as many leftovers from school parties as possible. In another, she recounts how her sister Zulma tried to sell pirated CDs to young Alteños. "My sister's kiosk played the song 'I can't be without him' by Camela, waiting for someone to recognize the theme or show enough interest in it to buy the album. But the days passed and the song scared the customers away. It sounded like gypsy music that you couldn't even dance to. Boring and totally not catchy."
I asked Quya if she had found it challenging to write about family. "It's hard to expose your family, and it's hard to expose yourself as someone who's imperfect, too," she admitted. Yet there had been no resistance. "I don't know if it's one thing that makes our families different, but my parents didn't care very much," she said. "They were more concerned with their work than with whatever I had to write about them." In fact, her family didn't really believe she was working on a book until she showed them an actual copy when it came out last year. Her mother, Adela, was the first to read it. "She loved it," Quya said, with a timid smile. "She told me I should share even more stories." The reaction among her fellow Alteños— neighbors, former schoolmates, other Aymara artists and writers in El Alto, who haven't or couldn't enter the literary circles of La Paz—has been similarly encouraging.
Quya is not the first Aymara writer to garner attention in Bolivia. Her precursors include Gabriel Mamani Magne, winner of Bolivia's National Novel Award, and Carlos Macusaya Cruz, author of En Bolivia no hay racismo, indios de mierda (In Bolivia there is no racism, you shitty indians). Yet Los Hijos de Goni stands out for giving voice to a younger, more empowered generation. "Whenever I see one of my Aymara brothers or sisters publishing something, or going to a conference, I get really happy," Quya told me as we finished our meal. "Our art is like the roots that will need to expand far beyond El Alto until they occupy various other spaces." Outside, the sky is turning dark and the air cold. Quya needed to get on a bus home up the hill, to the "other" city.
---
Below is an excerpt from "The City," an essay that appears in Quya Reyna's Los Hijos De Goni. It has been translated from Spanish by Ruxandra Guidi with the author's permission.
I liked to go with my dad to work. What I didn't like was going out on the street after work. We were dirty, me more so than my dad. I didn't have overalls and my sleeves and the part of my pants that covered my knees would get dirty. His hair and the sweaty back of his ears would end up covered in sawdust.
Sometimes there was no bus [a cheaper, more popular type of public transportation that connects El Alto to La Paz], just minibus. I would get inside and feel uncomfortable. There were always white people inside whom I felt were looking at me. I didn't know why I thought that. Sometimes I would comb my hair in disguise, in case they looked at my hair, or I would cover the parts of my sweater that had holes, with my hand, in case all those looks were fixed on my clothes. My dad always made me sit on one of the back seats of the minibus, so I saw the faces of the other passengers in front of me. If there was someone next to my dad, I felt it was uncomfortable for that person to sit next to someone who smelled of sawdust. I didn't feel comfortable even eating a piece of bread inside the car, because I felt like I would be scolded. Sometimes my hands were covered in varnish. It's not easy to remove varnish, so I went home like this, with black hands from the darkness of the liquid. I was ashamed to show my hands when we left work, so I stretched my sleeves in order to hide them.
On the other hand, when we got on a bus it was different. There, people also returned from their jobs in the "city." So showing my dirty hands didn't worry me, I could even eat with them on the bus. I could even peel the layers of dry varnish off of my hands. I entertained myself doing this. My dad would sit close to someone and chat with them. I didn't feel that person was made uncomfortable by my dad.
When we got to El Alto, everything would be better. I didn't feel far from home anymore. I could walk around with my dirty work clothes without being stared at. I didn't feel like a stranger, a foreigner.