Between a Rock and a God Place
Rural Oregon's war on the homeless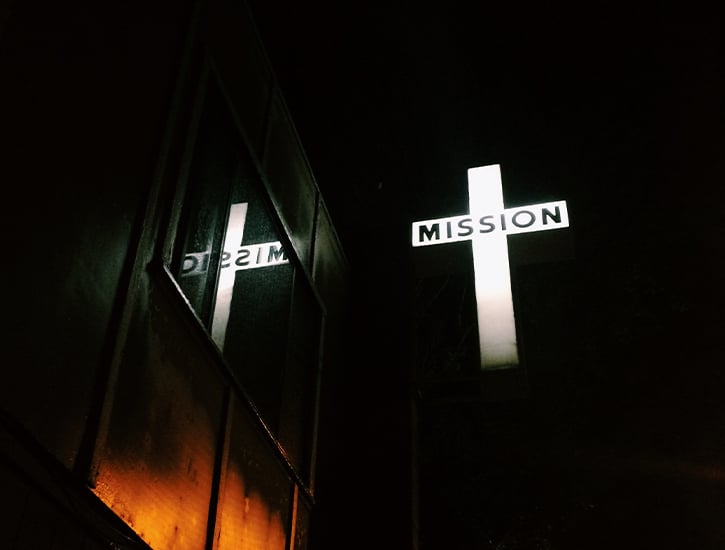 Charity with strings attached. | The Baffler
The sun had barely cracked the horizon and Dolores Nevin was still wrapped in a sleeping bag under a tree in Riverside Park when a police officer handed her a $300 ticket and threatened her with criminal trespassing. It was her first fine of the day, a morning ritual for those with no good option for shelter in Grants Pass, Oregon. In the parlance of "quality of life" ordinances, Nevin's affront to decency was technically "camping," which is illegal in all public spaces at all times throughout the town of almost forty thousand. In reality, the crime was simply having nowhere else to go. And for those that find themselves on the streets in Grants Pass, there is little else to catch them but the hard sod of city parks.
Over a year later, Nevin sits surrounded by her belongings in the same park, warming up in the sun after another harsh March night. "Maybe they want to find popsicles, then they can just toss us off into the dump and there'd be one less homeless person to deal with," she says, showing me her latest ticket. Others have run up tabs with the city into the thousands—like Debra Blake, who lost her job and stable housing ten years ago and at one point owed the city more than $5,000.
Well before the pandemic began, there were over six hundred unsheltered residents in Grants Pass—and more than one thousand precariously perched on the edge of eviction because of low wages, high rents, and a vacancy rate stuck below one percent. Like California and Washington, Oregon suffers rates of homelessness three and a half times the national average. And when it comes to such visible poverty, retribution is the law of the land. The Grants Pass City Council has woven a web of ordinances so thick that living in one place on a day-to-day basis is nearly impossible: in addition to fines for "camping," there are fines for "illegal sleeping," and a second offense on city property can result in jail time. The fines range from $75 to $295, though increase substantially when unpaid due to "collection fees." The unhoused of Grants Pass exist in a state of perpetual displacement, shuffling between ad-hoc campsites in public parks and under bridges that cross the Rogue River. Despite years of advocacy, there remains nowhere else for them to go: Grants Pass lacks a single low-barrier emergency shelter.
In 2019, the Oregon Law Center sued the city for routinely violating the constitutional rights of the homeless. Central to the lawsuit, and the only thing close to a homeless shelter in Grants Pass, is an evangelical transitional housing program called the Gospel Rescue Mission. Despite failing to meet the standards HUD requires for a shelter, it is often still referred to as such by police and councilors. A product of the country's neoliberal turn, the Mission has come to replace, albeit inadequately, the welfare provisioning long abandoned by a county now reliant on little more than the brute force of its local police. And in such a deeply conservative region, the inability for any other shelter to gain traction evinces an antipathy unique to the entrenched conservatism of Josephine County. In town, charity is conditional on the rectitude of the willing, and, more importantly, compliance with traditional American values.
---
"It's the Climate," reads a famous plaque over a large entryway into Grants Pass, the county seat, obscuring the other lures of southern Oregon: secluded acreage and minimal taxation. It's red meat to antisocial retirees, tourists, and monied ex-urbanites, who patronize a gasping service industry. For those struggling to make ends meet, a rising cost of living and a dysfunctional housing market are exacerbated by the unequal distribution of economic growth in a county still suffering from the death of its timber industry.
In Grants Pass, the politics of community health and harm reduction have been historically met with implacable opposition.
Even as its population nearly doubled over the past two decades, Grants Pass turned a blind eye to building affordable housing, and the rental vacancy rate declined to below one percent. According to Kelly Wessels of the United Community Action Network, a non-profit focused on poverty alleviation in Josephine and Douglas counties, units under $1,000 are "virtually unheard of in Grants Pass." Nearly five percent of the population is precariously housed or "doubled-up," and Covid-19 has undoubtedly made the situation worse. The town "has failed to focus on bringing in support and infrastructure and chose to focus on tourism and the service industry," Wessels says. "There's estimates that up to 25 percent of fast-food workers may be homeless at this time."
This is not to say Grants Pass hasn't tried to end the crisis. In 2013, the city council held a roundtable to "identify solutions" to its increasing homeless population. Though police have always disproportionately ticketed the unhoused, many felt the city had to do more to fix the problem, which is to say, double down on deterring or forcibly removing them from Grants Pass. Proposals included an "exclusion zone," stricter trespassing regulations, and the creation of "do not serve" and "most unwanted" lists to keep the population at arm's length. One councilor argued that "until the pain of staying the same outweighs the pain of changing, people will not change; and some people need an external source to motivate that needed change." Around that time, the city also floated the idea of playing undesirable music in alleyways in order to make it unbearable to sleep. Ultimately, the city enacted a version of an exclusion zone, mainly through tighter ordinances against camping, trespassing, and sleeping on all public land.
But Grants Pass was forced to adjust the anti-camping ordinances in early 2019. The previous year, a federal judge ruled in Martin v. Boise that a municipality could not criminally penalize unhoused individuals for engaging in unavoidable human behavior—like sleeping or staying warm—if it did not provide enough shelter beds to accommodate them. Under legal scrutiny, Grants Pass city representatives argued that the tickets they issued were not "criminal penalties," but "civil penalties." Nevertheless, in January 2019, the city amended the language of the law to remove the word "sleeping" so as to distinguish between the involuntary act of sleeping and the voluntary act of "camping," which remained illegal. Under the revised ordinance, if a person fell asleep on public property with so much as a cardboard box or blanket to separate themselves from the hard ground, they risked being punished.
Individualizing the consequences of social disinvestment is one of the great magic tricks of the American right. In Josephine County, poverty is unsurprisingly treated as the fault of the hapless individual, and paranoid assumptions about mental health and addiction drive its criminalization. Yet Grants Pass is somehow unique in how utterly blatant the hostility is toward social services. In other cities, sympathetic citizens and well-intentioned liberal nonprofits obscure systemic failures in housing markets and social services. But in Grants Pass, the politics of community health and harm reduction have been historically met with implacable opposition. The few solutions that have surfaced over the years have largely been spearheaded by Christian groups and private philanthropists—and most have ended in defeat. A temporary warming shelter closed due to budget constraints; a proposed tiny house village, with a twenty-five-resident capacity, was stonewalled by the council for a year; and a proposal for a low-barrier shelter has continued to face resistance from real estate and business interests.
---
And so the Gospel Rescue Mission remains the only shop in town. Located on the outskirts of Grants Pass because, true to form, the city's zoning law excludes services for unhoused people from the tourist-dense downtown, the Mission's gender-segregated complex houses up to 138 people and resembles a monastery crossed with a South Florida retirement home. A local evangelical couple established it in the early Reagan years—a response, perhaps, to the era-defining decimation of mental health, public housing, and other welfare.
Evangelicals found fertile ground for political influence in the void left by the secular state, proposing a collaboration between church and government amenable to the landscape of neoliberalism. As Melinda Cooper writes in her book Family Values, evangelical leaders "sought to imagine—and eventually implement—a form of welfare that would be faithful to the fundamental tenets of Christian morality." Religious leaders, who viewed poverty as more moral than material, undertook a divine crusade to revive scriptural theology in the practice of social and, more specifically, "cultural" welfare. "Beyond the material redistribution of wealth," she writes, "true welfare resided in the distinctly 'supernatural' experience of redemption." According to them, "if you are homeless, it is because you have failed before God. If you are in prison or unemployed, it is because you have neglected to assume your personal responsibilities as a father or have chosen the path of sin."
In exchange for a bunk at the Gospel Rescue Mission, individuals are required to work without pay for six hours a day, six days a week.
The Gospel Rescue Mission refers to poverty as a product of "relational brokenness," a term popularized in the 2014 book When Helping Hurts––which argues that Christian charity in the Global South ought to resemble something closer to mainstream U.S. development politics, focusing on "asset-based community development" but through religious means. In the case of homelessness, that means rehabilitation through spiritual regeneration, or rebirth. This process is orthopractic, however: at the Mission, redemption can only be administered if wayward souls adhere to an exacting moral code of behavior. And since the organization is entirely privately funded and religiously affiliated, it is largely exempt from public accountability and gets away with housing practices that frequently violate fair housing laws. Their screening criteria are entirely under the director's discretion, and the organization can bar people for a host of reasons, including transgender individuals who refuse to stay in the dorm of the sex they were assigned at birth.
Once an individual is accepted, they must comply with all of the "house rules," or "sacred covenant," which hammer home the conditional nature of the charity on offer. In exchange for a bunk for thirty days, individuals are required to work without pay for six hours a day, six days a week. Jobs include working for various Mission business ventures and cleaning streets downtown—for which the Mission, but not the resident, is compensated. During this thirty-day period, residents are not permitted to look for outside work, which all but forecloses the hope of acquiring secure housing. For Dolores Nevin—who once went to the Mission with a torn rotator cuff and was turned away when she couldn't work—disabilities that prevent you from "participating in daily Mission life" effectively bar you from staying there.
Residents also must attend a traditional chapel twice a day and go to a Christian church that follows the Nicene and Apostle's Creed (Unitarian services, for example, don't qualify) at least once a week. Additionally, smokers are barred unless they agree to quit cold turkey and switch to nicotine patches. Brian Bouteller, resident director at the Mission, told me this gives residents "skin in the game," a way to make sure people are serious about leaving homelessness behind. Among other petty rules, there is no socializing between members of the opposite sex, except at approved Mission events. For residents, all "intimate relationships other than legal/biblical marriage, regardless of gender, either on or off Mission property are strictly forbidden."
Despite these draconian rules, Bouteller believes the shelter could end homelessness in town if given the opportunity. "We could totally deal with the scale," he told me before we met, adding "over time," likely because the current population of unhoused people is around six times the Mission's capacity. Still, according to him, advocates for the homeless are pushing in the wrong direction. Interventions under the guise of "harm reduction" are only enabling and incentivizing problems like drug addiction, he says.
During our conversation, the closed loop messaging of the right-wing mediasphere was a strong undercurrent. When I asked Bouteller to identify some of the problems driving increased homelessness, and how the mission might be a solution, he blamed tax frustration and workplace rules—pronouns and mask mandates, specifically—for why "upper-lower class" people might choose to be homeless. As someone who works day-in and out with unhoused people, I wondered if Bouteller was just projecting his own concerns, like the dissolution of traditional gender roles and the implicit anxiety over demographic shifts, as the drivers of homelessness. Bouteller likened the cities of Lagos and New Delhi to liberal-run San Francisco, Seattle, and Los Angeles—proverbial amoral wastelands where the left lost control over metastasizing encampments of the homeless. His rhetoric was drawn almost word-for-word from a handout he gave me of a video script by Heritage Foundation progeny and Fox News dweller Chris Rufo, who's been harping on things like critical race theory for the past few years.
This kind of reactionary thinking is woven into the brutal ordinances of Grants Pass, and it drives other conservative organizations that have stepped in to fill the large void left by the state's retreat from the realm of social service provision. The Oath Keepers, for instance, have organized in Grants Pass for over a decade, "defending the Constitution" and providing supplemental emergency services. After a recent split, their offshoot, Liberty Watch, has continued to provide relief and gun safety classes. In Grants Pass, the unhoused are perched between a punitive state and the conditional benevolence of evangelical charity. But, according to Walter Fonseca, a lawyer with the Oregon Law Center, "under our Constitution, the choice can't be go to church or go to jail."
---
When the Oregon Law Center sued Grants Pass, they took aim at both the city's inadequate social provisioning and police-enforced retribution. In July, the judge presiding in the case ruled that Grants Pass was indeed violating the constitutional rights of its unhoused population. Building on 2018's Martin v. Boise the decision, the prosecution established that even civil penalties—like ticketing—lead to criminalization and are unconstitutional when a city is unable to offer enough shelter beds. While both rulings stop short of requiring local governments to actually provide sufficient shelter for the unhoused population, they confirm that until police can direct people to a qualifying shelter, they cannot punish those same people for living outside. As Fonseca told me, the state "can't punish people who have no access to shelter for the necessary and unavoidable acts of sleeping or resting outside." The lawsuit was a blow to the Mission's—and the city's—combative approach. Following the ruling, Bouteller observed a noticeable drop in people arriving at the Mission.
The city's determination to win in court is just one more indictment of an anti-social political project running on little but brute force.
Grants Pass immediately appealed to the ninth circuit—and a decision is not expected until 2022. In the interim, the city has changed its tune, thanks to work from local advocates and a new city council. The newest strategic plan removed "reduce vagrancy" from its list of goals and included a list of fifteen specific actions the city hopes to take, like incentivizing affordable housing and mixed-use development, as well as changing existing zoning laws. Also included is the intention to develop a homeless shelter.
Judging by how difficult it has been to establish sustainable alternatives, it seems there is a long way to go. Caught between, on one hand, a punitive state more inclined to fund a jail cell than a shelter, and, on the other hand, the strings-attached charity of moralizing evangelicals, the unhoused community and their advocates in Grants Pass continue their fight for a basic shelter. If a legal challenge does anything, it might provide a template for other groups seeking relief from these forces: already, nearby Medford is preparing a similar lawsuit. At the very least, the city's determination to win in court is just one more indictment of an anti-social political project running on little but brute force.
In the meantime, police are still writing tickets, violating CDC Covid-19 guidelines, and waking people at the crack of dawn in freezing cold weather. After the lawsuit, "I don't think that as much has changed as one would anticipate," says Kelly Wessels from the United Community Action Network. Last month, the movement to establish a temporary low-barrier shelter fell through for the third time—after overcoming real estate and business opposition—when the group developing the shelter backed out again due to the high cost of insurance and demands of the landlord. Unsheltered people have continued to camp in a small section of Riverside park during the night—a result of the lawsuit and a request granted by the council only after people reported losing body parts to frostbite. Even this came as conditional: campers must be out by 7:30 a.m.
At a council meeting in February, one member noted the police were continuing to offer to drive people out to Klamath Falls in a squad car—two hours away at the far side of the neighboring county. It sounds like the city would still prefer the unhoused to just get the hell out of town.