All Quiet on the Eastern Front
Joe Biden follows Trump's footsteps in Saudi Arabia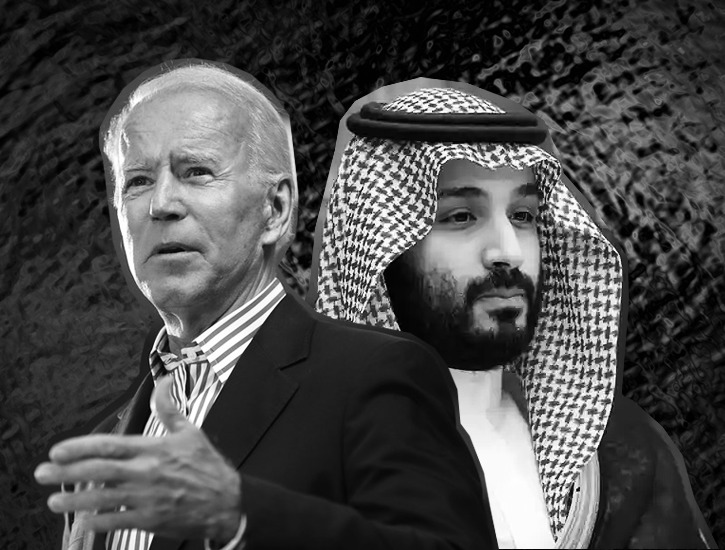 At midnight on June 23, 2018, when Saudi Arabia ended its ban on female drivers, I stood in the driveway of a modest villa in Jeddah. On the pavement outside, a BBC camera crew jostled with other photographers. A white SUV eased out the gate, squared up on the wide asphalt road, and halted. A window slid open and the driver flashed a thumbs up.
The driver was a woman—I'll call her N. She had campaigned for years against the ban; in 2013, she had even gone to prison for her efforts. Now she sat beside her beaming granddaughter, ululating and leaning on the horn. "Here we go!" N. shouted as the car rolled off. Her daughter pulled out in another SUV and we drove to the sea together. 
The rest of the night was a victory lap. Dozens of women drove to the Corniche, Jeddah's iconic beachfront, in an impromptu celebration. At checkpoints, male police officers handed out roses. As the roads jammed, we stepped out into the humid air, congratulating each other in a blur of selfies and cheek kisses. Social media flooded with livestreams from women at the wheel—millennials blasting American pop, older women reciting dashboard prayers. "Thank God," one murmured, again and again, adding, "finally."
It was a historic night for the women's movement in Saudi Arabia. Yet what lingered with me the next morning were the moments leading up to the ride, when N. had addressed guests at her house. She ended her speech declaring, "tahayat malak Salman, tahayat MBS!" ("Long live King Salman, Long Live MBS!") She then added in English, perhaps for the benefit of gathered Western journalists, "MBS is the one! MBS is the one!" Before speeding away, she turned to the cameras once more, and repeated, "Thank you, MBS!"
---
Everywhere I went in the kingdom that summer, Saudis young and old invoked "MBS"—the son of the king, Crown Prince Mohammed bin Salman. People speculated endlessly about his "Vision 2030," an ambitious slate of economic and social reforms to be achieved by that year. Allowing women to drive was one of the changes the crown prince had proposed—and now delivered on. He also ended the country's ban on movie theaters and public concerts, allowing Black Panther, Nelly, and Mariah Carey into the kingdom. Less symbolically, he had promised to rein in the powerful religious police and return Saudi Arabia to a "moderate, balanced Islam." There were also plans to diversify the economy and transform the kingdom into a high-tech, investor-friendly hub for global capital.
When bin Salman rose to power in 2017, at the age of thirty-one, he upended the traditional line of succession. His hands-on approach since taking over contrasted sharply with the sluggish incrementalism of the aging heads of state that had defined previous decades, leading some to hope—or worry—that real change was imminent. Two thirds of the kingdom's population are under thirty-five. Tech-savvy and highly educated, large numbers many of them have also lived or studied in the West, and often chafe under their country's more conservative norms. MBS's posturing as a modernizer appealed to this demographic, as did his promises to create new jobs in the technology sector. (Under-employment is a growing problem in the kingdom.) Traveling through several major cities, I met people giddy about a future in which they could drive, launch start-ups, and feel "proud to call themselves Saudi."
The excitement over the coming changes went hand in hand with a growing fear of reprisal.
Meanwhile, MBS was quietly dismantling the older power structures. In November 2017, he summoned nearly four hundred of the kingdom's most influential royals, businessmen, and ministers to the Riyadh Ritz-Carlton. Upon arriving, the "guests" found the hotel emptied of customers, replaced by a cadre of royal aides who took away their cell phones and separated them from their personnel. The luxury hotel was turned into a site of interrogations and alleged torture, as dozens were forcibly detained for months. Billing this de facto coup as a crackdown on corruption, MBS seized assets and revoked titles, upending many long-standing alliances between the private sector and the state—further concentrating power in his own hands.
The Ritz-Carlton affair was followed by more arrests: of fellow princes, moderate imams, political activists, and well-known academics, as well as many figureheads of the women's rights movement. By the time N. set out on her first legal drive, most of those who fought for that right sat in prison—including Loujain al-Hathloul, Nouf Abdulaziz, Aziza al-Yousef, and Eman al-Nafjan. Their arrests were puzzling at first, as the women had largely fallen silent in recent months. In fact, several had been informed of the driving reform in advance and were warned by the royal court against speaking publicly about it, even in praise. In time, it became clear that MBS wanted to present himself as an enlightened patron of progress, and the activists complicated that story. 
All this put N.'s praise of MBS in context. There had always been something suspect about the way she and other "proud" Saudi women repeated the prince's name, even if they felt genuine gratitude towards him. Most of the interviews I conducted that summer ended the same way: with people insisting that I not include their comments in "anything political" or "critical." The excitement over the coming changes went hand in hand with a growing fear of reprisal.
A few days after the driving ban was lifted, another prominent women's rights activist, Hatoon al-Fassi, disappeared. Soon after, the government circulated vague accusations against her—"treason"; "aiding foreign governments"—in a smear campaign complete with grim headshots. (The regime had deployed this new, crass tactic against other women's rights activists earlier that year.) After al-Fassi's arrest, N. called and retracted most of her earlier comments. "Please write that I was thankful to the crown prince," she told me. She was going to cease her already-tempered activism until further notice. Not long after, her Twitter account disappeared, and she stopped responding to my messages. 
---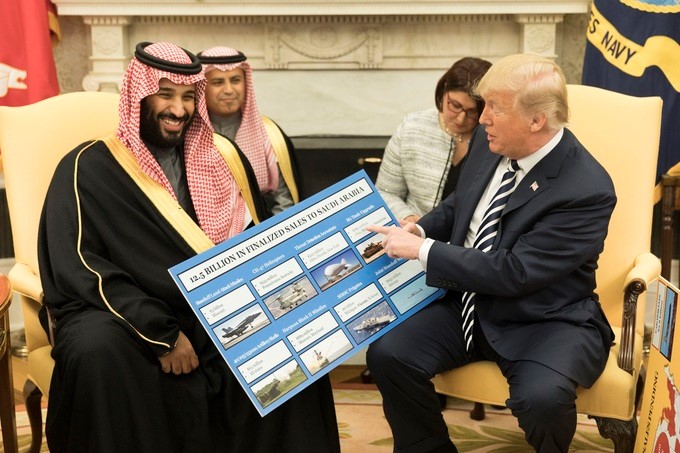 The media frenzy around the first women drivers came at a good time for the crown prince. Earlier in 2018, he had conducted a weeks-long charm tour through the United States, putting in appearances at the White House, on Oprah, and even at Harvard. MBS presented himself as a "revolutionary" at these events, speaking glibly of neoliberalism and a Western-friendly, tamed Islam. He targeted the likes of Jeff Bezos and Bill Gates, angling for future deals, particularly in the realm of AI and "smart cities." Throughout, journalists lobbed softball questions and published glowing columns, Thomas Friedman taking it upon himself to announce "Saudi Arabia's Arab Spring, At Last." 
In this way, bin Salman availed himself of two long-standing and crucial sources of U.S. support: publicity and capital. "The English-language media was one of the most powerful tools that Muhammad ibn Salman used to establish his new style of government," Saudi academic Madawi Al-Rasheed notes in her recent book The Son King: Reform and Repression in Saudi Arabia. "The Economist and the New York Times reflected his assertive drive to reach out to the constituency that really mattered for his so-called reforms."
The Saudi regime has relied on the support of Western powers since its inception. In contrast to the dynamic of colonization and decolonization that shaped so much of the region, the Al Saud family actually enlisted British support when founding the nation state in the 1920s. The history of American complicity runs almost as long; in 1931, the United States recognized the newly established kingdom and received its first oil concession. For decades, oil revenues have been instrumental in establishing and maintaining the Al Saud hegemony, as has Western unwillingness to confront the regime's human rights abuses.
Seldom have Western apologists of Middle Eastern despots enjoyed the kind of luxuries that bin Salman rewarded his admirers.
In 2018, even those willing to acknowledge bin Salman's flaws—his penchant for mass arrests, his reckless unilateralism—hedged their critiques in the cynical assumption that Saudi Arabia could do no better. The "inevitability of repression" was "taken for granted" by academics and pundits, notes Al-Rasheed. They claimed only an authoritarian could break through the entrenched conservatism of the kingdom's ruling class, which was supposedly an extension of "repressive 'Arab culture'." Yet seldom have Western apologists of Middle Eastern despots enjoyed the kind of luxuries that bin Salman rewarded his admirers. Personal invitations to the kingdom were handed to journalists including Friedman; lucrative "partnerships" were offered to universities such as MIT, already a long-time recipient of Saudi money. Instrumentalizing the Western press while silencing more and more voices of his own people, bin Salman grew more powerful, and more brazen.
American hypocrisy in Saudi relations has historically been a bipartisan affair, forged over financial interests and "strategic cooperation" on issues such as the Cold War and the War on Terror. These ties have proved durable despite periodic strain, as in the immediate aftermath of the 1973 oil embargo or 9/11. Riyadh was the first stop on Barack Obama's inaugural visit to the Middle East; during his tenure, the president oversaw billions in arms sales to the kingdom, underwriting the siege of Yemen. If his relations with the kingdom ended on a tense note, this was largely due to the nuclear deal with Iran, and his suggestion that the two learn to "share the neighborhood." 
As for Donald Trump, he famously pandered to the Saudis from the outset, making Riyadh his first stop overseas. After signing a $110 billion arms deal, the royal family held a gaudy celebration in his honor complete with an award ceremony and Toby Keith concert. During his visit, Trump refrained from mentioning human rights or one of his favorite campaign topics, Islamic terrorism. Returning to New York, he tweeted: "I have just returned from a trip overseas where we concluded nearly $350 billion of military and economic development for the United States, creating hundreds of thousands of jobs." (These claims were widely viewed to be exaggerations.)
The biggest strain on U.S.–Saudi relations during Trump's tenure came during the grisly murder of journalist Jamal Khashoggi. The U.S. response to the crime was a scandal unto itself: Trump defended the crown prince, dismissing his own intelligence community, which found bin Salman culpable for the murder. He not only upheld bin Salman's denials, but parroted the Saudi regime line on Khashoggi being an "enemy of the state" tied to the Muslim Brotherhood. For good measure, Trump loudly harped on the kingdom's massive arms spending as a deal too good to lose, and played up the strategic importance of Saudi Arabia in the Middle East, which he described as a "vicious, hostile place." To the end, Trump used his veto power to block congressional attempts to sanction bin Salman, alternately praising the kingdom as an ally and boasting of the profits he'd drawn from the royal coffers. 
On the campaign trail, Joe Biden distanced himself from Trump, calling out Saudi Arabia by name. He vowed to ensure the kingdom would "pay the price" for Khashoggi's murder and to "make them in fact the pariah that they are." "Today, I join many brave Saudi women and men, activists, journalists, and the international community in mourning [Khashoggi]," he said on the second anniversary of the journalist's death. "And echoing his call for people everywhere to exercise their universal rights in freedom."
Biden also promised to end U.S. military support for the Saudi offensive in Yemen, which has spiraled into the world's worst humanitarian crisis. Since taking office, however, Biden has balked at fundamentally altering the U.S.–Saudi relations. While he has paused support for the kingdom's offensive operations in Yemen, he reaffirmed the United States' commitment to helping the kingdom "defend itself" against regional attacks. The parameters of this "defensive" support remain unclear.
Biden's stance on human rights has been even more contradictory. On January 19, he signaled plans to release a summary of the American intelligence community's investigation into Khashoggi's murder, a move that appeared to give bin Salman pause. On February 10, aware of the report's impending publication, the crown prince released al-Hathloul, the young women's rights activist who by then had been in prison for over a thousand days. Reports of her torture and sexual abuse had received international attention; with Biden's intentions still unclear, it seemed bin Salman was eager to rid himself of the high-profile scandal. On her release, however, al-Hathloul was still kept on probation and subject to a travel ban. 
The cases of Khashoggi and al-Hathloul now loom large over the Saudi political landscape.
On February 26, the Biden administration finally released the report, the contents of which surprised no one. The gist had been leaked some two years earlier and only echoed the global consensus: that the crown prince's "absolute control of the kingdom's security and intelligence organizations" made it "highly unlikely" for the killing to have occurred without bin Salman's authorization. Many activists hoped that Biden's decision to publicize the document would be followed by a direct reckoning with the crown prince, perhaps in the form of a sanction. This might have emboldened the muted opposition which remains in the kingdom and perhaps curbed some of the crown prince's most audacious impulses. Instead, Biden left bin Salman untouched, announcing sanctions on a handful of Saudi underlings, in a half-hearted echo of similar orders issued by Trump against seventeen Saudis, including close bin Salman aides.
After Biden declined to sanction the crown prince, Saudi courts denied al-Hathloul's appeal, reaffirming her guilt under anti-terrorism laws. Condemned for "inciting change to the basic ruling regime" and "serving a foreign agenda inside the kingdom . . . with the objective of damaging public order," she was sentenced to five years and eight months in prison and handed a five-year travel ban.
---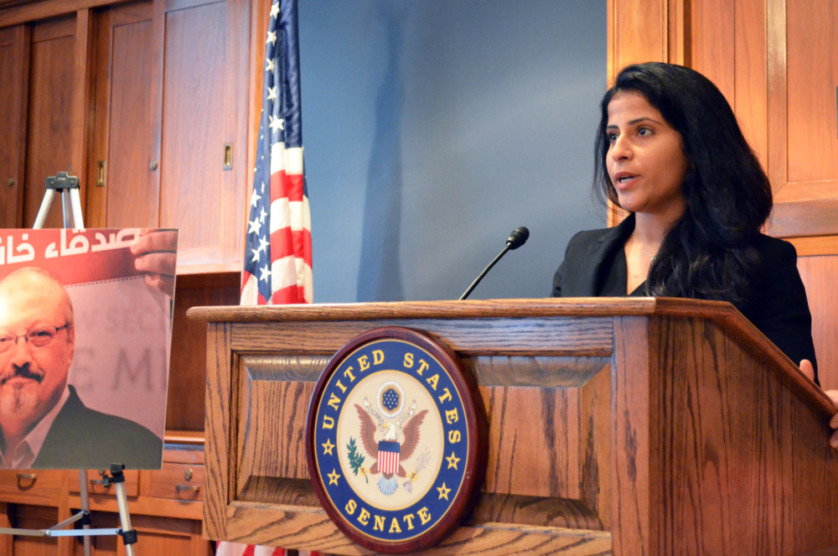 The cases of Khashoggi and al-Hathloul now loom large over the Saudi political landscape. Inside the kingdom, people fear that even their most careful comments on societal affairs could be construed as "activist," warranting terrorism charges and indefinite detention. Saudi Twitter, once a thriving "public square" of political discourse, has been overrun by government bots, regime trolls, and enhanced surveillance technology. The historically constrained press has grown more actively propagandist. Activists and suspected dissidents languish in prison with little hope of due process; in 2020, the renowned pro-democracy activist Dr. Abdullah al-Hamid died in jail after being denied emergency medical attention.
What meaningful opposition remains is largely abroad. The number of Saudis seeking asylum increased 318 percent between 2012 and 2017, while an internal report ordered by the Saudi government predicted the number would rise to fifty thousand by 2030. (Haribat, Saudi women fleeing abusive or oppressive situations at home, is a concurrent and sometimes-overlapping phenomenon, numbering roughly one thousand a year according to one report.)
Yet even exile does not necessarily guarantee one's protection. In January, the Washington Post reported that Ahmed Abdullah al-Harbi, a twenty-four-year-old dissident living in asylum in Canada, disappeared after a visit to the Saudi embassy in Ottawa. He had been involved in combating Saudi repression online, including an effort to resist government "flies" on Twitter—a project which Khashoggi himself helped envision. Al-Harbi reappeared weeks later, inside the kingdom. His Twitter account, which vanished in February, resurfaced with a banner photo of bin Salman and scrubbed clean of any references to activism. His first tweet showed a picture of his return ticket, dated February 7, celebrating the homecoming. Now, al-Harbi's former colleagues in the diaspora fear he may be feeding the regime information about their work.
Al-Harbi's case is far from unique. Fellow asylee Omar Abdulaziz, also based in Canada, has been subject to threats and hacks by government operatives, and he watched in horror as the regime arrested numerous friends and his two brothers in an attempt at leverage. Saad al-Jabri, a former senior intelligence official who in 2017 fled the kingdom to Turkey, then Canada, has fought off continued attempts at his repatriation, including the imprisonment of his two children.
It remains to be seen whether the Biden administration will meaningfully break away from a belief in "strategic partnerships."
Lesser-known asylum seekers often face similar threats, with none of the tenuous protection afforded by fame. The outcry over Khashoggi's murder was driven partly by the horror of media elite who recognized him as one of their own. They ensured that his death would be remembered as the horror it was. Yet the anonymity of (some) of bin Salman's more recent victims does not diminish the viciousness of his campaign, nor its devastating effects on the political future of the Saudi people.
Even the Saudis I know who most rue American interventionism tell me that only the United States can meaningfully censure the crown prince. At the same time, they stress that the crown prince's global impunity ensures that activism in the region remains all but dead. Lingering anger over Khashoggi's death has sustained a few recent efforts in Washington to hold the kingdom to account. On April 21, the House passed the "Protection of Saudi Dissidents Act," in response to Khashoggi's murder, limiting the sale of both offensive and defensive weapons to Saudi Arabia. On March 25, the House Foreign Affairs Committee approved a bill which proposed banning the crown prince from the United States—though it hasn't been voted on yet. An earlier bill proposed by Ilhan Omar also targeted bin Salman directly and annoyed many loyalists inside the kingdom. (The bill has also not been voted on). Biden's secretary of state Antony Blinken, who strongly condemned the Saudi government in the immediate wake of Khashoggi's death, recently called for the release of detained activist Samar Badawi during a public address.
It remains to be seen whether the Biden administration will meaningfully break away from a belief in "strategic partnerships" and "regional balance," which, underwritten by the billions in oil and arms, have so long dictated U.S. action in the Middle East. As these debates continue their loop, my mind returns to N., to her silence which compounds so many other silences I recall that June night in her living room, when she and others dared to imagine freedom not only from oppressive laws but from history itself. I see behind their hope not naivete, but a dogged will to transcend the patronizing narratives in which both the Saudi regime and its Western enablers snare them. It was for this chance that N. was willing to praise bin Salman, if only for a moment.