A Death Penalty for the Poor
Kenya's police train their guns on the slums of Nairobi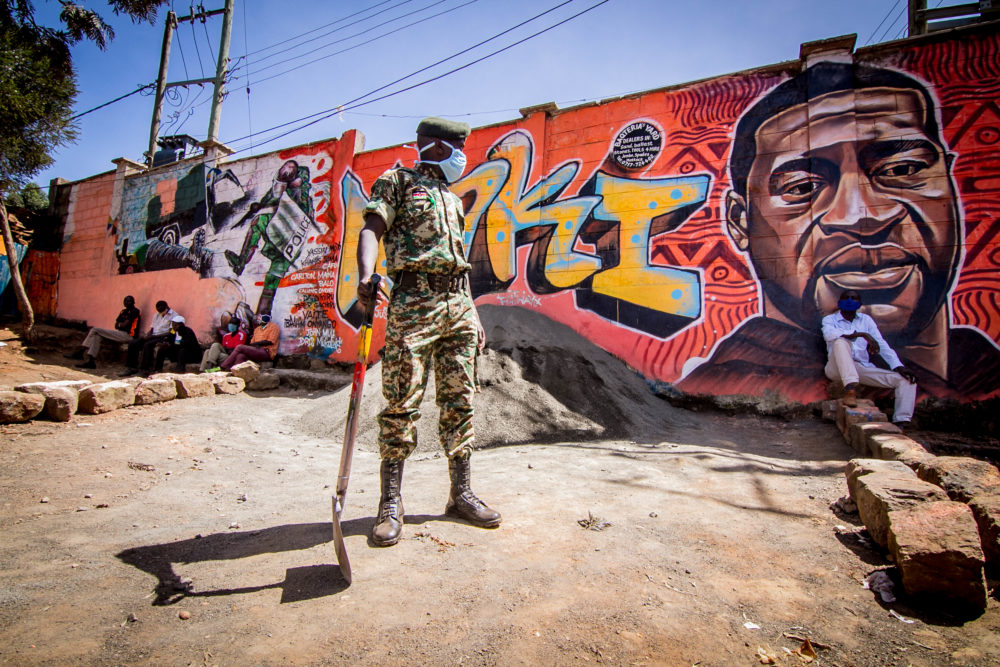 Mural depicting George Floyd in Nairobi's Kiberia neighborhood. | Donwilson Odhiambo
On the night of June 1, demonstrators took to the streets in Bondeni—a subsection of Mathare, one of Nairobi's informal settlements—to protest the killing of James Mureithi Njeru, a homeless man known to many as "Vaite." Mureithi's bullet-ridden body had been found by the road in the place where he usually slept; the protestors alleged that he was killed by police enforcing the curfew implemented to curb the spread of Covid-19. They streamed into the streets, shouting, and lit tires on fire. Demonstrations in Mathare often begin in Bondeni; here the tarmac is permanently blackened, charred with marks of burnt rubber.
Kenya has reported 325 deaths due to Covid-19, but measures like the dusk-to-dawn curfew—rather, the deadly excess with which police have enforced them—has made the country's pandemic response among the world's most violent. The Independent Policing Oversight Authority (IPOA), a civilian organization that investigates police misconduct, reported that police officers have killed fifteen people and injured thirty-one since the curfew began.
This official tally, however, is most certainly an underestimate. For one thing, it does not include some deaths that indirectly resulted from police terror. Maurice Ochieng, a carpenter in the city of Kisumu, was severely beaten by police for not wearing a face mask; five days later, he collapsed and died. Christine Aoko, while evading police after curfew, slipped into the rain-bloated Mathare River and drowned. Neither made it to the list. The number of women and infants who have died of childbirth complications at home for fear of going to the hospital after curfew has also spiked.
On that early June night, then, the demonstrators in Bondeni—like those around the world who took to the streets after the murder of George Floyd—were not protesting the slaying of a single man, but rather an entire regime of violence. In one video posted on social media, amid ululations is the repeated imperative: "Angalia." Look.
---
The roots of police brutality in Kenya can be traced back to colonialism. The paramilitary Administration Police—one of three divisions in the Kenya National Police Service—was created in 1958, in the last year of the state of emergency declared by the British administration to violently repress the anti-colonial Mau Mau movement. Taken over with little reform by the independent Kenyan government, it is alive and well today, and its colonial functions of torture and terror are very much unreformed.
If you were to map Nairobi by police violence, you would see the shapes of its old colonial borders.
In the early aughts, the brutal policing of urban areas evolved in parallel with organized crime. Mungiki, a Kikuyu ethno-religious movement from central Kenya, had reached Nairobi in the 1990s, gaining territorial and economic control of certain parts of the city and effectively turning itself into a criminal vigilante group. In response to public anxiety about Mungiki's activities, the police force institutionalized brutal, extralegal tactics such as "death squads" within the formal policing structure. Though these purported to eliminate high-profile criminal leaders outside of the justice system, they were and continue to be responsible for the executions of dozens, if not hundreds of young men each year.
The issue was notably brought to international attention in 2009, when UN Special Rapporteur Philip Alston conducted a special investigation. He concluded that police in Kenya "frequently execute individuals and that a climate of impunity prevails." Without accountability mechanisms, he wrote, such "carte blanche killing by the police" would continue unabated.
In the decade-plus since Alston's report was published, reforms have been attempted. Between 2011–2012, Parliament passed a series of reform acts that changed law enforcement's internal command structure and merged two police units to turn the "Kenya Police Force" into the "Kenya Police Service." The new legislation also formed two regulatory bodies for handling police misconduct—one internal, the Internal Affairs Unit, and one external, the IPOA. But since its establishment in 2012, the IPOA has convicted only seven officers, despite having undertaken more than one thousand five hundred investigations. Just this year, one hundred people have been killed or disappeared by the police, according to Missing Voices Kenya, a consortium of human rights organizations tracking extrajudicial killings and enforced disappearances throughout the country.  
In the wake of uprisings after George Floyd's murder, global attention has turned towards oppressive policing. This may have been responsible for one of the few glimmers of progress in the fight against police brutality in Kenya. On June 4, the police officer Duncan Ndiema Ndiwa was charged with murder for shooting and killing the thirteen-year-old Yassin Hussein Moyo, who was standing on the balcony of his family's home in Kiamaiko, a district within Mathare. For an organization that normally takes years to bring cases to court—if at all—the unprecedented expediency warrants cautious optimism.
However, larger trends still point to the government leaning on punitive measures to solve social problems. Days after Covid-19 reached Kenya, President Uhuru Kenyatta formed the Nairobi Metropolitan Service, a military-led unit that took over key powers and resources from the county government. (On June 18, the High Court deemed this action unlawful, though not much has changed.) One of its first actions, according to urban ethnographer Wangui Kimari, was to enforce the eviction of seven thousand families in the Kariobangi Sewerage Farmers Slum, another informal settlement only a few kilometers from Mathare, by the Nairobi City Water and Sewerage Company. Residents presented their title deeds, proof that they had been paying taxes on that land, and a court order from the Environment and Land Court to halt the eviction. But NCWSC representatives tore up the court order, residents say, and bulldozers arrived the next day to demolish homes. Residents were left without shelter, many having just forked out enough to pay rent for that month—all in the middle of a pandemic.  
Every push toward futuristic urbanity in Nairobi comes with an equal and opposite force of violence on the city's poor.
The Kariobangi evictions and police brutality are two manifestations of the same problem, Kimari argues. In a recent essay titled "Outlaw Nairobi versus the Pandemics," she analyzes how the city's lower-class, unwelcome majority—over half of Nairobi's population lives in informal settlements—is subjected to what she describes to me as the "dual violence of neglect and force." On one hand, people who live in places that have intentionally been underdeveloped by the state are denied the most basic rights enshrined in the Constitution—water, sanitation, housing, safety—and thus fall "outside" the law's provisions. What results is a feedback loop, where the fetid, toxic environment in which people live is projected onto them, feeding into vicious narratives about the urban poor as disposable, criminal, and, perhaps most importantly, not sufficiently "citizen" because of the precarious conditions under which they live. It is precisely this logic of disposability that allows these people to be systematically criminalized. "Those who don't have water," Kimari concludes in her paper, "are the same ones who are being killed by the police."
This is a narrative many affluent Kenyans have accepted; with some notable exceptions, extrajudicial killings hardly even make headlines in the country. Society turns away more easily when the phrase "suspected criminal" is used, or an incriminating weapon are planted alongside the body, as is common police practice. These prejudices against the urban poor are also the key to understanding why extrajudicial killings in Kenya have persisted despite repeated attempts at reform, often to the tune of millions of dollars poured in from foreign governments and multilateral organizations. According to Kimari, places like Mathare are seen as dead ends, undesirable anti-cities holding Nairobi back from becoming the cosmopolitan metropolis its affluent neighborhoods point towards.
This is the paradox of a modern Nairobi. Every push toward futuristic urbanity comes with an equal and opposite force of violence on the city's poor, which it cannot eliminate, only attempt to cordon off. The problem has a clear genealogy: if you were to map Nairobi by police violence, you would see the shapes of its old colonial borders. Since modern Nairobi originated at the turn of the twentieth century as a depot for the British colonial railroad project, it has been organized under a de facto regime of apartheid. Under colonial administration, the city's eastern half—poorly draining, low-lying floodplains that include Mathare and Kariobangi—were relegated, through mobility and racial zoning laws, to Africans, and later to "public works" like sewage treatment plants. Elevated territories were for whites. The Indians who were brought into Kenya as railroad labor served as a buffer in between. After independence, the city transitioned smoothly from segregation along race lines to class lines. How Nairobi's undesirable zones have been governed has changed very little since.
---
Mathare is a river valley. But if you didn't know there was a dark, groaning body of water at its core, walking through it would feel like a long and winding descent. Here, everything feels like one long exhale, one large exhaust cloud: trash burned into noxious gas, putrid effluent carried down the river from a more affluent upstream, fires from distilling illegal home brew, fires from power line accidents, fires from protests that send smoke signals of political exhaustion.
Much of the land in Mathare is public, which, practically speaking, really only means that it can be grabbed—and those squatting on it evicted—with little consequence. Basic utilities like water and electricity, publicly provided in other parts of the city, are here controlled by cartels in informal settlements, leaving Nairobi's poorest to pay painful premiums just to survive: ten shillings for a jerry can of water, five shillings to use a public toilet, thirty shillings to take a bus.
It is these matigari who are moving the needle on police brutality in Kenya.
But this river valley also has a long history of resistance. Mathare was the Nairobi headquarters of the Mau Mau insurgency; in some ways, it remains a liberation front. Mathare has produced many of the country's frontline human rights defenders. One such group is the Mathare Social Justice Centre (MSJC), an alliance of community organizers who document structural violence and police brutality, especially extrajudicial killings. When MSJC first began hosting community dialogues in 2015, people were largely terrified to speak publicly, not only doubting that the state could be held to account, but for fear of  retribution. "Let the kid go," MSJC member Brian Otieno remembers one mother of police killing victim telling him, "God will fight for me." But MSJC has been persistent. "God won't fight for you until you fight for yourself," Otieno reflects. "We have to turn up. We're being oppressed by the system because we're so silent." (Of late, MSJC has been collecting evidence about Mureithi's killing.) And surely enough, public discourse has shifted over time. "Now people know where they can report," Kimari told me. "They know they have some form of redress, and they assert it defiantly."
In 2016, MSJC released a landmark report, drawing on the careful fact-finding of grassroots activists, that collated years of evidence of extrajudicial killings in Mathare. Titled "Who Is Next?," it proved beyond doubt that serial killer cops had been protected systemically.
Ngũgĩ wa Thiong'o's novel Matigari tells the story of Matigari ma Njirũũngi, a freedom fighter who, after slaying white imperialists, emerges from the forest after years, only to find another class of oppressors—this time, Kenyan capitalists—exploiting the people. Otieno claims the title of matigari for himself and his fellow human rights defenders, almost all of whom are regularly arrested, threatened, and driven into hiding by police for their work. It is these matigari who are moving the needle on police brutality in Kenya.
Read more about police violence around the world.