Time to Unite
A May Day conversation with Gloribell Mota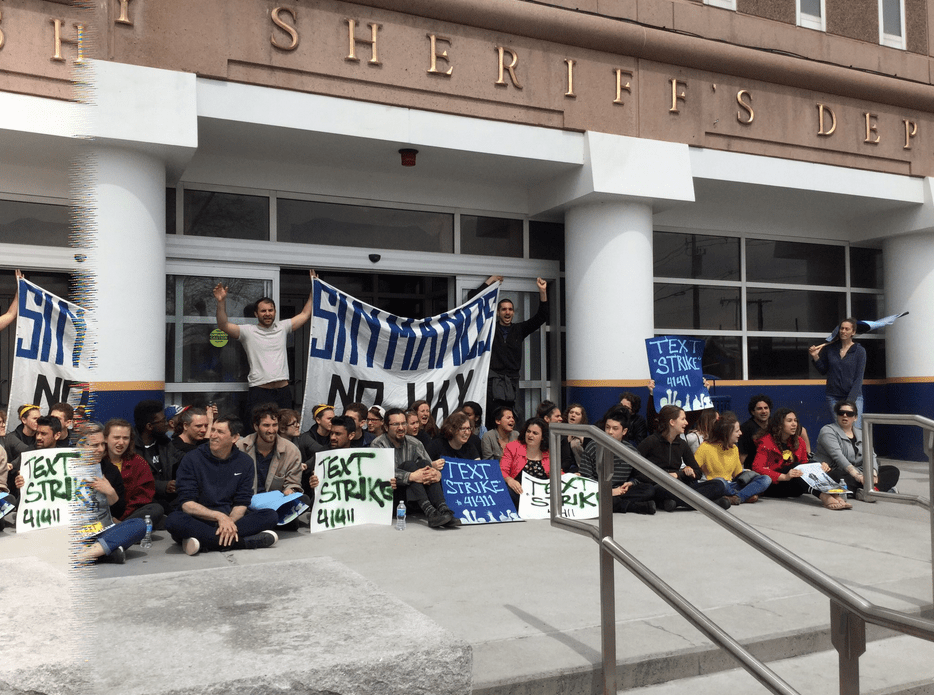 Members of Cosecha Boston participate in an action at the Suffolk County detention center in Boston last Monday. / Photo courtesy of Gloribell Mota
C
o
l
u
m
n
s

Welcome to Interviews for Resistance. Since election night 2016, the streets of the United States have rung with resistance. People all over the country have woken up with the conviction that they must do something to fight inequality in all its forms. But many are wondering what it is they can do. In this series, we'll be talking with experienced organizers, troublemakers, and thinkers who have been doing the hard work of fighting for a long time. They'll be sharing their insights on what works, what doesn't, what has changed, and what is still the same.
Sarah Jaffe with Gloribell Mota:

Gloribell Mota: My name is Gloribell Mota. I am an organizer with Neighbors United for a Better East Boston and serving as the Boston Coordinator for Cosecha's May Day event.
Sarah Jaffe: You had a pretty dramatic action last Monday in Boston. Can you tell us about it?
GM: Yes, on Monday we had an action at the Suffolk County corrections facility that is also held as a detention center. The detention had about two hundred detainees at the time and we have seen a wave of kind of targeted, but it is just kind of a continuation of detaining immigrants for one reason or another where it was this time around were activists that were speaking out. Young activists that are part of organizing in Vermont and Sully and Alex and Enrique who had been fighting for immigrant rights were detained. Two have been released, but one is still being detained.
This is part of a larger thing, that we just no longer can settle for more detainees and deportations in this manner at all and we want permanent protections for all. This action where twenty people got arrested, there were over a hundred folks there over two hours just really wanting to send a message but even more, hoping that we could shut down the detention center and stop deportation and really do permanent protections and immigration reform for all.
SJ: Tell us a little bit about how that action came together, the planning and work that went into that.
GM: Cosecha movement is a non-violent movement that is looking to the respect and dignity and getting permanent protection for eleven million undocumented in this country. Since the beginning of this year, we have been asking for a strike for May 1. We are really asking for a one week strike, if need be, to show our economic power. During these months we have been trying to illustrate our message, what we are asking for, what we are asking for May 1, and what we saw February 16 organically come up from the community. Basically, that they are ready and that we have to follow their lead and provide that support.
A lot of allies, organizers, clergy members, youth, individuals, former undocumented came together for this Monday action to stand against what we feel is not moral and as well to make sure that those that are detained and those that are practicing their first right and speaking up against anti-immigrant rhetoric, that we stand with them and that we are resisting any deportations, detention, and unjust proceedings that we also saw in Lawrence where people were going to their court hearings and automatically were not even allowed to do the process and were detained. Something that was not a practice [previously]. I think this action that we just did was to go to the detention center and particularly ask Suffolk County that represents Boston and Chelsea, both cities that the mayor and the local body has said are sanctuary to no longer serve as a detention center for the state.
SJ: That brings up the question about sanctuary which is obviously a movement and a set of practices and laws that have spread since the Trump administration, but as you note here, with things like this detention center, there are obviously still holes in what kind of protection is provided by the sanctuary policies.
GM: Yes. I think what we have seen with sanctuary is that it is not a—I think each municipality is doing their own, but I think in essence it is showing solidarity with the community, but we want to move away from the symbolism and really show what municipalities and states could do. They could do it by not participating in contracts to serve local resources for detention centers and to really think about what we could be investing in, particularly in this prison complex industry that has a lot of holes, even for those that live here and are U.S. citizens. We understand that the detention center and immigration, and we know that this administration wants to criminalize everyone from the immigrant community to the Muslim community, and we have to say that that is not the industry that we want to move forward with. That is not what we are invested in. We want to invest in families.
SJ: The movement had a legal victory again this week where a judge halted Trump's order to cut off funding to sanctuary cities. I wonder if you could talk about how these legal struggles and the struggles in the street and with direct action and strikes are complimentary.
GM: Yes. It is funny, my son sent me the article. He was like, "This is a win for sanctuaries and a win for your movement." I am like, "Of course." This idea that local government is not going to get resources because of the sanctuary—and each municipality is very different. We saw this with legal actions when the Muslim ban came out and Cosecha Boston here, the Cosecha movement, called for the airport protests and we saw our electeds come. It wasn't called by the electeds. It wasn't called by any one leader. It was called by a movement saying, "We can't . . . We will always have this little piecemeal policies that don't get to the root of the problem. We need permanent protections for all."
We are really asking for a one week strike, if need be, to show our economic power.
A certain crime was committed, that is why we have a criminal justice system. If there is a flaw in the criminal justice system, then we fix that because we know there is. As well as, they are seeing in terms of people that are living in these localities, some of them entrepreneurs, their kids are in schools. We are part of that community. To say that local police have to enforce immigration, that is not their role. I think that is the connection. In different messages and different ways, but at the end it all comes to the root that we need permanent protection for all. What we are saying at Cosecha is that if we don't get that and we are basically trying to maintain or respect and dignity and what we are still fighting for is that we will use our economic non-cooperation and ask for a one day strike on May 1 and if we have to, it will be a two day. And if two doesn't work, it will be three. Basically, we will do what we need to, and we are prepared to make that happen. That is what we are asking for May 1. That is when you are seeing these actions and hopefully, the legal community, they are holding up that fight, also getting to that conclusion, as well.
SJ: There have been lead up actions going on around the country this week, right?
GM: Yes. This is a national movement. There is Cosecha here in Massachusetts, in New Jersey, Florida, Minnesota. We're hoping—it is also a new movement. It hasn't been around for a long time, but the cause has been and the solution has always been the same. I think what we are seeing is a different way of embracing that we have what we need in our community and we just have to ask for it. These actions and these events and May Day and all of these things are to really get to our communities to say, "We are here. Join us. Join this movement that is fighting for the respect and dignity and permanent protection across the country, across the board." I think every state is trying to get to their community as best as they can. We are also asking our allies and those that have been on the fence that are with us to join us. There is no longer time, especially since the beginning of this year has illustrated that now more than ever, we need to unite. This is one resistance out of all of them. And this weekend leading up to it is the People's Climate March. There are all these injustices that we are seeing. That is one of the things that with Cosecha we recognize, as well, as one of our principles. We are one part of a bigger puzzle.
SJ: You mentioned that Cosecha has not been around that long. Can you talk a little bit about its beginnings and where it came out of?
GM: It came out of the organizers, DREAMers, and impacted folks. Just a range of people, myself included here in Massachusetts. Particularly a core group of Cosecha volunteers that were not getting paid, they shared their story and they shared the trials of having to fight for the DREAM Act, seeing the massive marches in 2006 where our people do exist and they do care and not asking for more, but just asking to defeat one of the worst anti-immigrant legislations created, instead of saying right after that, "No, we don't want this, but we want this: permanent protection for all."
The beginning of this year has illustrated that now more than ever, we need to unite.
I think it is a continuation of that spirit and unity that we are here and folks have united with the plan to use our economic non-consumption to call for a one week strike and boycott to win permanent protection for all of us. That is the story that this range of organizers and leaders and young folks and people that have never done anything in terms of organizing and activism are taking the next step to move our immigration system in this country.
SJ: What is May Day going to look like in Boston?
GM: May Day in Boston, there are a lot of activities. There is Cosecha in Lawrence, there is something happening in Western Mass, there are activities that organizations and unions are doing. But in Boston, what we are doing is a Cosecha festival, because we are calling for a one day strike. We are asking businesses to close. We are asking the people not to go to work, our kids not to go to school, and not to buy anything that day. To not participate and show our consumption and non-cooperation and demonstrate that you can't continue to not address us, and demanding the respect and dignity and permanent protection for all eleven million undocumented in this country.
That is the first day for us and the continuation of what our community did on February 16 to be able to advance forward. So, we are doing a Cosecha festival from nine to three in East Boston, which is home to a lot of immigrants in the Boston area, predominantly from Central and South America. It is also a community that has been hit hard in so many ways. We are inviting all of our Boston neighbors from other neighborhoods and those from across the state to come to the festival from 9:00 a.m. to 3:00 p.m. It is a time to celebrate our art and culture and to learn more about the Cosecha movement. Then, we will be joining the main marches in the afternoon that there are going to be. That is what we are doing. We are hoping that it is a family friendly festive day showing our unity and community.
SJ: How can people find out more information and get involved with Cosecha and keep up with your work in Boston?
GM: We are on Facebook. We have Cosecha Boston. There is Movimiento Cosecha (on Facebook and Twitter) where you can get plugged into the national scene, wherever you are at. We also are asking people to text 41411 Strike. You can find us on the web at lahuelga.com. Also, if anything, making that pledge to not go to participate in the economic system on May 1 and to join us and La Huelga for a one week strike.
Interviews for Resistance is a project of Sarah Jaffe, with assistance from Laura Feuillebois and support from the Nation Institute. It is also available as a podcast on iTunes. Not to be reprinted without permission.
Sarah Jaffe is a reporting fellow at Type Media Center and the author of Work Won't Love You Back: How Devotion to Our Jobs Keeps Us Exploited, Exhausted, and Alone (2021, Bold Type Books).
Baffler Newsletter
New email subscribers receive a free copy of our current issue.
---