Thursday, October 30, 2014
1:00 p.m.
No Future for You: Pep Talks from The Baffler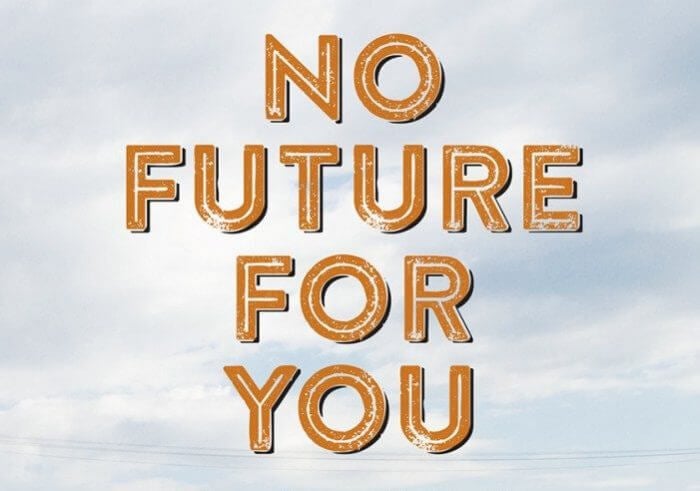 Scabrous criticism of the American comedy: coming soon to Chicago
E
v
e
n
t
s

Where can you go for tell-tale evidence that The Baffler's contributors actually live and breathe, laugh and love, cajole and argue? For starters, check out the continent-spanning extravaganza we've put together to mark the fall '14 publication of our collection, No Future for You.
No Future for You, it says here, is a collection of "genre-defying essays" on the declining state of our American . . . everything. "Here's Thomas Frank on the upward-failing cult of experts in Washington, where belonging means getting the major events of our era wrong. Here's Rick Perlstein on direct-mail scams, multilevel marketing, and the roots of right-wing lying. Here's John Summers on the illiberal uses of innovation in liberal Cambridge, MA. . . . Packed with hilarious, scabrous, up-to-the-minute criticism of the American comedy." Never has full-blown negativity felt so good!
Here's the roster of feel-bad festivities in celebration of the book's release. You can also check back here for updates, as future Baffler fusillades streak their way across yon mediasphere.
September 13, 2014
Feminism for What?
With Susan Faludi (keynote)
John Jay College
New York, NY
September 13, 2014
No Future for Journalism
With Thomas Frank, Chris Lehmann, and Jim Newell
Politics & Prose
Washington, DC
September 19, 2014
Where Did the Future Go? (Or Why Technology Only Appears Not to Suck)
With David Graeber and Peter Thiel
Hosted by John Summers
McNally Jackson Books
New York, NY
October 13, 2014
No Future for Chicago
With Rick Perlstein and Anne Elizabeth Moore
Seminary Coop
Chicago, IL
October 20, 2014
No Future for Seattle
With Thomas Frank and Rick Perlstein
Town Hall Seattle
Seattle, WA
October 21, 2014
No Future for Portland
With Thomas Frank, Rick Perlstein, and John Summers
Powell's City of Books
Portland, OR
October 22, 2014
No Future for San Francisco
With Thomas Frank and John Summers
City Lights Bookstore
San Francisco, CA
October 24, 2014
Anarchism Is Enough
With John Summers
Center for the Study of Work, Labor, and Democracy
University of California, Santa Barbara
Santa Barbara, CA