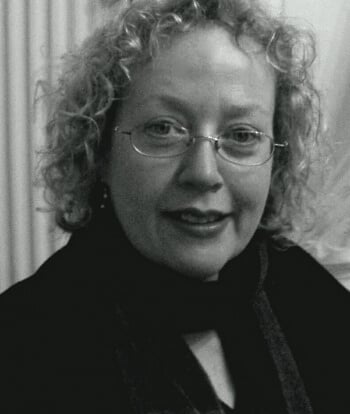 Lucy Ellmann was born in Evanston, Illinois, but was dragged to England as a bitter and confused teenager. She always meant to return to the U.S. but somehow it never happened. Now, preferring rain, cold, whiskey, trains, and free healthcare to cars, guns, religious fanaticism, and sunshine, she lives in Scotland.
Her first literary achievement was a paranoid poem about a chicken:
They say
the hen can lay.
I don't know
but they know.
(This constitutes its first publication.)
She has also written six novels. Sweet Desserts (Virago), which won the Guardian Fiction Prize, is about two sisters, not about desserts. Varying Degrees of Hopelessness (Hamish Hamilton) is loosely based on a year Ellmann spent as an Art History student at the Courtauld Institute in London. Man or Mango? A Lament (Farrar, Straus & Giroux) is a trans-Atlantic love story with really very little to do with mangoes. Dot in the Universe (Bloomsbury) follows a shallow woman through death to reincarnation as a possum, and beyond. Doctors & Nurses (Bloomsbury) is a happy tale of sadistic medical malpractise. Mimi (Bloomsbury) is about a plastic surgeon who sees the light. And Ellmann wrote a short film, The Spy Who Caught a Cold (Channel 4), about a nosy child at a chilly British nudist camp.
After being a fancy-ass Lecturer in Creative Writing for a few years, Ellmann came to the conclusion that teaching an art form in an academic environment can only destroy both teacher and student. She also considers writing groups and writing workshops both futile and inhumane. In opposition to such approaches, she and Todd McEwen started the Fiction Atelier in 2011, an editorial service that offers fellow writers honest, literary, one-to-one feedback and support. ( See fictionatelier.wordpress.com)
Ellmann is committed to peacefully circumventing all governments in order to create a worldwide matriarchy in which women, art, and animals will be honored, instead of bombs, steak, cigars, man caves, computers, gangster movies and garter belts.